Future Logistics
Carbon-Neutral Delivery by Drones
精華簡文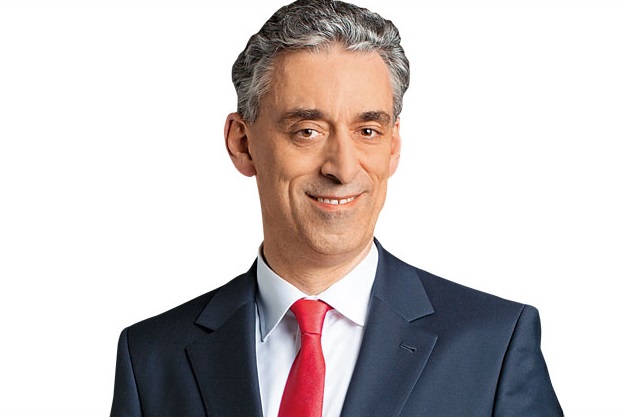 Source:CW
Deutsche Post DHL, one of the world's three largest courier companies, tells you how the logistics industry will look like tomorrow.
Carbon-Neutral Delivery by Drones
By Ming-ling Hsieh
From CommonWealth Magazine (vol. 563 )


In an era where 3D printing and the Internet of things are going to completely rewrite the supply chain in future manufacturing, and where mobile commerce is replacing brick-and-mortar stores as the main sales channel, logistics services remain indispensable in both, the old and new worlds.

While logistics services cover the last mile in commerce, be it production or sales, industry insiders have always had a good nose for market trends, sniffing them out ahead of other sectors.

How does this new future look in the eyes of international logistics giant DHL?
Priority Regions: China, India, Brazil, Southeast Asia
Prediction No. 1: Brazil, China, India and Southeast Asia are "must go" regions for global logistics companies.
The 21st century will be characterized by the rise of the emerging markets. In its Strategy 2020 report DHL, headquartered in Bonn, Germany, lists emerging economies such as Brazil, China, India and Southeast Asia as priority areas for a greater DHL presence.
The report predicts that around the globe the middle class will increase 2.6-fold by 2030, with 90 percent of the new middle class members coming from Asia. At the same time, the work forces of India and China will see a 50 percent jump in people with university education. Growing urbanization paired with rising purchasing power in Asia will create the greatest business opportunities for the logistics industry in the future.
Global E-Tailing 2025, another study commissioned by DHL, provides four alternative visions of the future. In Scenario 1, multichannel retailing has become the norm with online and stationary stores existing alongside each other. People order their goods via tablets, smartphones and interactive displays in the streets.
In Scenario 2, wearable devices such as data glasses have become the standard and stationary stores focus solely on experience shopping while most actual purchases take place on online retailing platforms. Due to the boom in online retailing, the volume of transported goods has increased dramatically. Some mega cities impose stricter regulations on logistics companies to alleviate traffic jams.
Scenario 3 foresees a highly developed digital culture where precise customer profiles as a result of data mining allow to predict customer needs and requirements. Intelligent avatars serve as virtual shopping advisors and purchase everyday necessities for their users on their own. In big cities, most goods are delivered the same day. In some cases, unmanned, automated vehicles such as drones are used to transport goods.
Scenario 4 paints a more protectionist picture of the future. Due to trade barriers as well as high energy and raw material prices, the global economy grinds to a halt, leading to regionalization. Since consumers value sustainability and energy efficiency, leasing, sharing and swapping become common practice, creating a circular economy. Products become modular in design for easier maintenance and repair.
In this circular economy, logistics companies expand their traditional delivery business into spare parts logistics and repair services. Taxis take over local delivery services.
Prediction No. 2: As consumption becomes more immaterial, demand for logistics services might decline. Logistics services providers might branch out into e-commerce as a result.
Foreshadowing these new developments and getting prepared for the boon of thriving e-commerce, DHL renamed its postal services division "Post - e-Commerce - Parcel" in 2014.
DHL expects e-commerce to grow 8 percent annually between 2011 and 2020 worldwide but to post faster growth of 11 percent and 15 percent in the emerging markets and China, respectively.
Nevertheless, DHL does not rule out that e-commerce companies will also branch out into the logistics services sector.
Generally speaking, the future seems to looks bright for the logistics industry be it in terms of existing business opportunities or in terms of the envisioned changes in consumer behavior and the retailing environment. Still, Frank Appel, Deutsche Post DHL chief executive officer, does see some dark clouds on the horizon. "The greenhouse effect has become our most severe challenge. If we don't face it, (logistics) costs will quickly rise," Appel points out.
Appel believes that sustainable and green transportation solutions are the key for the industry's future success.
Two years ago, a survey commissioned by DHL in six major markets (Brazil, Britain, China, Germany, India and the United States), found that the sense of crisis resulting from climate change is strongest in Asia. More than half (51%) of private end customers said they would opt for "greener" rather than cheaper modes of transportation. Among corporate customers that ratio was even higher with 57 percent. As many as 64 percent of corporate customers predicted that "carbon labeling" would become a new standard in the logistics industry.
Prediction No. 3: Haggling over carbon footprints will raise "green logistics" standards.
DHL has already embraced green logistics, aiming to cut CO2 emissions by 2020 by 30 percent over 2007. The company cooperates with high-tech companies to develop alternative drive vehicles, is optimizing routes and using trains where possible as well as improving the energy efficiency of buildings and facilities. As part of a DHL pilot project, the city of Bonn is currently the first city in Germany to introduce a carbon-free vehicle concept for mail and parcel delivery.
---
Frank Appel:
Adapt and Innovate for New Modes of Exchange
Frank Appel was appointed Deutsche Post DHL (Deutsche Post AG) CEO in 2008. Since 2009, DHL has published a series of studies on mega trends in the logistics industry up to 2020, including Consumer Needs in 2020 and Beyond, Towards Sustainable Logistics, Logistics 2050, and Global E-Tailing 2025.
In early 2014, Appel released Strategy 2020: Focus. Connect. Grow (an update to Strategy 2015). In a long-distance interview with CommonWealth Magazine, Appel predicted that the logistics industry will see dramatic changes. Following are the highlights of the interview:
Q: How did you decide to publish this Scenario Study and look into the future 2050? What drives you to study a world that is so far away?
A: We are the world's leading postal and logistics group. As the leading provider of a key global industry, we are particularly interested not only in ensuring the smooth transport of shipments and goods, but also exploring social and logistics-relevant topics that will shape our business and the world as a whole. For this reason, we are committed to examining far-reaching themes of the future and to initiating a discussion about them.
In selecting 2050, we made a particularly important reference point in the 21st century as the focal point of our study. By concentrating on a time horizon that was consciously set in the distant future, we intended to open a broad window of options for our vision of future developments. But the selected point in time is not so far away that our experts' projections would fall within the realm of pure speculation.
"Logistics 2050" is part of a good tradition: In 2009, our global Delphi study very successfully delved into customer needs in 2020, a critically important topic of the future. The study that followed in 2010 also examined a trend of the future – the development of more sustainable logistics. We believe that it is necessary to engage in a broad debate about the core issues that will shape our world today and in decades to come. We can make responsible decisions that will mold our world of tomorrow only if we are prepared and have gained an understanding of different perspectives.
Q: There are five future scenarios you pictured in the Study. Could you briefly talk about these scenarios and talk about their implications for the logistics industry?
A: The scenarios were developed with input from recognized experts in a broad range of fields, including business, policy, academia and research. They attempt to paint a picture of different ways in which the world could develop in future, based on the main trends that are shaping it today. The five scenarios are derived from an analysis of the different paths that these trends could plausibly take, and range from a world that is driven by material consumption and completely liberalized trade flows to one that has been paralyzed by protectionism. Each scenario brings with it significant opportunities and also specific challenges and risks.
The divergence among the different scenarios clearly highlights that companies, particularly those providing logistics and supply chain services, need to be flexible and responsive to change in order to survive and prosper over the longer-term.
Q: How does the logistics industry prepare for these scenarios? Could you share DHL's effort respectively for each scenario?
A: We shouldn't kid ourselves: none of the scenarios described in the study will actually come true. It is more likely that we will see a combination of various aspects of these visions of the future. But this understanding of the study's limitations should not prevent us from taking the results into consideration and from thinking beyond these limitations. At the same time, you should not make the mistake of drawing up specific plans for each scenario and tucking them away in your desk drawer. Thanks to the study, we learn about possible changes in our business environment and their significance for the distant future. This will help us set the right course for the future. In addition, our innovation team, which develops our logistics solutions of tomorrow, has of course examined the results of the study and continues to monitor the key trends that will shape our industry over both the short and long term. After all, we intend not only to be the mastermind of the evolution of logistics, but also to remain the innovation leader in our industry. For this reason alone, Deutsche Post DHL will continue to shed some light into the black box that we call the future.
At the same time, the scenarios confirm that we have already made the correct choice with the future-oriented activities of Deutsche Post and DHL. In one reflection of this, we are already offering many CO2-neutral logistics solutions, are acting as a development partner for alternative drive systems and are developing innovative solutions for the cities of tomorrow.
Furthermore, we are already using knowledge and the company's global presence to make a positive contribution to our world and to lay a strong foundation for the future. Under the motto "Living Responsibility," we minimize our business' impact on the environment, we use our Disaster Response Teams to help people in areas hit by natural catastrophes, and we strongly support equal educational opportunities.
Q: In some scenarios we pictured, the future might be challenging for the logistics industry. For example, the demand for a greener transportation, frequent weather catastrophe that raise cost for logistics, or localization for value chain, or protectionism, and etc. How do you see these "negative" trends towards logistics?
A: One noticeable finding of the study is that in each scenario, logistics – as an industry – cannot continue to exist as it does today. So taken as a whole, the study clearly demonstrates that the role of logistics will change significantly in the coming decades. This is the case in each of the five scenarios.
But the scenarios also contain very good news for our industry: Demand for logistics services will rise in nearly every case – amid, depending on the scenario, widely different business conditions and concrete needs.
As a company, we are already addressing many of the challenges highlighted in the study. We have developed a tool – DHL Resilience360 – that helps our customers to more effectively assess risks to their supply chains and to plan their activities accordingly. We are leading the industry in terms of sustainable transportation solutions. As an example, in 2013, we launched an initiative that saw the city of Bonn, where our global headquarters are based, become the first city in Germany to introduce a carbon-free delivery concept.
We have also long advocated the benefits of free trade. Trade can have a positive influence on the world, increasing economic prosperity and improving people's standard of living. As the world's leading logistics provider, we see it as our responsibility to support the efficient flow of goods around the world, connecting people through trade, and we fully support governments' efforts to break down trade barriers and encourage more trade.
Q: It seems that despite ongoing globalization, the need of customers and the value chain will become more and more personalized and regional. How do you see these changes and how does it affect your strategy, especially as you operate internationally and rely a lot of on global trade and markets?
A: The trend towards personalization and customization was highlighted extensively in one of the scenarios of Logistics 2050. We have seen this trend increase in recent years, with consumers demanding ever more sophisticated products and a more personal customer experience. Once again, as Logistics 2050 highlights, the logistics providers of the future need to be flexible and responsive to any changes that the world brings.
With our Strategy 2020, we are already addressing the most pressing challenges and opportunities facing the logistics industry today. The growth of e-commerce, which will arguably be the key battleground where future customer needs are defined, plays a central role in the strategy. We are well placed, through our experience in the German parcel market and our strong presence in other markets around the world, to capitalize on this growth. At the same time, as an innovator, we are exceptionally well positioned to adapt our services to meet changes in customer demand and to support retailers in their efforts to personalize and customize their services and products.
It's worth noting that logistics can already be an enabler of improved service today. As just one example, the time definite delivery services of our Express division allow companies to reduce the time span between order and delivery, to reduce the inventory they hold in transit or on hold for emergencies, and to offer postponed manufacturing solutions or enhanced service guarantees to their customers.
With regard to regionalization, I do not see this as a threat to Deutsche Post DHL. One of our strengths as a global company is the depth of local expertise that we employ. We are present in over 220 countries and territories worldwide, but a key feature of our global network is that our local teams are empowered to deliver for their customers and to adapt to their needs. If trade flows were to become more regionalized, we would still be best placed to service them.
Q: There's an interesting concept mentioned in the Study that "with dematerialization of consumption, logistics will not only securely transport goods, but also offer renting and sharing services, and transfer information and knowledge safely." I think this idea somehow subverted the idea of traditional logistics. Could you please talk about this idea and how the logistics industry should prepare for this future trend?
A: You are referring to an aspect of the second scenario in "Logistics 2050", in which new technologies, automation and digitalization as well as the need to curb carbon emissions deeply affects customer behavior. Among others, this results in a switch from product ownership to rent-and-use consumption leading to new platforms that enable individuals to share goods. Also, a considerable number of activities have been transferred to virtual spaces. As a consequence, consumption has increasingly become immaterial, helping societies to decouple GDP growth from energy and resource use.
In such a world, the need for traditional logistics services could certainly decline. However, I believe that leading logistics providers will openly embrace the new developments, adapting their business model and service portfolio intelligently. As described in our scenario, they might realize that they can create tremendous value in developing and running reliable platforms that organize the new modes of exchange – as well as operating the systems for the safe transfer of digital information. Deutsche Post DHL, for example, has launched a range of secure electronic communications services, such as the E-Postbrief in Germany.
Q: You talked also in the study about the possibility of logistics becoming a strategic industry for the country. Could you talk more about this idea and how each country should act on this idea?
A: This idea is part of a scenario called "Paralyzing Protectionism" where we see a strong increase in protectionism and a fragmentation of global trade. The exchange of goods in this world is mostly confined to nation states or regional blocs. In this context, where security considerations gain particular importance, many governments view logistics – like other sectors – as an industry of strategic relevance that is susceptible to nationalization.
In fact, I also believe that logistics is a strategic industry – but not on a national, rather on a global level. Logistics companies can be key drivers of global connectedness, enabling more economic growth and prosperity around the world. Thus, a scenario in which globalization unravels and logistics companies are confined to regional or national blocks would, in my view, be utterly undesirable. I sincerely believe that we need more, not less international integration and countries should join forces to unlock the potential of global connectedness.
Q: There has been gradually a shift of energy provision (the fuel price is going down and people are talking about oil shale) and manufacture (that people are talking about Internet of Things, and talking about reducing outsourcing to in-house manufacturing, and etc.) How do these trends influence the logistics industry?
A: Both trends invariably have the potential to significantly impact our industry.
Energy provision is an important consideration for most transport companies, for example, given that fuel accounts for a substantial portion of their cost base. However, the direct impact of fuel price trends is not necessarily the most important thing – many logistics operators are able to mitigate this risk through surcharges that pass much of the volatility through to end users. The indirect impact, in particular the implications of a high or low oil price for industrial production and consumption, is perhaps more important, as logistics operators depend on the real economy for growth. Also, the long-term stability of fuel supply and the availability of new fuel sources are important. We are constantly monitoring and testing the application of new fuels, especially with cleaner, more efficient systems, for our own business. We currently have one of the largest fleets of green vehicles of any logistics operator in the world.
The impact of digital technologies, new supply chain management, sourcing and production strategies and innovative manufacturing trends such as 3D printing are all things that we monitor closely. They all have the ability to influence customer demand and, in the case of 3D printing, for example, the potential to fundamentally change the way our industry works. At the same time, I believe there will always be a need for logistics services in some form, whether that's for the shipping of raw materials, components or finished goods. And for Deutsche Post DHL, these new developments also offer opportunities, as they both challenge us to deliver new solutions and create potential new revenue streams that will help us to grow. As Logistics 2050 demonstrates, the most important factor for survival is a company's ability to adapt, innovate and act on its core strengths.
Translated from the Chinese by Susanne Ganz