Top 2000 CEO Survey
Worried About Cross-strait Trade
精華簡文
Source:CW
Taiwan's CEOs are optimistic about the economy next year, but widespread concern exists over stalled momentum in trade ties with China and Taiwan's inability to join regional trade blocs.
Worried About Cross-strait Trade
By Sofia Lee
From CommonWealth Magazine (vol. 563 )


After a long economic winter, spring has truly arrived.

Taiwan's economy stalled in 2013, with growth plunging below 3 percent after growth projections were repeatedly revised downward throughout the year. But 2014 has been far more prosperous, and business leaders are all smiles, fully expecting the good times to extend into next year.

Even Taiwan Semiconductor Manufacturing Co. (TSMC) Chairman Morris Chang was encouraged enough to say, "Taiwan's economy will be pretty good next year."

That was the consensus view among CEOs who participated in this year's CommonWealth Magazine Top 2000 CEO Survey, from which four major themes emerged.
Theme No. 1:
Highest Optimism in Four Years
Sixty-four percent of respondents said they were optimistic about the global economy's prospects in 2015, the first time that number has been above 50 percent since 2011. (Table 1)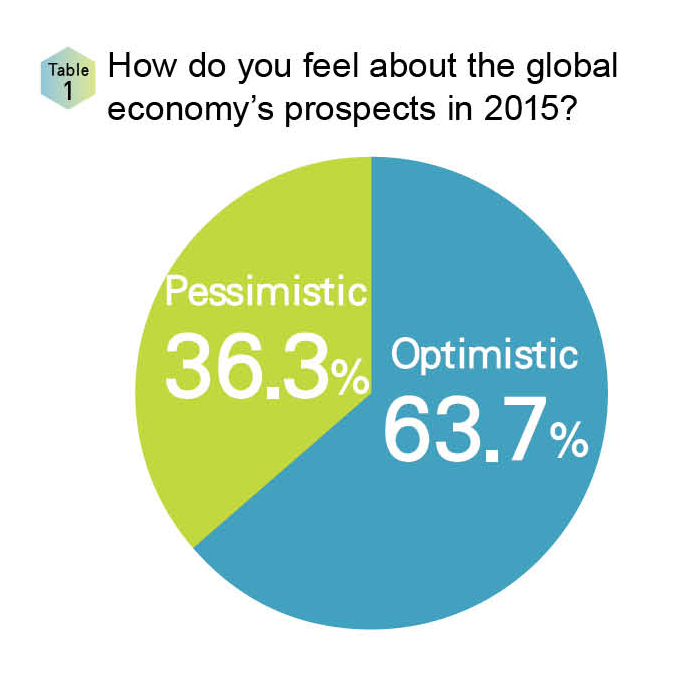 The main factor driving that optimism was America's improving economy. Growing consumption in major markets led CEOs in Taiwan's high-tech manufacturing sector to be particularly optimistic, with more than 70 percent having positive expectations for the year to come.
Tsai Horng-ming, the deputy secretary-general of the Taiwan-based Chinese National Federation of Industries, says the rise of 4G communications and the development potential of mobile and wearable devices has the tech sector relatively excited about the future.
Another positive development in the minds of respondents was the decline of international raw material and crude oil prices.
On Dec. 15, the price of Dubai crude fell below US$60 a barrel, down more than 40 percent from six months earlier, dramatically easing cost pressures on Taiwan's manufacturers.
Ray Yeutian Chou, a research fellow at Academia Sinica's Institute of Economics, observes that oil and its derivatives account for roughly 10 percent of Taiwan's total imports, meaning that plunging crude prices will substantially lower the costs of domestic manufacturers. If the oil market remains in the doldrums for any length of time, companies' bottom lines will clearly benefit, he believes.
The plunge in oil prices has propelled transportation stocks in Taiwan upwards, but may take a toll on other old economy sectors, as forty-four percent of survey respondents heading non-high-tech manufacturers were not optimistic about next year's economic prospects.
Tsai cited the petrochemical sector as the biggest victim, suggesting that lower crude prices will adversely affect oil product exports.
Those negative consequences have already surfaced on companies' financial statements.
Formosa Petrochemical Corp., Taiwan's largest private oil refiner and gasoline supplier, saw sales tumble 22.5 percent year-on-year in November, sparking concern among investors. Formosa Petrochemical President Mihn Tsao explained, however, that oil prices will eventually rebound, and once the company disposes of higher priced inventory, and crude prices increase next year, it will recover from the losses generated by the oil price slump.
Overall, with companies optimistic about the near future and confident that revenues and profits will grow, 78 percent of survey respondents said their businesses are planning raises in 2015. (Table 2)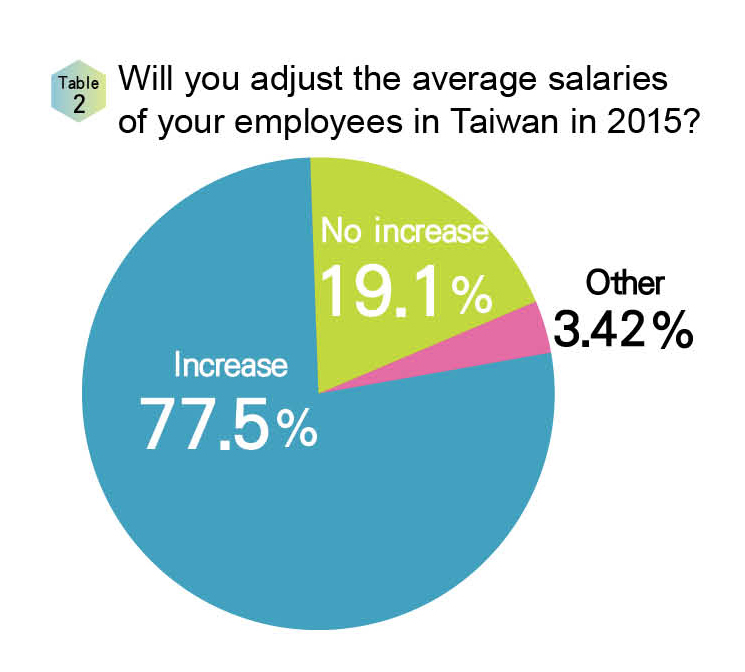 Yet while the executives surveyed had generally positive outlooks, concerns remained.
Theme No. 2:
Worried about Taiwan Being Marginalized
Over the years, CommonWealth Magazine's annual CEO survey has consistently found that Taiwan's leading executives see Taiwan's exclusion from regional economic integration as the top challenge their businesses face. But the number of respondents who feel that way surpassed 50 percent this year for the first time, with 53 percent citing marginalization as challenge No. 1. (Table 3)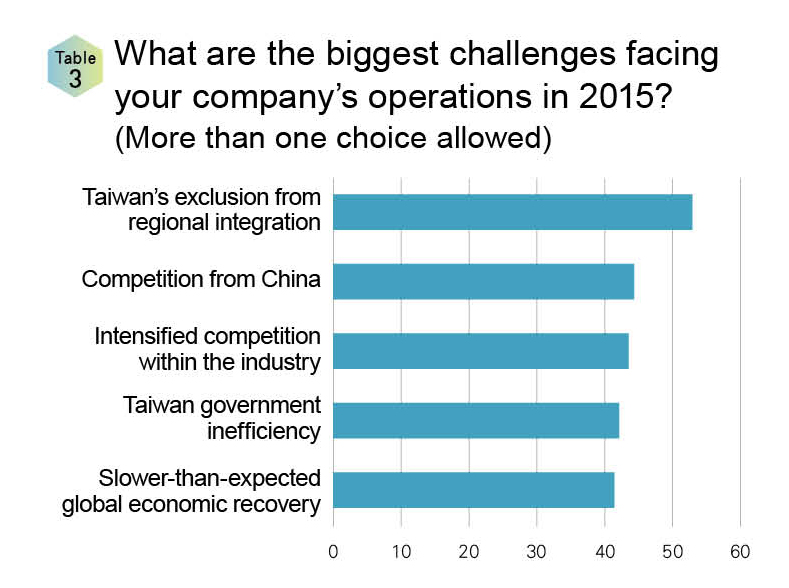 The announcement by China and South Korea on Nov. 10 that they had effectively concluded a free trade agreement left these business leaders especially anxious. The vice president of the Taiwan Electrical and Electronic Manufacturers' Association (TEEMA), Luo Huai-jia, said flat panel display makers immediately felt pressure, fearing that they could be supplanted by Korean producers if flat panels are covered under the bilateral FTA.
The potential disparity in Chinese import duties on flat panels from Taiwan and South Korea and the greater flexibility of the Korea won than the Taiwan dollar (helping Korean exporters) could combine to deliver a knockout blow to Taiwanese flat panel suppliers.
Similar concerns led 70 percent of respondents to support Taiwan and China signing a trade-in-goods agreement (as opposed to the trade-in-services pact the two countries signed in 2013 but that has yet to be ratified by Taiwan's Legislature). Many executives openly supported the idea, and Acer Inc. co-founder Stan Shih urged Taiwan to see a trade-in-goods deal as an opportunity. Negotiations on such a deal have been slowed by the failure to approve the trade-in-services pact.
The fears of business leaders over stalled trade ties with China were exacerbated by the crushing loss suffered by the ruling Kuomintang in local elections on Nov. 29. The KMT government has been a strong advocate of more open trade relations with Beijing, while Taiwan's main opposition party and the big winner in the Nov. 29 elections, the Democratic Progressive Party, has been extremely cautious, if not against, in signing free trade deals with China, including the already-signed trade-in-services pact.
In survey questionnaires returned before the elections, 40 percent of respondents remained optimistic that the election results would not affect future cross-Taiwan Strait trade relations. But among those returning their questionnaires after the election, 26 percent were optimistic and 63.5 percent expecting progress in cross-Taiwan Strait trade ties to be delayed. (Table 4)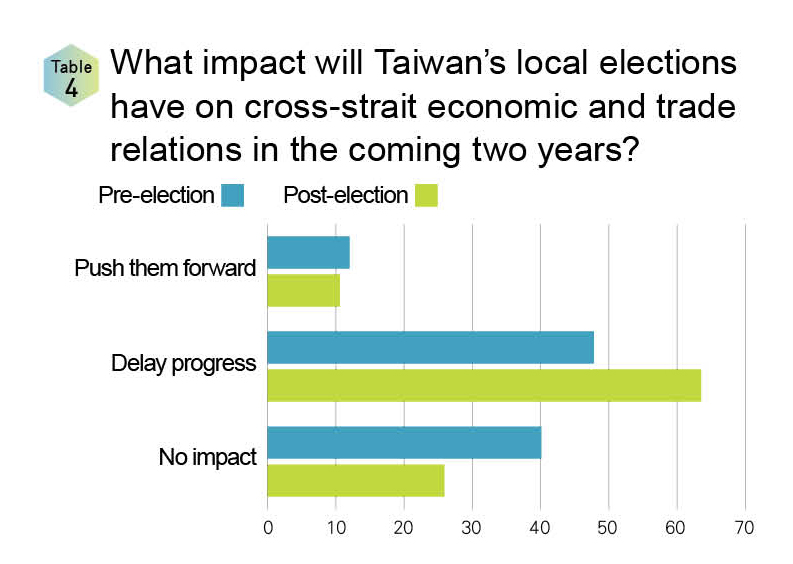 In fact, the executives who participated in the survey had high hopes for the development of closer trade ties with Beijing not only because of the allure of China's market but also because of concern that Taiwan will be excluded from two regional trade blocs – the Trans Pacific Partnership (TPP) and the Regional Comprehensive Economic Partnership (RCEP) – that are gradually taking shape.
Some 56 percent of respondents cited the formation of the TPP and RCEP economic and trade blocs as the trend likely to have the biggest impact over the next five years. (Table 5)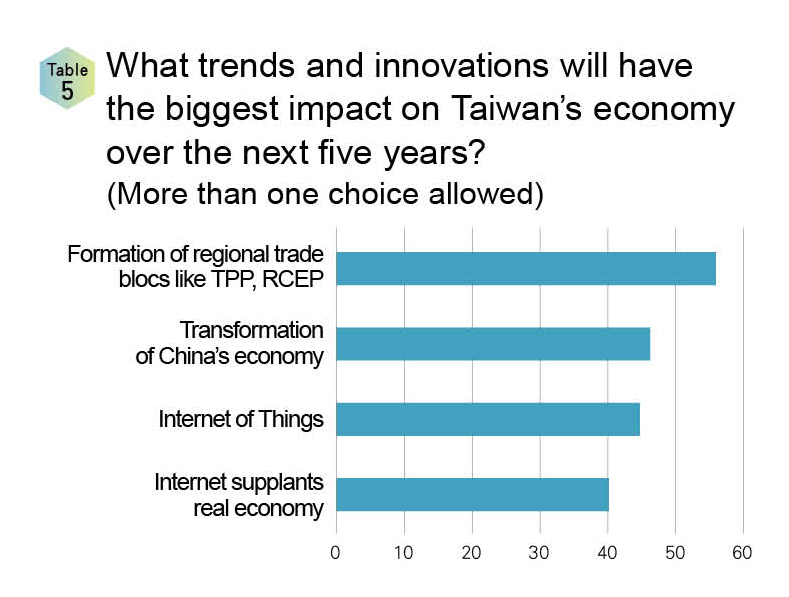 Chang Cheng-tien, chairman of yarn supplier Yi Jinn Industrial who became chairman of the Taiwan Textile Federation in September, says whether or not Taiwan can soon join the two trade blocs is the biggest issue currently affecting the domestic textile industry's development, with the next three years absolutely critical.
Says TEEMA official Luo: "We shouldn't force all vendors into abandoning Taiwan! Not just because of emotional ties and fondness for Taiwan, but also to make Taiwan a place of real value." He explains that China is very influential in Association of Southeast Asian Nations member states, and as long as Beijing does not try to block Taiwan's efforts (to join regional groups), it will have bigger opportunities.
Theme No. 3:
Refocusing Toward SE Asia, Returning to Taiwan
In fact, Taiwanese businesses based across the Taiwan Strait have mixed feelings about China. They are eager to build good relationships with China and expand their presence there, but some are also looking for ways to get out.
Compared with the results of past CommonWealth Magazine CEO surveys, this year was the first time more than 60 percent of survey respondents had an unfavorable view of China's investment environment, the highest degree of negativity since 2010. (Table 6)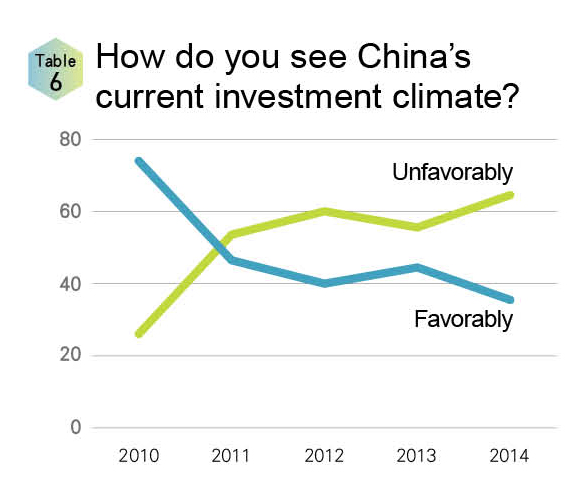 Five in eight respondents (62.5 percent) cited the biggest challenge facing Taiwanese businesses in China as soaring labor costs. Both Luo and Tsai say that China's repeated minimum wage hikes and greater focus on environmental protection has dramatically increased manufacturers' costs. Labor costs alone have risen an average of 10 percent each of the past five years, substantially cutting into vendors' potential profitability.
These massive cost pressures are causing budget-conscious vendors to move out, with Southeast Asia their top choice for relocation.
From January to October this year, the number of overseas investment projects (excluding mainland China) registered by Taiwanese businesses rose 29.4 percent from last year, with the number of projects in the Philippines and Vietnam doubling. But the number of registered investment projects in China fell 5.1 percent during the same period from a year earlier.
Standard Chartered Bank senior economist Tony Phoo says he visited four Taiwanese companies with interests in China this year, and two had decided to move all of their manufacturing out of China and into Southeast Asia.
Returning to Taiwan is another option. Though the CEO survey found that 65 percent of company leaders still felt Taiwan's investment environment to be lacking, the number holding that view was down 10 percentage points from last year.
Tsai Hung-kun, the director of the Directorate General of Budget, Accounting and Statistics' Statistics Division, said the return home of Taiwanese companies based abroad has been a major contributor to private investment in recent years, citing flat panel maker Innolux Corp., which announced this year it would move some of its production back to Taiwan.
Theme No. 4
Online Innovation Provoking Change
Another trend worth noting is that businesses are highly attuned to two innovation trends: the "Internet of Things" and the supplanting of the real economy by the Internet.
In an interview with CommonWealth Magazine, Citibank Taiwan Ltd. Chairman Victor Kuan foresaw that the financial services sector's operating model would be greatly affected and changed by mobile devices.
"In the past, everybody felt you had to have branches to do business, but now it's not really that necessary," Kuan said with high expectations of the changes that are coming.
But vendors at the traditional Wufenpu wholesale garment market have little to smile about, their businesses suffering major blows at the hands of e-commerce.
"If traditional stores do not have online systems, they will face the pressure of reduced consumer demand," says Luo, who urged business owners to adjust with the times.
Minister without Portfolio Jacyln Tsai, a former IBM executive who is now actively promoting revisions to laws governing the virtual world, reminds businesses that they need to not only sell products online but also should seek out other online opportunities. Even manufacturers involved primarily in B2B commerce can make use of online marketing and accept more customized requests for goods and services, she says.
In 2015, Taiwan will surely be challenged externally by the formation of trade blocs and internally by continuing pressure for industrial transformation and turbulence following the country's local elections. But with the global economy seemingly warming up, local business leaders have finally seen sunshine for the first time in a long while, and they now hope that breakthroughs can be achieved on trade issues to keep the new spring around for an extended period of time.
Translated from the Chinese by Luke Sabatier