The National Taichung Theater
Tackling the World's Most Challenging Building
精華簡文
Source:CW
Developer Wu Chun-shan has forged "a different road" in Taiwan's construction sector. That explains why he was willing to give the challenging National Taichung Theater a go when others weren't
Tackling the World's Most Challenging Building
By Chen Chingyi
From CommonWealth Magazine (vol. 562 )


On Nov. 23, Taiwan earned a place on the map of world architecture with the grand opening of the National Taichung Theater.

When still just a concept in 2007, the eye-catching structure was named one of the nine new architectural landmarks in the world, along with the Freedom Tower in New York, Toronto's Absolute Tower and the Centre Pompidou-Metz in Metz, France. While Japanese star architect Toyo Ito has dubbed his creation a "sound cave," others have likened the rectangular structure draped with hourglass cutouts to a piece of Swiss cheese or a cell.

The glamorous opening gala marked the end of a long and bumpy road to the project's realization. Five rounds of bidding over four years failed to attract bidders for the technically challenging project, which seemed to promise only "one day of fame for five years of pain."

The ambitious National Taichung Theater project soon became a hot potato as the industry did not give it much of a future, and Ito did not have a concrete plan for the technical realization of its unconventional form. That is when Taichung-based Lee Ming Construction Co. Ltd. and its chairman Wu Chun-shan decided to take up the challenge.

Driven by a rather naïve sense of mission "to build our theater by ourselves," Wu aspired to tackle the project believed to be "the most difficult to build" in the world because it does not have beams or columns as structural supports.
A Handcrafted, Sculpted Work of Art
"This is not a built structure," notes Wu in describing the National Taichung Theater, with legitimate pride.
"All together, the theater consists of 1,372 separate curved wall sections. It took about 2,000 to 3,000 different types of joints to connect those curved walls to flat surfaces," explains Chien-ming Chen, the theater's construction site manager.
The building does not have any 90-degree angles as floors, walls and ceilings merge to form a single curving surface. The morphing structure is a handcrafted, sculpted work of art.
With annual revenue of NT$8.1 billion and profits of NT$175 million in 2013, Lee Ming Construction counts among Taiwan's larger contractors, but it is not an industry giant that could throw caution to the wind. In CommonWealth Magazine's 2014 survey of Taiwan's Top 2000 enterprises, Lee Ming Construction ranked 14th within the construction/contracting industry.
Taiwan has bigger and more experienced contractors, including Fu Tsu Construction, which cooperated with Ito on the National Stadium in Kaohsiung built for the 2009 World Games. Fu Tsu Construction evaluated the feasibility of building the National Taichung Theater but estimated the cost at nearly NT$4 billion, far exceeding the Taichung government budget for the project.
Wu was fully aware that the company "would lose money for sure," but he still tried his best to convince his shareholders to give it a go. The losses would be spread out over four years and be booked as advertising and marketing expenses. "A theater is a formidable challenge but also a formidable opportunity," he thought nonchalantly.
Wu hails from a farmer's family in Baiguoshan, Yunlin County, in central Taiwan. For Wu construction of the theater was on the scale of building a pyramid. He aspired to participate in the construction of a great building of world stature that would become his masterpiece and legacy.
Born in 1958, Wu was the third of six children in the family. He served as an apprentice in a printing shop and as a laborer in a freight transport company, and worked part-time while completing his vocational high school degree. Wu, who studied architecture, worked his way up from the ground floor, eager for his contracting business "to take a different road."
An Eye for Employee Well-being
"Why do the mechanics in Japanese car repair shops wear white uniforms?" asks Wu rhetorically. He points out that working environments and atmospheres are man-made and that change can be initiated even in workplaces where people literally get their hands dirty if proper attention is paid to detail.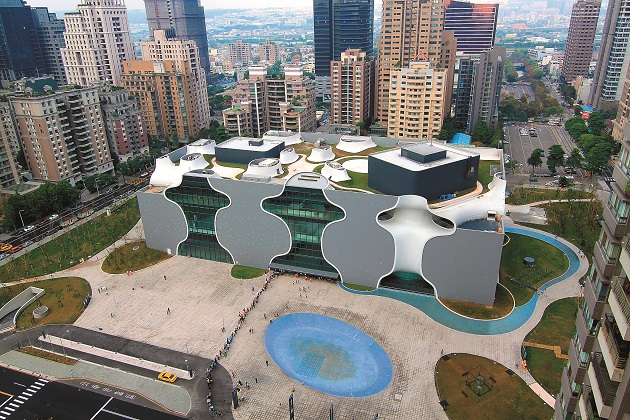 Many wonder is it a cave, a cell or a cheesecake? The National Taichung Theater has inspired people's architectural imagination.
A basic requirement at Lee Ming is that employees refrain from smoking and chewing betel nut – both common practices in the construction industry. Another seemingly unimportant affair, the lunch break, is also closely managed. All workers on a construction site gather for sit-down meals in a room with fans and television instead of squatting in a corner of the construction site over a boxed lunch. For Wu this is where basic respect for employees begins.
Access to the construction site is controlled via a fingerprint scanning door opener, which also makes it much easier to monitor the number of people on site. A label inside the workers' safety helmets carries the owner's blood type and emergency contact person for enhanced worker safety. The workers wear reflective safety vests that are color-coded based on the type of job they do. Those who do the cement formwork wear red, plumbers and electricians wear blue, and those binding rebar wear orange. Thanks to the color-coding, site supervisors get the full picture of how manpower is being deployed at a glance.
The company is as considerate when it comes to its cooperation partners. Each year, Lee Ming Construction commends excellent subcontractors for their good work. On construction sites, the employees of cooperating companies are included in the collective monthly birthday celebration for those who were born in the respective month.Circumspection and attention to every little detail is the common denominator for the over 60 construction sites currently managed by Lee Ming Construction island-wide.
"For a company like Lee Ming, which has projects spread across Taiwan from the north to the south, developing a corporate culture is not easy," says an admiring Chang Li-li, chairwoman of Treasure Dragon Corp., a real estate developer with activities concentrated in central Taiwan.
Starting at 7:50 a.m. every morning, Wu presides over a half-hour book reading session at company headquarters. He personally picks the reading materials, which include various genres such as management books, Japanese comedian Yoshichi Shimada's bestselling autobiography Amazing Grandma in Saga, the preventive medicine bestseller Primordia Medicine by Dr. John D. Young or Diary of a Female Farmer in the Mountains by A-Bao (alias Li Bao-lian). Usually the reading group finishes a book in about a month's time. Since the activity's inception in 1996, nearly 200 books have been read.
On top of that, the company publishes a weekly in-house newsletter every Wednesday.
The newsletter reports the latest developments at the company's various construction sites, and management also shares its views. Wu has written a weekly column without interruption for more than 10 years.
Isn't it more important for a company to pursue revenue? Why spend time and effort for seemingly unproductive writings and publications?
The answer can be found in the first book that Wu chose for his reading club: Tom Chappell's The Soul of a Business: Managing for Profit and the Common Good. The book shows that the secret of sustainable management is to emphasize the good of the employees and the good of the community on top of making profits.
Focusing on People and the Common Good
Since Wu treasures his employees, he is willing to share.
"My employees invest their youth and talent in my company. When they are laziest, during leisure time or when they are ill, they are at home. They give the prime of their lives to the company," remarks Wu, the self-made entrepreneur. Consequently, Wu distributes 25 percent of profits made per project to his employees.
Since Wu values the "common good," he launched a campaign that encourages entrepreneurs in central Taiwan to join the Taiwan Action Buddha Society. The society provides school lunches and scholarships to impoverished children in remote rural areas. The company also holds blood donation drives at its headquarters in July to make up for the summer shortfall when college students are on vacation and tend to give less blood than usual.
None of those activities are particularly unusual. But what may set Wu apart from some of his industry peers is that while the typical developer cuts trees to build high-rises, Wu heads the Taiwan Old Tree Rescue Association.
"Learning" and "making friends" are Wu's two avenues for getting new information from outside.
Since beginning to work for a living, Wu learned something new every year by taking courses on a wide array of topics, such as labor safety and real estate management, or by participating in Dale Carnegie seminars and part-time business management courses at universities. Wu's hunger for new knowledge is insatiable.
Aside from furthering his knowledge, Wu is actively involved in various civic groups and charitable organizations. At one time, he was a member of as many as 40 non-governmental groups. Thanks to his broad social network, Wu had more than NT$100 million of business lined up when he launched his company in 1994.
Firmly on Track Right to the Finish Line
Having built a good reputation, Lee Ming landed a number of large commercial projects including the new Hiwin Technologies Corp. global operating and R&D headquarters and the new Giant Manufacturing Co. Ltd. headquarters in Taichung.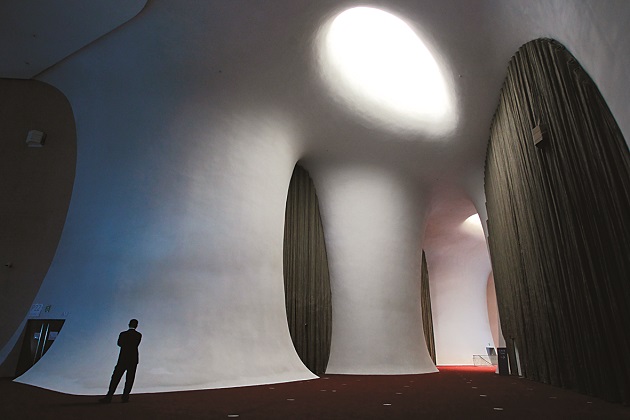 With its curved walls, the theater's interior space resembles a labyrinth of connecting caves that provides different vistas as one moves through the building.
Twelve years into its founding, Lee Ming won the bid for Taichung City Hall in 2007, its first major high-profile public works project. Also because of this positive cooperation experience, the Taichung government came to see Wu twice to invite him to take on the complex theater project. In 2009, Wu eventually agreed to build it. In 2012, he picked up another hot potato project, the National Palace Museum Southern Branch, which had failed to attract interest in three rounds of bidding.
"In our industry about 80 percent of enterprises are traditional builders who work based on construction drawings. Only a handful are as courageous as Lee Ming to try something new, to be willing to make breakthroughs," observes Treasure Dragon's Chang.
Why does Wu take on projects that experts do not have confidence in or that no one regards as promising and that are bound to exceed the budget? "People pass away but their creations will be left behind," reasons Wu. Clearly, Wu wants to leave a legacy that outlives him.
Wu admits that when he saw Ito's futuristic design of the National Taichung Theater for the first time, he could not help but ask himself in bewilderment "Is this a building?"
Huang Ming-ching, who is in charge of the theater project at Lee Ming, was often warned by industry colleagues that "This is a problematic structure. You're better off not building it." Chen, the head of the theater's construction site, tactfully brushes off the naysayers but admits, "We did have some problems."
Faced with these doubts and uncertainties, did Wu never toy with the idea of giving up? When a subcontractor maliciously filed for bankruptcy right after receiving the first installment of NT$60 million, wasn't he tempted to say, "Forget about it"?
Standing on the lawn in front of the National Taichung Theater, Wu looks at the giant rectangular piece of Swiss cheese that his workers have sculpted out of hand-bent rebar and layers of sprayed concrete. With resolve in his voice, Wu declares, "As long as you do not stray from the track, you will be able to make it to the finish line."
Translated from the Chinese by Susanne Ganz