Stanford's Shock Education
Redefining the 'Good Student'
精華簡文
Source:CW
Taiwan's rigid education system produces plenty of "good students," but here are three stories about a group of Taiwanese who found out at Stanford University that what it means to be "good" in this new era is changing.
Redefining the 'Good Student'
By Sofia Lee
From CommonWealth Magazine (vol. 561 )


While attending different programs at Stanford University, several students and doctors educated in Taiwan have discovered that the tried and true approach of studying hard and applying oneself to become a "good student" no longer works. Finding their skills that had been honed through test-taking outmoded, they developed a new appreciation of what being competitive means. At Stanford, the flipped classroom is in vogue, and learning has no boundaries.
---
► College Senior Michelle Lee
Mayfield Fellows Program: Nurturing Future Leaders
Looking at Michelle Lee's schedule, one would think she was a corporate CEO. A full day of meditation, classes and meetings can run as late as 10 at night. So it's hard to believe that Lee is just a college senior majoring in chemical engineering.
"If you want to succeed, you need to know what you want to do," Lee often reminds underclassmen, and she herself stands out as the best example of practicing what you preach.
With neatly trimmed short hair, wearing a T-shirt and blue jeans and carrying a backpack, Lee looks like the girl next door. Though coming from a well-off family, there is nothing delicate or entitled about her.
Lee established her interest in innovation and entrepreneurship in her first year of college, and she took innovation classes with graduate students. Inspired by a senior's words to go abroad and gain a new perspective on the world, she took time off after her freshmen year and returned to Taiwan to start a business.
Lee's road has been anything but conventional. Most people spend a few years in school before studying innovation and entrepreneurship, but she realized while learning by doing and trying to start a business that it was important to strengthen one's specialized knowledge and expertise.
"You can't innovate unless you have expertise," she says.
After returning to college following her year-long break, Lee was even clearer about her life's direction and better understood learning. She extended her academic interests to robotics, then organized a club to design a go-kart and participated in a Maker Faire.
Unafraid of getting a late start in the field, Lee drafted a "go-kart plan" not long after she plunged into robotics and received a US$1,500 grant for the project. A special team was formed within the robotics club to design the small race car that could be operated with an iPhone. She also had a group of male engineering students put together electric circuits and wheels, completely subverting the male-dominated culture of the mechanics field.
She even opted to be a housemaster, helping manage the daily lives of a group of college students, forcing her at times to act as a computer repairman. It has presented an opportunity for her to learn to shoulder responsibility and manage and lead others.
Understanding How Managers Think
That leadership and ability to execute enabled Lee to stand out from Stanford's nearly 7,000 undergraduates and be selected as one of 12 people to participate in the Mayfield Fellows Program. When that honor is mentioned, Lee appears particularly excited and stresses that this is the program she most hopes Taiwan will one day introduce from abroad. She describes it as a "mini MBA" that nurtures future leaders.
The program features great variety, covering everything from strategic planning to employee dismissals. Even more special, participants do internships during their summer vacations at start-up companies with fewer than 200 employees, where they are mentored by senior executives.
"Maybe the jobs Facebook gives interns are cool, but there's no way you can talk to entrepreneurs every day," says Lee, pointing to the difference between big companies and start-ups. This leadership program makes it possible for Lee to understand at a young age how managers think.
To keep from stressing out, Lee makes sure to leave at least five minutes a day for meditation. More recently, she decided to develop a new interest, taking up rock climbing.
Busy exploring and embracing work and life, Lee is well on her way to preparing herself to become a future leader.
---
► Three Talented Students
The Flexibility of Independent Study
If your school never took attendance at class and made all courses available online, allowing students to take classes being held at the same time, how would you organize your college life?
That was a question Purdue University computer engineering graduate Austin Hong, National Taiwan University medical school graduate Kun-hsing Yu and NTU electrical engineering graduate Jocelin Ho all had to face when they encountered the open learning environment after arriving at Stanford University.
Almost all of Stanford's classes are recorded and posted online, enabling students to take any course that interests them. The program appears to offer maximum flexibility, but learning outside the classroom repeatedly forces students to challenge their limits.
"I only have nine credits this month, but here credits are not really meaningful. I only spend 10 hours a week in class, but all of my time outside class is spent on homework," says Hong, who is pursuing a master's degree in electrical engineering. His two friends to his side nod in agreement, clearly indicating they have also felt the burden of their heavy workload outside of class.
Yu, a biomedical informatics Ph.D. candidate, is a teaching assistant and responsible for assigning homework. He says the homework assigned follows the logic of the class but does not necessarily focus on the content of the lectures.
In other words, the students can't simply rely on recitation or the information in the lectures to complete their assignments. They must find solutions on their own based on materials provided by the T.A.
One example: a three- to five-page assignment that first introduces a research method and then guides the student to put it into practice. If students run into problems, they either search for the answer online or ask the teaching assistant. This challenging approach to homework means that Yu's office is crowded with students whenever his office hours roll around.
Students like 'Ducks'
In the face of challenges, Stanford's outstanding students naturally refuse to concede defeat lightly. These seemingly carefree and unrestrained elites have actually earned the nickname "nighter" because of their penchant to pull all-nighters.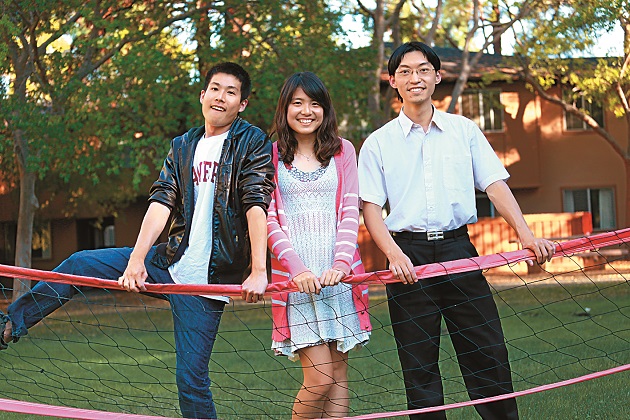 Stanford University's open philosophy gave Taiwanese students Austin Hong (left), Jocelin Ho (center) and Kun-hsing Yu something of a culture shock.
"The students here are like ducks, floating calmly on the surface but paddling like crazy underwater," observes Ho, who is in her second year studying for a master's in electrical engineering. The extreme diligence shown by her classmates has put a lot of pressure on her.
Comparing the learning experience at Stanford and National Taiwan University, the NTU graduate said students in Taiwan more passively accept what the professor is teaching, while there is more emphasis on class participation at Stanford. Students not only have to quickly grasp the content of the professor's lecture but also think about how to expand on it.
"The student is responsible for learning," Ho says.
From course design to cultural baptism, Stanford has given this group of Taiwanese an unforgettable experience. Asked how they would summarize their learning experience at Stanford, all three agreed with the classic quote: "What doesn't kill you makes you stronger."
The sound of laughter at the analogy was accompanied by the soft California sunshine, a scene of calm and contentment before a return to the student grind. After the interview, the trio had to get back to their mound of homework and continue to battle their way through this intensively competitive citadel of higher learning.
---
► STB Students
Being Encouraged to Take Risks
Silicon Valley's entrepreneurial spirit has profoundly influenced Taiwan's Internet sector, and a similar wave is now spreading to Taiwan's medical community through Stanford University.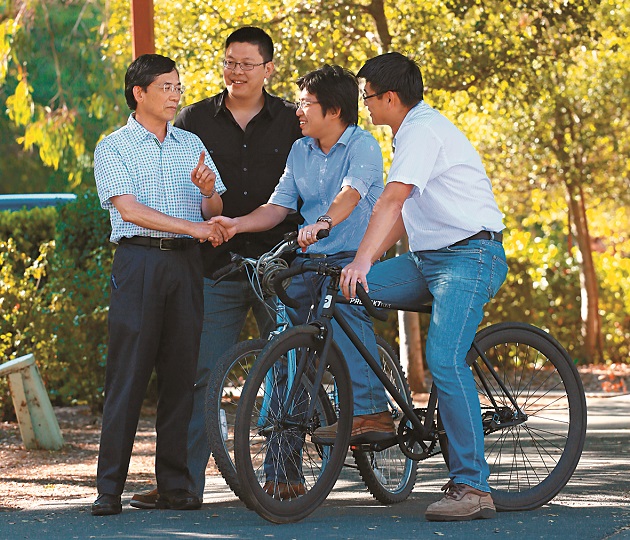 Under the guidance of medical supply expert Yue-teh Jang (first from left), STB students have regained the courage to pursue their dreams.
Over the past seven years, the Ministry of Science and Technology has sent 33 medical students and master's and Ph.D. candidates to Stanford University for a year of training under the "Stanford-Taiwan Biomedical Fellowship Program" (STB). Through them, Silicon Valley's innovative soil has found its way to Taiwan.
This group of highly talented students, raised under Taiwan's education system, has subjected to "shock education" at Stanford.
As soon as they arrived at the school, they asked STB host Peter Fitzgerald what they should do to get started. Fitzgerald, the director of the Center for Cardiovascular Technology at Stanford University, handed them a map of the Bay Area and three books on entrepreneurship and advised them to first go to art museums and Starbucks and wander around for a month.
Making an effort to experience the freewheeling local culture and not confining themselves to the campus was Fitzgerald's first lesson.
After their first month, the students offered their observations about their experience and waited for the professor to give them their next assignment.
"What do you want to do?" Fitzgerald asked, making the Taiwanese students who were so used to following instructions extremely anxious.
In the next few months, however, the students gradually learned how to develop their own ideas and propositions through observations from daily life, think independently and even question Fitzgerald's views.
"Nobody invents when they are comfortable. I always come up with new ideas when I am in angst," Fitzgerald says with a laugh.
This shock got the students thinking about Taiwan's culture and education system.
"Taiwanese people have dreams when they're 10 years old, but the environment suppresses those dreams to a certain extent," says STB participant Gabriel Chao, who has a Ph.D. in electrical engineering from National Taiwan University.
Daring to Dream Again
Their time at Stanford has helped many STB students find the courage to rekindle their dreams.
Chen Chieh-hsiao, a doctor at China Medical University Beigang Hospital, and former National Taiwan University Hospital doctor Daniel Wei-chen Hong both started businesses after returning to Taiwan.
Aside from instilling the spirit of daring to push forward and being adventurous, Stanford also has a strong group of teachers with private sector backgrounds always willing to extend a helping hand, a feature that has deeply impressed STB participants.
Ting-mao Chou, who has been a plastic surgeon at National Cheng Kung University Hospital for eight years, says that when he was preparing a report for an STB class, he searched desperately for a pig ureter to make a medical device model, but could not find a whole pig kidney no matter where he tried.
Chou asked his teacher for help, who, to Chou's immense surprise, put him in touch with a butcher. The teacher who gave him the tip was a professional medical supplies consultant with a wealth of animal experiment experience and quick access to medical resources.
Stanford's ability to draw leading authorities from many industries to its campus helps bring students and the private sector closer together, in contrast to Taiwan's major universities, which draw clear boundaries between academia and industry. In Taiwan, it is almost impossible for people without a Ph.D to teach at a university.
One of the main forces behind the STB program, well-known Silicon Valley venture capitalist Yue-teh Jang, says that many successful entrepreneurs are very willing to give back. As long as schools open themselves to private sector talent, they can gain access to an abundance of free resources.
Through their Silicon Valley cultural baptism, STB participants have brought innovative thinking back to Taiwan and are attempting to build an entrepreneurial ecosystem in the medical devices sector.
They have established an STB club that holds occasional master forums and experience-sharing meetings, forming a new force in the sector.
As the interdisciplinary thinking espoused at Stanford ferments in Taiwan, major universities such as National Chiao Tung University, National Yang Ming University and National Cheng Kung University, have established their own interdisciplinary programs. STB graduates serve enthusiastically as lecturers, sharing their experiences and promoting innovative ideas.
Fitzgerald, who has collaborated with the STB program long term, visits Taiwan frequently and has witnessed Stanford's influence on Taiwan.
He firmly believes that only by getting each field to tear down its walls and join hands with others can Taiwan integrate manufacturing and innovation to emerge as a world-class medical device technology center.
Stanford University is revolutionizing how Taiwanese students imagine learning. After returning to Taiwan, students who have experienced the STB program are intent on reversing the mindset of Taiwan's manufacturing sector and bringing the soil of innovation to the medical devices sector, hoping to spawn flowers of innovation.
Translated from the Chinese by Luke Sabatier