New Creativity vs. Rigid Thinking
Taiwan's 'Innovation' Challenge
精華簡文
Source:CW
Passionate, engaged, and raised on digital technology, Taiwan's young generation is the most creative ever and becoming a social force. But an inflexible education system and organizationally rigid enterprises are having trouble keeping up.
Taiwan's 'Innovation' Challenge
By Rebecca Lin, Sydney Peng
From CommonWealth Magazine (vol. 561 )


Youth represents potential upheaval, and Taiwan's young adults have never stirred up as much commotion as they are now. But this agitation is largely being channeled over the Internet and still exploring possibilities of how to change the world as it exists today.

Some young adults, however, have already pulled themselves away from their keyboards to take action.

A young woman named Chen Yi-han, her long hair tied in a ponytail, looks intently at a bicycle standing high on a table as she pries off an advertisement covering part of the bike's back tire with a screw driver.

The diminutive Chen then lifts the bike with ease, sets it on the ground, walks it out of the fourth-floor office, and brings it down to the first floor without the slightest need for a helping hand.

A Generation Bursting with Creativity

Though Chen graduated just this year with a master's degree from National Chiao Tung University's Institute of Applied Chemistry, she already has six years of entrepreneurial experience through 19-Team.com. She founded the company and its "Sharing Wheels" concept with five friends when they were just starting at National Taiwan University at the age of 19, hence the name. The company rents bicycles for free, primarily to university students, and makes money off advertising seen on the bikes.

It may be apparent to many that today's youth are fearless, but, in fact, they also make up the generation most able to unleash creativity.

"That's because they have been accustomed to using digital technology since they were born," says Education Minister Wu Se-hwa. This generation, the first to be weaned on digital technology, is exposed to a great deal of information and possesses creativity far beyond older generations' imagination. But going from creativity to a viable business model requires a huge leap many Taiwanese are reluctant or unable to take.

Creativity involves ideas; innovation is putting those ideas into practice; and starting a business represents profits, according to Andy Ruey-shan Guo, the dean of National Taiwan University's College of Management. He explains that creativity requires sustained observation of people's behavior and developing insights from those observations. But simply being creative isn't enough, he says. Only when creativity is given tangible expression can it be called "innovation," and when product creativity and service innovation are combined with a business model, that's "entrepreneurship."

In Chen's case, she went from innovation to entrepreneurship. Observing that commercial advertising had trouble penetrating college campuses, her 19-Team developed a business model catering to that need. It rents bicycles on a long-term basis to students for free, but those bicycles are adorned with unified identification markings and commercial advertisements that go wherever the bike's rider takes them. The advertisements pitch everything from tutoring opportunities to the NTU ArtFest.

Sharing Wheels has not only withstood competition from Taipei's popular YouBike rental program, it has been unable to satisfy demand, its more than 5,000 members sharing over 1,000 bicycles spread around five university campuses and 10 communities in Taipei.

Innovation: Sensing People's Needs

Chen's new innovative model for renting bicycles was sparked by her insight into the needs of businesses and students. And because 19-Team's bicycles can be easily identified, they are less likely to be stolen.

"Our revenues are growing every year," Chen says, her sights set on an even longer-term market.

But members of this generation like Chen, who have moved into the real world, shown creativity and created value, remain in the minority, in part because the force created by this new wave of innovative momentum is not yet sufficient to dislodge the rigid ways entrenched in Taiwan's education system and private sector.

"School education has not changed enough, and the same goes for companies," says a concerned Shih Chin-tay, a National Tsing Hua University College of Technology Management professor who was once president of Taiwan's prestigious Industrial Technology Research Institute (ITRI).

Curtis Carlson, the former president of research and innovation center SRI International and an adviser to Taiwan's Ministry of Science and Technology, warned in a speech two years ago that Taiwan was lacking a comprehensive innovation system. That weakness, combined with inadequate venture capital activity, will make it hard for Taiwan to attract the best talent, resulting in problems for the country's high-tech sector, he said.

A recent Chinese-language report on innovation trends in Taiwan by the Boston Consulting Group also pointed to a potential problem. It said Taiwan's innovation was currently concentrated on products and manufacturing models, which may be misdirected in a world undergoing massive change. The Boston Consulting Group's managing director in Taiwan, JT Hsu, says the trend toward wearable devices in the future will reduce the importance of hardware and increase the importance of software and services and put a premium on understanding customers and users.

"But the ability to understand customers is not one of Taiwan's strengths. (Taiwan) will face very big challenges in the next five to 10 years," Hsu cautioned.

NTU's Guo agrees that innovation in the world of the future will place greater emphasis on individuals' needs.

"This requires observing and gaining insight into people. During the process, looking for problems is more important than bringing up solutions," Guo says. It's a process clearly at odds with Taiwan's education model that has stressed the pursuit of "standard answers" to rigid test questions.

Innovation Education: A Huge Generator

Campuses are now sensing the private sector's strong demand for people with innovative thinking skills and have begun to introduce innovation education. As Taiwan's economy evolves from being efficiency-oriented to innovation-oriented, "innovation education will emerge as a huge generator that can produce unlimited power," says Chang Jen-chia, a professor in National Taipei University of Technology's Graduate Institute of Technological and Vocational Education.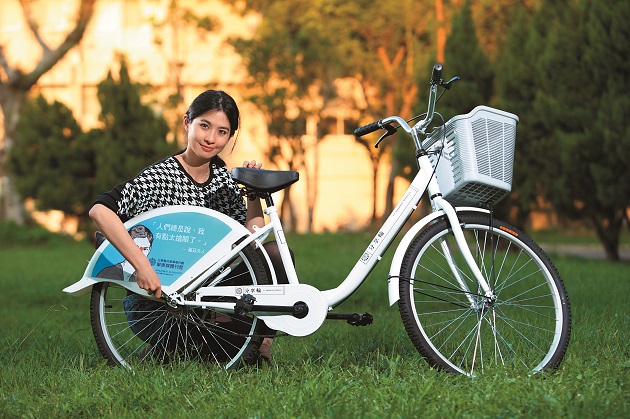 The founder of 19-team.com, Chen Yi-han, has used bicycles to get commercial advertising onto campuses.
Cultivating talent with innovative thinking skills has become a common theme at universities around Taiwan, with the two Chinese characters for "innovation" ubiquitous on campuses, including in syllabuses.
Of 160 universities and vocational colleges in Taiwan, 131 are offering a total of 925 courses related to innovation. Aside from the most common "Innovation and Creativity" and "Innovation and Entrepreneurship" courses, others cover such topics as innovative financial product marketing and financial innovation and draw on schools' engineering, design, business and hospitality departments.
In contrast, back in 1998 when the word "innovation" first appeared in a course title in Taiwan, only NTUT and Chaoyang University of Technology offered innovation-related courses, and only five courses at that.
The subject has grown so popular that in the past 10 years, the number of students taking courses on innovation has grown 10-fold. (Table 1)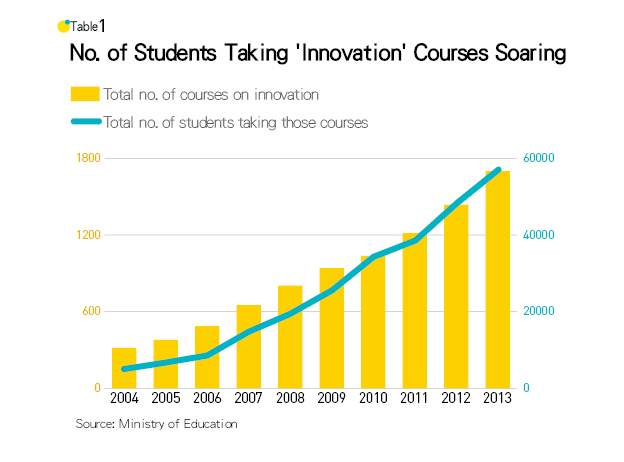 Nurturing Essential Key Competencies
National Taiwan University encourages students to not only look for a job but to be bolder and start their own businesses. NTU Vice President Chen Liang-gee, who also established the Creativity & Entrepreneurship Program and teaches in the electrical engineering department, says that when he was reviewing IPO cases in around 2000, he discovered a decline in the number of applications received and realized that if new businesses were not being created, there would be no new job opportunities.
Because academic research in Taiwan has been seriously out of touch with the needs of private enterprise, Chen toured Silicon Valley, Stanford University and MIT looking for industry-academia models and returned to Taiwan to make adjustments in the system. Responding to student demand to launch start-ups, Chen created an entrepreneurial ecosystem consisting of an entrepreneur association that provided mentors, an "NTU Garage" providing work space, a seed fund providing incentives and an "NTU Angel Club" making investments.
"Silicon Valley is the world's source of innovation, and Israel is recognized as the country with the strongest spirit of innovation outside of Silicon Valley," says Chen, who has not only observed those ecosystems up close but hopes to transplant them and have them take root in Taiwan.
This commitment to innovation has engendered a stronger emphasis on interdisciplinary learning, teamwork and cooperation in Taiwan. At NTUT, known as the "cradle of entrepreneurs" where an estimated 10 percent of small and medium-sized enterprise owners have studied, the innovation and creativity program offers 34 courses, and students only need 18 credits to get a certificate. But the school stipulates that only six credits can come from the student's major field of study; the rest must be from electives in other disciplines.
"Aside from getting students to take courses across different disciplines, we also stress heterogeneity when dividing people into groups, putting students with different majors together," says NTUT's Chang, who is part of the Office of Innovation and Creativity under the Graduate Institute of Technological and Vocational Education. The approach forces students to look at problems from the perspectives of different disciplines, Chang says, and some students even get exposure to private sector problems, working with teachers to address problems companies have asked professors to help them resolve.
Ultimately, the hope is that innovation education can nurture the ability to think and solve problems, as it has with a master's candidate studying in the Institute of Service Science at National Tsing Hua University.
That student, Chang Chia-chun, is obsessed with Tainan's famous beef soups. He and his girlfriend traveled there to try the beef soup at more than 200 shops in the city and rated each of them for flavor and richness. He then packaged the ratings into a mobile app called "I Conquered Tainan's Beef Soup" and put it in Apple's App Store where it can be downloaded for a fee.
Chang did more than just create an app, however. He also gained insight into the needs of Tainan's beef soup shops, many of which are having an increasingly hard time surviving. Applying the "design thinking" concept he learned in school, Chang held a class for owners of beef soup restaurants to ponder together what strategies could be used to improve their shops' operations. More than 20 people participated.
His next step, he says, will be to join with classmates and renovate Tainan's old tatami stores. Asked why he's so active, Chang replies giggling, "simply because I like it," a reflection of his attitude that work should be about creating "value" and meeting the "needs" of the public.
Taiwan's private sector is trying desperately to catch the innovation wave. According to the Boston Consulting Group's report, the importance of innovation at companies around the world is on the decline, with 75 percent of enterprises surveyed this year saying it was one of their top three development strategies, down from 76 percent two years ago. But in Taiwan, the ratio of companies seeing innovation as one of their top three development strategies has risen from 79 percent to 80 percent.
Also, 58 percent of Taiwanese companies surveyed this year expected to increase the amount they will invest in innovation in the future, compared with 57 percent in 2012.
Aligning Education with the Private Sector
Taiwan clearly intends to transform itself into an innovation-oriented economy, but for the transition to be successful, the education system and the private sector will have to work closely together. Shih, the former ITRI president, cites the partnership between Stanford University and Silicon Valley as an example of how innovation can be used to create value and have an impact.
"Corporate resources are limited and can be drawn from universities. Professors understand the business community through consulting and are constantly innovating," Shih says. The more common the interaction between the private sector and schools and the development of tight ecosystems, the more the opportunity exists for profitable partnerships, he explains.
But Taiwan's approach to such partnerships often tends to go only as far as providing students to work for companies as interns and helping students rack up as many certificates as possible.
"The number of (industry-academia) programs has continually gone up, but the number of entrepreneurs has not grown noticeably," Shih laments, pointing to the huge gap in Taiwan between knowledge and action.
Another imperative is for innovation to be aligned with the pulse of society. In the past, the goal of promoting innovation education was to get students to change the way they thought and did things, but "now I'm really sensing that innovation has to be practiced in a broader context for it to be meaningful and valuable," says Education Minister Wu. He hopes to give teachers and students greater exposure to the real world and bring innovation in step with society to solve the major problems emerging in their communities.
Higher Tolerance for Failure
Another change needed for innovation to thrive is for Taiwan's education system and culture to be more tolerant of failure.
"The students our education system produces are all afraid to fail, and if they are off by even a fraction of a point (in tests), they fail," says Lee Ji-ren, a professor of strategy and management in National Taiwan University's College of Management. It's a system, Lee says, that strips students of the courage to venture into a different field because the risk is too great.
Students are not the only ones fearing failure; several companies and venture capitalists harbor the same mentality. Venture capital investment has plummeted in Taiwan over the past 15 years, going from NT$30.8 billion in 2000 to NT$6.5 billion in 2011. ITRI Chairman Ching-yen Tsay once asked venture capitalists why they're not investing and their answer was invariably the same: the fear of failure.
Taiwan's venture capitalists hope that the companies they invest in quickly go public to earn back their investments in the shortest time possible, "but Silicon Valley venture capitalists say the most important factor in their investments is people. If you have failed three times, they want to invest in you even more," Tsay says.
This lack of boldness to change reality has resulted in social stagnancy. If Taiwan truly hopes to get on the innovation bandwagon, it will not only have to overcome the culture of fearing failure but also more closely integrate innovation education with the private sector and society.
Translated from the Chinese by Luke Sabatier