Survey of Taiwan's Critical Care Specialists
Futile Medical Treatment Commonplace
精華簡文
Source:CW
Why do terminally ill, dying patients receive futile medical treatment that often prolongs their suffering? CommonWealth Magazine and the non-profit 393.citizen.com surveyed Taiwan's critical care specialists to get the answer.
Futile Medical Treatment Commonplace
By Whitney Huang
From CommonWealth Magazine (vol. 560 )


How do physicians view futile medical care?

The 393.citizen.com online platform conducted a survey of critical care specialists in Taiwan, who were picked through selective sampling. Of the 41 specialists providing valid responses, 90 percent believed that futile medical treatment in end-of-life care is an issue that requires attention and needs to be addressed urgently.

More than half of the critical care physicians who participated in the survey approve of the definition of medical futility articulated in a study on medical futility in ICU settings published in JAMA Internal Medicine, the journal of the American Medical Association, in September 2013. (See defintion)

Eighty-eight percent of the physicians surveyed feel that patients they have treated in their ICUs have received futile care.

The survey participants were also asked to estimate the number of ICU patients likely to receive futile care (including possibly futile care) per month first based on simulated situations. These results were then extended to the total number of ICUs in Taiwan to obtain the incidence of medical futility per month. The resulting incidence rates ranged between 11.4 percent and 23.9 percent, for an ave
rage incidence rate of 17 percent.
In other words, roughly one out of every six patients in ICU care receives futile medical care. The incidence rate was highest for internal medicine ICUs, where a quarter of the patients were administered futile (or possibly futile) care. Among the possible factors explaining the higher level of futility are the relatively high ratios of older patients, patients with multiple chronic conditions and readmitted patients in internal medicine ICUs. (Table 1)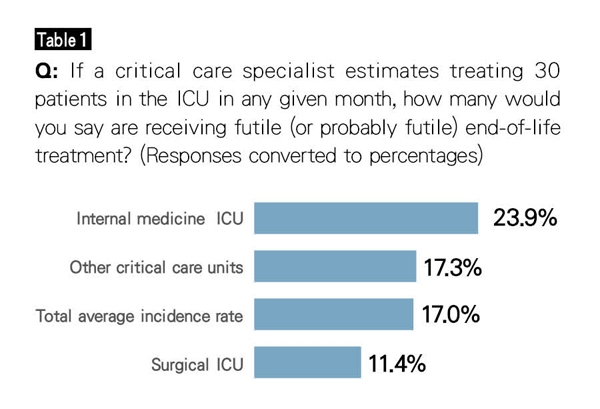 The survey produced similar results when the doctors were then asked to give the incidence rate for futile (including possibly futile) medical treatment based on their actual experience.
Will of Patient and Family Not Always the Same
So why do physicians resort to futile treatment?
Almost 54 percent of the respondents frankly admit that they always or often decide to administer futile treatment to avoid medical disputes. (Table 2)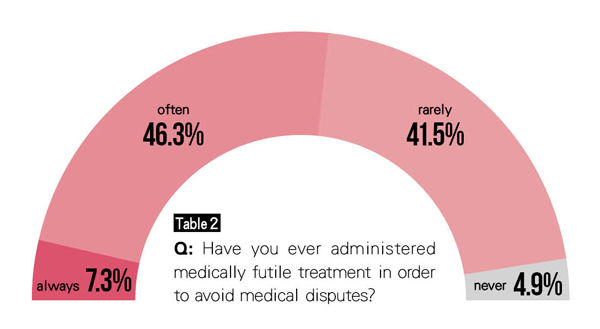 A physician who has served more than 10 years as director of an intensive care unit observes that it has become increasingly common for patients' family members to vent their anger and frustration over a poor prognosis from a doctor. "The current situation is not as friendly as one imagines," he notes, shaking his head in exasperation.
Futile treatment can also be administered when family members do not respect the will of the patient.
The survey found that 48.8 percent of the physicians surveyed often face the situation where a patient has signed a "living will on hospice palliative care and life-sustaining treatment options" but family members object, leaving the doctors with little choice but to continue giving the patient futile treatment. (Table 3)
"Bedridden people, dying people won't sue you, but the living relatives will," remarks a physician matter of factly.
Nevertheless, the respondents unanimously agreed that signing a living will while still in good health helps reduce the possibility of receiving futile treatment when terminally ill. They also agreed that explaining the purpose of signing a living will or a Do Not Resuscitate (DNR) consent form to a patient or his relatives in a clinical setting can help reduce futile treatment. (Table 4)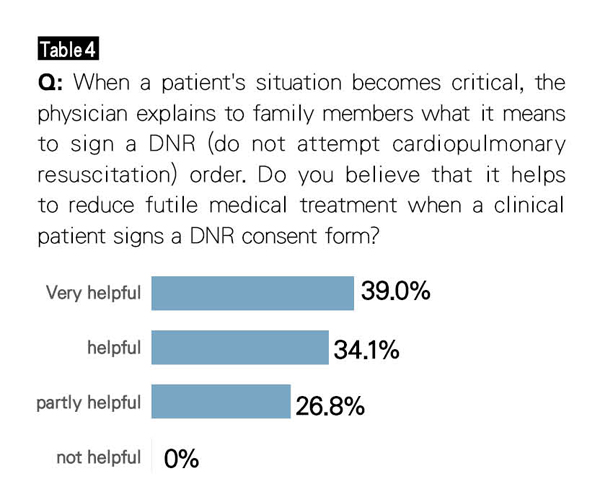 More than 80 percent of the respondents believe that the overuse of medical care in Taiwan can be attributed to requests from family members (87.8 percent) and the mere fact that such treatment options exist (82.9 percent). It is also worth noting, however, that 46.3 percent of the physicians felt that hospital administrators were deserving of blame because they want to raise bed occupancy rates. (Table 5)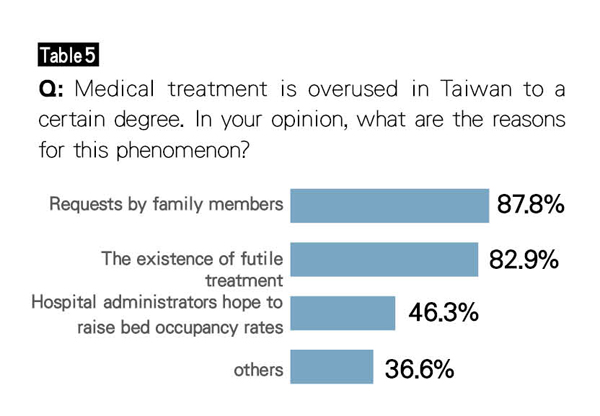 Seven physicians said the national health insurance's fee for service system is partly responsible for the overuse of medical resources in Taiwan.
The physicians suggest that the situation could be improved through a combination of measures on various fronts – through laws and regulations, hospital management, and policies as well as by strengthening understanding about end-of-life care among physicians and the public.
Translated from the Chinese by Susanne Ganz.