2014 Most Admired Company Survey
Riding Technology to Stay on Top
精華簡文
Source:CW
CommonWealth Magazine's "Most Admired Company Survey" has seen the reputations of companies and sectors rise and fall over its 20-year run, making those whose brands have endured all the more admirable.
Riding Technology to Stay on Top
By Jimmy Hsiung
From CommonWealth Magazine (vol. 558 )


The list of companies at the top of CommonWealth Magazine's 2014 "Most Admired Company Survey" represents a mix of venerable mainstays and hot new stars that offers a clear picture of the future.

Of the 24 sectors in which awards were given, six had different winners than last year. Among them, Largan Precision Co. in the opto-electronics sector and Sercomm Corp. in the communications sector topped their respective industries for the first time.

Four other companies – Chunghwa Telecom Co., Wan Hai Lines Ltd., Ruentex Development Co. and the FIH Regent Group – returned to once-held perches.(Table 1)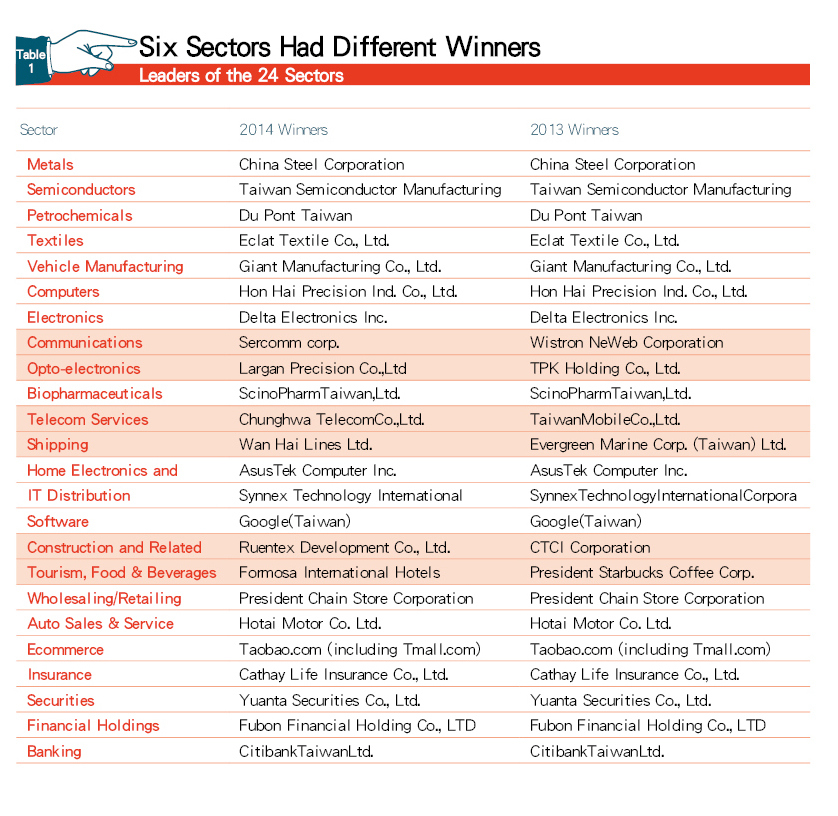 The number of sectors in which awards were handed out fell from 25 last year to 24 this year because of the omission of the food processing sector. CommonWealth Magazine decided not to disclose the survey's results on the food sector because of several food safety crises that have hit Taiwan over the past two years, from food additives laced with toxic plasticizers and starch-rich foods tainted by a toxic acid to pure oils adulterated by cheaper oils and lard-based oils containing ingredients not fit for human consumption.
Because of the complicated nature of the food sector's supply chain, these scandals have affected the entire sector, creating social turmoil and triggering public skepticism of food safety. As a result, no "Most Admired Company" awards will be handed out to food companies this year, a decision we hope will sound the alarm and force the private sector and the government to seriously examine how to rebuild Taiwan's food safety system, prevent systematic risk and help Taiwan rediscover its competitiveness as a "culinary kingdom."
Largan Precision's Outstanding Technology
Topping more established companies in the industry and snatching its first "Most Admired Company" award as leader in the opto-electronics sector, Largan embodies the philosophy of hidden champions that "being good is more important than being big."
That quality also enabled Largan to emerge as the only new face in CommonWealth's list of Taiwan's 10 most admired companies, catapulting all the way to fourth. (Table 2)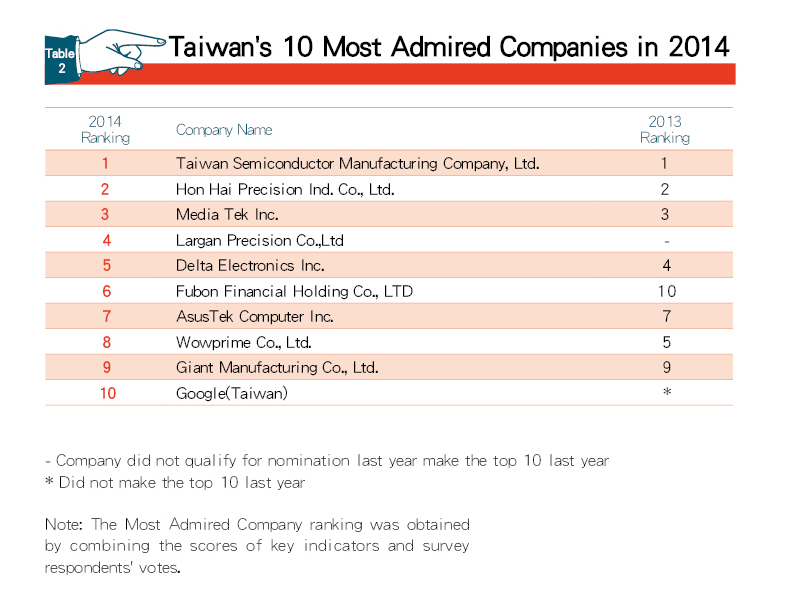 Largan, which had sales of NT$27.4 billion last year, was once again one of the opto-electronics sector's 10 biggest companies last year (only the 10 biggest companies by sales in each sector qualify for consideration for the "Most Admired Company" awards). It not only supplanted TPK Holding Co. as the most admired company in the sector, it also cast aside flat-panel display stalwarts AU Optronics Corp. and Innolux Corp. Technology Co., using camera lenses the size of grains of rice to defeat TV panels that are only growing in size.
The success of Largan and TPK is remarkable considering that their smartphone camera lens modules and touch panels have both come under pressure from Chinese pursuers in recent years. An executive with a company that supplies production equipment to Taiwan's high-tech sector is blunt about this onslaught from Chinese rivals, saying it has reached the point where it may be impossible to defend against.
"They use your people, buy your equipment, copy your patents and quote prices lower than yours," says this veteran of a central Taiwan machine tool maker, expressing the plight faced by all Taiwanese companies.
Largan has withstood Chinese pressure because of its reliance on its own technology. It is widely known in the industry that Largan puts such a high priority on technology that it develops its own manufacturing equipment, making it impossible for others to steal it.
In fact, the most admired companies across different high-tech sectors, including Taiwan Semiconductor Manufacturing Co. (TSMC), Delta Electronics Inc. and AsusTek Computer Inc., all stress the development of home-grown technology.
Sercomm – Betting on the Internet of Things
Another of the new faces among this year's most admired companies – Sercomm – has also dedicated itself to steadily honing its technology over the past 20 years. Its rise signals the big future of the Internet of Things.
"For the past 20 years, we have only sharpened one sword. That's the IP sword," says Sercomm CEO and president James Wang.
IP, or Internet Protocol, is the key to the explosion of the Internet of Things. The concept of the Internet of Things has been around for a long time, whether applied to controlling industrial processes or traffic, but the controls were all operated independently in their own fields. With the onset of the cloud computing age, however, big data computing has broken down those barriers and enabled everything to be connected – a real Internet of Things.
Just as every computer needs an IP address to connect to the Internet, every "thing" needs an IP address to connect to the cloud. With millions of addresses to be needed in the future, one of the companies seen as having the best future prospects is Sercomm, which specializes in such products as integrated access devices, home controls and IP cameras.
The most obvious example showing why Sercomm is so well-positioned are the sensors Sercomm has been very busy shipping recently. They cover a wide range of applications, including detecting window vibrations and gas leaks, setting off fire alarms or helping with home care, and they all must have an IP address connected to the outside.
Sercomm's robust IP technology has come mainly through many years of hard work. Founded 22 years ago by prominent venture capitalist Paul Wang, the company dedicated itself initially to IP networking devices, but it encountered several bumps in the road, such as missing the Wi-Fi wireless application wave. As a result, while industry peers such as D-Link Corporation and Draytek Corp. were making names for themselves, Sercomm continued to toil in relative obscurity.
When the 3G communications era arrived, however, Sercomm finally scored a breakthrough when it began in 2007 to develop the technology for Femtocells – small, low-power base stations that can be deployed in the home or small businesses to improve cellular reception. It became one of the few Taiwanese operators to truly get these base stations into the hands of "end users," deploying millions of them.
The Most Admired Sector: Semiconductors
Beyond the rise and fall of individual companies in this era of constant upheavals, the competition for best reputation among sectors was also fierce. Among the 24 sectors evaluated, the semiconductor industry again came out on top as Taiwan's most admired sector. (Table 3)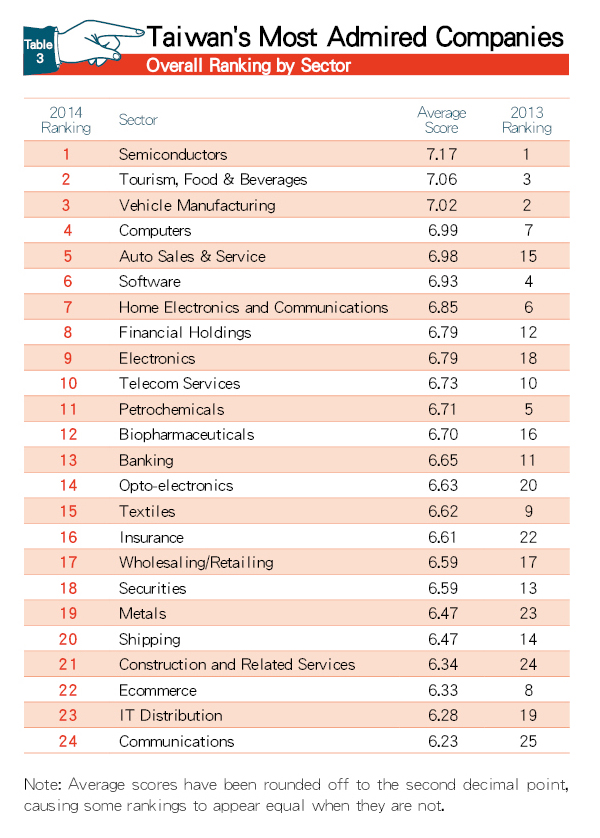 Aside from TSMC, which placed first among all companies in Taiwan in several different indicators as it has consistently done in the past, MediaTek also turned in an impressive performance. After finishing second among all companies surveyed in eight of the 10 categories but taking seventh in "international operations capability" last year, the IC chip designer improved to third in the international capabilities category this year, a difficult feat considering the caliber of the four rivals it vaulted past. They were multinationals HSBC, Texas Instruments and Google Taiwan and a company with a major global presence – electronics manufacturing contractor Hon Hai Precision Industry Co. – confirming the growing recognition of MediaTek's global influence.
With MediaTek drawing growing acclaim, MediaTek chairman Tsai Ming-kai saw his prestige climb higher. He catapulted from eighth last year to fourth this year on the list of CommonWealth Magazine's 10 Most Admired Entrepreneurs. (Table 4)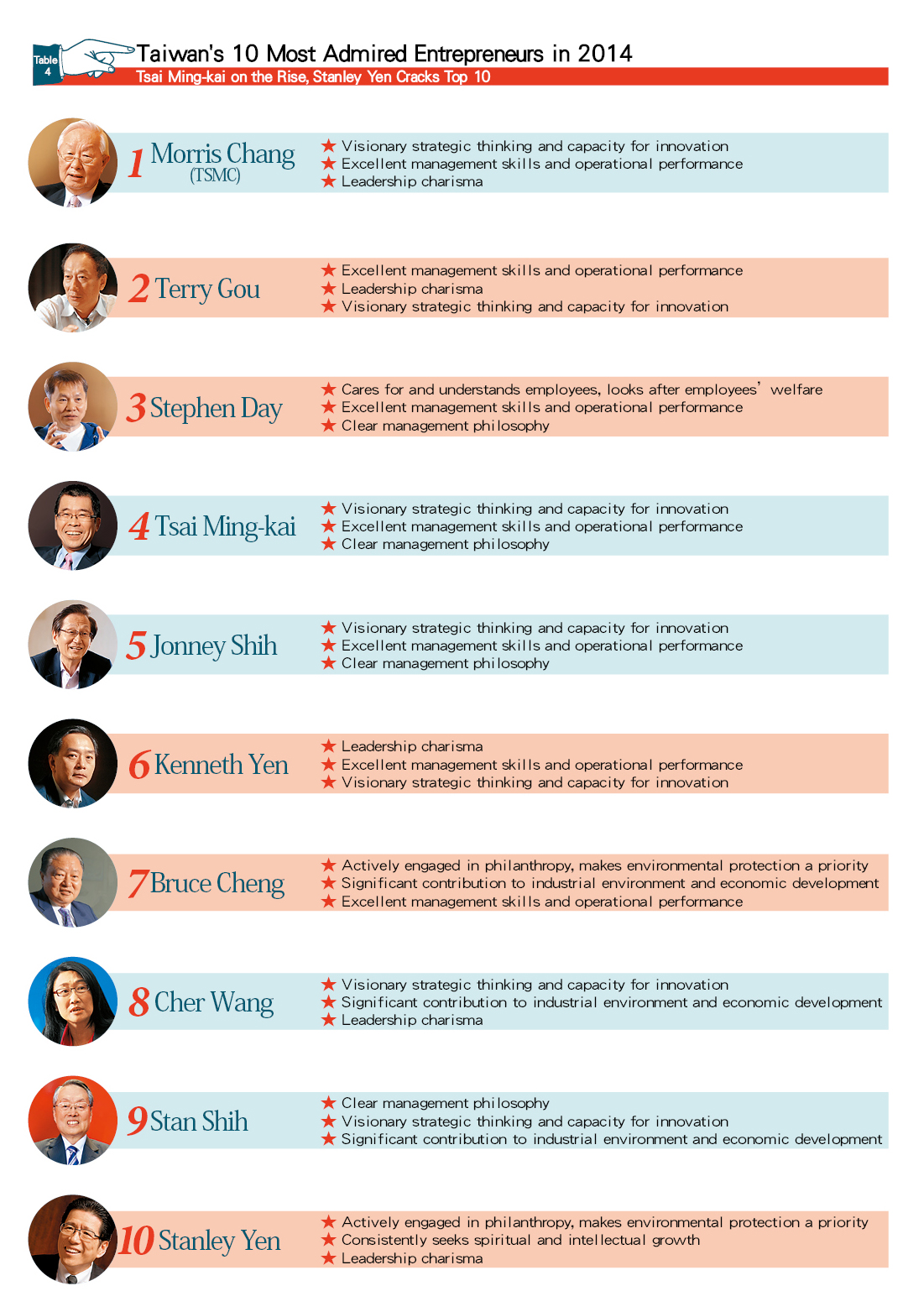 Tourism, Food & Beverages on the Rise
The reputation of the "tourism and food & beverages" sector rose from third last year to second this year, an advance that also spawned two of the 10 most admired entrepreneurs. One of them was Steve Day, chairman of restaurant group Wowprime Corp., who maintained his third place ranking from 2013, and the other was former hotelier Stanley Yen, chairman of the Alliance Cultural Foundation, who ranked 10th.
If a certain sector is on the rise, then inevitably others are falling back. The sector that lost the most ground this year was "e-commerce," which fell from eighth in 2013 to 22nd, or third from the bottom, this year.
That plunge may have been influenced by Alibaba's IPO in the United States, which raised US$21.8 billion. One e-commerce operator explains that because of Taiwan's limitations, such as its small market and the government's focus on hardware over software, domestic Internet vendors may have a feeling of inferiority when compared with their Chinese rivals, even if they are innovative in their own right.
The "petrochemical" sector saw its reputation take a hit because of one major incident – the explosions in Kaohsiung on July 31 triggered by propene gas leaks from pipelines running under the city. The blasts, which left more than 30 people dead, dropped the petrochemical sector's standing from fifth last year to 11th in 2014.
One other indicator worth noting in the survey is whether or not a company "has long-term investment value." To investors, a high ranking in this category shows that a company's investment value in the coming year has been recommended by its peers and experts.
Compared with last year, the 10 companies ranked the highest this year for "long-term investment value" had four new faces: Largan, Hotai Motor Co., Hon Hai and Fubon Financial Holding Co.
In a fiercely competitive age in which there is constant change at the top and a steady stream of new talent emerging, the key for all of these model companies is to figure out how to continue to shine. As they stride toward becoming the benchmarks in their relative sectors, they are harnessing strength that is helping propel Taiwan forward.
Translated from the Chinese by Luke Sabatier