Top 2000 CEO SurveyChin
Majority of CEOs Dissatisfied with Tsai Administration
精華簡文
Source:CW
While Taiwan's CEOs are cautiously optimistic about global economic prospects, they are pessimistic about relations with China, and the percentage with "nil intention" to invest is at a four-year high.
Majority of CEOs Dissatisfied with Tsai Administration
By Kwangyin Liu
From CommonWealth Magazine (vol. 612 )


In its latest forecast, the Directorate-General of Budget, Accounting and Statistics (DGBAS) again revised Taiwan's real GDP growth rate for 2016 upward 0.13 percentage points to 1.35%. This is the good news. The bad news is that the higher-than-expected economic growth in 2016 is not expected to fuel new growth in 2017. While economic growth is expected to pick up next year, the projected annual growth rate remains at 1.87%, unchanged from the previous outlook three months ago.

Consequently, the CommonWealth Magazine Top 2000 CEO Survey on the Economic Outlook and Strategy for 2017 indicates that company executives are only slightly more optimistic about the economy and the investment climate in the coming year than in 2016. Business leaders have two major concerns: Around 60 percent point to uncertainty about relations with China, which refuses to communicate with the government of President Tsai Ing-wen, or dissatisfaction with the new administration. Both factors negatively affect businesses' inclination to invest as well as the nation's economic growth momentum.

The share of top executives who are optimistic about the global economy in the coming year has risen from almost 30 percent to 41 percent year-on-year. (Table 1)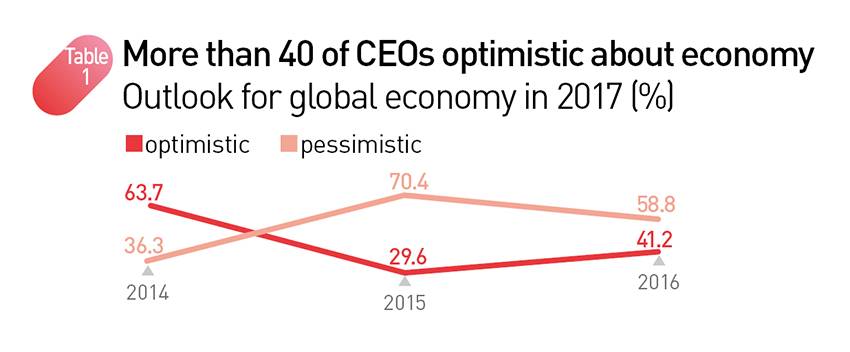 "Next year will be better than this year; the steel industry, for instance, has begun to rebound in the fourth quarter [of this year]," says Wong Chao-tung, CEO of the China Steel Corp.
Asked to give reasons for their optimism, 58.5 percent of CEOs point to an improving U.S. economy, while 31.9 percent cite stabilizing international raw material and oil prices. (Table 2)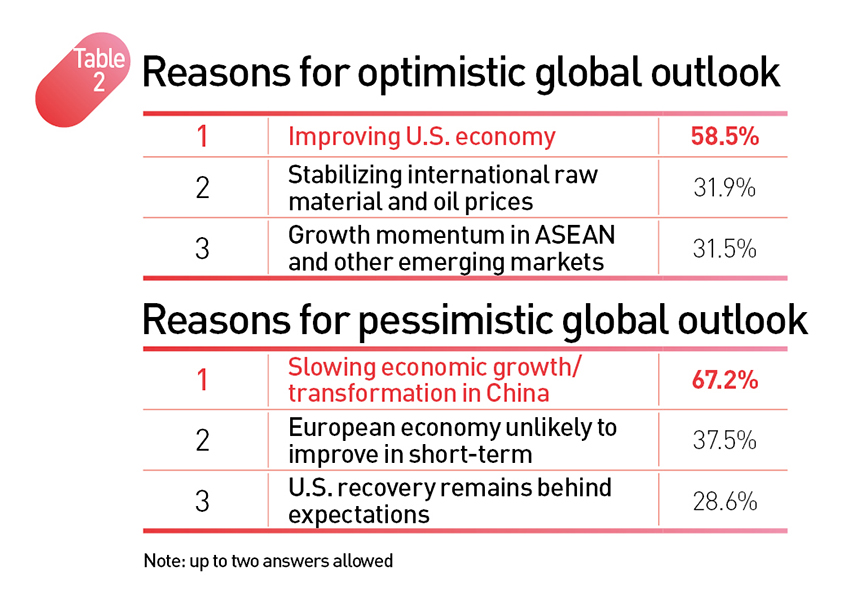 Formosa Plastics Group Chairman William Wong told the group's annual sports meet in late November that oil prices have already stabilized at around US$50 per barrel, and that he is convinced there will be no price spikes in 2017.
Nearly 67.2 percent of CEOs are concerned about the slowing Chinese economy, which has become the biggest unknown for the global economy. (Table 2)
Will the U.S. economy be invigorated now that real estate billionaire Donald Trump has won the presidential election? Taiwan Machine Tool and Accessory Builders' Association (TMBA) Secretary General Carl Huang believes that it is too early to say whether Trump's advocacy of a "Made in America" supply chain will be good or bad for Taiwanese manufacturers.
"Machine tools are a very basic industry. If an entire supply chain is to be built in America, it will take a considerable amount of time. But if they want to go for speed, they will be forced to buy a great deal of automated equipment, leading to a massive increase in demand in the short run, which in return will benefit Taiwan," Huang says.
No Interest in Investing in Taiwan, China
Interestingly, while business leaders are somewhat more optimistic about the economic outlook, they are very hesitant about investing. The share of those who say they "have no plans to make new investments" at home or abroad has risen to a four-year high. Almost 60 percent do not plan to invest overseas, while 36 percent are not planning to invest in Taiwan. (Table 3)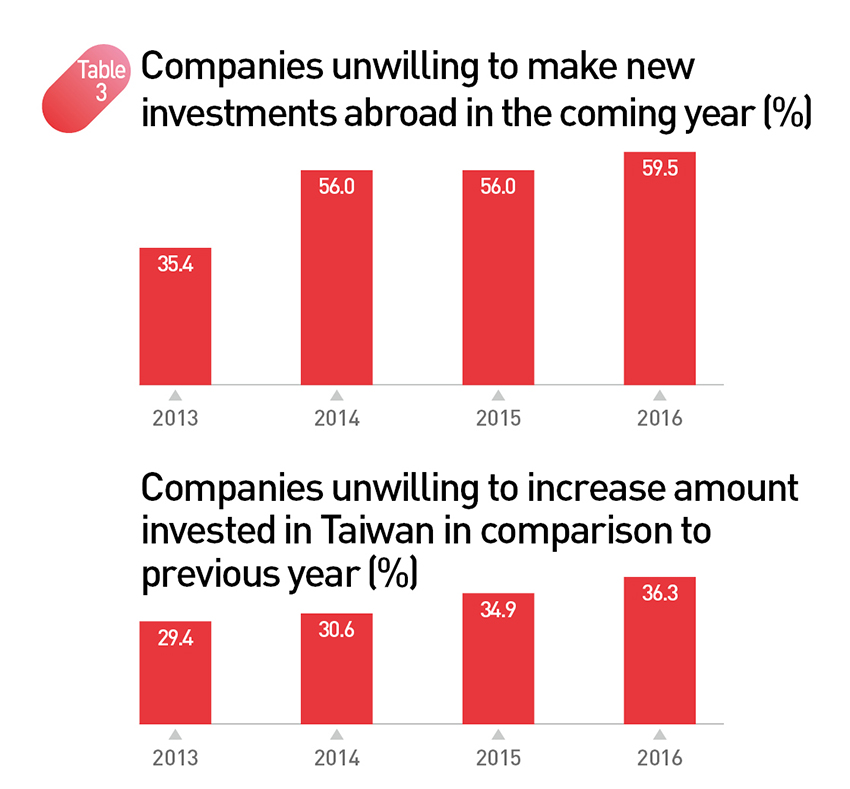 What keeps Taiwanese companies from investing at home? Tsai Lien-sheng, secretary general of the Chinese National Federation of Industries (CNFI), points out that investment activity will remain lackluster as long as the "five shortages" pinpointed by the CNFI have not been resolved. Tsai was referring to insufficient supplies of water, electricity, workers, land and skilled talent. Gross domestic investment increased only 0.01 percent year-on year in the first three quarters of 2016, according to DGBAS statistics.
Tsai believes companies shy away from investing on the island because of concerns over labor laws, operating costs, environmental standards and energy supply.
Now that Taiwan is moving towards phasing out nuclear power, concern over stable energy supply is on the rise among Taiwan's business community.
Should Taiwan abolish nuclear power very soon, coal-fired power plants would have to make up for the electricity shortfall. Formosa Petrochemical Corp. Executive Vice President Lin Keh-yen notes that since China shifted to supply side reform to reduce excess industrial capacity and non-viable assets, the price of coal has soared to US$100 per ton. Before the reform policy was implemented, coal cost only half as much.
Aside from electricity costs, enterprises most also worry about the local governments' failure to act in concert with the central government. Local governments prohibit coal-fired power generation because they want to curb carbon dioxide emissions from coal combustion to meet emission standards. Yet the central government does nothing to help companies resolve their differences with local authorities.
Formosa Chemicals and Fiber Corp. Vice Chairman Hong Fu-yuan observes that these problems, in combination with rising coal prices, will fuel concerns over the stability of power supply next year.
However, Kung Ming-hsin, deputy minister with the National Development Council, points out that natural resources are limited, and the continued deterioration of the environment is a warning sign that transformation is badly needed. "If industry continues to consume energy and water, to pollute, and to use high numbers of workers, the situation will definitely become more difficult. The time has come for Taiwan to change its entire production and operating model," Kung says.
Cross-strait Freeze
The business environment in China continues to become harsher for Taiwanese companies, first because of rising costs. CNFI's Tsai observes that statutory employer contributions under the "five insurances, one fund" system (endowment insurance, medical insurance, unemployment insurance, employment injury insurance, maternity insurance, housing providence fund) implemented by China in 2011 have caused the cost of doing business in China to rise markedly. On top of that, urbanization is aggravating the labor shortage in coastal areas, land costs are skyrocketing, and environmental standards are becoming stricter. Against this backdrop, it is becoming more difficult for Taiwanese entrepreneurs to run a profitable business in China.
Second come political factors. The survey results reveal just how much the business community frets about the relationship with China under the new government.
Over 65 percent of company executives, more than twice as many as in 2015, consider "uncertainty in cross-strait relations" the biggest challenge for Taiwanese-invested companies in China. (Table 4) "Rising labor costs", the top concern for the past three years, has receded to second place in importance.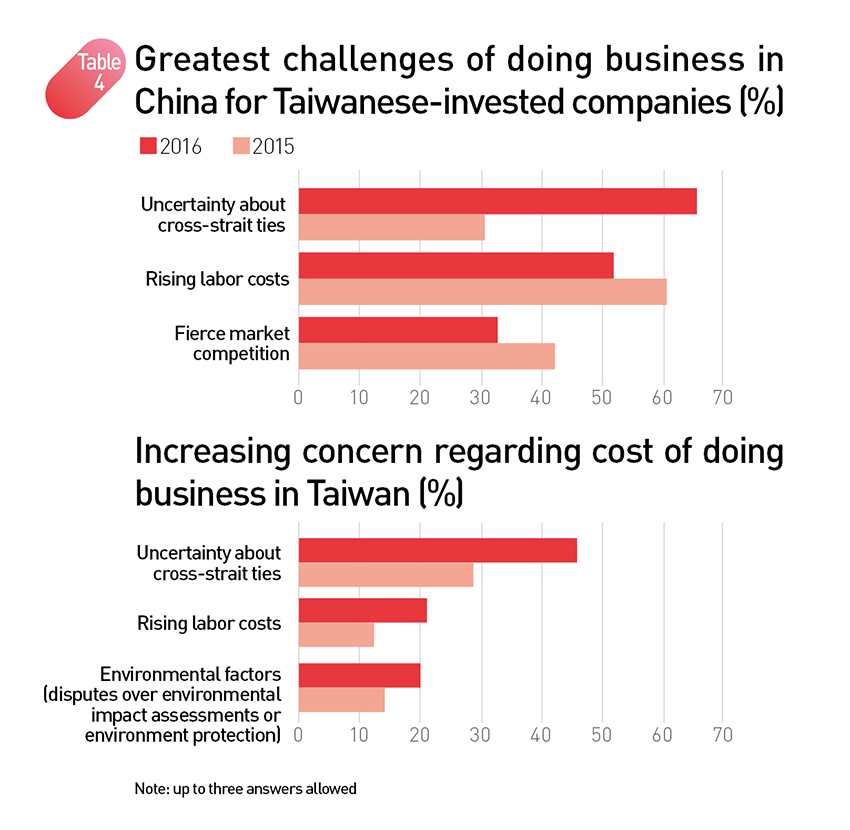 Cross-strait relations not only affect Taiwanese businesses in China but also companies in Taiwan. Asked "What do you consider the biggest challenge for Taiwan's business environment?" most CEOs pointed to "uncertainty in cross-strait relations," which is also the item that registered the largest percentage increase.
Also markedly moving up on the CEOs' list of great challenges were "rising labor costs" and "environmental factors." Since the Democratic Progressive Party (DPP) administration took power in May, labor disputes such as the China Airlines strike and worker protests against amendments to the Labor Standard Act have created the impression in the business community that labor costs are bound to rise.
China's refusal to talk with the Tsai administration is already throwing a shadow over business exchanges. TMBA's Huang notes that companies in China often need to consider the stance of the authorities. Companies that used to be friendly toward Taiwanese businesses now go out of their way to evade contacts for fear they could be labeled pro-Taiwan.
Dissatisfied with Tsai
Fifty-eight percent of CEOs are "dissatisfied" with the Tsai administration's performance in its first half year in office, while 18 percent are satisfied, and the remaining corporate executives do not have an opinion. (Table 5)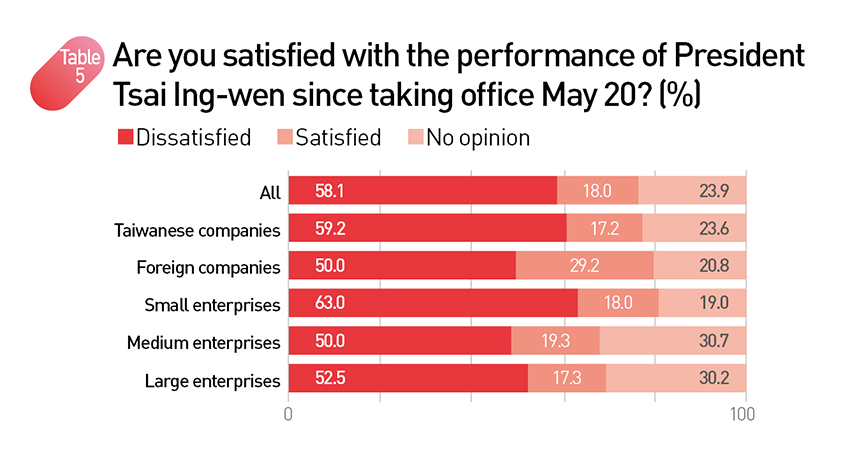 CEOs who are disgruntled with the new administration can be found across all industries. Based on company size, however, dissatisfaction runs particularly high among the top executives of small companies with annual revenues of less than NT$5 billion. As many as 63 percent are unhappy, possibly because the smaller companies are, the more difficult it is for them to adjust to economic transformation and a slowing global economy.
Kung believes that the originally complementary relationship between Taiwanese and Chinese companies has evolved into outright competition. "Taiwanese entrepreneurs will sooner or later have to face the challenge of transformation and upgrading," he says.
As for the widespread discontent with the government, Kung points to the fact that the new administration has been trying to address several hot potato issues that have plagued Taiwan for a long time, such as an inadequate pension system, statutory holidays and environmental problems. He believes this is a painful but necessary process.
"Taking the pension problem as an example: No matter how we solve this, it will make many people unhappy. But if we do not deal with it we will pay a higher price in the future. How can we possibly wait to deal with the pension system until it is bankrupt?" asks Kung.
What do the CEOs think of the Tsai administration's "New Southbound Policy"? Almost 70 percent of CEOs hold that "bilateral investment treaties" and "free trade agreements" are the key. (Table 6)

China Steel's Wong points to the massive fallout from the environmental dispute at the Formosa Ha Tinh Steel Corp. steel plant in Vietnam, in which the Formosa Plastics Group is the primary investor. "If there are bilateral investment treaties, investment disputes can be solved through the dispute resolution mechanism, and there are reciprocal tax breaks and exemptions. This is very important for manufacturers," says Wong.
As far as the industrial circle is concerned, no one is overly excited about the New Southbound Policy. "This actually isn't a new policy; Taiwan used to be the second largest foreign investor in Vietnam, whoever wanted to go there did so a long time a go," notes the CNFI's Tsai.
Tsai believes that Taiwan had better focus on improving its own investment environment to boost the economy. "The economy depends on investment as its driving force. When investment stalls, employment and incomes fail to increase, causing consumption to fizzle out," says Tsai.
Robots to Replace Workers
Another notable trend is that one third of the CEOs look to replace human workers with robots or artificial intelligence in the coming three years. The vast majority expects to substitute about ten percent of their workforce with robots or intelligent machines. (Table 7)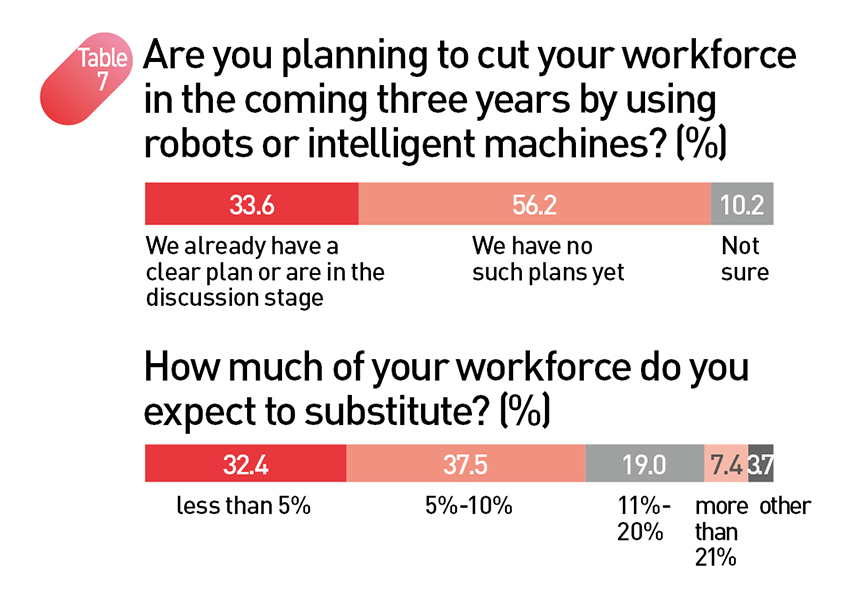 "Since labor costs are rising, everyone is developing greater interest in robots; that's the trend of the future," Tsai says. But he also warns that it will be important in the future to strike a balance between preserving jobs and boosting output value.
Of the emerging industries favored by the Executive Yuan, "intelligent machines" came out at the top with 34.3 percent of CEOs regarding this sector as promising, which underlines just how high industry expectations are toward the fourth industrial revolution. (Table 8)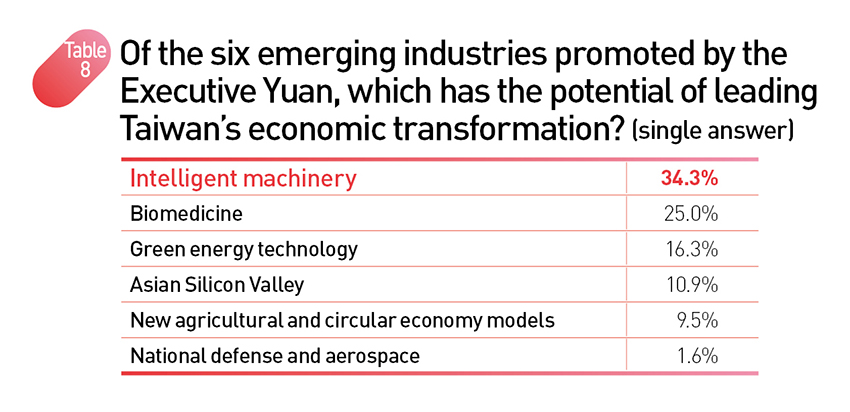 Huang of TMBA believes that intelligent machines can benefit any industry. He notes that intelligent production machines will give small and medium-sized enterprises greater flexibility in taking orders, while failure costs can be brought down. Intelligent production has the potential to lead industrial transformation.
"With intelligent textile robots, for instance, it is possible to quickly make samples, lower costs, and increase agility, which can contribute to textile industry upgrading. The same goes for other industries," Huang says.
Faced with tough challenges in an increasingly harsh investment environment, many corporate leaders are quite pessimistic about the future. But many companies are also rolling up their sleeves to face these challenges. "We don't have the right to be pessimistic; we have no choice but to work hard as hard as we can," says Wong.
Translated from the Chinese by Susanne Ganz
---
About the Survey
The CommonWealth Magazine 2016 Top 2000 CEO Survey covered more than 2,000 companies, including 1,350 in the manufacturing sector, 650 in the service sector, 100 in the financial sector and 16 financial holdings. Excluding companies that refused to participate in the survey or could not be reached, a total of 1,620 questionnaires were sent out to corporate top executives between October 11 and November 4. The survey yielded 685 valid responses for a response rate of 40.62%.