2016 Local Leader Approval Survey
Political Shifts Point to New Leadership Trends
精華簡文
Source:CW
As the leaders of Taiwan's 22 cities and counties near the second half of their four-year terms, their approval ratings have taken some unexpected turns. Tainan Mayor Lai Ching-te lost his crown, while the chief executives of two offshore counties grabbed ranks 1 and 2, and Taipei Mayor Ko Wen-je came in second to last.
Political Shifts Point to New Leadership Trends
By Rebecca Lin, Pei-hua Yu, Felice Wu
From CommonWealth Magazine (vol. 606 )


Taiwan's local government chiefs, elected in fiercely contested elections in late 2014, have had two years to prove their mettle and to emerge from the shadows of their predecessors. Did they pass this "mid-term test?" CommonWealth Magazine takes a look at their report cards.

Who are the most popular mayor and magistrates? What personality traits do these leaders need to win their citizens' support?

Every July and August, CommonWealth Magazine conducts a telephone survey on the performance of Taiwan's local government leaders. Nearly 15,000 people participated in this year's Local Leader Approval Survey, making it the public opinion survey with the largest number of samples and longest survey period conducted by a media outlet in Taiwan. The survey responses were combined with expert ratings by four large organizations for the overall approval rating.
Blue-camp Leaders Move up Across the Board
The latest ranking reflects a major reshuffle. Longtime political stars have seen their previously unchallenged popularity erode, while some newcomers have emerged as rising stars, indicating that citizens' expectations of their local leaders have changed dramatically.
This year, city mayors and county magistrates from the opposition Kuomintang (KMT) slightly gained popularity across the board, reversing a downward trend for the first time in recent years.
Physician-turned-politician Liu Cheng-ying (KMT), magistrate of the offshore county of Lienchiang (Matsu Islands), grabbed the top spot in the ranking despite being a political newcomer. His KMT colleague, Chen Fu-hai from Kinmen County, another offshore isle group, came in second place, up from sixth place last year. Justin Huang, KMT magistrate of Taitung County and in his second term, moved up two ranks from tenth place to eighth. Two more KMT politicians, Nantou County Magistrate Lin Ming-chen and New Taipei Mayor Eric Chu, both moved up one slot from last year to 15th and 19th place, respectively. Within the KMT camp, only Hsinchu County Magistrate Chiu Ching-chun saw his popularity slip, from 13th place to 16th. (See Table)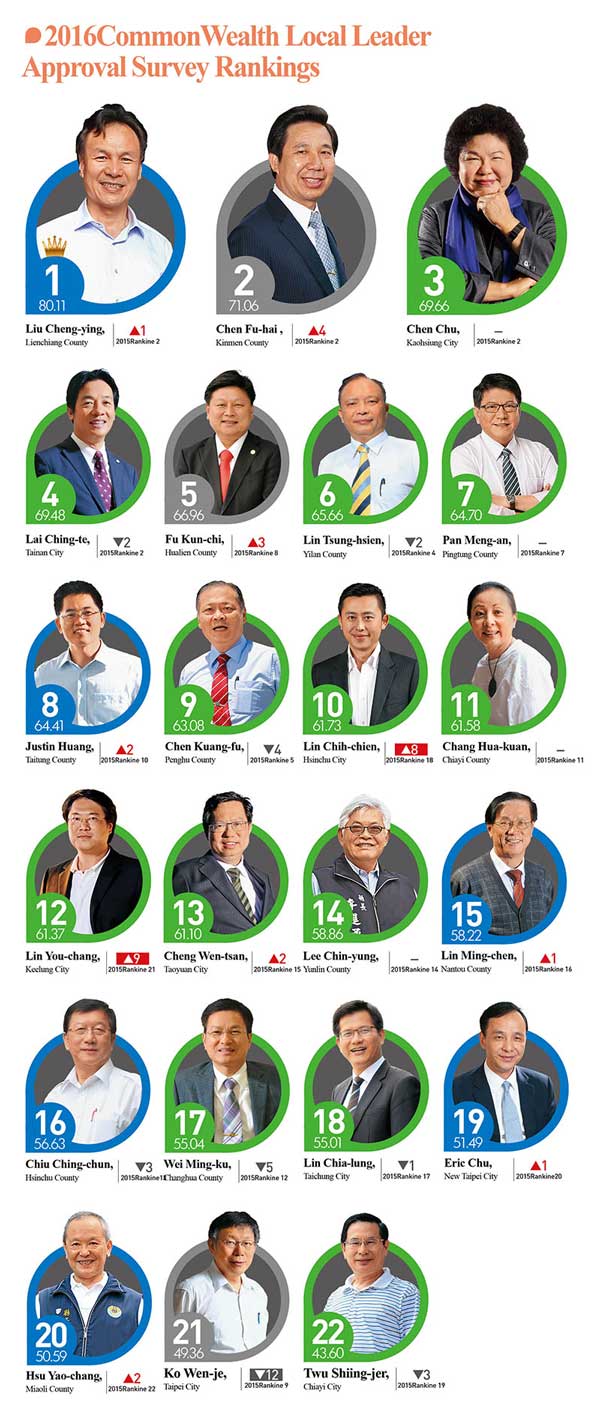 "In comparison to the KMT's debacle in the presidential elections, we definitely see a contrast here," notes Tsai Hsiu-chuan, associate political science professor at Soochow University.
In Lienchiang County, Magistrate Liu, who practiced medicine for more than three decades before entering politics, impressed the locals with an aggressive approach towards improving the island's transportation infrastructure. Late last year, a new ferry route was introduced between the main island of Beigan and Huangqi Peninsula in Fujian Province on the Chinese coast, which shortened one-way travel time between Matsu and China from 90 minutes to 20 minutes.
In order to strengthen transportation links with China, construction of a 175-meter-long extension of the Beigan Baisha Floating Pier was completed ahead of schedule. At the same time, the fishing port in Qiaozai was expanded to improve working conditions for local fishermen.
"The people feel that the county government is not idle, that our development is moving ahead one step at a time," explains Liu. However, the magistrate firmly opposes unnecessary construction projects.
Chen Dodges Criticisms, Lai Not So Lucky
Some political stars who have developed a personal brand have not lost their luster despite local controversy.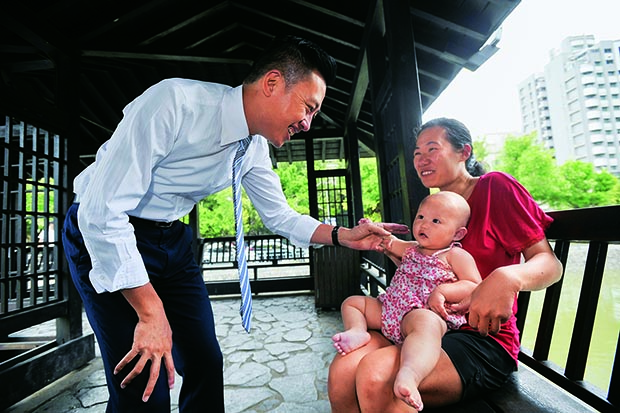 Hsinchu City has always had the reputation of a culture-rich city. Building on the city's cultural heritage, Mayor Lin Chih-chien (left) wants to strengthen Hsinchu's profile as a children's city and an intelligent city.
Kaohsiung Mayor Chen Chu, who is also a heavyweight in the ruling Democratic Progressive Party (DPP), has managed to defend her third-place ranking this year although she has come under attack recently for a number of controversial projects. Among these, local residents strongly oppose their forced eviction over the demolition of the Dagouding shopping area in Qishan and the relocation of a fruit and vegetable market in the city's Sanmin District. Yet the experts gave her slightly better ratings in this survey, beating out Tainan Mayor Lai Ching-te. Lai, who was toppled from his top spot despite his DPP superstar reputation, landed in fourth place. Yilan County Magistrate Lin Tsung-hsien, once in the top spot, fell to sixth place.
In fact, the experts disapprove of Lai's performance not because of a controversial plan to expropriate land for moving the railway line that runs through the city underground and eastwards. Rather, the experts had misgivings about Lai's performance on issues such as "deepening the urban-rural gap in manpower and resources." They also complained about "no clear vision for an eco-city and for envisaging the future." Moreover, a number of social welfare experts pointed out that the city had "failed to take an active approach toward addressing the needs of the disadvantaged and marginalized elderly population," and that "there is still room for improvement regarding the city's efforts to support and assist private social welfare agencies."
Steep Fall for Taipei Mayor
The third trend highlighted by the survey is the rapid ascent of a younger generation of politicians who are relatively new on the political stage. At age 41, Hsinchu Mayor Lin Chih-chien of the DPP is the youngest of Taiwan's 22 local chief executives. He saw a meteoric rise from 18th place last year to 10th. In Keelung, 46-year-old DPP Mayor Lin Yu-chang moved up from near the bottom of the list to 12th place. The two Lins therefore won this year's "biggest improvement award."
When winning the mayoral elections in the newly created special municipality of Taoyuan City in 2014, Cheng Wen-tsan, then 47, became Taiwan's second-youngest politician to head a special municipality, behind Chen Shui-bian, who was 44 years old when he became the mayor of Taipei City in 1994. Cheng moved up two slots to rank 13, becoming the number three among the mayors of Taiwan's six special municipalities behind veterans Chen Chu and William Lai.
"Young county magistrates and city mayors have energy, they dare to push [their agendas]," remarks Chen Lu-huei, research fellow with the Election Study Center of National Chengchi University. "If they belong to a different political party than their predecessors, and adopt some new measures, then the public will clearly feel the difference."
The survey also revealed that politicians sometimes fall from grace as quickly as they soared to stardom.The most obvious example of this is Taipei City Mayor Ko Wen-je, who nosedived from 9th place in his first year to 21st now. When asked "Overall, do you approve or disapprove of the mayor's performance?" only 47.4 percent of Taipei residents voiced approval, which is a lower approval rating than that of former Taipei City Mayor Hau Lung-pin, who regularly brought up the rear, received.
Chen attributes Ko's plummeting popularity to the fact that the mayor has vowed to battle five major corruption cases left by his predecessor ever since assuming office, but the probes into the scandals are time-consuming and not necessarily high on citizens' priority list. The showdown between the city government and the developer of the Taipei Dome sports stadium has proven particularly problematic.
When it comes to livelihood issues, Ko's originally well-intended policies have often been seen as counterproductive. At the beginning of this year, construction of bicycle lanes started, causing traffic jams. In another case, as Chen, who lives in Taipei's Muzha District points out from his own experience, since the city now charges fees for roadside parking in Muzha, people who had originally parked their cars in lanes and alleys have had to drive to other locations, which Chen claims has increased traffic volume and contributed to chaotic traffic situations. "All policies are a double-edged sword; while a policy might improve the traffic situation in Taitung, it might not be the case in Taipei. It's these things that citizens pick up on," Chen says.
Chang Yu-tzung, political science professor at National Taiwan University, observes that modern citizens are not only critical of their political leaders; they also emphasize political participation. Civic groups will protest if they are not invited to participate in policymaking, and will even take an opposite stand to those in power. Given that Taipei is Taiwan's political and economic center, any issue has the potential to become a hot potato. "Ko has not made any major mistakes, but he has also not achieved anything; that's why he has slipped so much," Chang says.
New Policy Direction 1
No More 'Social Welfare for Votes'
What do the top-ranked local executives or those who moved up markedly in the rankings do differently from the rest of the pack? What particular leadership skills do they have that enable them to move their cities steadily forward?
Standing firm when it comes to fundamental values might be a crucial personality trait. In late August, the Kaohsiung City Government demolished a fruit and vegetable wholesale market in Sanmin District despite vocal protests from local residents, who blocked the entrances to the site with gas canisters. "Sanmin District is frequently flooded; we need to do something about this," says Mayor Chen Chu.
Similar controversy erupted over the planned demolition of the Dagouding shopping area and Ljavek aboriginal village, both of which are located on city-owned land. "Many people stage protests to get more money, but I can't be generous with those people; this is all taxpayers' money," she says on her refusal to budge on the issue.
"Some people say we still got by without doing anything about it for the past forty years," says Chen. "I am not under pressure to win reelection. We must deal with this now; I hope that I can get this done in my remaining term." She says that Kaohsiung needs to make progress and upgrade its infrastructure. Compensation, she says, must be paid in a sympathetic, reasonable and lawful manner, but "there is no room for further payment increases." According to the survey, the majority of Kaohsiung citizens support Chen's stance.
Another important point that citizens value is when local executives exude confidence in their policies and strive for their goals instead of going with the flow.
Taitung County Magistrate Huang scrapped free elementary school lunches less than a year after assuming office. "Back then, all my advisors argued that I couldn't do this if I wanted to win re-election," recalls Huang. "How could I have not done this? It makes a difference of NT$100 million per year, and then it is not even a fair policy," Huang says. Instead, the county government invested the saved funds into the renovation of school buildings and the improvement of equipment.
Aside from cancelling free school lunches, the county also began to collect parking fees. Although the measure brings only some NT$2 million into county coffers, the traffic situation in Taitung City has since improved markedly.
"I told my wife right after taking office that we'd better get prepared for not seeking re-election," reveals Huang, smiling. Freeing himself from the pressure of re-election, Huang pulled out all the stops to push his agenda. Much to his surprise, more and more citizens began to support his measures as steadily rising approval rates showed. "The right things need to stand the test of time, but that's what we must face," Huang says.
New Policy Direction 2
Shunning Traditional Politics
The most popular local chiefs and those who soared in the ranking stand out for their professional approach to public administration. They no longer rely on traditional ways of canvassing local voter support such as appearing at weddings and funerals.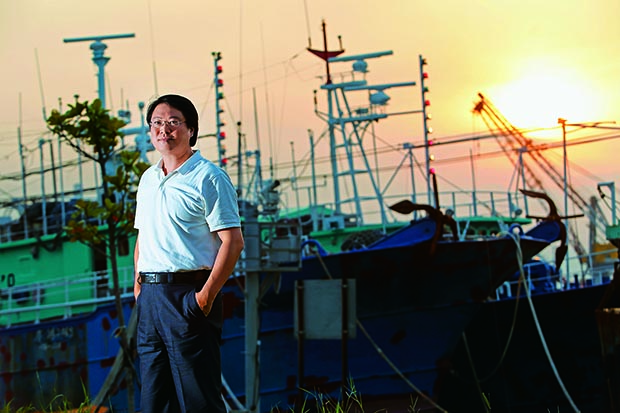 Keelung City Mayor Lin Yu-chang believes the harbor city has great potential as a destination for cruise ship and yachting tourism. First on his list was a much-needed facelift for the city center, which included removing eyesores such as overhead power cables and repairing bumpy roads.
Wearing a black suit, a dress shirt and shiny black dress shoes, Hsinchu City Mayor Lin comes across like a dynamic corporate manager. As he walks through Hsinchu Park with its picturesque Japanese landscaping, a young mother who has sought shelter from the sweltering sun in a pavilion immediately recognizes him. Small children who cross Lin's path cheerfully greet him, calling out, "Hello Mr. Mayor."
Lin has positioned Hsinchu City, which boasts Taiwan's youngest population with an average age of 37, as a "children's city." Experts and academics meet with the city government team once a week to discuss and determine the city's future. Lin even asked renowned Taiwanese architect Huang Sheng-yuan to design elementary schools in a bid to gradually develop unique urban esthetics and show that the city has more to offer than just its famous City God Temple.
"After I assumed office, you wouldn't get to see me much; a mayor should do things that are related to urban infrastructure development. If my time is divided up attending celebrations and funerals, it would eat into my time for city affairs," remarks Lin. Having worked as the assistant of veteran DPP lawmaker Ker Chien-ming for nine years, Lin has ample experience with constituency affairs – which means attending local weddings, celebrations, ceremonies and funerals. Lin frankly told borough and neighborhood chiefs in Hsinchu City that he will spend his time mainly talking with architects and holding meetings with top bureaucrats to make sure that projects make proper headway.
This new type of local executive refrains from extravaganzas such as firecracker displays or huge party events. Instead he takes care of bolstering infrastructure and keeps an eye on fiscal discipline.
Taoyuan Mayor Cheng often points out that his city – home to Taiwan's largest international airport - is the first stop for foreign nationals who arrive in Taiwan, and that it should also become the first stop for young Taiwanese. The city generously supports family-friendly measures. The city covers national health insurance fees for residents over 65, pays an allowance of NT$30,000 for every birth as well as a monthly childrearing subsidy of NT$3,000 for every child under the age of three.
Aside from the Taoyuan World Trade Center that will be built as part of the Taoyuan Aerotropolis project, Lin's team is planning a municipal fine arts museum and a municipal library as well as improving transportation infrastructure through a metro network and by moving the railway underground.
On the day of the interview, Cheng's sunburnt face speaks to his hands-on approach to city management. "I just went to check on a sewage project, ten meters underground," Cheng reports. "We had to climb in from a very small opening," he adds, while drawing a circle on the ground with his right index finger.
Is he concerned about fiscal stability given the expenditures on social welfare benefits and basic infrastructure? "When I took office, our deficit stood at NT$26.2 billion. We have already brought that down to NT$19.2 billion. We have the smallest basic expenditure of all six special municipalities. Infrastructure accounts for the highest share of our capital expenditure," the mayor says. "We use the additional NT$3 billion in funding that we were allocated for social welfare. We will expand the budget next year to finance all of the construction, but in principle it will be a financially sound expansion," Cheng says.
The fiscal performance of Taoyuan, a city Cheng describes as "just taking off," has actually been outstanding in comparison with the other five special municipalities. Its annual debt reduction ratio stands at 18 percent, while boasting a 75 percent annual growth rate of its self-generated fiscal resources.
New Policy Direction 3
Smooth Communication Unleashes Power of Executive Team
Another trait that modern mayors and magistrates might have in common is that they are able to feel the pulse of society and better understand what citizens want. They also know that it takes leadership to unleash the power of their teams.
In the past, Keelung, the harbor city on the periphery of the Taipei-New Taipei City metropolitan area, was widely regarded as a backwater. But after Mayor Lin took office, he first launched an improvement project to make the city center more attractive. Makeshift shops and food stalls under the Cheng Kung overpass were demolished, while programs for the removal of overhead power cables and the repair of bumpy road surfaces and potholes were launched, giving the notoriously chaotic and dirty city a new face. Lin felt the facelift was the crucial legwork for realizing his plans to develop Keelung into a major cruise ship and yachting tourism destination.
Meanwhile, some of the eyesores that tarnished the city for more than two decades have been removed. "I ran for public office in Keelung three times. The blueprint for the development of this city and its direction are all in my head, my strategy is also very clear," notes Lin, who previously lost a mayoral race and a bid for a legislative seat in the city.
Lin is good at encouraging concerted team efforts. "When you want to achieve something, you definitely need to work across sections and departments, you can't fight a lone battle and remain beholden to departmentalism," he says. So he demanded that the Department of Social Affairs, the Public Health Bureau and the Department of Civil Affairs cooperate to create a denture subsidy for senior citizens. A one-stop window was set up, meaning that older people only need to show their identity card at the district office. If they qualify for the subsidy, they will be given a relevant certificate while the remaining paperwork is processed automatically.
Lin organizes "consensus workshops", which higher ranking officials from section chiefs up are required to attend in order to strengthen the respective consensus. Lin likens the teambuilding process to making bread. "The team is like dough, which must be kneaded before it can rise. And the kneading serves to speed up the fermentation process," he says.
Lin closely monitors the progress of every single project. "It is not about keeping a close eye on civil servants, it is because I want to help solve problems. If problems aren't addressed, then we might have to wait one or two months. Who in the world has time to wait?" he asks. While Lin has an unhurried manner and seems far from being a firebrand, he has a strong sense of urgency when it comes to mapping out Keelung's future.
Don't Play it Safe
The report cards that citizens gave their mayors and magistrates for their performance on the job over the past year indicate that expectations toward local government leaders are changing.
Today we are seeing a new type of mayor or magistrate who resembles a professional manager. Rather than relying on traditional activities such as attending weddings and funerals, he focuses on city management and crucial infrastructure projects. However, Lue Yu-chang, head of the Department of Public Administration and Policy at National Taipei University, warns that local chief executives could stand in the way of their municipalities'progress if they take public opinion or citizens' subjective perceptions too much to heart.
Lue also believes that there is no need to be pessimistic about the lower-ranked cities or counties, as a mediocre report card could actually spur the respective chief executive to constantly rethink his approach and make continued progress.
Likewise, mayors and magistrates who have constantly held a top rankings should be cautious because their government teams might be tempted to maintain the status quo, believing it is the safest bet. As a result, they will not want to make bold changes unless there are other forces that push them into action.
"Tainan and Hualien, for instance, might tend to turn conservative because they are on a stable trajectory," Lue says. Although Kaohsiung maintains a stable course, it has a better opportunity to push forward because the city is already marching toward a more international outlook, Lue says.
Citizens pin great hopes on their mayors and magistrates with regard to the future of their communities. A bigger dose of creativity and imagination might serve them well toward meeting these expectations.
Translated from the Chinese by Susanne Ganz