2014 Local Leader Approval Survey
DPP Retains Top 3, Near Half See Ratings Fall
精華簡文
Source:CW
As the year-end elections loom large in Taiwan, the chief executives of the island's 22 cities and counties are battling to retain office, yet 40 percent have suffered a drop in their popularity. CommonWealth holds their scorecards up for readers to judge.
DPP Retains Top 3, Near Half See Ratings Fall
By Jung-shin Ho, Kwangyin Liu, Pei-yi Jiang
From CommonWealth Magazine (vol. 555 )


During an election year, officials running for office pull out all the stops to win voters backing. The 2014 contest is especially interesting as city mayors and county magistrates have served an additional year over their last terms due to the upgrading of several municipalities to cities under direct central government authority. In addition to peer comparisons, the performances of these elected officials over the past five years are also measured against those of themselves on a year-by-year basis.

The product of a yearlong effort, the 2014 CommonWealth Local Leader Approval Survey reveals that while the top three names remain unchanged since last year, a shake-up has transpired at the top. Yilan County Magistrate Lin Tsung-hsien of the Democratic Progressive Party claims leading position for the first time, followed closely by Tainan City Mayor William Lai (DPP). And despite the deadly pipeline explosions July 31 in Kaohsiung City, the satisfaction rating for Mayor Chen Chu (DPP) remains strong, maintaining her third overall position. (See Table)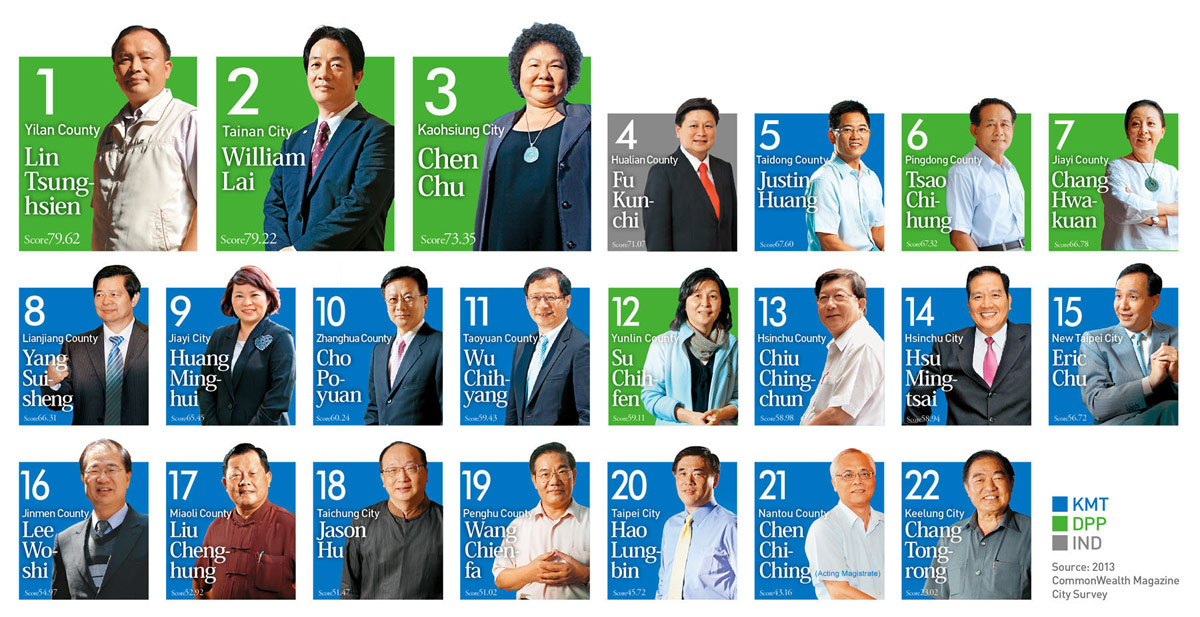 As the public views the performances of politicians with increasingly jaundiced eyes, the popularity of municipal heads is constantly in a state of flux. The three biggest gainers this year were Lienchiang County Magistrate Yang Sui-sheng of the Kuomintang, Changhua County Magistrate Cho Po-yuan (KMT) and Pingtung County Magistrate Tsao Chi-hung (DPP). While the three biggest losers were Hsinchu City Mayor Hsu Ming-tsai (KMT), Hsinchu County Magistrate Chiu Ching-chun (KMT), Jiayi City Mayor Huang Ming-hui (KMT) and Miaoli County Magistrate Liu Cheng-hung (KMT).
Over the course of their current terms, a year-by-year self-comparison among Taiwan's city mayors and county magistrates reveal discernible trends. For the sake of expediency, CommonWealth categorizes local chiefs as "stable," "high to low," "trending downward," "low to high," and "up and down."
Against others, they are rated for their municipality's competitiveness and administrative capacity; against themselves, they are assessed for their capacity to learn and room for improvement. Voters should be particularly aware of city and county head satisfaction surveys made during an election year, and carefully evaluate the performance of their top elected official in each jurisdiction.
Credible backing pushes Yilan's Lin past Lai of Tainan
"Yilan's scholars and experts adore Lin," said Jay N. Shih, a professor at National Chengchi University and former minister of the Research, Development and Evaluation Commission. After reviewing the latest CommonWealth survey results, Shih said he was surprised at the result, but believes it partially explains his emergence from the pack.
The CommonWealth survey is weighted at 80 percent popular satisfaction and 20 percent scholar and expert satisfaction. Lin's high ratings among scholars and experts helped him impose a sizeable lead over Lai.
"It's not easy being Yilan County magistrate. Public advocacy groups are known to slam tables and curse violently during county assembly sessions," said a County government official.
Chou Chia-An, former chief officer with the Institute of Yilan County History, who is reverently referred to by county officials as "The Teacher," sides with civic group representatives in acknowledging Yilan's potent social power. "Lin attends Civil Character Week each semester at Yilan County Community College, where he is subject to pointed questioning from locals on public policy. This will probably become a tradition in Yilan."
Chen Teng-chin, director of Yilan County Environmental Protection Bureau, said the county government listens carefully to the opinions of public groups and incorporates them into policymaking. For instance, he said, the Environmental Impact Assessment Committee, which greenlights various development projects, includes representatives from Yilan County Environmental Protection Alliance and Yilan County Community College.
"They are two sides of the same coin. We take suggestions from various civic advocacy groups and experts seriously, while public groups and experts can block inappropriate development projects within the establishment," Lin said. With such high profile cases as the Honeymoon Bay development project and other coastal development projects on their plates, following the letter of the law—as well as entering into dialogue and cooperating with civic groups—can help resolve controversial issues. Lin's healthy and positive interaction with civic groups, scholars and experts stands as a useful model for other municipal chiefs.
Chen Chu's popularity untarnished by explosion
Following the deadly pipeline explosions in Kaohsiung July 31, there was widespread speculation that Chen's popularity would take a big hit. However, a CommonWealth survey concluded Aug. 7 showed her popular support holding steady at 76 percent. In addition, Chen's satisfaction among experts in various fields reached 62 percent, enabling her to maintain an overall ranking of third.
"This shows that the Kaohsiung City Government delivered a successful performance in handling the crisis," former Minister of the Interior Lee Hong-yuan said. Whereas the central government shrank from asserting its authority and taking control of relief efforts, the city government handled its emergency response well, earning Chen's team empathy from local residents, Lee asserts.
According to Shih, relief efforts were still ongoing as of Aug. 7, thus the city government's responsibilities remained unclear at the time. While all fingers were pointing at LCY Chemical as the culprit, Chen steered clear of the blame game, Shih believes, adding that if another popular poll were taken at this time, the situation might very well have been different.
There is no question that resident approval for Chen and her handling of the disaster is genuine. A taxi driver told CommonWealth reporters visiting Kaohsiung in the aftermath of the blasts the mayor had the backing of the people. He went on to acknowledge her Herculean efforts of going without sleep for two or three days while overseeing response measures.
Echoing these sentiments, Tsai Hsiu-chuan—associate professor of political science at Soochow University in Taipei City—said the people of Kaohsiung are generally pretty crusty. "The worse you treat us, the more we pull together. Although it looked like Chen would be devastated by merciless attacks from accident victims and their relatives, she apologized when she should have and faced what she needed to."
Chen's actions were in stark contrast to the Executive Yuan's "three noes" policy—no need to enact a special law, allocate a budget nor establish an ad hoc institution to handle the reconstruction work. Such an approach struck many Kaohsiung locals as cold-blooded, leaving little mystery as to why Chen's rating remains unchanged.
Shin Chuei-ling, director of the Institute of Political Economy at National Sun Yat-Sen University and a resident of the area hit hardest by the explosions, said the people of Kaohsiung yearn for new direction after decades of industrial development. "Chen's team grasps these aspirations, so that no matter how it performs, it has an advantage over the KMT, which is unequipped to move in such a direction. This is the underlying factor behind Chen's strong support."
Top rises: Lienchiang, Changhua and Pingtung counties
Analysis of the survey shows that all six Democratic Progressive Party chief executives repeated their performances of last year and made it into the top 12. In contrast to the stable performance of DPP chiefs, KMT leaders saw an extensive reshuffling in rankings in the final months of their terms.
Lienchiang County Magistrate Yang Sui-sheng (KMT), the biggest gainer in the survey, clearly benefited from a hefty boost in experts' approval. Like other outlying island counties, Lienchiang is the recipient of extensive subsidies. But whereas Kinmen County Magistrate Lee Wo-shi (KMT) and Penghu County Magistrate Wang Chien-fa (KMT) dropped to the bottom of popular opinion rankings due to controversy and scandal, an untarnished Yang rode his clean image to eighth among the 22 local chiefs.
Changhua County's Cho, whose brother is embroiled in a corruption scandal, surprised observers by moving up from 16th to 10th. Tsai Hsiu-chuan attributed this rise to Cho's absence of personal wrongdoing in the matter, plus he is seen as working hard to bring major events to the county. "There is no doubt these factors helped him emerge from under the cloud of his brother's scandal."
Pingtung County Magistrate Tsao Chi-hung staged the largest gain in rank among local leaders of the DPP. While his popular satisfaction rating remained generally unchanged from the previous survey, his experts' approval rating was third out of all local chiefs.
Nearing the end of his second term in office, Tsao remains consummately low key. "During the past nine years of his administration, the county government never used even a single photograph of him in its promotions," said Chin Feng-lan, director of the Pingtung County Department of Tourism Promotion. "Nor did he affix his official seal on any public works." In Chin's view, Tsao is interested only in enduring value, not outward image."
But Tsao is still plagued by questions over his handling of the county's response to Typhoon Morakot in 2009, one of the worst tropical storm to lash Taiwan in just over half a century. Despite personally inspecting damage until all hours of the night, he was criticized for implementing dysfunctional and uncoordinated measures—claims that still leave a sour taste in his mouth.
Last year Tsao also encountered opposition from environmental groups to his promotion of the funeral and burial-focused Pingtung Life Zone. To his credit, the county abandoned the plan after failing to secure a positive environmental impact assessment. Tsao's decision to walk away from the zone minimized fallout and helped clear the way for his rise to sixth place.
Top drops: Hsinchu City and County, Chiayi City and Miaoli County
Hsinchu City Mayor Hsu Ming-tsai (KMT) experienced the biggest fall in the leader survey rankings, dropping from eighth to 14th. Shih believes this is largely a result of his predecessor Lin Cheng-tse's acumen for publicizing his accomplishments. "Hsu is less PR orientated and comes off as not making a strong impression." Neighboring Hsinchu County Magistrate Chiu Ching-chun (KMT) also saw his numbers decline, moving down from 9 to 13th.
Huang Ming-hui (KMT) and Liu Cheng-hung (KMT), about to step down as the heads of Chiayi City and Miaoli County, respectively, both fell three places to ninth and 17th, the latter dogged by bad press surrounding such issues as the Dapu development plan.
Self-comparison, general performance assessment
For the first time in survey history, CommonWealth compared local leaders against themselves, observing approval ratings patterns over the course of their terms from 2010 through 2014.
Those whose performances qualify them as "stable" include William Lai, Lin Tsung-hsien, Chen Chu, Taoyuan County Magistrate Wu Chih-yang (KMT), New Taipei City Mayor Eric Chu (KMT), Taipei City Mayor Hao Lung-bin (KMT) and Taichung City Mayor Jason Hu (KMT).
Among the "stable" seven, Shih described the first three as stable blue-chips, whilst the latter four skid along at the bottom. "Although similarly stable, the two groups enjoy markedly different levels of support," Shih explains.
It is worth noting that Wu's satisfaction rating did not suffer appreciably due to fallout from a bribery scandal involving former Deputy Magistrate Yeh Shih-wen.
Wu said since taking office, Taoyuan has reduced its debt by NT$13 billion (US$435 million), ranking first among all cities and counties. "This is due to additional business investment, increased land and real estate value-added tax revenue and increased employment." He added that Taoyuan also led Taiwan with the most new businesses, making it critical for the county government to prioritize boosting development. "A lot of people assume that land redevelopment is all about speculation, but without development the city would be in a sorry state."
In the wake of his former deputy's corruption scandal, Wu said Taoyuan has proposed a new contract bidding evaluation mechanism to prevent abuses. He also takes solace in religion, offering a quote from the late Master Sheng Yen, whose advice on difficult issues was to "face, accept, address, and let go."
Divergent attitudes toward scandal-ridden leaders
According to Tsai Hsiu-chuan, residents of Taiwan's five special municipalities, as well as Taoyuan—set to be upgraded by year-end—hold steady opinions of political figures. Consequently, their perceptions are not easily changed. Interestingly, performance satisfaction ratings of local chiefs embroiled in scandals or legal troubles during their terms can often vary widely.
Keelung City Mayor Chang Tong-rong (KMT) and Lee, both considered "trending downward" figures, have been dogged by controversies and scandals throughout their terms. Meanwhile, after distinguishing themselves in their first year or two in office, "high to low" leaders like Chiayi County Magistrate Chang Hua-kuan (DPP), Cho, Liu, Yunlin County Magistrate Su Chih-fen (DPP) and Wang were tainted by legal and development project issues. As for "low to high" figures, they are marked by their lowest ratings in their first year, after which they tracked a steady upward trend. Notable examples of this type include Chiu, Hsu and Taitung County Magistrate Justin Huang (KMT).
According to Shih, Huang is not well liked by civic advocacy groups, scholars and experts for his promotion of the Meiliwan Beachside Resort development project. "But the fact that Huang's satisfaction rating continues to climb shows firm support for Taitung's government," he said.
Those in the "up and down" category are Hualien County Magistrate Fu Kun-chi (independent), Huang, Tsao and Yang.
Summarizing how leaders stack up against their own past performances while offering the next group of chief executives food for thought, Shih said the "objective measures for judging local development cannot change quickly, public perceptions can be altered in short order with effort."
Translated from the Chinese by David Toman