Hollowed-out Human Resources
Where is Taiwan's Chief HR Officer?
精華簡文
Source:CW
Talent is deciding countries' fates in today's globalized world. That means trouble for Taiwan, which is hurting on the population, manpower and talent fronts and does not seem to have anybody stepping up to deal with the challenges.
Where is Taiwan's Chief HR Officer?
By Rebecca Lin
From CommonWealth Magazine (vol. 550 )


It's a silent war that is quietly but mercilessly eroding Taiwan's economic foundation.

A shocking red line on a PowerPoint slide tells some of the story. Chen Hsiao-hung, a former deputy chief of the Council for Economic Planning and Development (CEPD) and now a sociology professor at National Chengchi University, explains that the red line has major implications for Taiwan's future workforce. It shows that the size of the working-age population (those between 15 and 64)as a percentage of the whole population peaked in 2012 at 74.2 percent and then began an inexorable decline in 2013. Beginning in 2015, the 15-64 age bracket in Taiwan will lose about 100,000 people per year. (Table 1)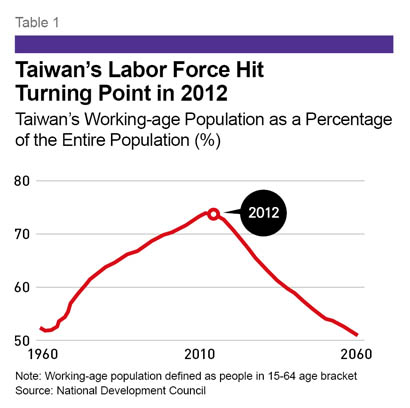 The numbers point to a stark truth: Taiwan's days of benefiting from a demographic dividend are over. And though the number of people in their prime working age as a percentage of the population has begun to decline, the pool of manpower willing to enter the labor force has been steadily contracting for quite a while.
Facing a Depleted Workforce
The next slide in Chen's PowerPoint presentation shows Taiwan's labor force participation rate is 58.39 percent, meaning that of Taiwan's 17 million working-age people, only about 10 million are employed or looking for work.
The labor participation rate of men is declining particularly rapidly, from 77.96 percent in 1978 to 66.83 percent in 2012, and is now well below the rate seen in Asian rivals such as Singapore, South Korea, Japan and Hong Kong. (Table 2)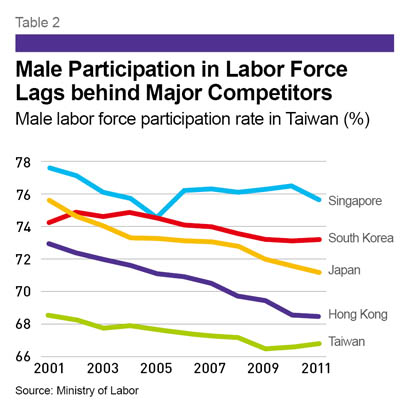 The trend indicates that the era of a "hollowed out" workforce is ready to smash into Taiwan head on.
San Gee, the vice chairman of the Taiwan External Trade Development Council and another former deputy chief of the CEPD, warns of the trend's danger.
"The retreat of the male population from the labor market has been rapid, but the chances of the female participation rate rising are very low," San says.
Women have entered the labor force en masse over the same 35-year period, with their labor force participation rate rising from 39.13 percent in 1978 to 50.19 percent in 2012. But the ratio is still lower than in Singapore and Hong Kong, though higher than in Japan and South Korea. (Table 3)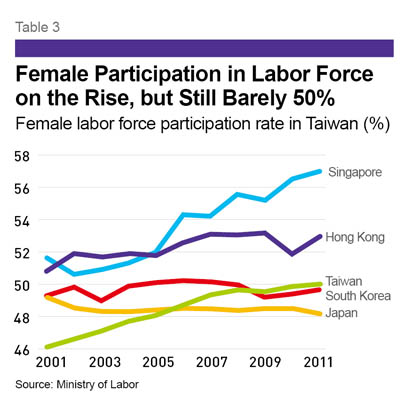 The phenomenon of idle labor in Taiwan can no longer be ignored, as people seem to be retreating en masse from the labor force.
If talent is at the heart of a country's competitiveness in the globalization age, then,at this critical juncture, Taiwan needs to ask, who is serving as its "human resources director"?
Is Anybody Responsible?
In a survey conducted by CommonWealth Magazine, we asked working Taiwanese at home and abroad which government official should be responsible for manpower policies–in other words, who should be Taiwan's chief human resources officer? Some 26 percent of respondents pointed to the head of the National Development Council (established in January 2014 as the successor to the CEPD), followed by the labor minister and the education minister.
The National Development Council (NDC), however, serves merely as a coordination platform, its past authority to integrate the functions of other agencies having waned.
"The beef is in the Education Ministry and Labor Ministry. The National Development Council acts as a platform, and the premier directs us to pull together and coordinate resources from different agencies for collective use," says a council official bluntly.
What the official did not say but San did is, "The weakening of the CEPD has been going on for a lot longer than just a day or two." As Taiwanese society has grown more diverse, the NDC's integration capabilities have diminished, leaving it unable to return to its economic leadership role of the past.
As a result, the Executive Yuan (Taiwan's administrative branch of government) has been the face of the country's population and talent policy.
"The key to the issue is whether the Cabinet can forge consensus," San says.
The Source of Wasted Manpower
A key factor in the steady retreat of working-age people from the labor force has been the waste of manpower resulting from a "late in, early out" trend – the tendency to jump into the job market relatively late and leave relatively early.
According to NDC statistics, the labor force participation rate of people in Taiwan under 24 years of age or of those over 45 in the prime of their working lives are below those in other Asian economies, indicating that the golden years of many people's careers are limited to only 20 to 25 years.
"Young people entering the job market late is definitely the result of the expansion of higher education," observes Hsin Ping-lung, who teaches in National Taiwan University's Graduate Institute of National Development.
Compounding the problem is that as higher education was being expanded, Taiwan's industrial policy failed to follow suit and successfully restructure the economy from being technology-intensive to knowledge-intensive, leaving a serious misalignment of Taiwan's manpower resources and industrial structure. Simply put, the emphasis on university education at the expense of vocational education left too many college graduates for too few job opportunities. Not surprisingly, the unemployment rate in Taiwan in the 20-24 age bracket is above 13 percent.
At the other end of the manpower waste spectrum stands the trend of early retirement among people still in the primes of their careers. The labor force participation rate of Taiwanese over 45 years old pales in comparison to that in Japan and South Korea. For men in the 50-54 age bracket, the male participation rate was 82 percent in 2011, compared with over 90 percent in other countries.
Among those working in the industrial and service sectors, 30 percent were forced to pull out of the workforce when they were between the ages of 45 and 54, mainly being laid-off or pushed into retirement by their employers once they had finished 25 years on the job, according to government statistics.
"It also is related to the retirement system for civil servants and teachers," explains Chen Chien-liang, the deputy chief of the National Development Council and an economics professor by trade.
Civil servants retire at an average age of 55, junior high and elementary school teachers at 53, indicating that "manpower is not being fully utilized. The pensions that have to be paid as a consequence are a burden on the government's finances," he says.
Weakening of the Talent Pool
Aside from the prolific waste of manpower, Taiwan's talent pool is being quietly hollowed out through a phenomenon National Chengchi University's Chen describes as "top out, bottom in." Over the past 20 years, 500,000 Taiwanese have emigrated abroad and more than 800,000 have moved to China to work, according to unofficial estimates, with untold others running businesses in other parts of the world.
Many of those who have moved away are highly skilled and well educated, while those who have entered Taiwan over the same period are mainly foreign nationals married to Taiwanese (usually women from China and Southeast Asia) and more than 450,000 blue collar workers.
"The number of actual white-collar workers or people working for multinationals in Taiwan is relatively low because of the language barrier compared with Hong Kong or Singapore," Chen Hsiao-hung says.
Taiwan has struggled to attract the professional talent from abroad it so desperately needs, with only 28,000 overseas white-collar workers drawn to the country in 2012. Of those, about 14,000 were in professional or technical occupations, with the second largest group being language instructors (mostly teaching English).
All of which vividly illustrates how massively far behind Taiwan lags in the global talent war. Clearly, the country's cabinet-level policies on education, economics and immigration,its national-level policies and its overall system are all inextricably linked, and they all urgently need to be overhauled if Taiwan hopes to respond effectively with the simultaneous and potentially devastating weakening of its manpower and talent bases.
The salary structure for teachers and researchers exemplifies the daunting challenge. The existing structure is currently built on equality that sets caps in pay based on seniority, a huge impediment to retaining or recruiting talent.
In 2011, National Chengchi University sought to accelerate its internationalization process by hiring Kwei Tang, the associate dean for academic affairs at Purdue University's Krannet School of Management, away from Purdue to head the university's College of Commerce.
"The pay is a lot lower, but I wanted to do something for Taiwan at an appropriate time," Tang admitted when interviewed by the media.
In the more than two years since his return, Tang has only seen the academic community's talent woes worsen.
"National Chengchi University's College of Commerce has 150 teachers. In the next 10 years, 81 of them will retire," he says with a pained look, knowing how hard it will be to find new professors because of two major factors.
The first is that few Taiwanese pursue doctorates in business administration, and the second is that salaries are too low. An assistant professor who makes NT$67,000 a month in Taiwan can earn a starting salary five times higher overseas.
Taiwan's generally low wage level and strict immigration controls render it impossible to attract top-notch talent. "The Education Ministry's policy is one-size-fits-all in Taiwan. The result is that it's the worst policy possible," Tang says, unable to hold back his criticism.
A talent policy task force led by Premier Jiang Yi-huah earlier this year approved a plan submitted by the National Development Council on cultivating, retaining and recruiting talent that addresses Taiwan's changing population structure and the need to transform the country's industrial structure. The initiative, at least initially, would be targeted at developing a fully integrated talent policy that increases Taiwan's labor force participation rate and enhances the competitiveness of its talent.
But to achieve the goal, more than ambitious plans are necessary; government agencies still have to execute them.
"Cabinet agencies have to keep up with the premier's ideas and steps," says San Gee, one of the seven experts and academics on the talent policy task force. "I'm still waiting to see the light," he says, obviously not optimistic about the future.
Needed: Targeted Policies
In fact, population structure is a dynamic concept, and labor force participation rates can fluctuate with social development trends.
So while the ratio of Taiwan's working-age sector to the general population began shrinking in 2013, the labor force participation rate could reverse itself and rise in the foreseeable future, which would mean that dealing with unemployment could emerge as the major priority.
The key for any manpower or talent policy, however, is that it be carefully targeted. The "late in, early out" and "top out, bottom in" phenomena truly exist, but if they are misdiagnosed and treated with the wrong prescription, the problems won't be solved and could even be made worse.
National Taiwan University's Hsin cited a book by Japanese economist Akihiko Matsutani titled Shrinking-population Economics: Lessons from Japan to analyze Taiwan's future. Taiwan's immediate task, he says, is figuring out how to change its economic structure, knowing that the population will not be on the rise anytime soon. That will only place added importance on identifying and coordinating talent and industrial policies, he believes.
"Talent policy has to be aligned with industrial policy," Hsin says fervently. "When the main focus of industrial policy is not evident, I don't know how talent policy can exist on its own."
Just as critical is repositioning the National Development Council. In the past, the agency served as a national "think tank," engaging in planning long-term economic infrastructure projects and economic development. But today, with government agencies more determined than ever to protect their own turf, the council has been reduced to a coordinating agency.
"The country's biggest problem right now is that there are no think tanks helping the premier and the president set short-, medium-, or long-term national objectives," says one Cabinet-level chief speaking on condition of anonymity, comparing the situation to a person without a brain with which to think.
To deal with the problem, there must be a clear blueprint of where the country's economic infrastructure and industrial sector are going over the next 20, 30 or even 50 years and the talent needed to support that development.
At a time when most countries are doing everything they can to go after and hire the best talent around the globe, and making talent strategy a national priority, Taiwan urgently needs to identify the skills and the ranks of the personnel it most needs to recruit.
The competitiveness of a workforce can define the competitive landscape and the fate of a country. This should be the responsibility of a "chief human resources officer." But exactly who in Taiwan will step up and take the responsibility? Who in fact is Taiwan's manpower czar? Considering the administrative confusion that currently exists, nobody – from the government to the people – can answer that question with the least bit of clarity.
Translated from the Chinese by Luke Sabatier