Greater China Top 1000
Chinese E-commerce Giants Surge
精華簡文
Source:CW
This year's CommonWealth Magazine Greater China Top 1000 Survey found that the competitiveness of Taiwan's companies continues to erode while Chinese e-commerce giants have remained on the ascendance.
Chinese E-commerce Giants Surge
By Ting-feng Wu
From CommonWealth Magazine (vol. 548 )


Big companies in Greater China are entering a new stage of competition and cooperation, transitioning from a regional to a global vision. This transformation is clearly reflected by economic trends.

Victor Tsan, the director-general of the Market Intelligence & Consulting Institute (MIC) under Taiwan's Institute for Information Industry, says that in 2013 alone, 110 Chinese companies listed on overseas markets, mostly in Hong Kong. But for some heavyweight Chinese corporations, including 7 percent of the 110 companies that went public overseas last year, United States markets were their top choice. The titans listing in the U.S. since 2000 include not only well-known Internet portals Baidu, Inc. and Sohu.com Inc. but also China's biggest travel website Ctrip.com International, Ltd., education group New Oriental Education & Tech. Group Inc., and solar cell leader Yingli Green Energy Holding Co. Ltd.

Taiwanese may not be familiar with Ctrip, New Oriental Education or Yingli, but they represent rising sectors – e-commerce, new energy and domestic consumption –that could be at the forefront of industry trends over the next 10-20 years.

In contrast to state-run giants such as PetroChina Co. Ltd. and the country's four major banks, which have flourished for many years under policies benefitting state-owned enterprises at the expense of the private sector, these privately owned enterprises have grown bigger by moving forward into new markets.

The solar energy sector, for example, has suffered its share of volatility over the past five years, forcing several European players out of the market. But Chinese companies bucked the difficult environment and listed on U.S. markets despite sustaining major losses and not performing nearly as well as their Taiwanese rivals. Taking advantage of their public listing to raise capital and strengthen their name recognition and visibility, they have quickly expanded their scale of operations to the point that China now accounts for 70 percent of the global solar panel market.

"Many people only focus on the subsidies and support provided by the Chinese government, but they overlook the fact that Chinese companies are becoming increasingly familiar with the rules of the game of Western capitalism," says Wang Meng-chieh, an analyst with the Industrial Technology Research Institute's Industrial Economics and Knowledge Center.

This trend explains why CommonWealth Magazine has expanded its Greater China Top 1000 Survey this year to U.S. equity markets, which have become a key piece of the puzzle in understanding the competitiveness of regional companies. (See Tables of Top 50 Companies in Greater China)
E-commerce: The Backbone of China's Private Sector
The strength of China's private sector is most evident in e-commerce. Aside from Tencent Holdings Ltd., which is listed on the Hong Kong stock exchange, the other members of China's "big eight" Internet giants have gravitated to American capital markets.
These dedicated Internet enterprises all appear in this year's Greater China Top 1000, from Vipshop Holdings Ltd. and Dangdang Inc. in the B2C sector to major Internet portals Baidu, Sohu and Netease Inc., e-travel site Ctrip, and Tencent, which does pretty much everything.(See Table)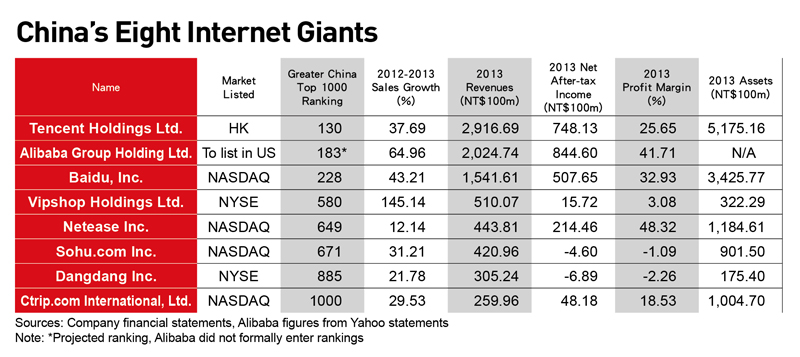 In early May, the best known of China's e-commerce stars –Alibaba Group Holding Ltd. – confirmed its interest in listing in the U.S. by filing for what may end up as the largest initial public offering ever in the U.S. and possibly the world.
But the question remains why if these companies do most of their business in China are they so determined to list in markets so distant from their home bases?
"The Internet is inherently about globalization. Going overseas to list shows that thought is being given to where potential customers will be in the future," says Brian Shiu, a director of Hong Kong-based GCA Professional Services Group Ltd.
Compared with the 16.4 percent sales growth averaged by this year's Greater China Top 1000, only Netease posted below average growth among the big eight Internet firms.
Vipshop, on the other hand, which specializes in selling discounted brand name goods in 2nd- and 3rd-tier cities, saw its sales more than double, continuing a meteoric rise that helped it go public in the U.S. in 2012 just a few years after opening for business in 2008.
Coping with the Size Barrier
The number of Taiwanese companies making their way into the Top 1000 continued to decline this year. After falling below 200 (185) for the first time last year, the Taiwanese contingent plummeted to 158 enterprises this year. The slide would have continued even if the U.S.-listed Chinese companies included in the survey for the first time were excluded from the ranking.
"It's not a surprise," says Peter Fan, a certified public accountant with Deloitte Taiwan, because as long as Chinese-invested companies with higher revenues than Taiwanese enterprises continue to go public, they will gobble up Taiwan's footholds in the Top 1000 list.
A total of 17 Chinese-invested companies in the new Top 1000 went public over the past year, and 14 made their debut inside the top 700. Meanwhile, 27 Taiwanese companies ranked below the top 700 last year were knocked out of the elite ranking this year.
"Taiwanese companies that simply depend on organic growth will have a hard time sticking with Chinese-invested companies," says James Wang, chairman and CEO of Ernst & Young Taiwan. Because of huge disparity in the size of the economies across the Taiwan Strait, Wang says Taiwanese enterprises must devise more diverse growth strategies to combat the inevitable widening of the gap over time and the unfavorable impact it will have.
Long Yongxiong, a consumption and transportation industry expert at Deloitte China, makes a point of the size of China's travel market when discussing the prospects for online travel agent Ctrip (ranked 1,000th in this year's survey). An estimated 3.3 billion trips will be taken domestically in China next year, he says, highlighting the advantage Chinese companies get from their massive home market.
Fan of Deloitte Taiwan and Wang of Ernst & Young both agree that faced with this mountain of a challenge, Taiwanese companies must get on the merger-and-acquisition bandwagon if they hope to break through their competitiveness bottleneck.
To most Taiwanese companies, acquiring other enterprises represents an overly aggressive option. But the Top 1000 list contains several Taiwanese companies that used mergers to generate growth, from the high-tech Hon Hai Precision Industry Co. (5th overall), TSMC (54th), WPG Holdings Ltd. (87th) and MediaTek Inc. (268th) to the old economy Taiwan Cement Corp. (307th) and Asia Cement Corp. (455th) and financial services stalwarts Fubon Financial Holding Co. (99th) and CTBC Financial Holding Co. (282nd).
Of greater concern to Fan is that while Chinese companies continue to go public to raise capital and build up treasure chests to help conquer new territories, many Taiwanese listed companies have engaged in capital reductions, returning funds to shareholders. This may prove to be the hidden danger of the unambitious desire for "small but reliable happiness" among many in Taiwan, Fan worries.
Opportunities, Problems with Scale
Of course, scale of operations does not represent competitiveness. Complementing outstanding management with the necessary operating scale is another challenge altogether and the reason why Financial Supervisory Commission Chairman Tseng Ming-chung is encouraging Taiwan's financial sector to strive for a dominant presence in the Asian region as a whole.
In the most recent Greater China Top 1000 list, 18 Taiwanese financial services firms made the grade, including Fubon Financial Holdings, CTBC Financial Holdings, Yuanta Financial Holding Co., E.Sun Financial Holding Co., Taishin Financial Holding Co., Taiwan Cooperative Financial Holding Co., SinoPac Financial Holdings Co., and Mega Financial Holding Co.
Their presence among the elite indicates that Taiwanese banks, whether privately or publicly controlled, have relatively strong management structures, and all that these domestically oriented institutions lack to improve their position is the ability to move into regional markets.
"To reach out overseas, consolidating the domestic industry is very important," Fan says, giving the nod to Tseng's initiative.
If, however, an industry has already successfully developed international management capabilities and scale advantages, then what challenges does it face? That's the story of Taiwan's "Big Five" contract electronics makers – Hon Hai, Pegatron Corp, Quanta Computer Inc., Compal Electronics Inc. and Wistron Corp – who so dominate the sector that any global electronics contracting opportunities almost inevitably flow their way.
Yet aside from Pegatron, which saw sales growth of 7.8 percent in 2013, Hon Hai and Compal posted relatively flat revenues while Quanta's sales fell 14 percent and Wistron's sales slid 5 percent. The companies' profitability was not much better, with Pegatron, Wistron and Compal all running profit margins of less than 2 percent.
The slim margins have sounded the alarm that these contractors have maximized the benefits they can squeeze from their economies of scale and may need to transform their business models.
Just as a chair needs at least three legs to be stable, companies need a third pillar beyond scale and management: innovation. That's why Hon Hai leader Terry Gou declared in March: "Show Hon Hai you have an offer from Google, and we'll triple the salary."
Three Pillars of Success
According to CommonWealth Magazine data, R&D spending as a percentage of revenues is relatively low at the big five contractors, ranging from Hon Hai's 1.18 percent to Wistron's 2.08 percent.
Such anemic R&D spending is common among Taiwanese companies. Of the local enterprises that cracked the top 300 in the latest rankings, only five spent more than 5 percent of their revenues on R&D: MediaTek (ranked 268th, R&D spending 18.7 percent), United Microelectronics Corp. (291st, 10.1 percent), TSMC (54th, 8.1 percent), Delta Electronics Inc. (201st, 6.8 percent) and HTC Corp. (182nd, 6.2 percent).
A closer analysis reveals that aside from HTC, the other four companies in that group all had double-digit profit margins. Though Delta Electronics had sales growth of only 3 percent and, much like the big five contractors, operates in a mature industry that has become saturated, it still relied on its relatively high R&D spending to generate a 10 percent margin.
Taiwanese R&D leader MediaTek makes a particularly strong case for innovation. The nearly NT$120 billion the IC design company has spent on R&D over the past five years exceeded its 2012 consolidated revenues of NT$99.3 billion, enabling MediaTek to rebound strongly after sales slumped dramatically in 2011.
Consumer Services: Taiwan's Cash Cow
Looking to the future, some are wondering if Taiwan's flourishing consumer services sector could become the country's next catalyst of economic competitiveness as it extends its reach abroad.
Studying some of the new faces on this year's Top 1000 list, such as Ctrip and New Oriental Education (923rd), Deloitte China's Long believes, "This indicates that travel, health care, education, and elderly care all offer new opportunities as China promotes urbanization amid its general economic slowdown."
Leong Wai Ho, a senior economist for Asia with Barclays PLC, agrees. "After the 12th five-year economic plan, China's key consumption trends will no longer be seen through increases of total consumption but through greater per capita spending power and an upgrade in what they consume," Leong says.
GCA Professional Services' Shiu stresses: "There will always be opportunities in China's services sector. Chinese consumers are becoming more demanding when it comes to food safety and are more trusting of overseas food products."
Chinese consumers' mad rush to buy medicines and food items in Hong Kong leave no doubt about their growing desire for products they can trust, lending credence to the notion that opportunities exist for Taiwanese service companies.
Translated from the Chinese by Luke Sabatier
---
Top 50 Companies in Greater China: