The Namchow Group
Laying It on the Line in ASEAN
精華簡文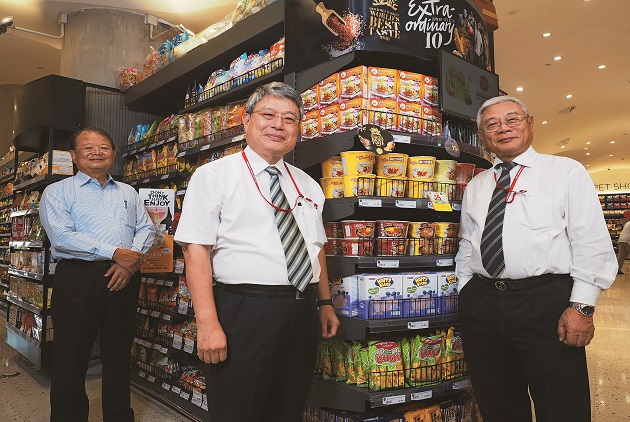 Source:CW
Taiwan's new government is pushing closer economic ties with Southeast Asia, but the Taiwan-based Namchow Group doesn't need any prodding. It has operated there for 25 years with a record of success few Taiwanese companies can match.
Laying It on the Line in ASEAN
By Monique Hou
From CommonWealth Magazine (vol. 604 )


What Taiwanese brands have had the most success in the Southeast Asia market? The country's top consumer electronics brands – Acer and Asus – may be the first answers that come to mind, but their penetration of that growing market pales in comparison to that of a Taiwanese conglomerate that tends to fly under the radar – the Namchow Group.

Namchow's rice crackers and instant noodles are kings in the 10 member states of the Association of Southeast Asian Nations (ASEAN), a feat credited to the efforts of four company veterans who now average nearly 75 years in age.

This "Go South" gang of four consists of: group chairman and CEO Alfred Chen; Namchow Group Executive President Kevin Lee; and Namchow (Thailand) Ltd. deputy general managers Webber Wey and Jason Hsiao. But the company's ability to establish footholds in ASEAN cities originated with a "beautiful mistake" triggered by a panicked exodus from Taiwan.

Namchow's core business was cooking oils and fats, but in 1987 it bought the "Little Cook" instant noodle brand from another company to go head-to-head with powerhouse Uni-President in Taiwan's instant noodle market. Namchow built a new factory for the business and was bursting with optimism. But a day before production was to begin a massive fire hit the new plant and burned it to the ground.

Unwilling to see its instant noodle ambitions scorched, Namchow considered its alternatives. It thought carefully about China, but the Tiananmen Massacre in June 1989 sent the company looking elsewhere. With some Taiwanese companies starting to develop a Southeast Asia "fever," Namchow decided to set up a factory in ASEAN's granary, Thailand, and ship product back to Taiwan.

"At the time, Thailand was the choice after other places were ruled out. It was rich in resources, its market had a relatively low threshold for entry and the people were friendly. Our main focus was to sell product back to Taiwan, but we figured wrong and were forced to concentrate on the ASEAN domestic market," says Lee, Namchow's second-in-command, alluding to the company's seven-year struggle to establish its ASEAN foothold.

After it got its factory in Thailand going, Namchow quickly ran into major obstacles in penetrating Taiwan's market, including a 30 percent import duty and the unexpected weakness of the "Little Cook" brand. Namchow (Thailand) lost money for years before Chen sent Lee to Thailand in 1997 to turn the situation around.
Chinese-language Packaging an ASEAN No-Go
"How can 23 million people compare with 60 million people?" Lee says, referring to the respective populations of Taiwan and Thailand in recalling the bitter experience.
Lee decided to turn his back on Taiwan and use Thailand as the base for reaching out into the world. He adopted a dual-pronged strategy of both serving as a contract manufacturer for global brands to absorb some of their know-how and developing Namchow's own brand for Thailand's upscale market.
"It's not possible for Taiwanese small and medium-sized enterprises to build global brands. Contracting is a must. But the ASEAN domestic market is within reach and up for grabs, so we still wanted to develop our own brand," Lee says.
The contracting strategy helped Namchow (Thailand) reverse its fortunes and end six consecutive years of losses. But the branding gambit failed, at least initially.
Thai consumers balked at Taiwanese flavors, and when Lee responded by catering noodle flavors to the local palate, the company met its Waterloo, largely because of its packaging.
"In blind taste tests, they liked [the products]. But the moment they saw our Chinese-language brand, they felt it wasn't any good," Lee recalls. He came to realize that Thai consumers were receptive to Thai, English and Japanese (and today Korean) brands and marketing, but they didn't like seeing Chinese.
In fact, "consumers in the southern ASEAN corridor of Singapore, Malaysia, Indonesia and the Philippines don't like to see Chinese-language packaging. They opt for English-language packaging. In northern ASEAN, the Thai language and Thai products are most popular." says Namchow (Thailand)'s Hsiao, revealing wisdom that it took 20 years of experience in the ASEAN market for the company to learn.
Lee decided to take the Namchow (Thailand) completely local. The first step was to remove the Chinese-language "Little Cook" name from the product and market its brand name solely in English and Thai. Namchow also started cooperating with Thai research institutes and agricultural universities and kept a close eye on market leading brand "Mama."
Because rice is the main staple for people in Southeast Asia, and especially in Thailand, while noodles are "foreign," Namchow changed course in the early 2000s and moved into the rice cracker market. It used Thailand's renowned jasmine rice to make thin and crunchy rice crackers that gradually made a name for themselves worldwide.
Aside from a high-end Japanese brand, Namchow's "Bin Bin" rice crackers and thin rice crackers dominate the Southeast Asian market today, and it was those products that helped Namchow (Thailand) generate strong sales and profits. They soon emerged as the company's cash cow and now contribute about NT$2 billion in revenue and nearly NT$200 million in profit a year.
Modern Channels Offer New Opportunities
Namchow's incursion into the Southeast Asian market has been both broad and deep, and the company undoubtedly has a greater command of ASEAN food distribution channels than any other overseas Taiwanese enterprise. In recent years, Namchow has invested heavily in manpower and resources to travel extensively around the region to survey changes in each country's channel structure.
It has divided the ASEAN market into three tiers based on the penetration of modern channels in each market, and approaches each market based on the designation. Tier 1 countries are the Philippines, Singapore, Malaysia, Thailand and Brunei. Indonesia and Vietnam and even China are in Tier 2, and Myanmar, Cambodia and Laos are in Tier 3.
Namchow first gets in the door with its products from Thailand and then, as it strengthens its presence in each channel, offers frozen cooked noodles and cooked rice pouches from Taiwan and frozen dough from China.
"We couldn't go after traditional channels [such as small grocery stores], because the well-established local brands would easily eat our lunch. But now that big-box retailers such as Thailand's Big C, Korea's Lotte and Germany's Metro have moved into the region, our opportunity has come. All we have to do is deal directly with a few big channels," Lee observes.
When Namchow first arrived in Thailand, modern hypermarkets and supermarkets were in their infancy and convenience stores were still unknown, but that has changed big-time, says Wey, one of Namchow (Thailand)'s deputy general managers.
"In only 20 years, everything has turned around. Modern channels now have an 80 percent share of the market," he says.
"In Myanmar and Vietnam, these modern channels now have about a 10 percent share of the market, but that is changing at a very fast pace and pretty soon they will have a 50 percent share. Also, the big hypermarkets are driving the growth of small and medium-sized supermarkets and convenience stores," Wey says.
Lee urged Taiwanese-invested businesses to capitalize on the opportunity presented by this market trend.
"This is an unprecedented opportunity to build one's brand in the ASEAN market. The next 10 years will be the most golden 10 years, and this is a place where Taiwanese businesses can sustain their operations and a place where it's easy to settle down," he says.
Mining the Baby Food Market
Following its success with rice crackers, Namchow (Thailand) achieved a technological breakthrough about two years ago and entered the global maternity and baby market with rice snacks tailored to "children beginning to self-feed." The product, called "Happy Bites," has sold so well, the factory cannot keep up with demand even running around the clock.
"Maternity and baby channels are different from regular channels, and people still want the product no matter how high the price," Lee says. "The Happy Bites have given us a big opportunity."
The rice snacks have a few basic characteristics. For babies without teeth, the product must melt in the mouth, creating a high technical threshold, and the snacks must be made of all-natural and even organic ingredients and cannot contain additives.
The opportunity is that different products can be developed to cater to the different stages of development children go through between the ages of six months to two to three years old. Some products can cater to babies without teeth or who cannot be exposed to flavors, while others can be tailored to toddlers with teeth who can accept flavors, and some can even be fortified with calcium and iron to help children grow.
"The possibilities are endless and the whole world needs it. We can make any flavor, and the only place that can make something like this is Asia," Lee says, getting more passionate as he spoke.
"China is now allowing families to have two children, and that baby food market will be absolutely incredible. Just look at Shanghai, where there are easily at least 100 to 200 maternity and baby stores."
Namchow (Thailand)'s Happy Bites sold like gangbusters in the first year they went on sale, the single product chalking up millions of U.S. dollars in revenue.
"Last year it was more than NT$100 million and this year this one item could reach NT$300 million in sales. This is definitely a product that will be strong for a while," Wey says.
The company is passing the baton from Tier 1 to Tier 2 to Tier 3 countries as it quickly develops the ASEAN market, with big ambitions. Lee says Namchow (Thailand) hopes to double sales in Southeast Asia in two to three years and increase its market share from the current 15 percent to 25 percent.
The Manpower Challenge
Though opportunities abound, Southeast Asia presents a unique challenge. Unlike Taiwan, ASEAN countries feature an incredible range of languages, belief systems and local customs, making it essential to have the right people to deal with this maze of diversity and drum up domestic demand. Taiwanese companies that have gone south have struggled in the manpower area more than any other.
"We have tried luring Taiwanese professionals with big salaries and used headhunters to recruit top international talent, but to be honest those strategies didn't work very well," Lee admits. "Now we use 'human wave' tactics," he says laughing.
"We recruit overseas students from ASEAN countries studying in Thailand, Singapore and Taiwan and only have to pay them low five-figure [in NT$] monthly salaries. Their English is fluent, and they can make business trips to their home countries where they speak the language and have connections," Lee says.
Very few Taiwanese companies have succeeded when moving their operations from China southward to Southeast Asia. But Namchow is having some success going in the other direction, expanding from Thailand into other parts of the northern ASEAN region and even into China.
"When our products enter China, it's thanks to ASEAN. If we tried to get product in as a Taiwanese company, there would be endless obstacles and we'd never get anywhere," Lee says.
Further buttressing the strategy is the "Thai Fever" China has been stricken with in recent years, Lee says, enabling products with Thai packaging to command high retail prices.
"I went to Shanghai just recently, and I was really shocked. In many stores, Thai products occupied full aisles of shelf space. When we market products in China, we use our Thai brand rather than our Taiwan brand. A bowl of 'Little Cook' noodles that sells for under 40 baht in Thailand can fetch the equivalent of NT$150 in China." Lee says.
In the future, Namchow (Thailand) plans to restructure its business. At present, all Southeast Asian countries aside from Thailand are handled by the "Export Sales" department, but they will be incorporated into the "Domestic Sales" department, a clear signal of Namchow's intentions to treat all of ASEAN as one domestic market and its determination to further buttress its ambitions in the region.
Translated from the Chinese by Luke Sabatier