Nike CEO Mark Parker
The Power of Manufacturing Innovation
精華簡文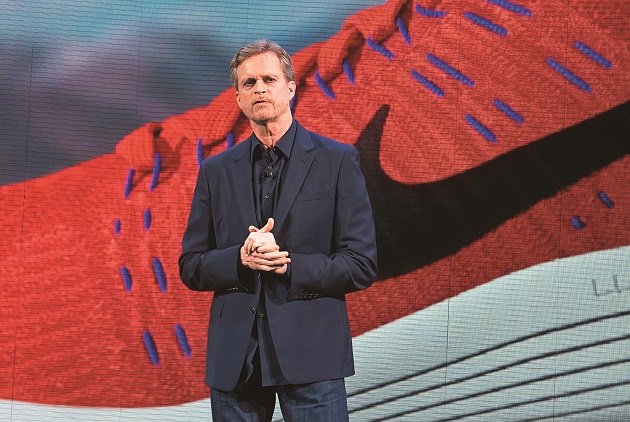 Source:CW
Nike has long been the powerhouse in the athletic apparel world. But now under pressure from Under Armour and other upstarts, it is relying on innovation to stay ahead of the pack, says Nike CEO Mark Parker in an interview with CommonWealth Magazine.
The Power of Manufacturing Innovation
By Elaine Huang
From CommonWealth Magazine (vol. 603 )


When the 60-year-old president and CEO of Nike Inc., Mark Parker, met with CommonWealth Magazine reporters for an interview, he was dressed conservatively in a black shirt and black pants. But that only accentuated the very fashionable red running shoes he was wearing.

"Are those Lunar Epics?" he was asked, and responded by smiling and nodding, extremely pleased that a Commonwealth reporter and photographer could not help but cast their curious eyes on his red shoes.

Parker had successfully concentrated the attention of others on his feet, but not without reason.

Nike relies on an innovative approach to construct Flyknit shoes – of which the Lunar Epic is one model. The upper parts of the Flyknits are knit together in one piece, representing a dramatic departure from the traditional, labor-intensive shoe-making process.

The global athletic footwear giant first successfully used the process for mass production after three years of R&D in 2012, and it sparked a horde of copycats. In fact, the "knitting" technology was developed and manufactured by a Taiwanese company, and the shoes will be common sights at the 2016 Olympics in Rio de Janeiro.

"Our whole focus is to create innovation that's really relevant to consumers," Parker stresses in the interview in New York during the Nike Innovation Summit in mid-March. He praised changes happening in the supply chain, saying that Nike is seeing manufacturing innovation drive design innovation.

Nike founder Phil Knight created an empire centered around athletes, where a pair of Michael Jordan shoes could drive sports cultures in the globalization era. More than just a sporting goods brand, Nike has championed athletic ideals and the spirit of sports, leading its customers to feel they are embracing a form of belief and cultural identity rather than just another pair of shoes.

Parker joined Nike in 1979 when he was in his early 20s and was part of the first group of elite university students recruited to join the company immediately after graduating.

"He was one of the first guys we recruited out of college," recalls Knight in an interview with Fortune published in November 2015. "So we've kind of had our eye on him for almost 40 years."

Parker began designing athletic footwear soon after starting at Nike. In business for less than 10 years at the time, Nike had an entrepreneurial atmosphere that meant a person in Parker's position not only designed shoes on a drawing board but also worked hands on with suppliers, testing new rubbers, leathers and other materials, and participated in marketing activities. He also had to find time to test products with athletes.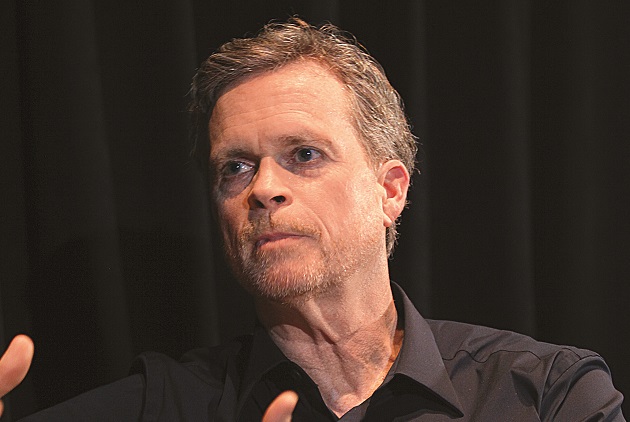 Mark Parker took over as CEO of Nike in 2006, and the company's revenues have more than doubled in the 10 years since.
The experience was invaluable, giving Parker extensive exposure to manufacturing and sales to round out his creativity and attention to detail as a designer. He eventually took over as CEO in 2006 at a time when Nike seemed to be losing its entrepreneurial zeal, and he got the giant of the athletic world dancing again.
Designer and Businessman: A Perfect Combination
After Parker took over, he restructured Nike's business, turning what were brand and product divisions into seven customer-oriented sports categories, including basketball, running and training.
Nike today has annual revenues of more than US$30 billion, about double its revenues 10 years ago.
"The biggest reason Nike is successful today and keeps growing is Mark Parker balancing all of these complexities," designer Tinker Hatfield, who is often cited as the designer of Nike's legendary Air Jordan and Air Max models, was quoted as saying by the Wall Street Journal in November 2015.
"I fall to pieces when the numbers start flying, but he is able to decipher all of those things as a businessman and a marketing person and a merchandiser, yet he is equally adept at talking about design – what an athlete wants, what a younger customer wants – from a style standpoint," Hatfield told the WSJ.
Hatfield has been good friends with Parker since the two started working together in 1981.
Nike has faced fierce competition since the beginning of the year from upstart sports brand Under Armour, which chalked up 29 percent revenue growth in 2015, but the methodical Parker believes that in such a hotly contested market if you're not moving forward you will lag behind.
With the onset of the mobile era, Parker has followed Nike's "Just Do It" global marketing campaign of four years ago with an all-encompassing "digital transformation." Beyond investing heavily in digital marketing, Nike has focused this year on the integration of online and offline products and services and mining the potential of internet communities. Also, because Parker sees technology as the key to differentiating Nike from its rivals, he continues to search for new manufacturing partners to develop next-generation automated manufacturing processes.
Innovation doesn't wait for anybody, and that's especially true in the constantly changing athletic footwear and apparel industry. Below are edited excerpts of Mark Parker's interview with Commonwealth Magazine.
---
CommonWealth Magazine: Most of the Flyknits are manufactured by Taiwanese companies. Let's start with supply chain strategy in the future. Will you enhance cooperation with the supply chain from Asia, like Taiwan?
Mark Parker: Absolutely, yes. I think it's important to look at opportunities to innovate in different parts of our business, obviously in product, how we communicate, how we connect with people, but in our supply chain.
It's fascinating to me that innovations in how we can manufacture product, like Flyknit, can actually enable designers to do things that they couldn't do historically or otherwise.
Helping Designers Outdo Themselves
So we're seeing manufacturing innovation drive design innovation, and that's the source of so much opportunity today. We're creating new partnerships, like for example, with Flex [electronics services provider Flextronics International]. They're based in California, but their whole focus is on innovating in the supply chain. And through those partnerships we're able to look at how we can create new processes to in some cases automate manufacturing, or to look at streamlining production, or to just create new methods of making product that allow designers to do things they couldn't otherwise do. So it's incredibly exciting area and a very important part of our growth as a company.
CW: The next question is related to the Olympics. We're curious about the major concept you will unveil for this year's Olympics.
Parker: The major focus for us is always on the athlete and how do we help the athlete perform at the highest level. That's what drives us as a company. So the ability to help them perform at a moment in their life when they want to achieve their absolute best, we have to be there with product to help them do that.
So you'll see that in the product. It's going to be lighter and faster, more breathable. It's going to dry quicker. It's going to be more aerodynamic – all the things that will help them achieve their greatest performance.
CW: Let's talk about the threat from uprising stars in North America like Under Armour. Nike has stayed ahead, but how will you maintain your spot on top?
Parker: We have to stay focused on fundamentals, creating great product. I mean consumers vote ultimately on brand through the product, by purchasing the product, so the product has to be exceptional. And that's why events like today, where we're showcasing some of the new innovation, are absolutely important and critical for us. That's job one. And also to be very insightful within each of the sport categories that we represent.
We're organized by sport categories, so if I took you on a tour of Nike, you would go to the running building, and it would be all about running, the running culture, the runner and what is making them the best runner they can be.
One Sport, One Culture
And so they're connected to that market, to those consumers and that culture, and if we went to skateboarding, it's different, it looks different, the people are different, but they're deep, deep into, what in this case would be the culture and sport of skateboarding.
So we're very competitive in each of those pieces of the business, because we're aligned and focused. And our whole focus is to create innovation that's really relevant to those consumers.
CW: So what do sports mean to you? Could you talk more about the future of sports?
Parker: Sport, I think it's obviously a very relevant part of our whole culture, popular culture. Sport is a very central element. At its best sport brings people together. It unifies countries. It's healthy, it motivates people to be more active and healthy.
I think sport will continue to be a unifier, a unifying element in popular culture for the world, and a source of inspiration for many, many people, not just in terms of their everyday active lifestyle, but just in terms of setting high goals and really working toward achieving those goals.
CW: As a business person, what kind of business leader do you think you are?
Parker: Well, I try to help people realize their potential. To me, I think I can be very directive when I have to be, but I prefer having really good people that understand what our mission is, what we really are focused on accomplishing, and then I support them as well as I can.
But I challenge people, too. I'm very self-critical, I mean I'm very critical of myself, to a point where I think I can always do better, and I think in a good positive way. And I expect that of other people, too.
We have high goals and a high bar that we set, so it's really important for us, when you're a leader, to be the best at what we do. We like being in a leading position. There's a bit of pressure that comes with that.
But we're focused more on our potential than on how much better we are than our competitor, because I think the gap between Nike and our potential is actually greater than the gap between Nike and our competition. So that's where I'd rather be is focused on innovating and reaching our own potential.
The Need to Be an Otaku
CW: I've heard you call yourself Otaku?
Parker: Otaku? To me, it's an obsession; it's a fixation on a thing. The Otaku in me, and I think in Nike is trying to be the best at what we can be. It's an obsession, in our case on the athlete, helping them. The process of Nike helping the athlete realize their potential is what helps us realize our own potential. It's very core to Nike and who we are, and also to me.
CW: So would you prefer to be a designer or a CEO?
Parker: Both. You know, the good thing is I can be both.
I actually enjoy designing as much as I did when I started with Nike many years ago. It's a source of [not only] inspiration but energy for me, and it keeps me connected to what's going on. It's exciting.
Translated from the Chinese by Luke Sabatier