Investing NT$1 in EPS in the Future
Merida Putting Profits into Sponsorships
精華簡文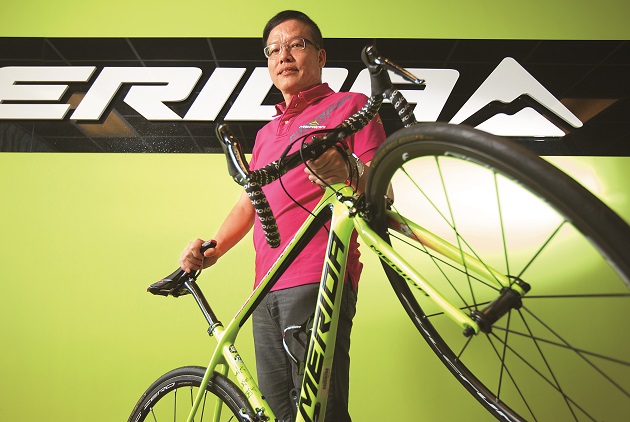 Source:CW
Merida resolved in 2011 to invest NT$1 in earnings per share to sponsor a Europe-based ProTour team, but it quickly discovered that materials, manufacturing, design, and branding were just as important as money in achieving success at the highest level.
Merida Putting Profits into Sponsorships
By Kai-yuan Teng
From CommonWealth Magazine (vol. 603 )


On a blistering hot day in early June with temperatures reaching well into the thirties (Celsius) at the Hsinchu velodrome, 26-year-old Huang Ting-ying, soon slated to represent Taiwan at the 2016 Rio Olympics in the women's cycling road race, captured another gold medal.

Watching on the sidelines was a new special guest, husband Wu Po-hung, himself a gold medalist in cycling at the 2008 Asian Games. Wu made sure he could see his wife compete in Taiwan just before she took off for another competition in China.

Huang and Wu are the Taiwanese cycling community's most prominent couple. Athletes often seem to cut a severe, determined figure out in the field, but the stress of competition can be nearly suffocating for them, and as a former national-level cyclist Wu Po-hung has become Huang Ting-ying's rock off the bike.

The diminutive Huang, who always seems to speak with a smile on her face, describes her husband's encouragement as she pursued her Olympic dreams in glowing terms. "Meeting my husband has been the best thing in my life. He has deepened my love for cycling, and helped me continue dedicating myself to cycling," she says.

But her husband has not been her only supporter. Cycling manufacturer Merida has also been instrumental in getting her to Rio.
From Student to Olympian
As early in her cycling career as her days at Nantzu Junior High School, Merida quietly sponsored Huang Ting-ying's Team Senter Merida.
With a hand on the bright green and pink bicycle created especially for Huang to ride in Rio, senior vice president and corporate spokesman of Merida Industry Co., William Jeng, recalls, "She was a little girl still in school at the time. Since then we have watched her grow up, get married, and distinguish herself in competition." But never did the company expect Huang to one day become an Olympic athlete.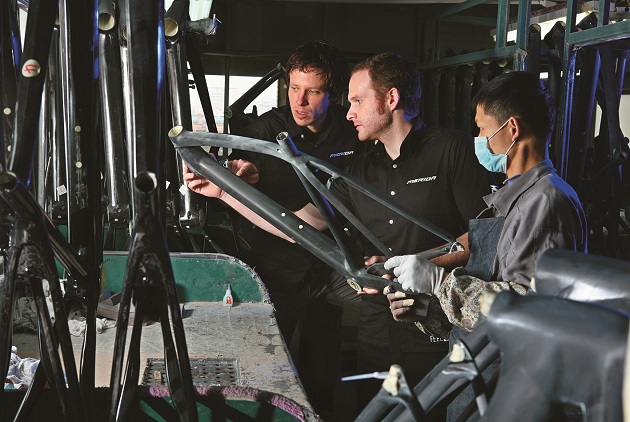 Merida bases R&D in Europe, with manufacturing in Taiwan. Lampre-Merida rider Louis Meintjes rode to victory in Stage 8 at the recent Tour de France.
For the Rio Olympics Huang Ting-ying is riding a new bike model that combines joint German and Taiwanese engineering and manufacturing techniques, and is finished with the Chinese Taipei Olympic emblem.
Wu notes that the bike is an excellent all-around performer on both the hills and the flats, making it perfect for a smaller rider like his wife.
On Stage at Tour de France, Giro d'Italia
Merida's sponsorship program extends well beyond local Taiwanese athletes to include Team Lampre-Merida, a world-class UCI ProTour team based in Italy.
However, sponsoring a world-class pro cycling team costs Merida a Taiwan dollar in earnings per share, and having money does not even guarantee securing a team sponsorship.
In 2011 the Merida board of directors first gathered to discuss whether to sponsor a European continental professional cycling team.
The sponsorship would cost Merida NT$300 million per year, a risky investment for a bike manufacturer that began as an OEM company.
Jeng relates that Merida had harbored such dreams as far back as 2008, but earnings per share were just NT$5.52 at the time. By 2011, EPS had reached around NT$7.
The board was hesitant at first about whether to sponsor an overseas professional cycling team at such great expense. Searching for a solution, they decided "to invest one Taiwan dollar in earnings per share," says Jeng.
It was that sort of determination that compelled Merida to invest in the future even if it takes away NT$300 million per year in profits.
But money is not the only thing that matters. The bikes must pass the riders' test or all bets are off.
In the initial testing stages, black tape was placed over the bikes' branding to keep the sponsorship deal secret until the riders gave the go-ahead about the bikes. "The riders might think, can Taiwan really make good enough bikes? They might have some reservations. The whole process is quite difficult, and the real issue is not really about money,"Jeng says.
From contract manufacturer (OEM) to brand, before entering the professional racing field Merida spent decades refining its skills.
Designed in Germany, Made in Taiwan
Founded in 1972, at first Merida only engaged in contract manufacturing, also known as OEM.
Merida began its brand transition from 1990, establishing a research and development center in the automotive capital of Stuttgart, Germany.
One reason for setting up the R&D center in Europe was its close proximity to the main market for high-end bicycles.
Another was for Stuttgart's high concentration of top-tier designers and industrial engineers.
"The German R&D center is like an antenna transmitting market information, then collaborating on joint R&D with the Taiwan factory to engage in production and manufacturing," relates Jeng.
In 2013 they shared the fruits of their R&D and manufacturing with the Italy-based Team Lampre Merida, and began racing around the world.
Jeng remembers how anxious he felt at first about the races. "You're afraid the frame might break. Everybody's attention is focused right there, and if a bike were to break in front of everyone, they'd notice right away and go, 'Oh, my! It's a Merida,' and all the money you spent would just end up as negative publicity."
Its bold investment paid off. Merida had spent NT$1 out of its earnings per share on the team. As profitability climbed, so did EPS, reaching NT$10 last year.
Looking ahead, Jeng relates that Merida wants to up the ante and sponsor Taiwanese cyclists, supplying them with high-end products.
"If a Taiwanese bicycle manufacturer is able to sponsor a professional overseas team, why not do something more for Taiwan? Huang Ting-ying will definitely not be the last (that Merida sponsors)," Jeng asserts.
Translated from the Chinese by David Toman