Shun Chan Industry
Providing Traction for Usain Bolt
精華簡文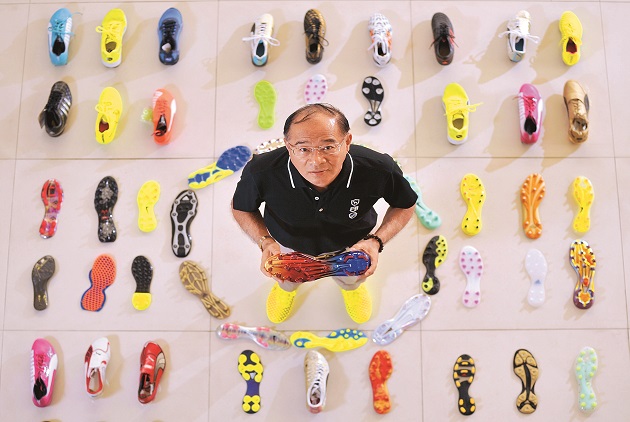 Source:CW
It's a company most people have never heard of, but its manufacturing prowess rivals that of Taiwanese electronics giant Foxconn, and it supplies soles to nine of the world's 10 biggest sports shoe brands. Here's Shun Chan Industra's story.
Providing Traction for Usain Bolt
By Kai-yuan Teng
From CommonWealth Magazine (vol. 603 )


An unassuming factory building in Taichung's Taiping District holds the secret behind the success of the world's most renowned sports shoe brands, whether Nike, Adidas, Puma, Under Armour or Mizuno.

Many top athletes, including world record holders and players in soccer's World Cup were wearing sports shoes made by Shun Chan in their moments of triumph. The shoes Usain Bolt wore when he broke his own world record to win gold in the men's 100-meter dash at the Beijing Olympics in 2008 were manufactured by Shun Chan. The same goes for the cleats on German soccer star Mario Götze's feet when he scored the winning goal for Germany in the World Cup final in 2014.

Beyond these exploits, Shun Chan manufactures the outsoles for nine out of the 10 leading international sports shoe brands. Chairman Jack Yang explains that footwear worn by professional baseball, soccer, golf or track and field athletes is different from ordinary sneakers, having much higher requirements. The shoes need to withstand a high-level of activity, and their soles must be much tougher and stronger than those used in ordinary sports shoes.

In professional soccer, for example, players run nearly 10 kilometers per game and make many sudden stops and turns, meaning the soles of their shoes must be able to bear loads of several times the players' body weight. Absolute top quality is therefore a must.
Starting with Shoelace Eyelets to Hone Skills
Shun Chan specializes in manufacturing this type of heavy-duty outsole.
Yang explains that professional athletic shoes undergo strenuous testing before they are ever worn. They are bent tens of thousands of times, for example, at temperatures between 20 degrees to 26 degrees Celsius below zero.
Before Shun Chan became a major supplier of outsoles for the leading sports shoe brands, it spent five difficult years honing its skills and cultivating customers.
In the beginning, the company made "eyelets," the circular pieces of metal or plastic that cover the edges of shoelace holes to prevent the shoe's leather or fabric from fraying. They are not even worth a Taiwan dollar – NT$0.7 to be precise.
Yang recalls that when Shun Chan was founded in 1988, it was completely unknown to the branded sports shoe industry and lacked funding and equipment. As a result, it was only able to make small plastic parts such as eyelets and decorative stickers but steadily honed its skills. It took five years before the company gained the trust of second-line brand manufacturers. After Shun Chan gradually obtained certification from the large manufacturers, the company began to specialize in shoe outsoles.
"We took one step at a time, beginning with plastic parts. In the very beginning, the brands won't let you make soles because this requires [supplier] certification by the brand. Only now that we have upgraded our equipment and technology over the past years will they allow us to make outsoles. Now there are two manufacturers who produce outsoles for Adidas. One is in Germany, the other is us," notes Yang proudly.
Hwang Sheng-jye, a professor with the Department of Mechanical Engineering at National Cheng Kung University, says first-line athletic brands are very strict when it comes to quality and delivery times. Hwang, who has collaborated with Shun Chan in academic-industry partnerships, observes that Shun Chan has reached a level of expertise and excellence in mold making and plastic injection molding that compares with high-tech companies such as Hon Hai Precision Industry (also known by its trade name Foxconn).
He argues that manufacturing outsoles for the top sports brands is no easier than making iPhones, and in some cases may even be more difficult. In contrast to the injection-molded hard plastic parts used in the iPhone, sports shoe soles are made from soft plastics. "Soft plastic materials are even more difficult to produce," Hwang says.
Now the company supplies more than 10 million pairs of outsoles for professional athletic shoes per year.
Hwang also observes that many Chinese companies are hoping to get into the manufacturing of professional soles, but Yang has been able to keep Chinese competitors at bay because his company continuously develops new equipment to increase its value in the supply chain instead of relying solely on price to win orders.
Hwang, who once assisted Shun Chan in developing mold-making and injection molding techniques, reveals that the company also invests heavily in R&D in computer-aided mold analysis, digital tools, plastic injection molding and other areas.
3D Printing, Robotic Arms
What is undeniable is that the shoe industry is currently undergoing a major wave of automation. Rubber cleats, for example, are currently positioned on the outsole one by one by hand, but Shun Chan hopes that a robotic arm that is currently under development will allow it to replace human workers.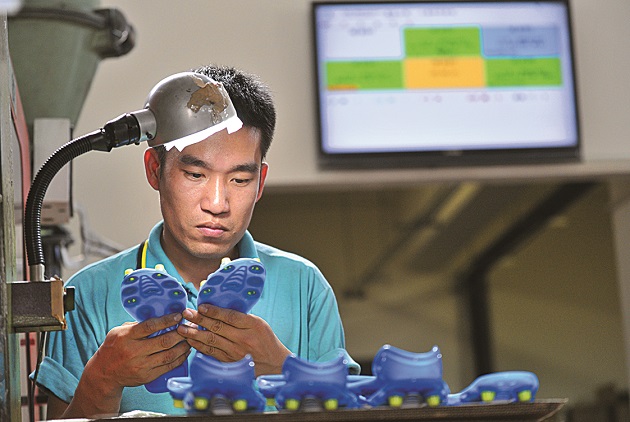 Taiwan's shoe industry is undergoing an automation wave. Plastic cleats are manually affixed one by one at present, but Shun Chan Industry hopes to replace the process with robotic arms currently under development.
"Five out of 10 of our products are developed by our customers, five by us ourselves," Yang says. "The manufacturing industry needs to have crisis management awareness, it must know the dangers and must always look forward and innovate," he adds.
In recent years, Shun Chan developed its own 3D printing equipment to replace 3D printers from Israel that are slower and incur higher raw material costs. Thanks to the printers, the lead time from the receipt of design drawings from the customer to the delivery of the product has been shortened substantially.
Yang believes that Taiwan's shoe industry needs to embrace a spirit of mutual collaboration instead of fighting lone battles. Industry peers should establish relationships that are competitive and cooperative at the same time to raise the value of Taiwan's entire shoe industry in the eyes of the major brands, thus making it irreplaceable.
"We keep developing new products. We do not regard ourselves merely as a supplier. Our ideal is to turn shoes into works of art, to increase product sophistication in order to maintain warm relations with the brands," Yang explains. Automation is part of Shun Chan's efforts to transform itself. The company collaborates with Chung Yuan Christian University on R&D in automation equipment to raise its competitiveness.
The company also faces a talent shortage, however, because of the industry's unhip image.
The shoe industry is widely regarded as an "old-economy" industry, and Taiwan's talented young people prefer to take jobs in the more glamorous high-tech sector. Ironically, it is high-caliber professional talent with technological expertise in areas such as industrial engineering, engineering plastics, automated machinery and macromolecule that the shoe sector urgently needs.
Yang holds that the shoe industry evolved into a modern industry long ago, but in contrast to the high-tech industry it is rarely affected by economic boom and bust cycles. As long as the product is good, it does not matter whether the economy is doing well because people will always buy shoes.
"We need to make shoes that are like works of art so that consumers love our shoe soles so much that they won't let go," Yang believes.
Thanks to constant innovation and R&D, Shun Chan has become a favored supplier for first-line brands and, in the process, boosted the reputation of Taiwan's manufacturing sector.
Translated from the Chinese by Susanne Ganz