2013 Most Admired Company Survey
Innovators under Pressure
精華簡文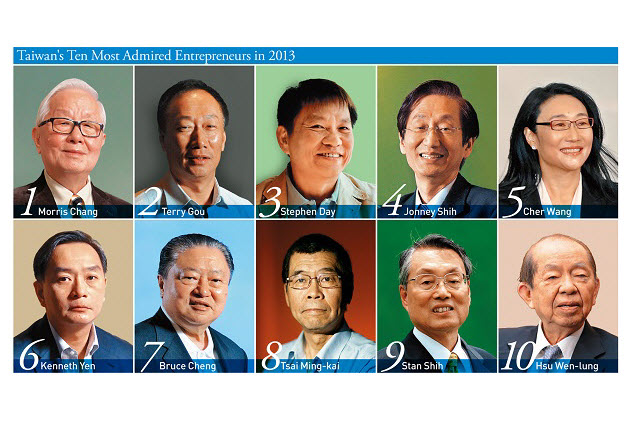 Source:CW
In 2013 new champions emerged in more industries than ever before. With ambition, courage, tenacity and innovation, Taiwan's new standard bearers deftly navigated rocky economic waters to sail ahead of the pack.
Innovators under Pressure
By Hsiao-Wen Wang
From CommonWealth Magazine (vol. 533 )


Our car passes through rural Shanhua and Anding districts on the outskirts of Tainan.

The idyllic scenery brings to mind a famous line from Tang poet Wang Bo: "The colors of the autumn water and the vast sky merge into one." Mallards playfully splash at the edge of lake. This rural idyll is an arena of life and death in the fiercely competitive US$300 billion global semiconductor industry. This is the beating heart of Taiwan's most admired enterprise 2013 – Taiwan Semiconductor Manufacturing Company (TSMC).

The once endless sugarcane fields have given way to imposing wafer fabs.

TSMC's 12-inch wafer Fab 14 in the Tainan Science Park covers an area the size of 14 soccer fields. Touring the facility on foot takes more than one hour. The fully automated fab seems to have sprung from a science fiction novel. In a completely unmanned cleanroom, overhead robots swoosh by as they transport 12-inch wafers. They shift the wafers as many as 600,000 times per day, seven times the number of passengers that use the Taipei metro system in the same time period. It takes 11 million quality control charts to control this giant, unmanned operation.

"It's just like Star Wars," gasps Qualcomm CEO Paul Jacobs after touring the factory.

Using technology, capital and a unique business model, TSMC has markedly raised the hurdles for competitors in the semiconductor industry, emerging as its worthy standard bearer. Once again, TSMC ranks highest among Taiwan's ten most admired companies. (Table 1)
In terms of market value, TSMC accounts for one tenth of the total capitalization of the Taiwan Stock Exchange. The wafer foundry's capital expenses amount to one sixth of Taiwan's total private investment. Thanks to TSMC's massive expansion in capital investment, the entire semiconductor industry has been catapulted to the top spot of the sector rankings in CommonWealth Magazine's 2013 Most Admired Company Survey. (Table 2)
This year the company will have a capital expenditure of US$10 billion. In other words, for every $14 in revenue TSMC takes in, it is investing $10 in its own future. As a result, TSMC holds a large lead for the survey indicator "foresight" over other companies.
To foresee whether TSMC is destined to defeat Intel and Samsung Semiconductor, a visit to the world's biggest 12-inch wafer fab is like peering into a crystal ball.
Craning your neck, you get a peek at one of TSMC's steppers – the machines that make integrated circuits through a process known as photolithography – where a nanoscale photomask is imprinting kaleidoscopic patterns on a wafer. The process of exposure and development is so precise, it can be likened to two Boeing 747's flying past each other in opposite directions with a gap of just 0.5cm between them. In fact, a single stepper costs as much as a 747.
Ambition – Pursuing Endless Possibilities
Thanks to its never-ending quest for more advanced technologies, TSMC remains the undisputed champion across all industries for "innovative capability" and "use of technology."
Spaced just five steps apart, the production lines here produce different products for different customers, using different process technologies. Fab 14 can make chips for more than 200 customers at the same time, using more than 100 production processes and churning out a selection of more than 1,200 products. Such flexibility and diversity is beyond the reach of Intel, which entirely focuses on central processors, and Samsung Semiconductor, which started out as a memory maker.
"TSCM's manufacturing is not only world-class, it is a class of its own," states company chairman Morris Chang. In this year's survey Chang was again voted Taiwan's most admired entrepreneur with a wide lead over his peers. (Table 3)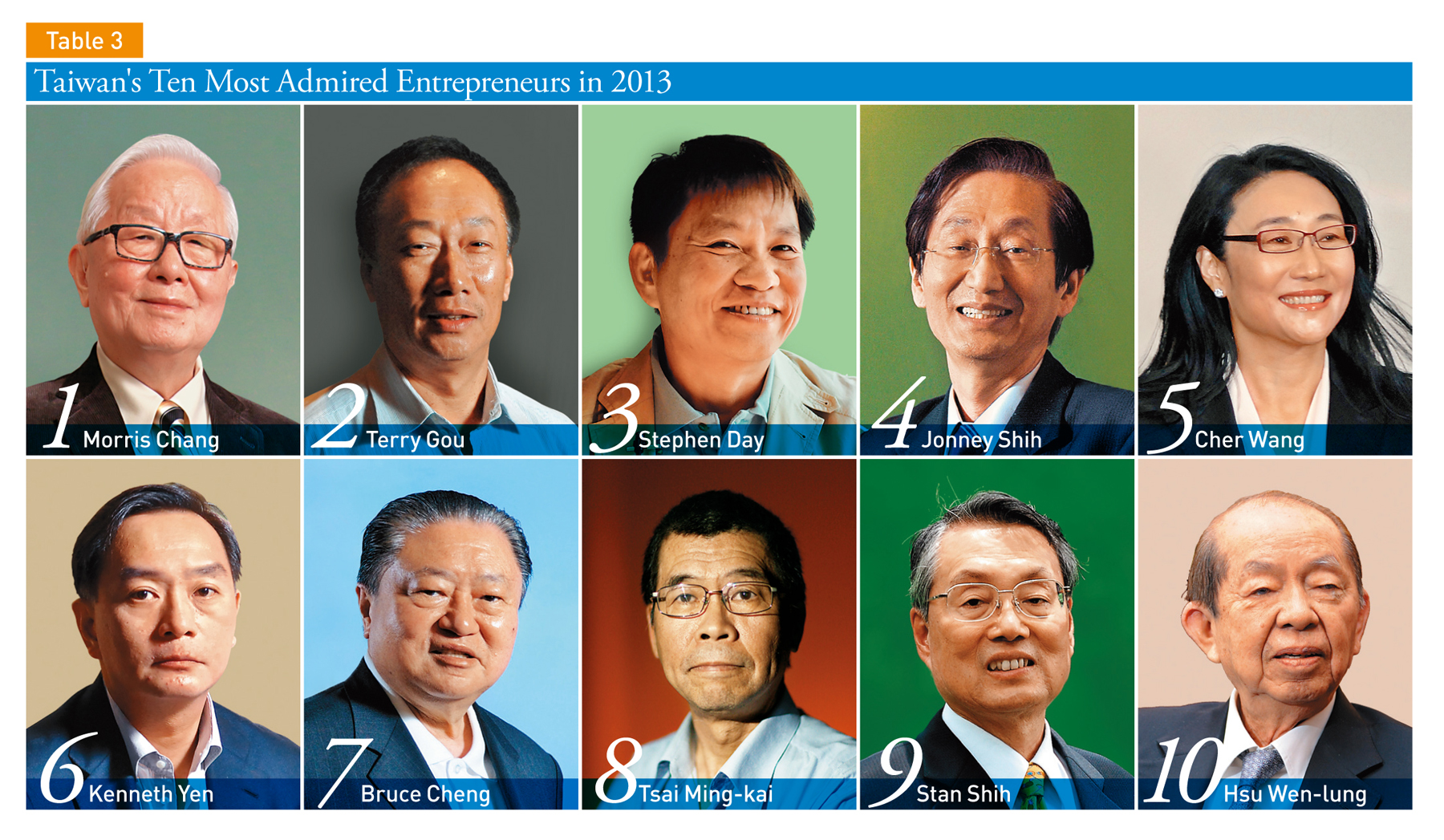 "Over the past three years he expanded investment in advanced technologies and sped up the advance of manufacturing processes. This best proves his management capability and operational efficiency," acknowledges Tsai Ming-kai, chairman of leading IC design house MediaTek Inc.
Last century, there were still 19 companies fighting for supremacy in the capital- and technology-intensive semiconductor industry. Today, only four of them remain in the race.
Business has been changing dramatically, so that the competitive advantages a company has over its competitors cannot be sustained anymore.
In her new book The End of Competitive Advantage – How to Keep Your Strategy as Fast as Your Business, Rita McGrath, professor at Columbia Business School, states, "We require a new set of practices based on the transient competitive advantage." McGrath believes corporate leaders need to learn to create strategies and manage organizations in a way that lets them surf through waves of short-lived opportunities.
The latest Most Admired Company Survey also underlines that sustainable competitive advantages are a thing of the past.
This year saw the greatest reshuffle of standard bearers sector by sector since the survey's inception 19 years ago, with new top companies appearing in seven out of 25 sectors. (Table 4)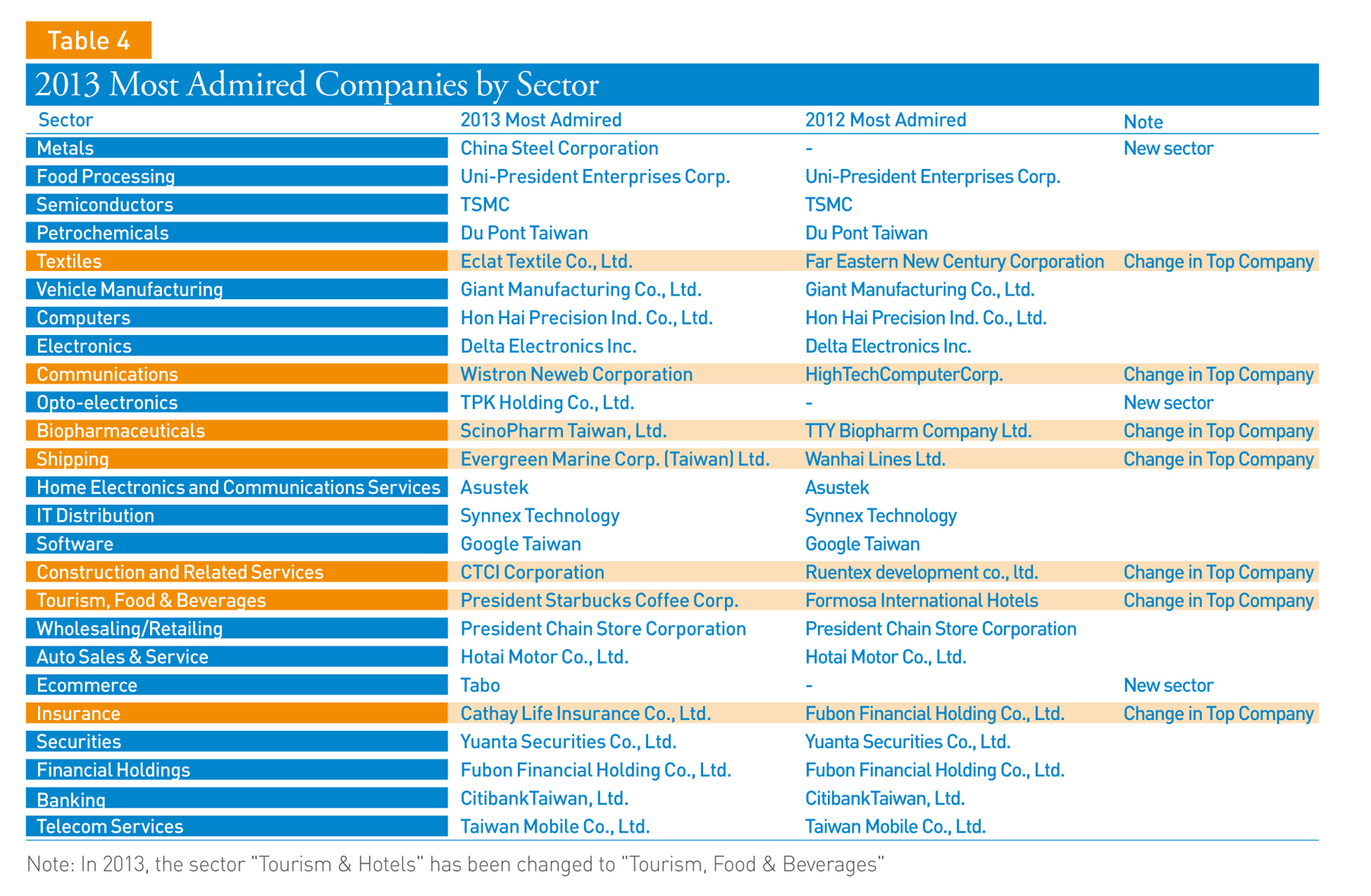 "In this ultracompetitive era, any competitive advantage lasts ten years at most," notes Lee Ji-ren, management professor at National Taiwan University. Finnish mobile phone maker Nokia, recently bought up by Microsoft, and American computing giant Dell, which recently delisted itself, were both able to hold their positions as industry pioneers for less than a decade.
"As long as you have not been toppled by someone else, you should first overthrow yourself," suggests Lee. The new standard bearers all have the ability to do just that.
Boldness – Picking the Toughest Challenge
The new top company in the biopharmaceuticals sector, ScinoPharm Taiwan Ltd., chose for itself the toughest challenge it could get, entering the market for active pharmaceutical ingredients, which has an even higher threshold than generic drugs. Silently and persistently, the company honed its skills for 15 years.
On average it takes six to seven years before the first active pharmaceutical ingredient can be brought to market and begin to make a return on investment. During the first ten years, ScinoPharm was constantly rumored to be "doing nothing but spending money."
"A tree needs roots as deep as it grows high," ScinoPharm president and CEO Jo Shen once told CommonWealth Magazine. Since Shen and her management team insisted on having a vision for the company's future, they were able to hold out through eight years of consecutive losses. Presently, nearly 90 percent of companies making generic anti-cancer preparations are ScinoPharm customers.
From the viewpoint of industry outsiders, ScinoPharm's emergence as industry leader is a Cinderella story. Insiders, however, consider it proof that silent waters run deep.
"Corporate leaders keep constantly asking themselves what basic skills will be needed in the future," observes Chiu Yi-chia, head of the Graduate Institute of Intellectual Property at National Chengchi University. Actually, none of the new industry champions such as Eclat Textile Corporation Ltd. and ScinoPharm gained their dominant position overnight.
Eclat Textile CEO C.H. Hung, who hails from Houlong in Miaoli County, learned his trade from the bottom up, working 12-hour days in the factory to gain hands-on experience in all departments. Having graduated from a vocational college, Hung initially pretended to have only an elementary school education in order to land a blue-collar worker job in a dyeing factory.
Today, his company develops more than 3,000 different fabrics per year. The finest and lightest Eclat Textile fabrics can be stretched seven times as long as ordinary cloth. Embracing the "fast fashion" trend in the textile industry, Eclat Textile made strategic changes, enabling customers who place an order at 9 a.m. to get a sample by end of business the same day. Over the past twelve years, Eclat Textile has helped one of its initially small customers, Canada-based Lululemon Athletica, to grow into the world's biggest yoga clothes brand.
Tenacity – Prevailing Amid Adversity
As transient advantages replace sustainable advantages, even top companies find it hard to stay on top of the dramatic changes in business.
In particular in the high-tech industry, where next generation technology is always on the horizon, winners quickly turn into losers if they bet on the wrong technology.
Touch panel solution provider TPK Holding, this year's champion in the optoelectronics sector, faced its toughest challenge to date last year, when major customer Apple Computers, which accounted for 40 percent of company revenue, switched its orders to Japanese and South Korean contract manufacturers.
"Before the customer transferred its technology, we did a scenario simulation: What if we don't have this customer? We created a horizontal expansion strategy, and developed new products and new applications," explains Tom Ta-min Sun, TPK president and CEO. TPK put together a special team, which directly visited notebook manufacturers, contract manufacturers and touchscreen controller IC makers to promote the company's touch apps. TPK was able to turn crisis into opportunity because it rapidly reallocated a large amount of resources and embraced product diversification.
The characteristic feature of industry leaders is not that they never stumble, but that they are able to quickly get up on their feet again and turn the situation around to their advantage.
In the second quarter of this year, TPK saw a 16 percent quarter-on-quarter drop for handset output and a 70 percent quarter-on-quarter decline for tablet computers due to the continued downward price trend for consumer electronics.
As many predicted the company's doom, TPK quickly realigned its troops to develop a lower-cost, flexible touch screen that uses silver nano technology. In a just-announced joint venture with U.S.-based Cambrios and Nissha, a leader in film-based touch sensors, TPK will produce silver nano-based film in a roll-to-roll process for novel, flexible touchscreens.
"We are never content with the status quo," declares Sun. The ability to scrutinize the impact of change and readily respond to it is what sets the champions apart from the rest.
Pioneer Spirit – Beating the Strongest Rivals
The first among peer industry champions are those with the strongest pioneer spirit.
The top two most admired companies, TSMC and MediaTek, both have the ability to make "disruptive innovations" that help create new markets.
MediaTek came in at the low-end of the market and slowly moved up the value chain in the NT$1 billion smartphone sector to become the third largest global player behind Samsung and Apple.
TSMC not only pioneered the dedicated foundry business, but also the business model of its customers – fabless IC design houses. Last year, IC design houses accounted for 27 percent of global semiconductor industry output. Before the turn of the century, that figure stood at less than 7 percent. Before the founding of TSMC, IC design houses did not even exist.
As technology leaders TSMC and MediaTek set out from the small island of Taiwan to conquer the world, they worked hard and unrelentingly to ultimately beat their strongest competitors.
The scents of early autumn are in the air, trees and shrubs loaded with ripening fruit. The picturesque Xiake Lake opposite TSMC's Fab 14 is bathed in the warm golden glow of the setting sun.
Defying economic boom-and-bust cycles, Taiwan's most admired companies display courage, tenacity and pioneer spirit. Again and again they turn their respective industries upside down, making an impact worldwide.
Translated from the Chinese by Susanne Ganz