2013 City Happiness Survey
Which Taiwanese City Would You Call Home?
精華簡文
Source:CW
Taichung has emerged as the place where most Taiwanese would like to live, pushing aside Taipei. While the capital is still seen as the island's most representative city, its glitter generates less happiness than its country cousins.
Which Taiwanese City Would You Call Home?
By Uidy Kao and Jung-Shin Ho
From CommonWealth Magazine (vol. 531 )


Make a guess: which is the city that Taiwanese people would most like to call home?

The answer is Taichung – a result that is sure to put a smile on the face of the city's mayor Jason Hu, who did not fare well in the recent CommonWealth Magazine Local Leader Approval Survey.

In recent years Taiwan's local governments have pulled out all the stops trying to attract new residents from other localities by creating a quality living environment.

The CommonWealth Magazine 2013 City Happiness Survey found that Taichung has emerged as the city where the Taiwanese most want to live permanently, closely followed by former favorite Taipei, then Tainan, Kaohsiung, and Hualian County. (Table 1)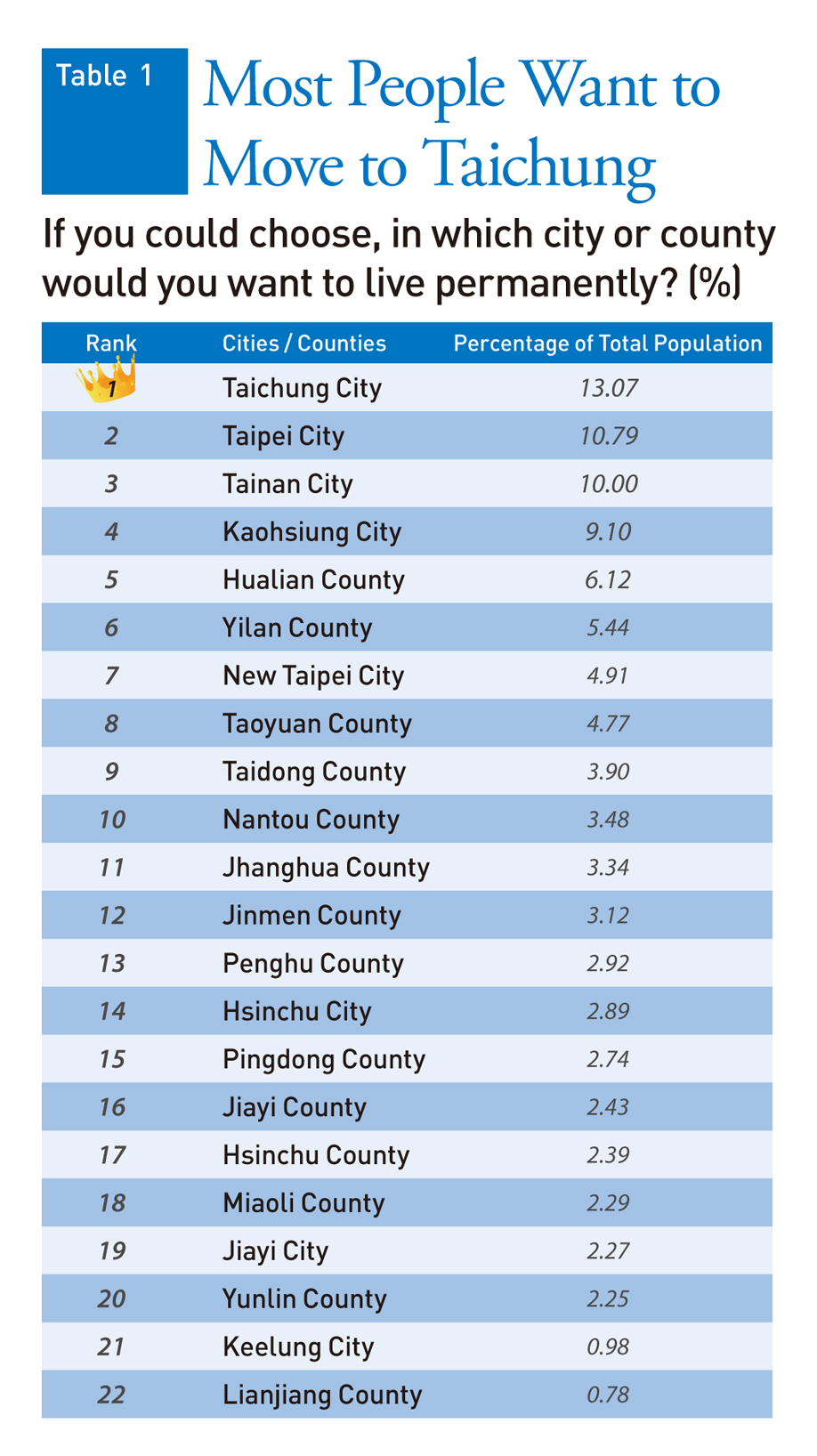 Livable Cities Attract New Residents
It was the second time that the City Happiness Survey asked respondents the question: "If you could choose, in which city or county would you want to live permanently?" In the first such survey in 2011, Taipei City emerged as the most favored place of residence, followed by the other four big "special municipalities," Kaohsiung City, Taichung City, New Taipei City and Tainan City. This time, Taichung City moved to the top, dethroning Taipei City. New Taipei City has slipped from the top five to rank seven, which illustrates how fierce the competition among the five top-tier cities and the 17 second-tier cities and counties has become.
"In Taipei housing and commodity prices are high, and life is really stressful," remarks 42-year-old Lin Min-cheng, who used to work in Taipei as a reporter. With a starting salary of less than NT$30,000, Lin had virtually nothing left in his bank account at the end of the month after paying his rent, utility bills and essential living expenses. Not willing to live on a shoestring, he eventually decided to leave Taipei for Taichung.
"Just parking your car in Taipei is so expensive," Lin recalls. "I once found a free parking space in my neighborhood, but then I didn't dare to move the car anymore for fear I wouldn't find another free space."
Taichung's pleasant climate is less humid and rainy than Taipei's yet not as sweltering hot as the tropical south. Moreover, the city boasts wide open spaces.
"Back when I lived in Taipei, I could hardly see anything but high-rises. Taichung clearly has a lot more greenery, and life has a much more leisurely pace," Lin says.
Lin's reasons for moving to Taichung resonate with quite a number of people.
Taichung Mayor Hu is very proud about his city's showing. In recent years, Taichung has not only managed to lower its notoriously high crime rate, but also boasts better amenities and services and even good economic performance. These are the major reasons why people from other parts of Taiwan want to settle here.
Producing a stack of statistical data, Hu stresses that the city's economy is not sluggish at all. Over the past five years, the city has seen an 8.15 percent rise in the number of factories and service industry outlets, while the number of jobs rose by 11.73 percent, according to the Directorate General of Budget, Accounting and Statistics. Both figures put Taichung at the top of the five special municipalities.
"Everyone feels that Taiwan's economy is very sluggish, but Taichung is probably the hottest investment destination in Taiwan," remarks Hu with demonstrative confidence.
"People like living in Taichung, because in a way it's a mirror of Taipei," says well-known writer Ka-shiang Liu, who has also settled in Taichung. Many people are lured to Taichung because it offers more or less the same urban amenities as Taipei, but has much lower housing and commodity prices, Liu suggests.
Across Taiwan, cities and counties are marketing their reputations for high quality of life, in a bid to attract new residents from other parts of the island.
Tainan City even organizes special exhibitions in Taipei to showcase its advantages and entice people in northern Taiwan to move south. In 2011 Tainan held the first such exhibition in Taipei in cooperation with local real estate agents and employers. This year, the city government plans to invite companies from the Tainan Science Park to join the new resident recruitment drive.
Kaohsiung City is the first locality islandwide to provide a "new resident allowance." With this monthly payment of NT$10,000 for up to one year, the city hopes to attract young talent with experience, and also to upgrade 13 strategic industries, including the cultural and creative industries, green energy, biotechnology, and information technology. So far 123 cases have been approved.
"First we need to make our city a great place to live, and then we can get people to move here," says Kaohsiung Mayor Chen Chu. Since taking her job in 2006, Chen has focused on creating parks and greenbelts, developing the subway system and other public transport as well as aesthetically pleasing public facilities. During the past three years, the city's Public Works Bureau has been showered with more than 100 awards, both domestic and foreign, for its efforts to make the city more beautiful and more appealing.
The faces of cities vastly differ, and so does their popularity with the public. However, local governments still do whatever they can to outshine their rivals as the most livable city and the city that most people would want to live in.
And which city do Taiwanese people think best represents Taiwan?
Not surprisingly, Taipei City takes the lead far ahead of the other cities. However, other cities and counties have also been able to develop a multifaceted city image.
The top five cities or counties that "most represent Taiwan" according to the 2013 City Happiness Survey are, in descending order, Taipei City, Tainan City, Kaohsiung City, Hualian County and Taichung City. (Table 2)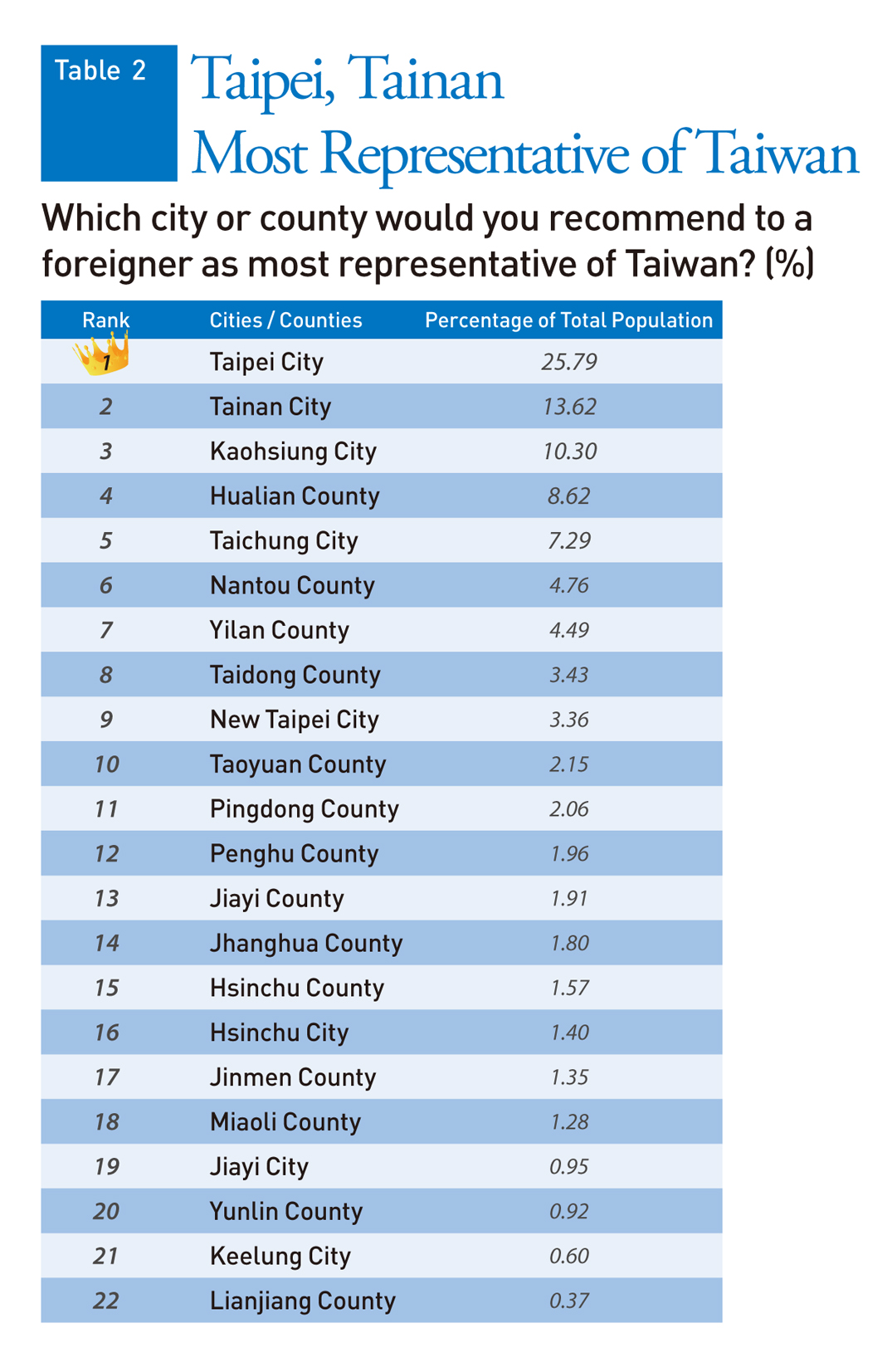 Taipei is the capital and boasts a number of landmarks and sightseeing spots that are a must for international tourists such as the National Palace Museum, Taipei 101 and the Chiang Kai-shek Memorial. That's why one quarter of respondents felt that Taipei is the city that most stands for Taiwan.
"Taipei represents modern Taiwan, but Tainan is unique in that it embodies Taiwan of the past," remarks Wang Yeh-li, a professor of political science at National Taiwan University and a longtime observer of urban competitiveness. As Taiwan's old capital, Tainan stands for traditional crafts and local culture, including historical sites and an abundance of authentic cuisine, which also make it a representative Taiwanese city.
As a major port and the largest city in the south, Kaohsiung, for its part, matches Taiwan's ambitions to become a maritime nation. And then Hualian County with its pristine, beautiful nature and vistas is a major tourist magnet. Taroko Gorge with its marble cliffs is a world-class tourist destination, exemplary for Taiwan's breathtaking mountain and ocean views.
"These cities clearly have distinct features that can highlight the different facets of Taiwan," notes Wang.
Chuang Yung-ming, an expert on local Taipei history, has lived all his life in the narrow alleys of Dadaocheng. Up to today, he remains a dyed-in-the-wool "old Taipei hand" with a certain nostalgia for bygone days. "Taipei is a modern city with a strong sense of history," believes Chuang.
A City of 'Little Joys'
The little alleys around Zhongshan MRT Station in Taipei often teem with backpackers from Japan, Hong Kong and Macao with a city map or guidebook in hand, exploring Taipei's creative side in the area's boutiques and cafes, such as Lovely Taiwan Shop, with its handicrafts and souvenirs, Booday, with its designer T-shirts, and Xiaoqi, with its ceramic tableware.
Founded four years ago, Lovely Taiwan Shop has already built a reputation for its selection of handmade Taiwanese crafts that give tourists a taste of local culture. Every month between 200 and 400 foreign visitors find their way to the tiny shop. In a typical display of Taiwanese hospitality, store personnel often present travelers with a cup of hot tea. On the third floor above the store a "travelers' space" provides a quiet resting place for exhausted tourists from abroad.
Liu, who often serves as tour guide in the area, observes that more and more tourists skip the National Palace Museum and Taipei 101 to venture off the beaten track on a leisurely stroll through the alleyways. Japanese tourists also enjoy visiting the local farmers' market near Shuanglian MRT Station. They are keen to get a glimpse of a different Taipei with vivid scenes of street life.
"From an international perspective, Taipei is a friendly, safe and convenient city. It has a human touch, which is more attractive than infrastructure," notes Taipei City Government spokesman Edward Chang. He observes that the growing number of small artsy shops and stores with a distinct character has become a new driving force for Taipei. This homegrown "culture of little but certain joys" that allows young people to realize their ideals and creativity is what most sets Taipei apart from other international cities.
However, when it comes to residents' subjective sense of happiness, Taipei brings up the rear with only a slightly better performance than Yunlin County and Keelung City.
Generally speaking, Taipei City residents do not feel happy, whereas people on the outlying islands of Matsu (Lianjiang County), Jinmen and Penghu are very happy right where they live. Matsu, Jinmen and Penghu came in first, second and fifth, while Hualian County ranked fourth among the happiest localities. Tainan City, which ranked third, was the only large "special municipality" to make it into the top five, which indicates that people who live in major metropolitan areas do not feel particularly happy. (Table 3)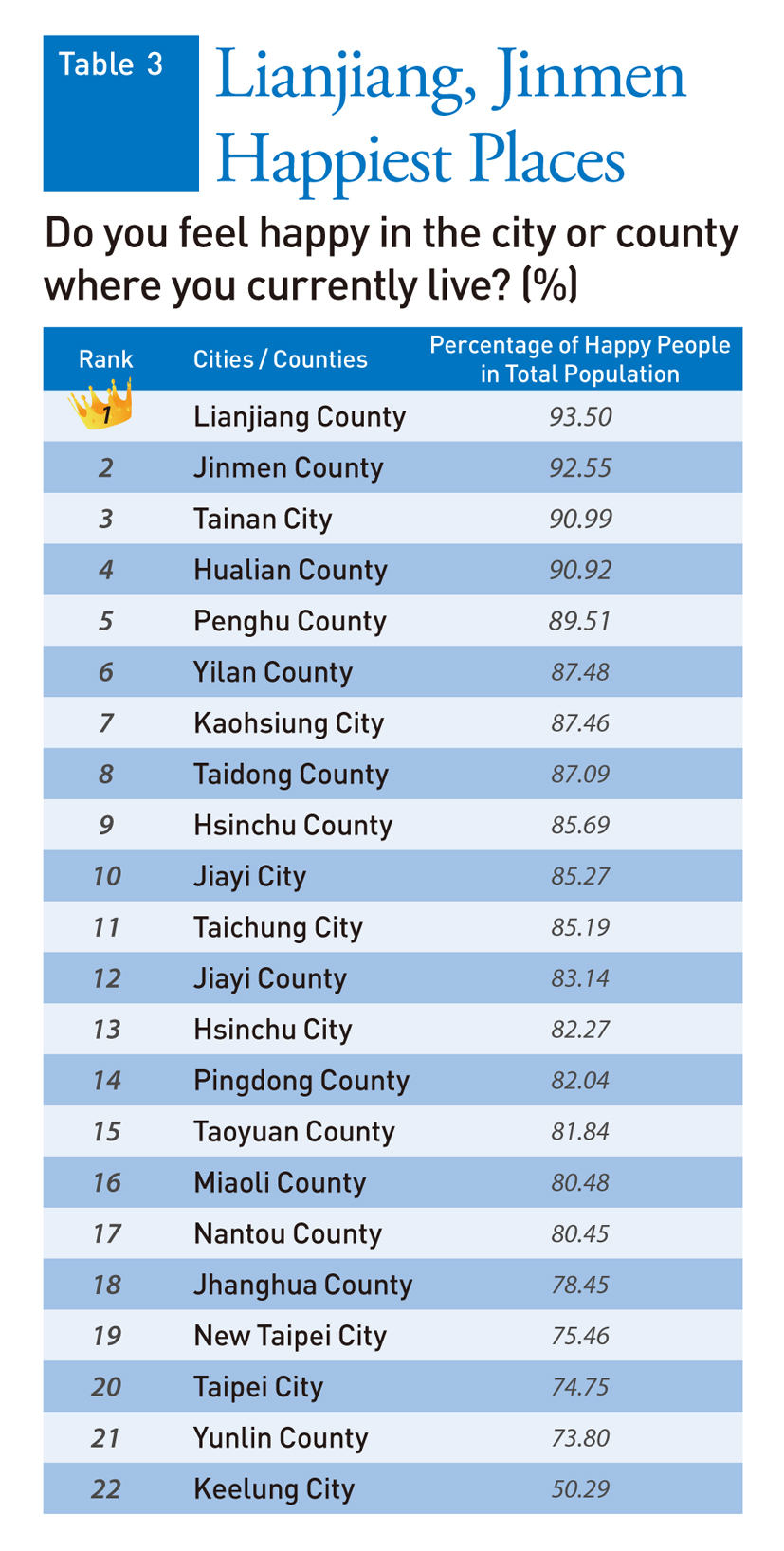 Happiness, City by City
Confronted with the survey outcome, Taipei Mayor Hau Lung-bin remarks, "This shows that Taipei citizens are quite demanding. They don't easily get a sense of happiness."
"Also," he is quick to add, "because Taipei residents are the most sophisticated, they do not condone political machinations. Therefore, Taipei is the only city in Taiwan that does not give its city councilors budgets for construction project subsidies" (a practice widely seen as facilitating corruption). Hau does not hide his pride about his citizens' high ethics.
With wealth and resources concentrated in Taipei, the capital is privileged in many ways, which is why netizens have been ridiculing the city as "kingdom of the celestial dragons" far removed from the hardships of life in remote rural areas. Taipei people are portrayed as being so wrapped up in their affluent, cosmopolitan lifestyle that they look down on the rest of the country with arrogance and ignorance.
This is the viewpoint arising from the rest of the country that Taipei must address, even as it plays the role of Taiwan's flagship city to the outside world.
Yang Chih-bin, secretary general of the National Association for the Promotion of Community Universities, points out that national resources have been concentrated in Taipei for a long time. Some Taipei citizens tend to forget that the capital owes its resources to the hard work of people across Taiwan and instead take them for granted without noticing the wide urban-rural gap. As a result, jokes and mockery at Taipei's expense have been circulating on the Internet.
Yet Yang also warns that the other cities and counties should not strive to emulate Taipei, but rather develop different industrial and social patterns based on their local conditions, to bring out a diversity of distinctive scenes at the local level. The more each county or city comes into its own by developing a distinct personality, the more vibrant and alive will Taiwan be.
Translated from the Chinese by Susanne Ganz