Taiwan's Young Voters
Who They Favor as the Next President
精華簡文
Source:CW
Taiwan's top five mayors stand the greatest chance of rising to political supremacy. But first they must win the enigmatic hearts of the younger generation. A new CommonWealth survey shows how they're stacking up.
Who They Favor as the Next President
By Ting-feng Wu
From CommonWealth Magazine (vol. 530 )


Since the first direct presidential election in 1996, Taiwanese voters have elected three different presidents to office – Lee Teng-hui, Chen Shui-bian and Ma Ying-jeou – and all of them had one thing in common: They had all previously served as mayor of Taipei.

Since Taiwan's administrative restructuring in 2010, however, the country now has five "top-tier municipalities," and the capital no longer enjoys a monopoly on political clout. With nearly 60 percent of Taiwan's population now absorbed into the five top-tier metro areas, all one now needs to do is gain the upper hand there to have a shot at becoming the rising political star of tomorrow.

From the five top-tier cities, all roads lead to the Presidential Office. Voting trends among the younger generation are generating the most intense interest. "After all, they are the most obvious undecided voting bloc," opines Wang Yeh-lih, a political science professor at National Taiwan University.

"When many of the younger generation were born, Lee Teng-hui was president, and they've lived through a transfer of power between the [two main] political parties. Democracy is as natural to them as breathing, and they have no particular feelings for the trappings of the parties," echoes Chao-lung Liu, an associate professor with the Department of Public Affairs and Civic Education at National Changhua University of Education.

The high degree of non-partisanship among young people has turned their generation into a key "kingmaker." So, who will be able to win the hearts of this fickle demographic?

In July, CommonWealth Magazine for the first time conducted a survey of young voters (aged 20-35) in Taiwan's five major metro areas, posing the question: "If the presidential election were to be held tomorrow and the mayors of the five top-tier cities were all candidates, who would you support?"

Just as in a footrace, the contenders have to round a few turns before the leader comes to the front of the pack. Now that the system of five top-tier municipalities has been in place for three years, the level of support each mayor enjoys is gradually becoming evident.
Four Key Points
There are four key points to be taken from the results of this survey.
First, support among young people for the five mayors, in order, ranked as follows: Tainan mayor William Lai (27 percent), Kaohsiung mayor Chen Chu (21 percent), New Taipei mayor Eric Chu (15 percent), Taichung mayor Jason Hu (14 percent) and Taipei mayor Hau Lung-bin (six percent). (Table 1)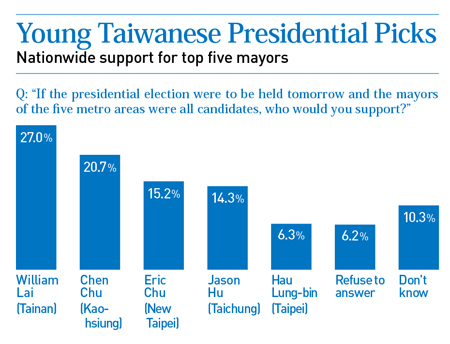 The second point is that even with the inevitable intra-party power struggles among presidential hopefuls seeking to represent either the "blue camp" (the Chinese Nationalist Party, or KMT, and associated parties) or the "green camp" (the Democratic Progressive Party, or DPP, and its affiliates), the combined 48 percent support for DPP mayors William Lai and Chen Chu far exceeds the 36 percent combined total support for the three KMT mayors. Yet it's worth bearing in mind that 17 percent of respondents declined to state a preference ("refuse to answer," or "don't know") and these will constitute the key non-aligned demographic.
The third point, as found through cross-analysis, is that the green camp mayors enjoy a significant "home field advantage," garnering the highest approval ratings among young people in their respective constituencies. In contrast, the only blue camp mayor to have solidified his home field advantage among young voters has been New Taipei's Eric Chu. (Table 2)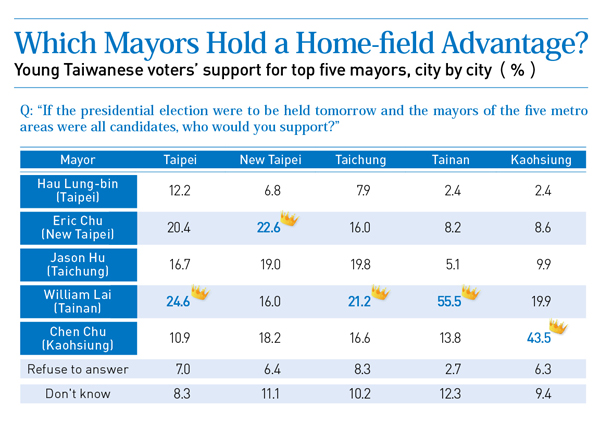 Fourth, relative to Chen Chu, William Lai's high support ratings are not strictly limited to his home turf in Tainan, as he effortlessly secures the highest approval ratings in regions north of the Zhuoshui River like Taichung and Taipei. As for the blue camp, aside from consolidating his popularity in New Taipei, Eric Chu's support in Taipei City approaches that of Lai, so he is already a powerful presence in the two major northern cities. But he'll have his work cut out for him if he is to penetrate southern Taiwan.
Voting for Candidate, Not Party
How have Lai and Chu, representing the green and blue camps, respectively, managed to capture the hearts of young voters?
"Personal image is the key," says Tsai Hsiu-chuan, an associate professor of political science at Soochow University.
Compared with middle-aged and older voters, who have a wealth of experience going to the polls, young people are more inclined to "vote for the candidate, not the party." What that means is that for many young voters, support for Lai or Chu is automatically separated from support for the blue or green camps, Liu Chao-lung further elaborates.
Some people are highly defensive of Chen Chu, because the changes that have taken place in Kaohsiung are plain to see for anyone with eyes. The Pier 2 Arts Center, for example, has been widely acclaimed not only by Kaohsiung residents, but also the many outside visitors it attracts.
But for younger voters, who did not live through the martial law era, there is significant distance between themselves and Chen Chu's "Kaohsiung Incident" persona.
There are also those who express outrage on behalf of Hau Lung-bin. One, a 34 year-old who gave his surname as Shen and who travels often between his job in Taipei and his home in Taichung, raises his voice in defense of the Taipei mayor, insisting that the unpopular urban renewal projects the mayor has pushed are absolutely necessary, and no one else serving as mayor would have done it differently.
"It's just his image that's taken a hit, nothing more," Shen says.
In a similar predicament to that of Chen Chu, Hau's politically influential family background makes it difficult for him to find common ground with the problems and disadvantages younger voters face.
By contrast, Lai and Chu are more in line with the appetite among younger voters for a "squeaky clean" candidate who is a "reformer."
The paradox, however, is that while the individual image so valued among younger voters can admittedly explain the inclination to "vote for the candidate, not the party," viewed from another perspective might that not also be indicative of a tendency toward a sort of blind forgiveness implying that "if the candidate is OK, then everything will be OK"?
Political Idols Walk Tightrope
"Like with these darlings of the media, all it takes is one big mistake, and their image can take a major turn for the worst," says Chu Cheng-chi, director of the DPP's Taipei branch. "Political idols must walk the tightrope judiciously."
In any case, this is merely a survey of a hypothetical election among the five top-tier mayors. There may actually be a dark horse candidate not on this list that could seek the nation's highest office in 2016 or 2020.
A presidential election is after all a nationwide contest and although young voters are courted by all sides, the candidate they are inclined to endorse cannot necessarily be equated with who will ultimately be the actual winner.
"Job approval ratings for Taipei mayors have always been low. And satisfaction with Hau Lung-bin has been low too while he's been Taipei mayor, but in the end didn't he got re-elected without a hitch?" Wang Yeh-lih retorts.
Translated from the Chinese by Brian Kennedy
---
About the Survey
The "Young Voter Presidential Preference Survey" polled young voters (aged 20-35) residing in Taiwan's five top-tier municipalities through stratified random sampling via telephone. The polling was conducted July 8-August 13, receiving 1,671 valid responses, with a confidence coefficient of 95 percent and sampling error of plus/minus 2.4 percentage points. All data collected was sorted by gender, age and level of education for purposes of verification of statistical representativeness and weighting.