2013 Local Leader Approval Survey
DPP Stands Firm, KMT Shuffles Deck
精華簡文
Source:CW
Personal scandals and unpopular strong-hand measures have caused public support to plummet for some local leaders, while innovation and effective public relations have won residents' hearts.
DPP Stands Firm, KMT Shuffles Deck
By Ting-feng Wu, Uidy Kao, Hsiang-Yi Chang
From CommonWealth Magazine (vol. 530 )


The 2013 CommonWealth Magazine Local Leader Approval Survey presents a divided picture. In the green camp nothing has changed; in the blue camp everything has.

Tainan City mayor William Lai defended his top position among Taiwan's 22 local chief executives, followed by Yilan County Magistrate Lin Tsung-hsien. In terms of party affiliation, not much has changed. Without exception, the six local leaders from the DPP made it into the upper half of the list, along with four leaders from the KMT and one independent county magistrate. (See Table)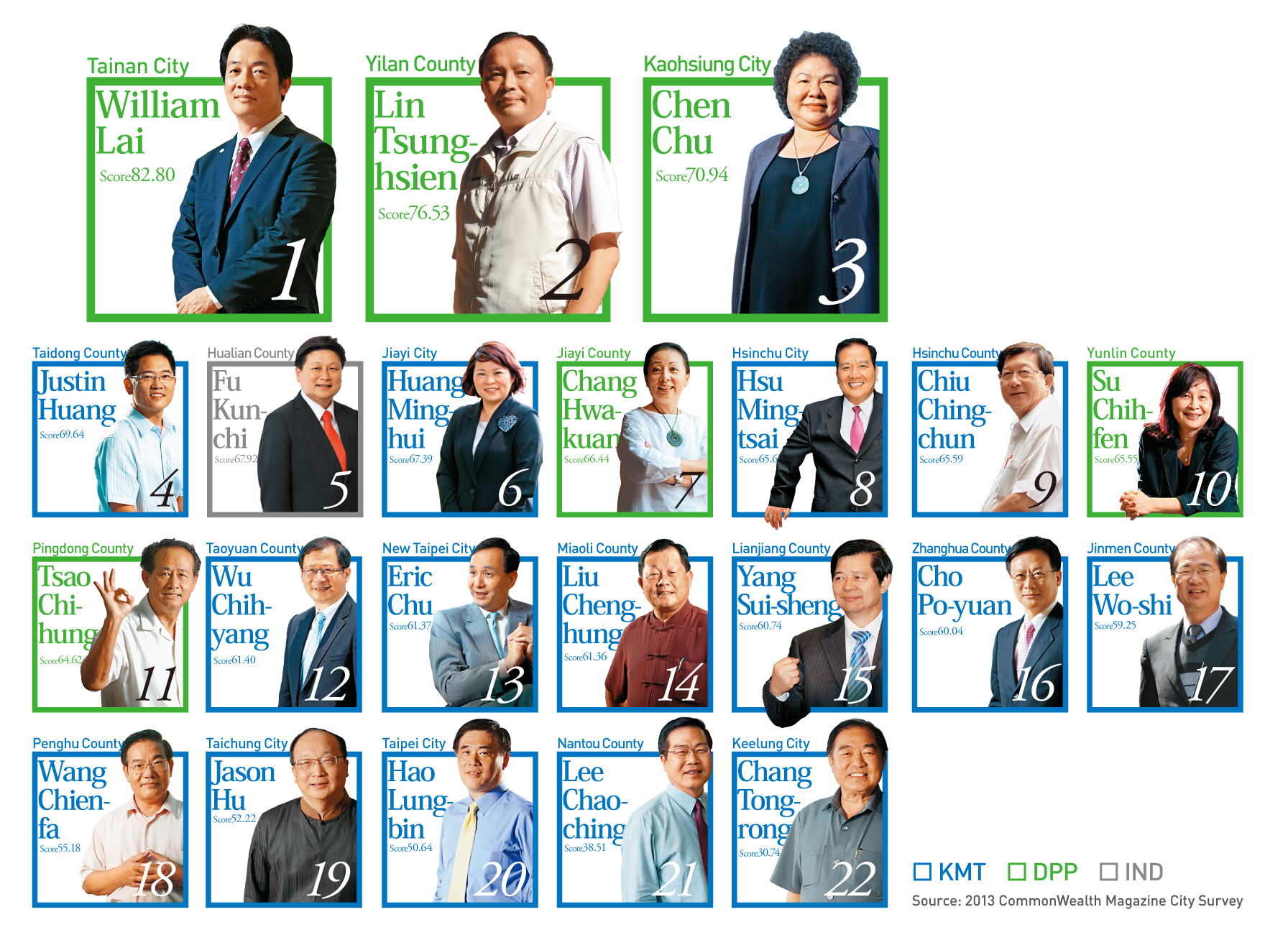 A closer look, however, shows that in terms of individual performance, a great reshuffle took place among the KMT chief executives, while the DPP leaders' rankings remained roughly the same. Among the KMT executives, Taidong County Magistrate Justin Huang (No. 4 in the survey), Hsinchu City Mayor Hsu Ming-tsai (No. 8) and Hsinchu County Magistrate Chiu Ching-chun (No. 9) are all newcomers to the top ten.
Political science professor Wang Yeh-lih of National Taiwan University contends that the plummeting popularity of the KMT leaders who slipped to the lower half of the rankings "is not unexpected." Keelung City Mayor Chang Tong-rong and Nantou County Magistrate Lee Chao-ching, who bring up the rear with No. 22 and 21 respectively, are both implicated in corruption scandals and have dismal track records. The mayors of Taipei and Taichung find themselves at the lower end of the rankings despite having a good international reputation. Wang believes this is because "they have held their posts too long, and they don't have any new administrative programs that feel fresh or surprising."
Taichung Mayor Jason Hu feels slighted by his low ranking and calls it unfair. In 2010 the British magazine Monocle cited him as one of the world's top ten urban leaders, and this June Taichung won the prestigious Intelligent Community of the Year award. Yet the Taiwanese media have simply failed to pay attention to these achievements, Hu claims, and Taichung residents remain unsatisfied. "There's not much we can do," he concedes. "We can only keep doing our best."
Hu emphasizes that he is not the type of mayor who ingratiates himself with the electorate by staging political fireworks or handing out social benefits to boost his popularity. "It is out of the question for me to change my attitude. If I did, I'd be forsaking what's crucial in pursuit of something trivial, and my approval ratings would decline even further," Hu believes.
Still, stuck in a sluggish economy, the Taiwanese are hungry for change and novel ideas.
Rising and Falling Political Stars
Three of the local government leaders from the KMT saw a meteoric rise compared to their rankings last year, while three experienced a precipitous fall from grace.
Compared to last year's survey, Taidong County Magistrate Justin Huang moved up nine places to No. four, Hsinchu County Magistrate Chiu Ching-chun advanced six slots to No. 9, and New Taipei City Mayor Eric Chu climbed six spots to No. 13.
Their spikes in popularity were counter-balanced by sagging approval ratings for three others: Miaoli County Magistrate Liu Cheng-hung, who slipped 11 spots; Zhanghua County Magistrate Cho Po-yuan, who declined ten; and Jinmen County Magistrate Lee Wo-shi, who fell seven places.
All three of the shooting stars are newcomers as local chief executives who encountered considerable difficulties, criticism and resistance during the first half of their four-year terms. "To be honest, over the past few years, every single policy that I proposed was denounced from the outset," recalls Justin Huang.
His unpopular policies included introducing fees for roadside parking and prohibiting farmers from composting with poultry manure, to curtail environmental pollution. In hindsight, Huang cannot help laughing: "Whenever I left my house back then, I always wondered, should I wear a steel helmet?" Now that his political skies have finally cleared, Huang's approval ratings have soared. He is the only local government leader from the KMT who made it into the top five.
Surprisingly, the Taidong County government's controversial review of the environmental impact of the beachside Meiliwan Resort Hotel development, which has drawn fire from social activists and cultural figures, has not dented Huang's popularity. Some political analysts argue that the public does not hold Huang responsible mainly because the construction of the Meiliwan Resort Hotel started under his predecessor. Huang's response has been quite low-key, and he finally managed to win support from his other policies.
"We must applaud him for letting the people in the west of Taiwan know that eastern Taiwan is no longer how it used to be," notes Tsai Hsiu-chuan, associate political science professor at Soochow University, in a strong show of support.
In fact, aside from a beautiful coastline and an unspoiled environment, Huang does not hold many trump cards in his hands. When he took over as county magistrate three years ago, Taidong was the island's poorest county, and had the highest ratio of disabled people and the highest number of low-income households, Huang tells CommonWealth Magazine. Despite empty coffers, he needed to spend money in a host of areas.
In this seemingly hopeless situation, the empty-handed Huang came up with some novel ideas to put the struggling county at the heart of tourism development.
Hot Air Balloons Lift Taidong's Image
The Taiwan International Balloon Fiesta, which drew 800,000 visitors last year, was in the beginning a mere "exhibition proposal" that even Huang's closest aides felt "could not possibly succeed."
"In 2011 the Ministry of Economic Affairs set aside a budget of NT$8 million for holding international exhibitions and asked local governments to compete for these funds," Huang recalls. "At the time everyone thought, how in the world could Taidong stage an international fair? My aides even wanted to directly forfeit participation in the competition."
But Huang had a different idea, Taidong would be marketed as a place for hot air ballooning. Balloonists and companies from around the globe would be invited to participate in an international hot air balloon show. Relying solely on its unrestrained creativity, the county beat rival counties and cities for the coveted ministry funds and staged its first-ever international balloon festival.
Now the event is held every year between June and August, attracting more than half a million tourists and greatly changing the scene on the once rather deserted streets of Taidong. "Now we have traffic jams in Taidong City!" exclaimed one taxi driver with 20 years of driving experience in Taidong.
Huang plans to score further successes. He wants to bring international sports events to Taidong such as surfing and triathlon to market them in concert with the county's exceptional coastline and mountain views.
Thanks to his creative approaches, Huang has not only been able to maintain consistently high approval ratings, but also enjoys the highest political support rate – that is, local residents' willingness to reelect an incumbent local government leader – of all KMT local chief executives.
But some observers warn that looming political clouds might still darken Taidong's blue skies and Huang's popularity. As Professor Wang points out, "The Meiliwan project is a ticking time bomb. Right now, the response from local residents can still be deemed balanced, but if the case is not dealt with properly, we could see a replay of the Dapu Incident."
The Dapu Blunder
When Miaoli County magistrate Liu Cheng-hung received CommonWealth Magazine at his office, the public outcry over the Dapu Incident was in full swing. Laughing at himself, Liu remarked, "This year our score in the survey must be truly dismal, right?"
Liu has been facing a massive public outcry over forced land expropriation in Dapu Village. For the construction of an industrial complex there, private homes were demolished and crops destroyed shortly before harvest time.
Pulling out a stack of documents, Liu spent considerable time refuting the accusations against the local government in connection with the incident, not concealing his bitterness. Interrupted by a visitor, Liu rose to exchange greetings and courtesies, but then immediately resumed his explanation. He emphasized that the homes in Dapu Village were demolished in line with the law and for the sake of traffic safety.
"If it's the right thing to do, you still have to do what needs to be done. Otherwise, why did the people elect us?" Liu said with demonstrative resolve. The problem is that local voters are divided over what "the right thing" actually is.
The survey, which also compares the local chief executives' performance this year and last year, shows that Liu is getting mixed reviews. Some 23 percent of Miaoli County residents believe that Liu's performance in office has improved over the past year, whereas 29 percent think it has deteriorated. All this caused Liu, who generally scores high in opinion polls, to fall out of grace over the Dapu Village incident.
Opinions might differ over whether the demolition of the private homes in Dapu Village was right, but according to Chao-lung Liu, associate professor in the department of public affairs and civic education at National Changhua University of Education, "Liu Cheng-hung's way of dealing with the case and his statements triggered controversy. That's his flaw."
Zhanghua Chief Tainted by Brother's Graft
Zhanghua County Magistrate Cho Po-yuan, who was originally seen as a promising, younger KMT talent representing central Taiwan, has seen his approval ratings slip after his younger brother Cho Po-chung was indicted in late May for allegedly taking illegal kickbacks from a contractor and embezzling money from the presidential election campaign.
Given that Cho used to have high approval ratings, this latest development shows that the electorate is much less forgiving nowadays. The nosedive in Cho's popularity does not come as a surprise.
While Cho's brother is still on trial and not yet found guilty of any charges, the scandal "has already created a chilling effect on the county government" observes Professor Liu. Pointing to his own experiences with local officials since the graft investigation started, Liu reveals that "county government civil servants have become somewhat apprehensive when answering public inquiries."
Now that the county's chief executive needs to keep his head down, civil servants are also taking a more conservative approach, which does not sit well with local residents. The professor puts it in a nutshell: "Before the government put up a strong performance and was, of course, highly visible. Now it has become less proactive, and the county's residents feel the difference. So how could satisfaction with the government possibly be high?"
Translated from the Chinese by Susanne Ganz
---
About the Survey
The annual CommonWealth Magazine Local Leader Approval Survey gauges public and expert satisfaction with the performance of Taiwan's local chief executives. The scores given by the public at large account for 80 percent of the final ranking, and the expert scores for 20 percent.
Public Opinion Survey
The public opinion survey was conducted between July 8 and August 13, 2013 covering residents throughout Taiwan, as well as the outlying island counties of Jinmen and Lianjiang. A total of 15,246 valid responses were obtained via telephone using stratified random sampling. Each of the 22 cities and counties was surveyed as a separate unit. In order to ensure representativeness, between 500 and 1,160 completed responses were required per county or city , depending on the total population of each jurisdiction.
The poll had a confidence level of 95 percent and a margin of error of plus/minus 4.4-2.9 percent for each area surveyed. (Lianjiang County, comprised of the outlying Matsu islands, had 204 valid responses, yielding a margin of error of plus/minus 6.9 percent.) The margin of error for the entire area surveyed was plus/minus 0.8 percent. Statistical representativeness verification and weighted processing were applied to all data, based on gender, age and educational level.
Rating by Experts
Between July 15 and August 13, 2013, CommonWealth Magazine worked in cooperation with the National Association for the Promotion of Community University (NAPCU), United Way of Taiwan, the National Association of Small & Medium Enterprises R.O.C., and the Society of Wilderness, asking these organizations to recommend scholars and experts with intimate knowledge of local government affairs in their respective fields to rank the performance of local government leaders. A total of 467 experts took part in the approval survey on 22 local chief executives by filling out questionnaires.