Why Hong Kong Is Smitten with Taiwan
精華簡文
Source:Kuo-Tai Liu
People from Hong Kong have swarmed to Taiwan in recent years to enjoy its night markets and slower pace of life and to learn from its "happy protests." But an unmistakable disenchantment with Beijing may lie behind this infatuation.
Why Hong Kong Is Smitten with Taiwan
By Yi-Shan Chen
From CommonWealth Magazine (vol. 529 )

Mt. Hehuan Sunrise
It's 4 in the morning on Taiwan's majestic Mt. Hehuan. As you fight back shivers, your pupils do their best to adjust to the darkness, taking in the contours of Asian faces and dark hair in the crowd around you. As the sun rises, people excitedly blurt out "so pretty, so pretty" in Cantonese, the first indication that many of those enjoying the sunrise are from Hong Kong.
While mainland Chinese tourists have taken over Alishan, another jewel in Taiwan's Central Mountain Range, Hong Kongers have embraced the fresh air, lush green grass and flocks of sheep of Cingjing Farm in Nantou County – just down the mountain from Mt. Hehuan – as their own.
And their numbers are growing. In 2012, Hong Kong residents made 950,000 visits to Taiwan, and that number is expected to exceed 1 million visits this year (See Table).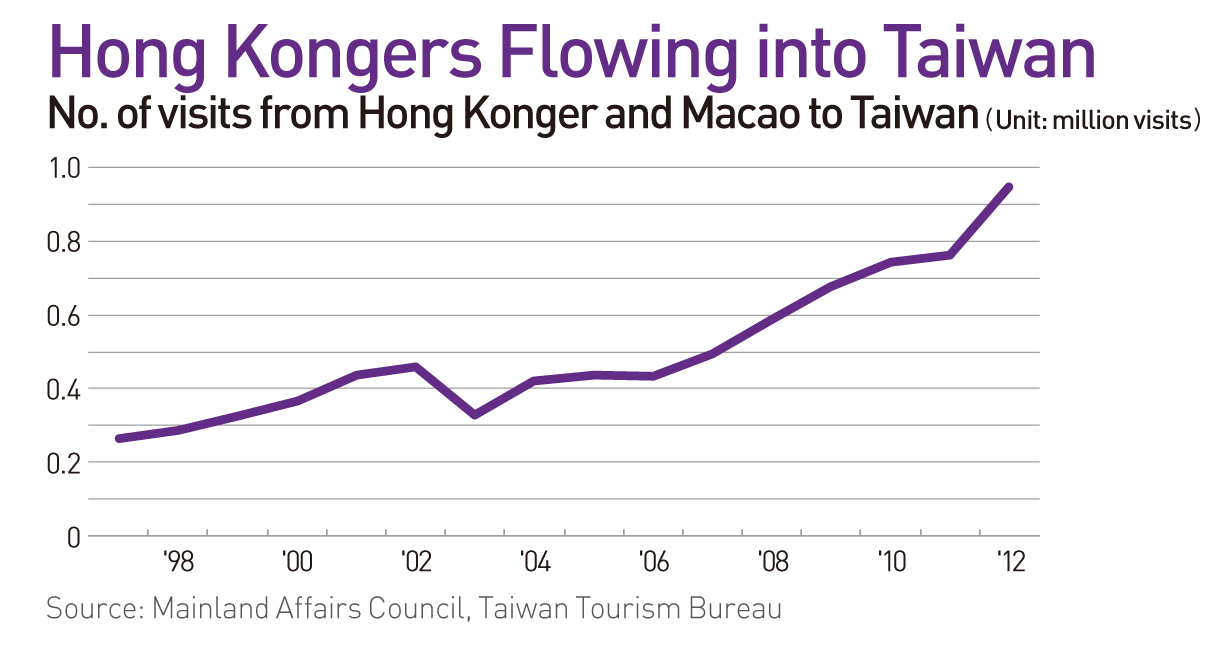 One of the inns of Cingjing most popular with Hong Kong travelers is Huang's Homestay. In its white wooden chalet-style buildings with blue tile roofs and white walls, guests can lie on their beds and gaze up at the stars through the skylights. Of its 19 rooms, more than half are usually occupied by Hong Kong visitors.
"The houses here are really beautiful. It's like you've come to a 'foreign country,'" says Mandy, a Hong Kong social worker. "People in Taiwan are very friendly. Trips here are richer in content than they are in Thailand and also very relaxing."
Mandy and her friends from college, Koni and Elaine, were in Taiwan on a self-organized tour for the second time. In 2011, they visited Kending and Tainan, and will never forget how the owner of their B&B delivered breakfast on his motorbike every morning, an experience they feel highlights the difference between people in Taiwan and Hong Kong.
"The Taiwanese give us the sense that it's not only about money, but that they really hope guests like it here," Mandy says.
"More and more Hong Kong is being dominated by tall buildings and shopping malls, and the malls have all the same chains," adds Koni's husband.
"Hong Kong's resources are already inadequate, and its immigration policies have big problems. The problem is that the policies are decided by Beijing. Beijing promised 'one country, two systems,' but in its eyes, 'one country' is more important than 'two systems.' The idea of Hong Kong people running Hong Kong no longer exists," the husband says, declining to give his name for fear that his comments could have professional repercussions.
Even Mandy, Koni and Elaine did not want to give their last names; such is the current mood in the territory.
During the 1989 student movement in China, Koni's husband took to the streets in Hong Kong's massive pro-democracy protest. Twenty-four years later, in this year's July 1 march (an annual march that gained notice in 2003 when 1.5 million people protested against draft legislation that would have limited free speech), he took his gradeschool-age son to protest against the city's chief executive for lying about illegal renovations to his mansion, and to fight for other causes.
His smart 13-year-old daughter served as the translator during the group's interview with CommonWealth Magazine because she has studied Mandarin in school, a requirement since the 1997 handover of Hong Kong to China, and we asked her pointedly what Mandarin meant to her.
"That's a language that a lot of people use. I'm learning it to be able to communicate, but it doesn't mean I feel patriotic for the motherland," she says clearly and without hesitation.
The Minds China Can't Buy
Ding Xueliang, a renowned sociologist who teaches at the University of Science and Technology in Hong Kong, worries that Hong Kong has become impatient and politicized (Hong Kong: Beijing's Big Headache), and describes it as "major headache for Zhongnanhai," the headquarters of China's Communist Party.
Ding explains that this growing impatience and frustration was a key catalyst of 20th century revolutions, which is why in Beijing's eyes, Hong Kong has emerged as a more intractable dilemma than Taiwan.
The increasingly tangled triangular relations among China, Taiwan and Hong Kong over the past five years reflect the changing nature of how people in the special administrative region see themselves and their neighbors.
During that time, Hong Kongers have embraced Taiwan more every year. Also, their identification with Hong Kong has grown while their identification with China has fallen dramatically. (See Table 1)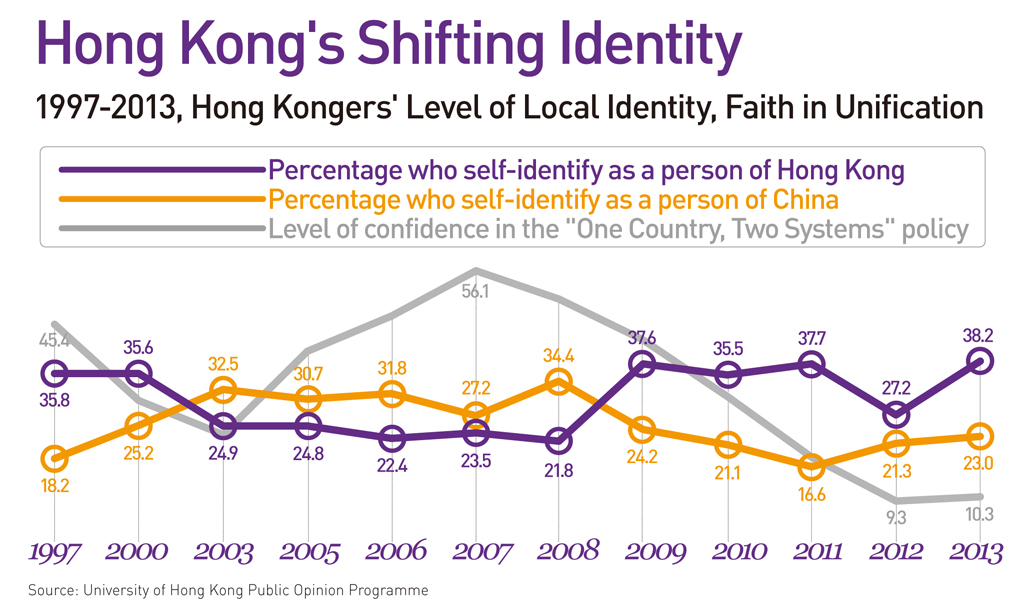 According to a recent government confidence survey by the University of Hong Kong, more respondents did not trust the central government in Beijing than did trust it, the first time there has been such a trust deficit in 12 years.
In 2003, the Beijing government launched an "Individual Visit Scheme" to "rescue Hong Kong's economy." The policy, which allowed Chinese nationals to visit Hong Kong on their own rather than as part of tour groups, helped gradually improve Hong Kongers' trust in the "one country, two systems" model. But by 2012, Chinese were making 35 million visits a year to Hong Kong, four times as many as in 2003, and the local population is only 7 million. Thus, even as Hong Kong is experiencing a stronger economy and lower unemployment, it is also seeing more conflict, and adopting an ever more favorable view of Taiwan. (See Table 2, Table 3, Table 5)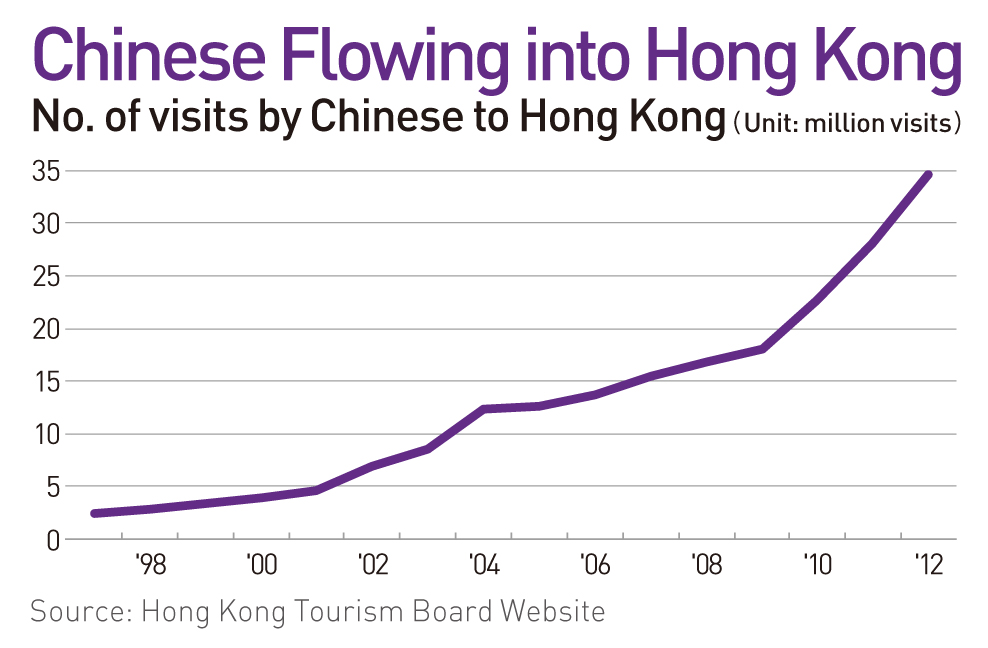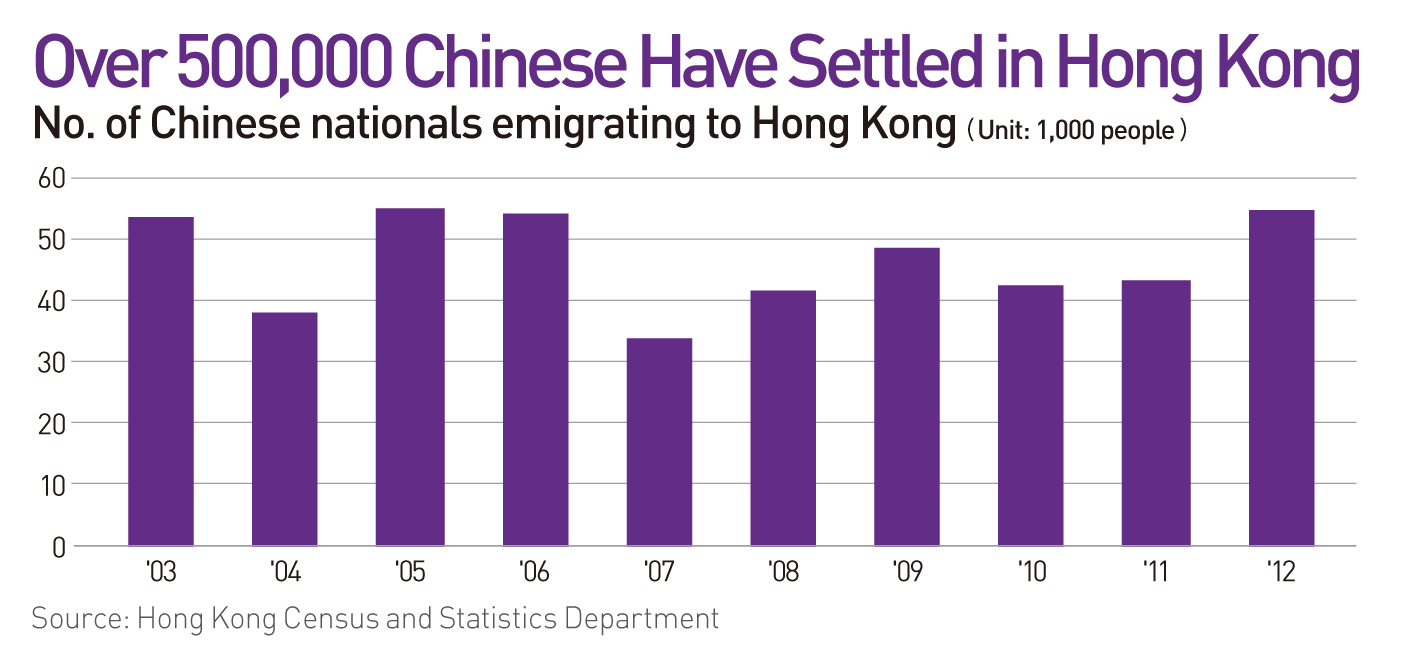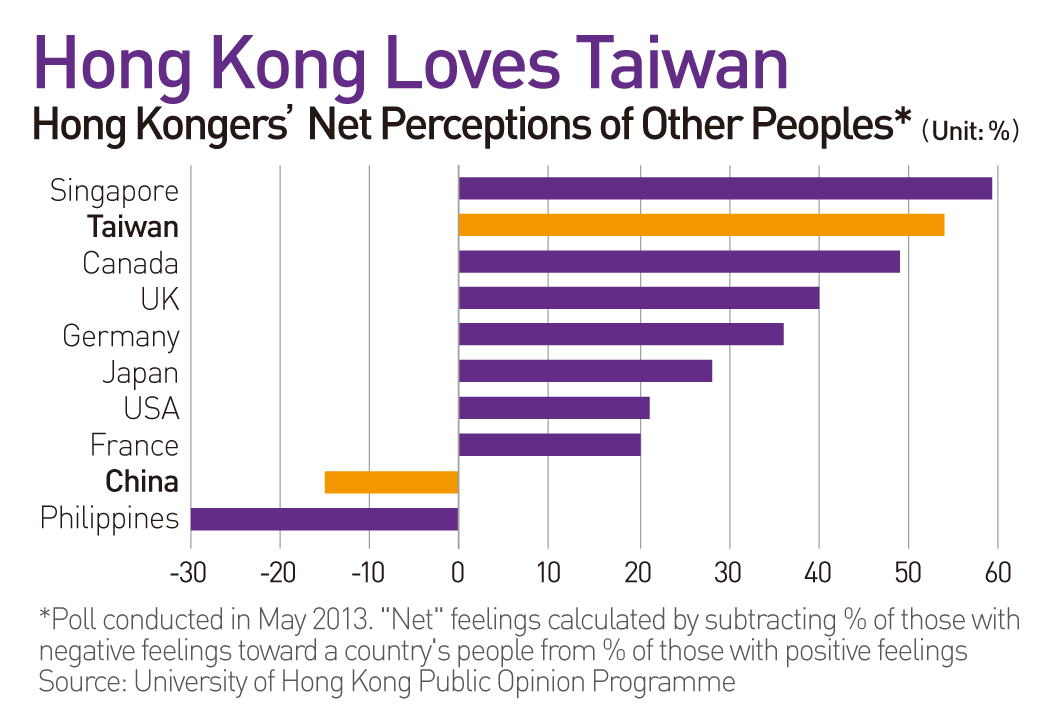 The growing attraction of Taiwan reflects the stark contrast between its core values and China's – living a good life and valuing the humanities compared with China's vision of a wealthy country and strong military.
"While the mainland was busy publicizing that its Shenzhou No. 5 spacecraft had made it into space, Taiwan was talking about the little pleasures of life there. Mayday [a Taiwanese rock band] has more fans in Hong Kong than any Hong Kong pop star," says Simon Lau, a co-founder of Hong Kong news and blog website House News.
"People in Hong Kong like Taiwan now more than at any time in the past 30 years," says Lau.
Whose Shopping Heaven?
Rightman Publishing Ltd. was the first Hong Kong publisher to print travel guides to Tokyo and Taiwan for individual tourists, setting off a trend in the industry.
The scholarly, poised director of Rightman Publishing, Thomas Tang, and his vivacious, candid wife, Leung Yun Ji, met while studying at National Chengchi University in Taipei. Tang graduated first in his class in the Department of Journalism but decided to return to Hong Kong to help his parents, who had a men's suit store in Tsim Sha Tsui.
At 10 one night, the couple decided to take our visiting CommonWealth Magazine team to the brightly lit Tsim Sha Tsui to search for hints of the past.
"All that's left is the open-air parking lot of Harbour City," says Tang, who once treated the area's streets as his playground.
Fifteen years ago after his child was born, Tang loved taking his family to the Ruby Tuesday in Harbour City, with its views of Victoria Harbour. The family would then head to the children's floor for the afternoon, burying themselves in a children's bookstore and Toys "R" Us.
Today, only major fashion brands can afford Harbour City's rent, and the stores the Tang family enjoyed have long since moved away. As a result, Tsim Sha Tsui has been off their radar for a long time.
In the past five and a half years, rents in Hong Kong have risen 50 percent and housing prices have doubled, exceeding levels seen before the collapse of Hong Kong's property sector in 1997.
On the 800 meters of Nathan Road stretching from Tsim Sha Tsui to Jordan, we counted 23 gold jewelry stores and 13 pharmacies and cosmetics stores. Hong Kong still has the reputation of a shopping heaven, but one wonders, "a shopping heaven for whom?"
Tang says that the one thing that really shocked him recently was when a thirtysomething cartoonist with his company who has always participated in political rallies said he was moving to Taiwan. In fact, many overseas Chinese in Hong Kong are re-establishing the Republic of China (Taiwan) citizenship they picked up while studying in Taiwan, planning ahead so that when they retire they can sell their apartment and move to the place they called home during their student days.
The Rise of a New Ideology
"Moving to Taiwan" was a topic on Lau's radio show last week, and many listeners left a similar message at the radio station: Hong Kong is no longer "our" Hong Kong; many things have changed, and it's hard to tell what it will become.
"What they were really saying is that they've seen the future and cannot accept it or approve of integrating with China 'that way,'" Lau says.
Over the past seven years, Lau has been involved in politics on both sides of the political fence, serving as a political adviser to former Hong Kong chief executive Donald Tsang after starting out as an aide to long-time democracy activist and founding chairman of Hong Kong's Democratic Party, Martin Lee.
Last year, he joined with prominent writer and commentator Leung Man-tao, financial industry insider Tony Tsoi, and Internet expert Greg Sung to launch House News, a news aggregator that "curates" blogs from outside contributors. Leung's personal opinion pieces and Lau's editorials, the site's biggest draws, helped House News become Hong Kong's most talked-about media outlet in 2012.
In the spirit of mass protests, House News decided to go live on July 28, in time for an "anti-brainwashing" rally held a day later. The protest was seen as representative of a new-generation social movement in Hong Kong, because it was initiated by the student-organized group Scholarism led by teenager Joshua Wong to oppose the government's "Moral and National Education" plan, viewed as an attempt by Beijing to brainwash Hong Kong youth with Chinese propaganda.
House News decided on that day to advocate "national education from a Hong Kong perspective."
Getting to the House News offices requires following a rather offbeat track. Lau took us there by cutting through the brightly lit apm shopping mall in Kwun Tong before arriving at an industrial estate that was once a textile factory.
It's in neighborhoods like Kwun Tong, Chai Wan, Cheung Sha Wan, located at the ends of the city's mass transit railway lines, and in their idle industrial estates, that the "new Hong Kong values" advocated by House News are looking to take root.
The 45-year-old Lau is a first-generation Hong Kong native – his parents were peasants from Guangdong Province. He sees the readers of House News as part of Asia's new middle class that, unlike past ethnic Chinese generations, has an international perspective and core values and is coalescing into a force for change.
Known by the slogan "My City, My View, My Home Court," House News has no inhibitions in casting aside the traditional news media focus on neutrality and objectivity. It emphasizes "getting involved" in Hong Kong mass movements, including fighting unabashedly for universal suffrage.
"Hong Kong is searching for another possibility aside from an obsession with development and assimilation into China proper," Lau says.
House News is both a product of the times and a product of its generation. During the 1989 pro-democracy movement, Lau was a university student, left alone in Hong Kong by his parents, who had emigrated to Canada. After Hong Kong was handed over to China in 1997, Lau's parents saw the transition go relatively smoothly, and they decided to return to Hong Kong. This wandering around the globe seemed to typify the previous generation of Hong Kongers.
But the four founders of House News, along with 60 percent of Hong Kong residents, were born in the special administrative region, creating a new generational dynamic.
"We are currently experiencing the road Taiwan traveled in the 1990s. To Taiwanese, local consciousness is a part of life. But in Hong Kong, local identification remains in a phase of disenchantment," Lau says.
Taiwan's Nutritious Soil
By understanding history, pondering memories, and observing human values, Taiwan's local identity movement enabled society to better tolerate multicultural values.
Hong Kong's local identity movement goes far beyond the simplistic characterization by Western media and China as focused on "anti-motherland, pro-universal suffrage" positions. In fact, it reflects a deep and diversified yearning for a civil society.
The same Hong Kongers who have never had a balcony or a backyard have suddenly shown enthusiasm for growing vegetables over the past two years. Hong Kong's Film Culture Centre even established a community-based urban farm initiative called "Project Grow" to promote agriculture in the city's concrete jungle.
"Hong Kong people want to improve their lives. Growing things can help them relieve stress, enhance the degree of freedom in their lives, and eat vegetables that do not have pesticides," says Joyce and Yvonne, who teach participants in Project Grow how to grow an urban garden.
"The new social movements we thirtysomethings got involved in were mobilized because of different values," says Wong Miu Yin on her seventh time in Taiwan this summer while interning at the New Homeland Foundation in Puli, Nantou County.
Wong Miu Yin fell in love with Taiwan because of her crush on Allan Yan, a member of the boy band Fahrenheit. But at the same time, she is also politically wired, and she made it a point to be in Taiwan for its most recent big city mayoral elections in late 2010 and the presidential election in January 2012.
"Taiwan has a lot that's worth learning from," she says. Hong Kong's community consciousness is often only awakened when something happens. But Taomi village, where the New Homeland Foundation is based, has developed locally oriented ecotourism that blends community-building and commercial opportunity, something not found in Hong Kong, Wong says.
Also, the less somber and negative tones of Taiwan's recent social movements inspired last year's anti-brainwashing campaign in Hong Kong to embrace the concept of a "happy protest" that left parents willing to take their children to "Citizens' Plaza" in Central District.
An Uncertain Future
Having frequently resorted to hunger strikes to promote their agendas over the past 10 years, the activists behind Hong Kong's social movements now humbly advocate "no more negativity." Yet, many observers, whether it's Taiwanese Chang Tieh-chih, who revived the venerable Hong Kong publication City Magazine and is now its chief editor, or Ada Wong, the founder of the Hong Kong Institute of Contemporary Culture, are pessimistic about where Hong Kong's current frustration will lead and the future of its civil society.
Chang, who spouted Marx, sported a protest headband, and wore sandals when rallying for social causes at National Taiwan University but received a rigorous education in political science, says there may be a sliver of hope at the political level.
But Chang sees little chance of the clash of cultures between China and Hong Kong being bridged, because as growing numbers of independent Chinese tourists flood into Hong Kong and conflicts grow, Hong Kong residents are feeling increasingly under siege.
"People in Hong Kong are full of anxiety; they feel that Beijing is scheming to fuse China and Hong Kong together," Chang says.
In the past 10 years, 510,000 Chinese nationals have gained Hong Kong residency, and that does not include the 200,000 babies born in Hong Kong to Chinese parents who do not have Hong Kong citizenship, known as "anchor babies." The Hong Kong government estimates that the territory's population will explode to 9.2 million by 2030, from 7 million today.
"Logically speaking, Hong Kong should have been decolonized after 1997. But now, Beijing is sending people into Hong Kong and deciding Hong Kong affairs, creating a form of recolonization," one Hong Kong observer says worriedly.
Aside from the influx of people and students, the Chinese invasion is also being felt through the many civic groups sponsored by the Liaison Office of the Central People's Government in the Hong Kong S.A.R. One of them is "Caring Hong Kong Power," which has clashed repeatedly and with increased intensity with democracy and reform groups over civic issues.
"I'm very worried that the result of this constant antagonism will be to turn off the vast majority of Hong Kong residents, leading to the disappearance of the civil society that has just begun to bloom," Ada Wong says.
Wong, who is also a lawyer and a pioneer of Hong Kong's heritage protection campaign, was nominated by incumbent chief executive Leung Chun-ying to head a proposed Cultural Bureau, but she was rejected by Beijing.
The social cleavages are unlikely to be resolved anytime soon. Legislation on the method of electing a chief executive in 2017 (when universal suffrage is expected to be introduced) still has to be passed by Hong Kong's Legislative Council, and as debate on the legislation intensifies, the "Occupy Central" movement will continue to heat up, suggesting serious tensions in Hong Kong society over the next year.
Benny Tai Yiu Ting, the leader of the Occupy Central movement and an associate professor in the University of Hong Kong's Faculty of Law, says candidly that his strategy is to use confrontation to create a certain level of tension and force everybody back to the negotiating table.
"I advocated Occupy Central so as not to have to occupy Central," Ting says.
But in a year from now, will the confrontational approach have created a level of antagonism that is irreconcilable, or will it move the opposing sides closer to compromise on the way to reaching a consensus? And will Hong Kong voters be allowed to elect their chief executive in 2017? Ting said he had no way of knowing, describing the outcome of Occupy Central as "either heaven or hell."
Hong Kong residents may be smitten with Taiwan and have even embraced some of the characteristics of its social movements, but they are realizing what Taiwan has learned: when it comes to fighting for democracy and dealing with an overbearing Beijing, there are no simple solutions.
Translated from the Chinese by Luke Sabatier