2013 Golden Service Awards
High-end Trumps Low-cost
精華簡文
Source:CW
Taiwanese consumers are increasingly particular about high quality, and demand it across the board. Those service enterprises that deliver it are winning the race.
High-end Trumps Low-cost
By Yueh-lin Ma
From CommonWealth Magazine (vol. 527 )


A top quality business results in picky customers.

As CommonWealth Magazine's Golden Service Awards enter their third year, a considerable amount of reshuffling has taken place at the top of the rankings throughout the 22 service industries surveyed. In six sectors – or nearly one-third – the No. 1 spot has been claimed by a new winner, while in nine categories, last year's winners have retained their dominant position. Seven newly added categories reveal a new wave of energy as the battle for service supremacy heats up.

This year's survey not only laid bare the intense competition within Taiwan's service industry, it further showed how one false move can knock a company out of the top five. Broadly speaking, among the top ten across all categories, five were involved in the food and beverage business (in three categories: five star hotel buffets, Chinese and Southeast Asian-style restaurants, and hotpot restaurants), indicating both the maturity and the intense competition within the island's F&B industry. (See Table)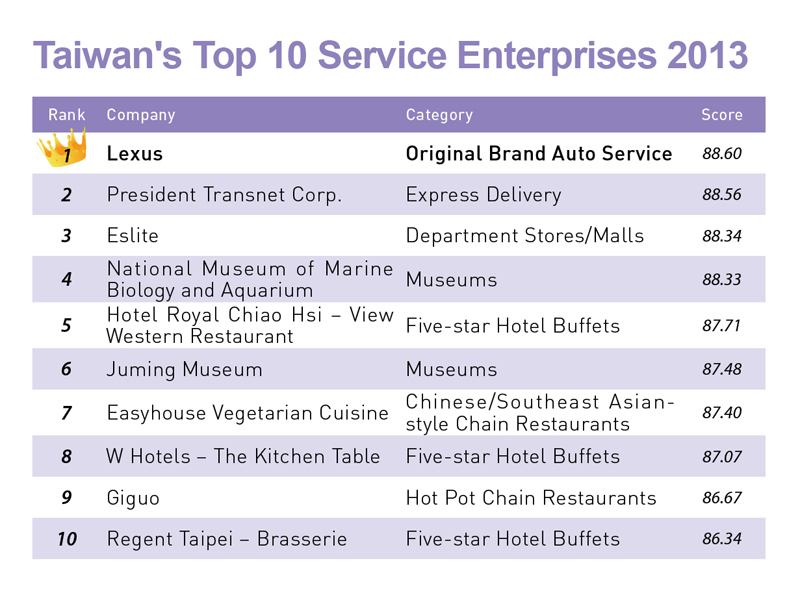 F&B Dominates
In fact, the prowess of Taiwan's high-end F&B brands, which have cut their teeth on the island and are now expanding abroad, has not only raised awareness among Taiwanese consumers as to what "top-notch service" really entails, but has left much of the rest of the service industry skating on thin ice.
"It doesn't matter what business you're in anymore – everybody is going to demand high standards," Hotai Motor president Justin Su relates.
This year Hotai, which represents a line that includes Japanese automaker Lexus, was able to eclipse Luxgen, last year's winner in the "original brand auto service" category, and also to secure the top overall ranking across the service industry as a whole. The company scored the highest marks for the entire industry in the "atmosphere," and "service quality" indices used to compile the overall scores.
Su has always been impressed every time he dines at renowned eatery Tin Tai Fung, noticing how customer satisfaction was rooted in a number of service details. Hotai even sent employees for a stay at the Japanese-style Radium Kagaya Spa Hotel to get a taste of top-of-the-line food, beverage and accommodation services and broaden the corporate horizons from top to bottom.
Museums Snare Fourth, Sixth Place
Aside from the promising showing from the F&B sector in the overall rankings, museums, long seen as relatively cold-shouldered institutions, this year broke into the top ten, taking two spots. And no, neither of the two museums in question have the name recognition of the National Palace Museum (ranked 11th). Instead, they are southern Taiwan's National Museum of Marine Biology & Aquarium (fourth place) and northern Taiwan's Juming Museum (sixth place).
Both Juming Museum, in the mountains of New Taipei City, and the National Museum of Marine Biology & Aquarium, at the southern tip of coastal Pingdong County, proved extremely adept at putting their "uniqueness" to use in leaving a favorable impression with visitors. The former has for the past 11 years presented an "arts museum al fresco" in its spectacular garden space. The latter has been strongly promoting its "aquarium sleepover" program, giving families an opportunity to spend a night with the penguins and beluga whales.
"In this age of the so-called 'experience economy,' originality and cultural value take top priority as what consumers are purchasing aren't commodities but fond memories," says Corporate Synergy Development Center president Su Chin-ho.
Middle and upper-tier consumers are without a doubt paying increasing attention to value rather than price, with particular emphasis on uniqueness and quality over market penetration rates or popularity.
This has also been a key factor allowing the small fry to take down the whales.
ezTravel Shoves Aside Lion
After 13 years in the tourism business, online travel agency ezTravel overtook industry leader Lion Travel to take top honors in its class for the first time this year.
To build trust and convince clients there's no risk in online transactions, ezTravel guarantees room reservations and airline tickets, even prepaying in full on room reservations in tourist hotspots around the world so clients have a definite place to lay their heads on arriving at their destination.
In June of this year, Taiwan authorities issued a code red travel advisory warning against travel to the Philippines following the killing of several Taiwanese fishermen by the Philippine Coast Guard. EzTravel immediately announced no-strings-attached full refunds for all affected customers, even for groups departing as late as August.
"Everything aside from visa fees was refunded and we took a hit of several million Taiwan dollars of prepaid hotel fees in Boracay. This was our commitment to our customers," ezTravel president Huang Guan-ruey says. The company's ability to react promptly to changing client itineraries has pushed ezTravel's return client rate to 70 percent on non-group international airline tickets and 60 percent on package deals, both leading the industry.
Prudential: No. 1 Life Insurer
Another example is Prudential, ranked tops in the life insurance sector.
Faced with powerful competitors like Fubon, Nan Shan and Cathay with five or six times the market penetration, Prudential proved the overwhelming victor in terms of "uniqueness of products/services."
Prudential demands that each of its agents bear in mind that their primary mission isn't to sell a product but to help out their clients.
Right from the start the company trains its life insurance associates in proper insurance principles, advocating values of long-term "love and concern" to ensure the company lives up to its vow to provide "different and better" client services. What's more, Prudential's sales managers are charged with auditing the policies its sales consultants design for clients to ascertain they are appropriate. Policies found to be either excessive or insufficient are sent for revision.
By not prioritizing sales growth as its primary objective, Prudential may find it difficult to achieve a market share breakthrough, but judging from the results of this year's CommonWealth Golden Service Awards, it has already won the hearts of its clients.
American business management guru Jim Collins has reminded us that without a crisis mentality, successful enterprises would have no way of sustaining their excellence.
Each year CommonWealth's Golden Service Awards identify excellence in each sector of Taiwan's service industry directly through the eyes of consumers and how they formulate gold medal-winning strategies while locked in heated competition.
Translated from the Chinese by Brian Kennedy