New Kinpo Group's Simon Shen
Betting Big on 3D Printers
精華簡文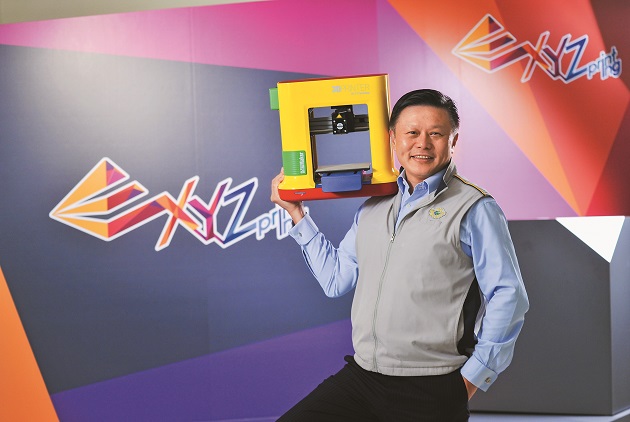 Source:CW
Global makers are using 3D printers to reach for their dreams, and helping them do it is global market share leader, the New Kinpo Group. New Kinpo President Simon Shen is leading the company along an unorthodox road to sustain its past success.
Betting Big on 3D Printers
By Patty Yen
From CommonWealth Magazine (vol. 602 )


A lavish, Thai-style wooden doorway opens into a bright, open hall. Only a gold-plated sign reading "Kinpo Electronics" gives away the fact that what appears to be a major tourist attraction in Shenkeng in suburban Taipei is actually an electronics factory.

In the facility's basement, visitors are greeted by what looks like a toy department in an upscale department store – a purple-toned display platform with the letters "XYZ" printed on it showing a colorful array of yellow, red, blue and green 3D printers.

This is the global headquarters of the manufacturer that is producing the 3D printers "makers" around the world are embracing to fuel their dreams.

At the request of a photographer, New Kinpo Group President Simon Shen holds up a yellow 3D printer with both of his hands, with a robot on the other side. Asked if it was heavy, Shen answers "not at all" and holds it even higher.

"3D printer and robots are like two of my children. How can they be heavy?" he says.

Shen is the husband of New Kinpo Group Chairman Rock Hsu's eldest daughter. Taiwan's electronics companies have often been hindered by succession problems, but the New Kinpo Group dealt with the succession issue nearly a decade ago, and as Hsu is quick to point out, "I didn't make the choice."

Before Chiang Hsiao-chin retired as president of the group in 2008, he recommended Shen as his successor, a move Hsu describes as "serendipitous."

Why weren't the company's reins handed over to Hsu's only son, Hsu Chieh-li? Five years earlier, the younger Hsu decided to set out on his own, and Rock Hsu respected his son's decision.

Shen has an MBA from the University of Southern California and a Ph.D. from Whittier Law School, and his first job was as a practicing lawyer in California. His background unrelated to the electronics industry, he had to embark on a completely different path when he succeeded Chiang in 2008.
Creating a Top Selling Brand
In 2013, the "maker" revolution took off and demand for 3D printers rose sharply, pleasantly surprising Shen who felt a good opportunity had come his company's way.
Kinpo Electronics was already the world's biggest 2D printer contract manufacturer, and the technology required to make the jump from 2D to 3D printing was not a problem for the company. In addition, there were only two American makers of 3D printing machines and they catered to the professional market, leaving the consumer market wide open.
"What would happen if we launched our own brand of 3D printers for the consumer market targeting a price point of under US$500?" Shen wondered.
Drawing on the extensive experience the company had racked up in manufacturing consumer electronic products for other brands, Shen laid down three criteria for the new 3D printers he envisioned. They had to be "easy to use, inexpensive and attractive in appearance."
In 2014, New Kinpo Group subsidiary XYZ Printing Inc. introduced its first XYZ 3D printing machine, and it quickly took off because it was user friendly and highly affordable at under NT$10,000.
According to the The Wall Street Journal, XYZ has more than a 20 percent share of the global 3D printing market, the highest in the world. It was also rated as one of last year's best Christmas gifts and its da Vinci Mini printer was a CES Editors' Choice Award winner at the 2016 Consumer Electronics Show in Las Vegas.
Shen's move to open new "blue ocean" market space for consumer 3D printers received mixed reviews from others in the industry. Terry Gou, the chairman of the world's biggest electronics manufacturing services provider, Hon Hai Precision Industry Co., was skeptical, saying 3D printing would never become a mainstream product and would not amount to anything.
In fact, Gou is right to some extent – the global 3D printer market is not that big. XYZ may have had the highest market share in the category in 2015, but it still only sold just over 50,000 units. And while market research organization Gartner is forecasting 103 percent growth in the category this year, total global demand will only be about 500,000 units in an electronics industry used to unit volumes in the millions or even billions (1.4 billion smartphones were sold in 2015, according to Gartner).
Accepting contracting orders from customers could be an option for building volume, "but even if we do contracting work for others, because we have 40 or 50 global patents, we would still be doing the design, setting the specifications. It would be completely different from today's contract manufacturing models," Shen stresses.
XYZ has applied for the third most patents of any 3D printer maker around the world, applying for patents for its printers' style, shape and new technologies everywhere from the United States to Europe. It has also recruited a brand marketing team that has gradually built the XYZ brand through marketing, distribution channels and e-commerce.
"But that's not enough. You have to build even deeper roots in the market," Shen said. As a result, the New Kinpo Group decided to acquire an IC design company this year that could design and manufacture systems-on-chip for 3D printers to gain control of the machines' hearts. It also invested in a big data company to use cloud analytics to identify consumption behavior patterns of end customers and inform future designs.
New Kinpo's diversification away from the contract manufacturing game was intended to escape the extremely low "3 to 4 percent margins" assemblers often face. But can developing one's brand be profitable? Shen's plan is to "start with hardware and make money on software."
Building a brand for 3D printers, robots or medical and healthcare products, Shen says, means that hardware sales have to be expanded to be able to capitalize on software services. He hopes that branded products will account for 30 percent of the group's revenues in five years.
At a strategic level, 2010 was also a pivotal year for the company and the manufacturing showdown between Southeast Asia and western China. At the time, wages in China had doubled in five years, and the Chinese government was encouraging the Taiwanese factories that had originally flocked to southern and eastern China to move to lower wage western China, such as Chengdu or Chongqing. Almost all Taiwanese computer contractors decided to "go west," and Rock Hsu asked his son-in-law if he wanted to go to Sichuan to take a look. Shen answered bluntly, "I'd rather build up the Southeast Asian market."
Cultivating the Southeast Asian Market
Shen believed Kinpo was different from other contract manufacturers because it had run a factory in Thailand for 27 years and its understanding of the Southeast Asian market was unrivaled. Rather than getting on the "me, too" bandwagon headed to western China, Shen felt it made more sense to spend three to five years to build a solid presence in the ASEAN market.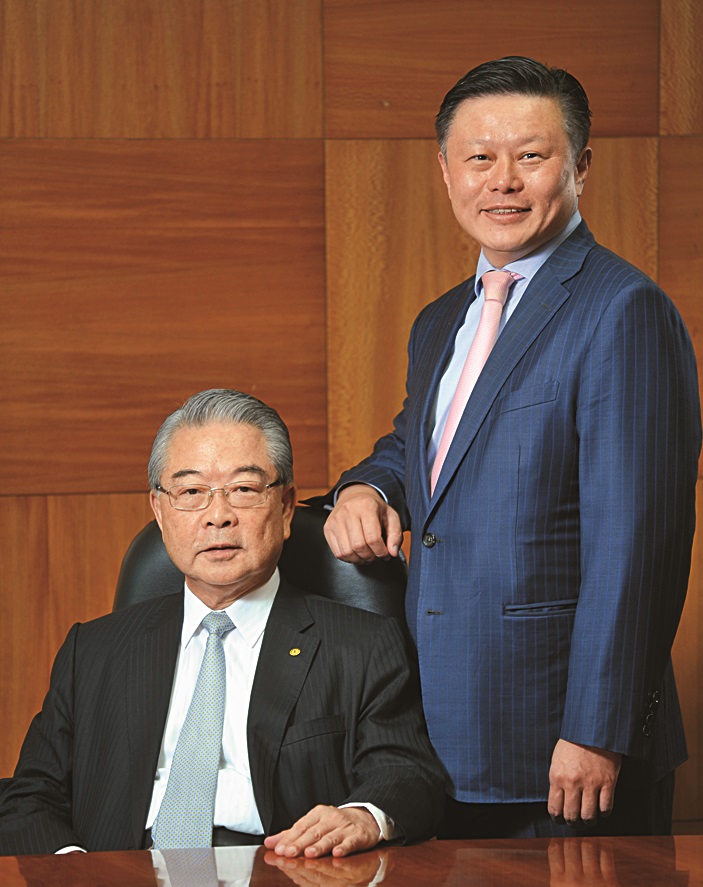 New Kinpo Group Chairman Rock Hsu (left) describes the succession of son-in-law Simon Shen (right) as serendipity.
He sent managers from New Kinpo subsidiary Cal-Comp – an electronics manufacturing services provider – to Malaysia and the Philippines to replicate the company's experience in Thailand. Within five years, the company had developed a global network stretching from Southeast Asia to the Americas.
"Kinpo is an international company. It's not a company that has to remain under the protective linguistic and cultural umbrella of Taiwan and China to survive," Shen says.
Shen's foresight was further validated in 2015, by which time the regional labor market had experienced a reversal and labor rates in China were 40 percent higher than those in Thailand. When Taiwanese manufacturers are now asked whether they would rather produce goods in China or Southeast Asia, they almost unanimously choose Southeast Asia.
Shen's prescience shown years ago has been just as evident in his private life. He and his wife got married only a month after they first met on a blind date and had yet to even hold hands when they tied the knot, but the marriage has worked out.
Father-in-law Hsu is satisfied with his son-in-law's performance but has been critical of how Shen treats his family, complaining that he is away more than 200 days a year and even when he does attend family get-togethers, he spends most of his time checking his mobile phone for e-mails. Shen did not disagree.
"It's true that work is always on my mind. I've made the company my responsibility," says the 50-year-old Shen, but from Friday night thru Sunday, it's family time.
"As the son of an entrepreneur, I just go for it with everything I have," explains Shen, who grew up in Tainan. His father ran his own stationary and gift business, with the store in front, the factory in back and the family living on the second floor. The image of his father working tirelessly day and night remains embedded in Shen's mind.
The Kinpo Group was one of the first of Taiwan's established electronics companies to go public and has had a highly successful run as an electronics contractor. Now under Shen's leadership, focused on developing a brand and being strongly positioned in Southeast Asia, it is following a different path.
Says Shen: "I've chosen a path less traveled, and that has made all the difference."
Translated from the Chinese by Luke Sabatier