Public Education
An Excess of 'Stray Teachers'
精華簡文
Source:CW
In a merciless race for permanent jobs, Taiwan's teachers find themselves sitting for one exam after another. Island-wide, 130,000 certified teachers are vying for official positions, and only 44 percent will find one.
An Excess of 'Stray Teachers'
By Rebecca Lin
From CommonWealth Magazine (vol. 527 )


It is close to noontime, and the scorching hot midday sun seems to want to melt the asphalt.

Chang Chia-wen (a pseudonym) is towing a black suitcase behind her as she emerges from the examination room. While she may not be wearing a smile, she is breathing a sigh of relief.

She has braved this battle, but has another seven or eight rounds of exams before her.

She knows very well that each battle is a battle for survival, a battle for livelihood. If she lands any of the teaching jobs up for grabs in the placement exams, she will double her meager monthly pay of NT$20,000 as an hourly-paid teacher to an official junior high school teacher's base salary of NT$40,000. On top of that, she will enjoy benefits such as paid summer and winter vacations.

Between late June and mid-July, elementary and junior high schools across Taiwan post teacher vacancies and conduct placement exams. That's the golden opportunity for all "stray teachers" - those without jobs or with temporary, precarious positions – to turn their lives around. But before that, they need to overcome the first, and the biggest hurdle – the written exam. Only those who pass it are granted a job interview and allowed to teach a trial lesson.
A Battle of 40,000 Contestants
Today is the second round of placement exams at junior high schools in New Taipei City. At the examination venue at Zhongping Junior High School in Xinzhuang District, a total of 564 teachers await their turn. They are the lucky ones who leaped the first-round hurdle, defeating some 6,000 fellow contestants. Today, they are here to compete for 228 job openings.
Each candidate has just 10 minutes to make a good impression on the selection committee, ten minutes that might make or break their future. Each of them pulls out all the stops to present themselves in the best light possible.
They know that just 3.6 percent of this year's nearly 6,500 contestants in the battle for a coveted permanent teaching position will prevail.
Statistics by job recruitment websites show that the success rate in teacher job placement exams across Taiwan stood between 3 and 7 percent this year. Between 30,000 and 40,000 hopefuls had applied for 1,652 vacancies in public schools.
Does this mode of recruitment guarantee that the good teachers are hired?
"The placement exam for teaching staff does not test for aptitude or personality," notes Zhongping Junior High School principal Shih Ya-hui. "We are also asking ourselves, where are the good teachers?"
During the past decade a total of 130,000 people earned a teacher's certificate in Taiwan. However, only 44 percent of these certified teachers landed an official teaching position, while 17,000 were unofficially employed as contract or temporary teachers.
Moreover, 56,000 teachers are listed as reserve personnel, including 16,000 people who are still waiting for a job.
Successful Examinees are the Winners
The outward appearance of the examinees at Zhongping Junior High is very similar to Chang's. They are all dressed in white dress shirts or blouses and black skirts or slacks. Behind themselves they pull a luggage trolley filled with their hopes and dreams of the past year and a well-stocked armory of teaching materials.
Inside the examination venue, an examinee holds up flashcards and acts out their meaning in exaggerated gestures in front of the examination committee. Another sits behind a student's desk, hands resting on her knees as she relays her motivation to become a teacher.
Similar scenes concurrently play out in 100 classrooms.
This year, Chang, who graduated from a university of education and works as an hourly-paid teacher at a junior high school in Taipei City, is taking the nationwide teacher placement exam for the third time. Between the end of June and mid-July the dates in her personal planner are completely filled with first-round and second-round exams. The next day she is scheduled to take the written test for the joint placement exam by ten schools in New Taipei City as well as the first-round test in Kaohsiung City.
"I have registered for eight teacher placement exams this year. When the time comes, I'll decide where to take the exam based on the number of people who've registered," she explains. For her, the rate of probability is everything. "It's like gambling. Those who can pass the exam have won their bets."
To join in this huge gamble, it also takes ample financial support. Registration for a first-round exam costs NT$1,000, and registration and examination fees must also be paid for second-round exams. On top of that come expenses for transportation and accommodation.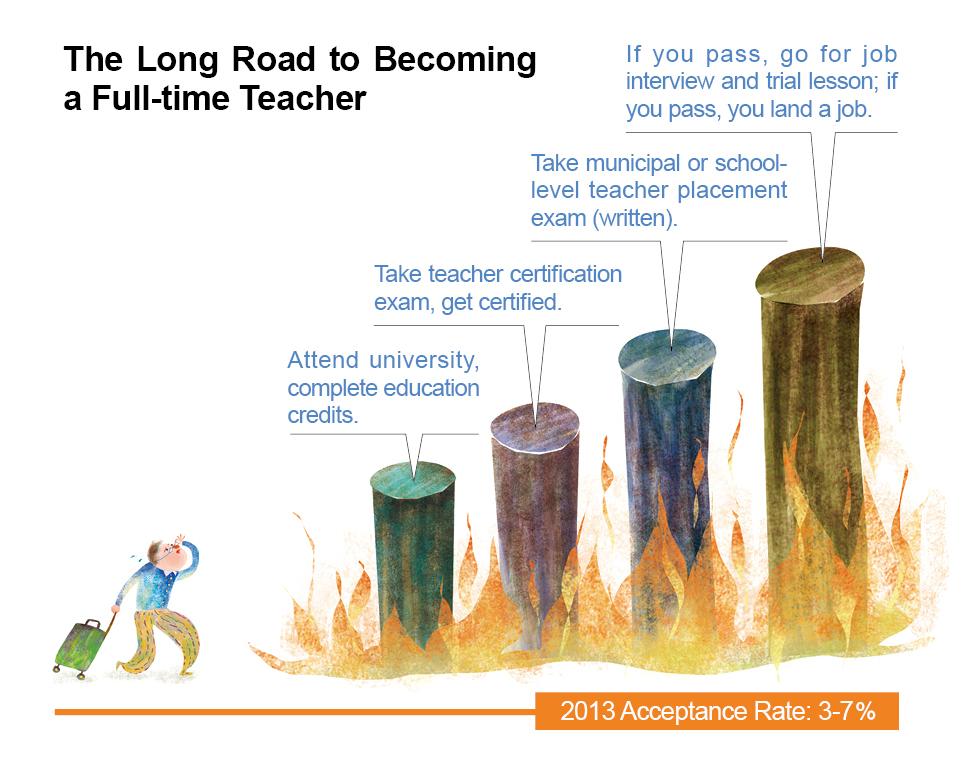 Problematic Written Tests
Finding enthusiastic, good teachers who are devoted to their profession is not easy if one relies on the placement exams.
Associate professor Chang Min-chieh, who doubles as director of the Office of Teacher Education and Careers Service at National Taiwan Normal University, has conducted several qualitative studies on temp teachers. Chang believes that a big problem in the teacher selection process is that most local governments use multiple choice tests in their first-round written exams.
He cites an example: once an exam question asked at which age children typically draw "tadpole people" (simple figures made of large heads with simple lines for limbs). The correct answer was between three and four years of age. But since a number of textbooks gave ages three to five as the answer, some examinees protested. The agency, which organized the exam, however, insisted that its version was the correct one.
"This shows that if the quality of the test questions is not good, the problem will only be aggravated," Chang believes. He is concerned that such exams discourage examinees from thinking for themselves so that they resort to rote learning.
As exams are increasingly becoming exercises in hair-splitting over unimportant details, a growing number of stray teachers, who are already certified, refrain from taking the exams and instead put up with precarious jobs.
"The more exams you take, the more detailed the questions become and the less they have to do with teaching," Chang avers. Many teachers say they are no longer willing to sacrifice their youth for futile exam attempts. Instead they take unofficial teaching positions where and as long as they can. Should even temp work become impossible, they call it quits.
"The test questions in the certification exams are controlled by the national education colleges. But for the teacher placement exams the local governments ask professors of their own choice to design the questions, or they contract the job out," reveals a professor who once was commissioned to draw up exam questions. The quality of the exams cannot be guaranteed with such an approach.
Professional Exam Coaching
Meanwhile more and more teachers take special "professional coaching" at cram schools before they go into the second round of the application process.
Shih, who has seen more than 1,000 trial lessons and served on examination committees many times, feels that many examinees resemble a flight attendant who demonstrates how to put on a life jacket. While her gestures and movements are all very professional, she is only going through the motions. "As a teacher you can't just go through the motions and that's it," she warns.
Important traits in a teacher are emotional warmth and professionalism. He or she must be able to look people in the eye, strike a chord with them, and be willing to communicate. "We want to find suitable people," Shih points out. These particular personality traits cannot be learned by practicing, no matter how many times one practices.
The entrance into the teaching profession is getting narrower, and competition for a limited number of jobs is getting fiercer. Who will teach our coming generations is also a decisive factor for our national competitiveness.
Yet it appears many suitable teachers are eliminated from the race early on in the written exam stage. "We need to change the mode of the teacher placement exam," demands Lin Mao-cheng, head of general affairs at Guangwu Junior High School in Hsinchu.
The battle is over in New Taipei City. Looking straight ahead, Weng Tsu-chun (a pseudonym) gestures wildly as she reenacts her just-completed trial lesson. The large box next to her feet is full of hand-drawn flashcards, posters and relief maps.
"I have asked myself, too, do I want to make money or do I love children? Once you are clear about that, you won't question your decision anymore," remarks Weng, turning her head with a smile. "This is my mission!"
Translated from the Chinese by Susanne Ganz