Entrepreneurship Survey
Kick-starting the Dream
精華簡文
Source:Shutterstock
Nearly three out of four Taiwanese want to start their own business. But how does ambition differ from reality? CommonWealth Magazine compares the expectations of the public with the experiences of ten top entrepreneurs.
Kick-starting the Dream
By Jimmy Hsiung
From CommonWealth Magazine (vol. 525 )


In an effort to help Taiwanese society find its latent entrepreneurial spirit and use that spirit to help restore dynamism to individual enterprise and the broader national economy, CommonWealth Magazine in June conducted its first nationwide "entrepreneurship survey."
Taiwan Entrepreneurial Spirit Tops World
The survey was divided into two parts, the first of which was an online "general entrepreneurship survey" to get a feel for the current state of Taiwan's entrepreneurial energy and climate. The effort resulted in 7,097 returned valid questionnaires.
For the second part the CommonWealth editorial staff selected 10 top entrepreneurs of varying ages, areas and industries (See Chart): King Liu, Eric Chuo, Stan Shih, Shiatzy Chen, Michael Chiang, Steve Day, Chou Chun-chi, Jan Hung-tze, Henry Liao and Chris Lin – who were then presented with the same survey. The idea was to tap into the personal experiences of these entrepreneurial success stories so that we might arrive at some common equation for entrepreneurial success. (See "About the Survey.")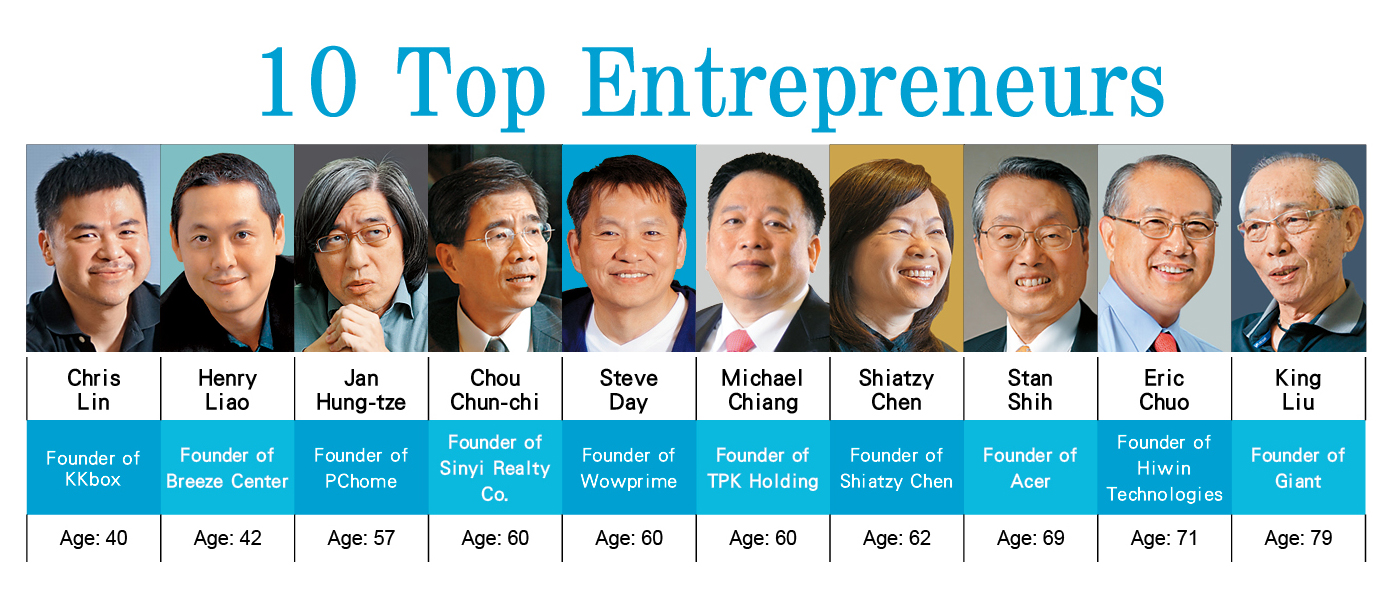 There's a high degree of start-up sentiment in Taiwan. The survey results found that 73 percent of the Taiwanese public has considered starting their own business at some point. (Table 1)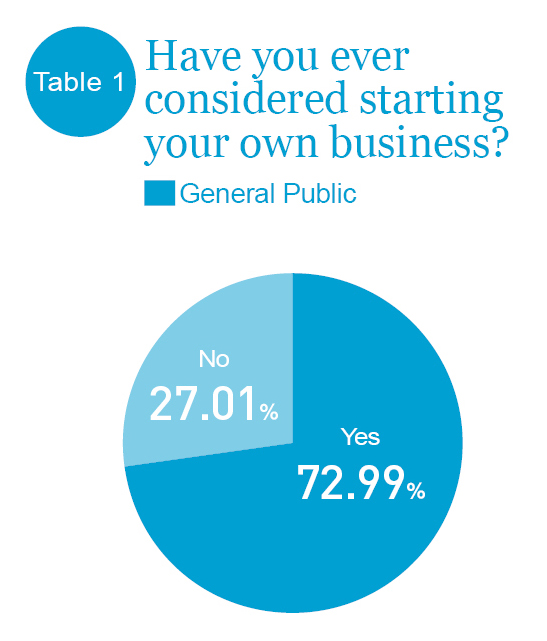 The results also show how Taiwan, long renowned worldwide for its small- and medium-sized enterprises, continues to have a vast reserve of entrepreneurial energy. According to the 2012 World Competitiveness Rankings compiled by Lausanne, Switzerland-based business management school IMD at the end of last year, Taiwan for the first time ranked tops in the world in entrepreneurship.
While Taiwan seems to be brimming with entrepreneurial energy, there are essential differences inherent in the entrepreneurial spirit among different generations. As Dr. Lee Ji-ren, vice dean of National Taiwan University's College of Management, observes, the new generation of entrepreneurs came of age in relatively cushy surroundings, unlike the older generation, which was born in hard times and driven by external environmental factors.
Older-generation entrepreneurs, like Wang Yung-ching and Stan Shih, were motivated by a strong sense of mission and powerful ambition, Lee says. Younger people who start businesses are more likely driven by pursuit of freedom, and are not only short on ambition, but are more likely to exert twice the effort for half the return, he adds.
Among members of the general public intending to start a business, 36 percent said they planned to invest NT$1 million or less in their business, thus falling into the "micro-business" category. (Table 2)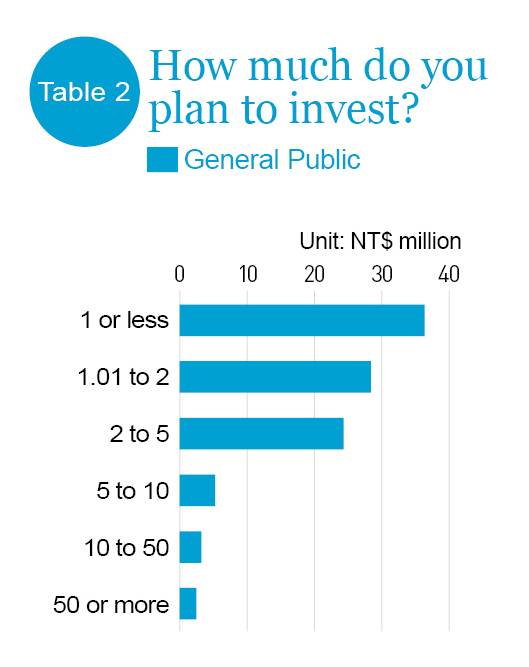 iD SoftCapital Group chairman Stan Shih believes that the "fear of losing" is widespread among the younger generation. Even if they have an idea for a new start-up, they are often defeated by the gap between their plans and the actual effort required, or they simply lack ambition.
Circumstances + Hero = Entrepreneur
In starting a business, one must seize the moment. When the ten top entrepreneurs were asked to recall whether the reason behind their start-up's success was because "the hero creates the moment" or "the moment creates the hero," not one picked the former alone, while a majority said it was "a little of both." (Table 3)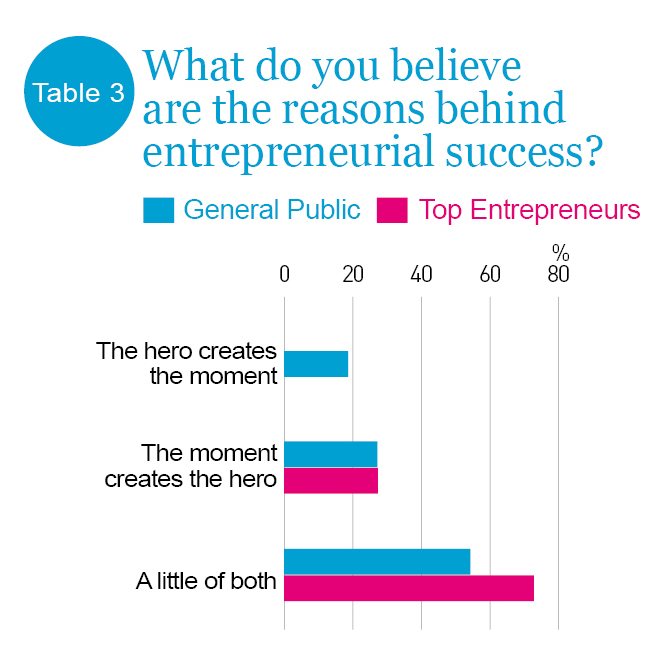 PChome Group founder Jan hung-tze has strong feelings regarding the notion of the "moment creating the start-up." After graduating from university, he took a job as supplements editor at a newspaper. By 28 he was editor in chief at Yuan-Liou Publishing Co., Ltd., and as he admits himself, he never considered starting his own business before the age of 40.
As Jan recalls, in 1994, at a time when home computers had yet to really take off, an acquaintance approached publishing industry veteran Jan to discuss launching a home computing-themed magazine.
After thoroughly researching the matter, Jan reported back to his acquaintance, "You may be too early, but you definitely won't be too late." The man immediately implored Jan to locate interested parties to get the magazine off the ground. Ultimately, after searching high and low in vain, Jan decided to "go from arbiter to principal," to "prove whether or not this thing could be brought into being as I had imagined."
PChome Magazine was formally launched in February of 1996, with an initial print run of 80,000 copies, which sold out in three days. Jan's story is illustrative of why, when asked their reasons for starting a business, a majority of the company founders in our survey said they "saw a market opportunity." (Table 4)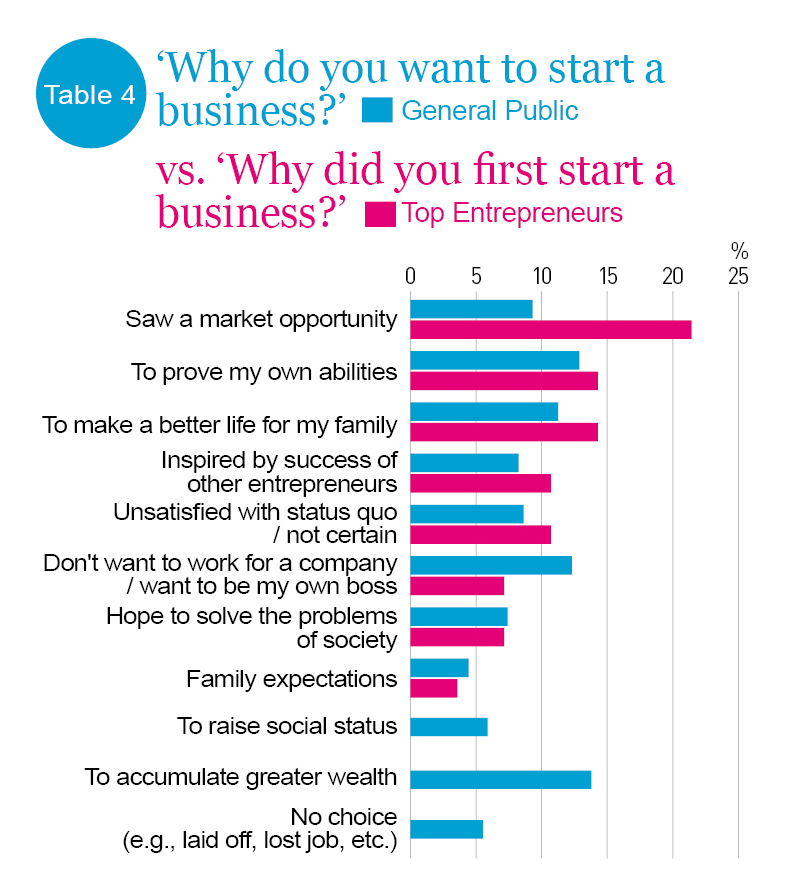 Contrasted with the answers of company founders looking back on the start-up process, most of the general public, when asked to consider their reasons for wanting to start a business, responded: "To accumulate greater wealth," "Don't want to work for a company / want to be my own boss," or "To prove my own abilities."
Those answers are a pretty big leap from the "saw a market opportunity" reasoning behind the start-up decisions of company founders, and are more self-oriented.
And when asked about entrepreneurial advantages, the general public believes "possessing core start-up technology or expertise" and "connections" to be paramount. But most of our company founders believed finding "a compatible start-up partner" to be more important. (Table 5)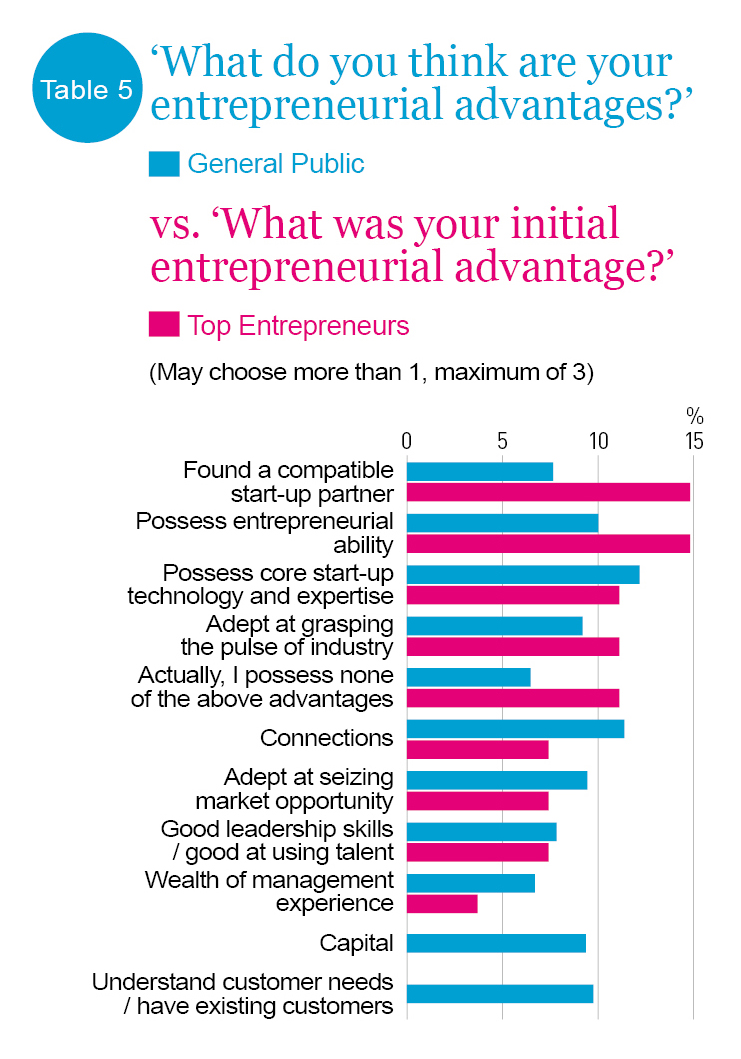 "Most entrepreneurial start-ups are in dire financial straits, so finding a partner on the same page is important," says Yang Sheng-yung, a finance professor at National Chung Hsing University. Outsiders see entrepreneurs as risk takers, but the reality is that they are top-flight risk managers, Yang insists.
"Finding shareholders to invest, using technology shares to bring in talent, these are actually all aimed at diversifying risk," Yang says.
Stan Shih says one entrepreneurial principle he's always strictly adhered to is: "Don't fight battles you can't afford to lose. That way, if you don't succeed, at least you won't go down with the ship."
As far as finding that "compatible partner," Shih is pointedly animated.
"The minute that money becomes the real objective is the minute real disaster begins," he says.
The essential character of the entrepreneur is often instrumental in the success or failure of a venture. The general public believes that being "proactive" is the essential trait, enabling one to take that first step toward entrepreneurship. The top entrepreneurs we surveyed, however, unanimously identified "perseverance" as the essential characteristic in start-up success. (Table 6)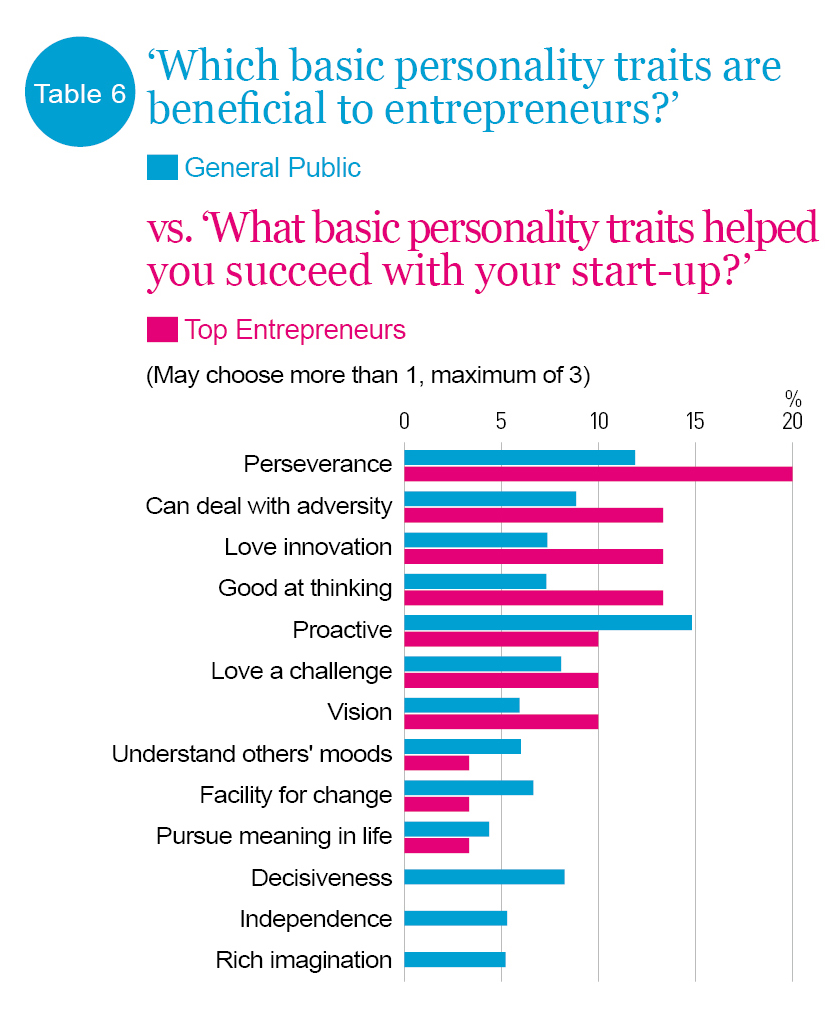 Perseverance Paramount
At this moment when Taiwan stands at an entrepreneurial intersection of the old and the new, perseverance is the key element of success that applies to every generation and every field of endeavor.
Kkbox, the world's largest Chinese-language online music site, was founded in 2004. At a time when pirated music was readily accessible, founder Michael Lin persevered in his insistence on the "authorized music + online listening" business model.
Lin initially reckoned it would take three years for the 3G age to arrive and the commercial model he had espoused would begin to show a return. It ended up taking five years, until Apple's iPhone was formally launched in Taiwan and smartphones became more ubiquitous, that Kkbox's growth began to explode.
Lin's story also explains why nearly half of the company founders surveyed, when asked what sort of innovation is strongest, answered: innovations in one's "business model." Second choice among the top entrepreneurs and the top choice of the general public was innovations in the "commercialization of technology." (Table 7)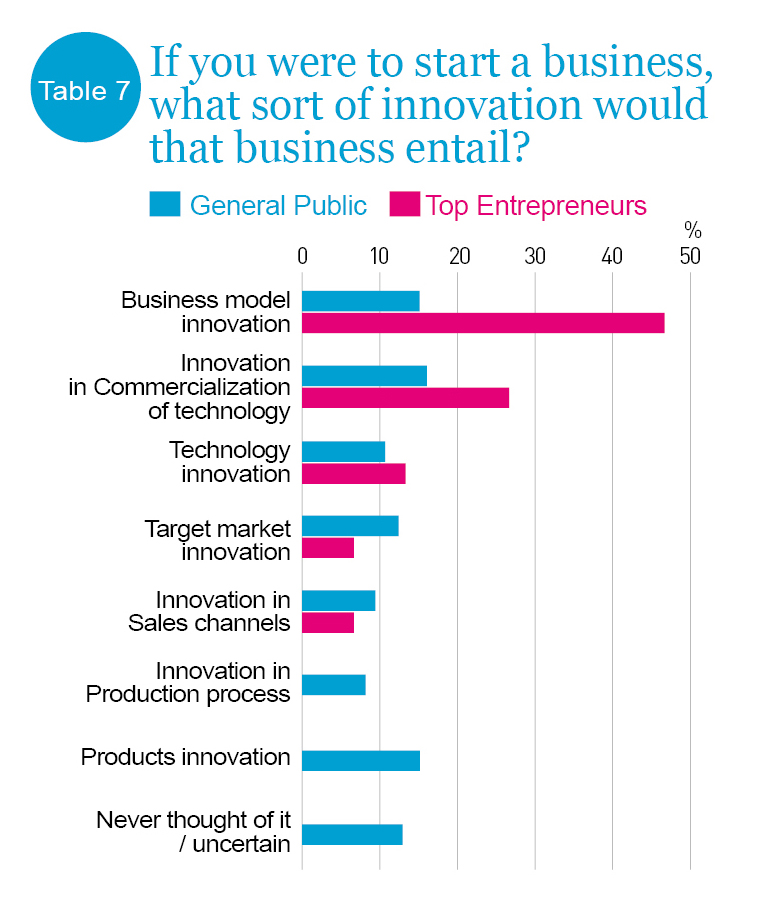 Among the general public, the top two reasons behind an unwillingness to start a business were cited as "desire for stable life" and "difficulties obtaining financing." At the end of the day, most said starting a business was virtually equated with struggling to keep up with creditors, indicating a life of instability, a high degree of risk and even the risk of losing everything. (Table 8)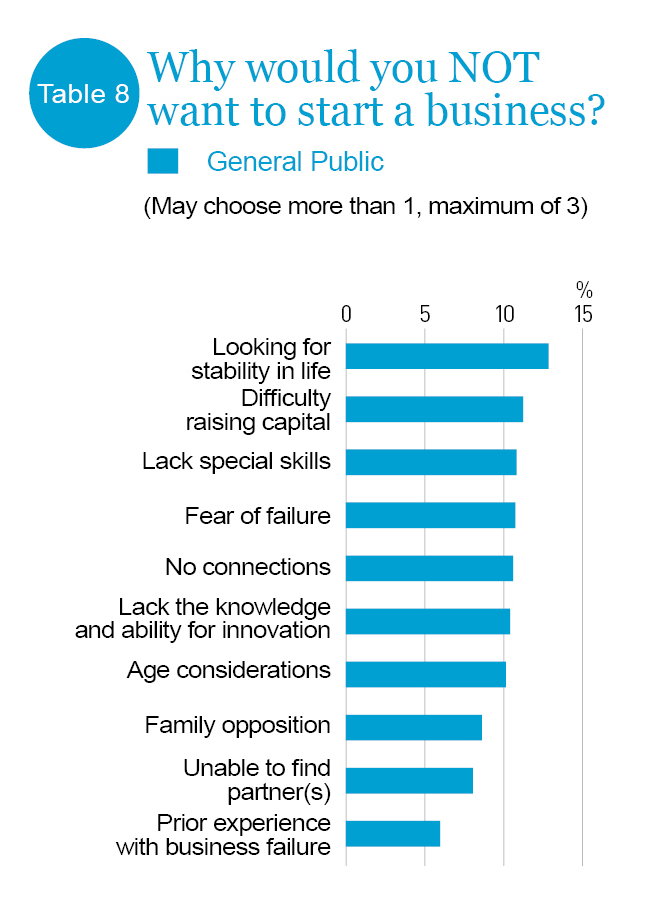 Successful entrepreneurs also have their troubles. When asked what issue troubles them the most, all of the company founders – excluding Stan Shih, who has recently passed the management torch, and Steve Day, who has long advocated that employees strike out on their own – exclusively checked the "attracting and cultivating talent" box on their questionnaires. (Table 9)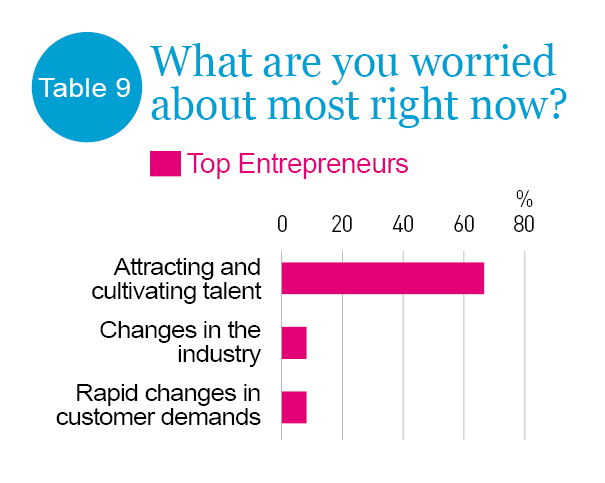 Headaches of the Successful
In the past, entrepreneurs built their business empires on their do-it-yourself characters. But now they need to find someone else to maintain and develop their fiefdoms. How to find and cultivate new talent has become the biggest headache for nearly all of the company founders we surveyed.
When asked their thoughts on young people starting businesses, most of the company founders believed that "perseverance," the ability to "deal with adversity," and "pursuit of meaning in life" are the most crucial personality traits. (Table 10)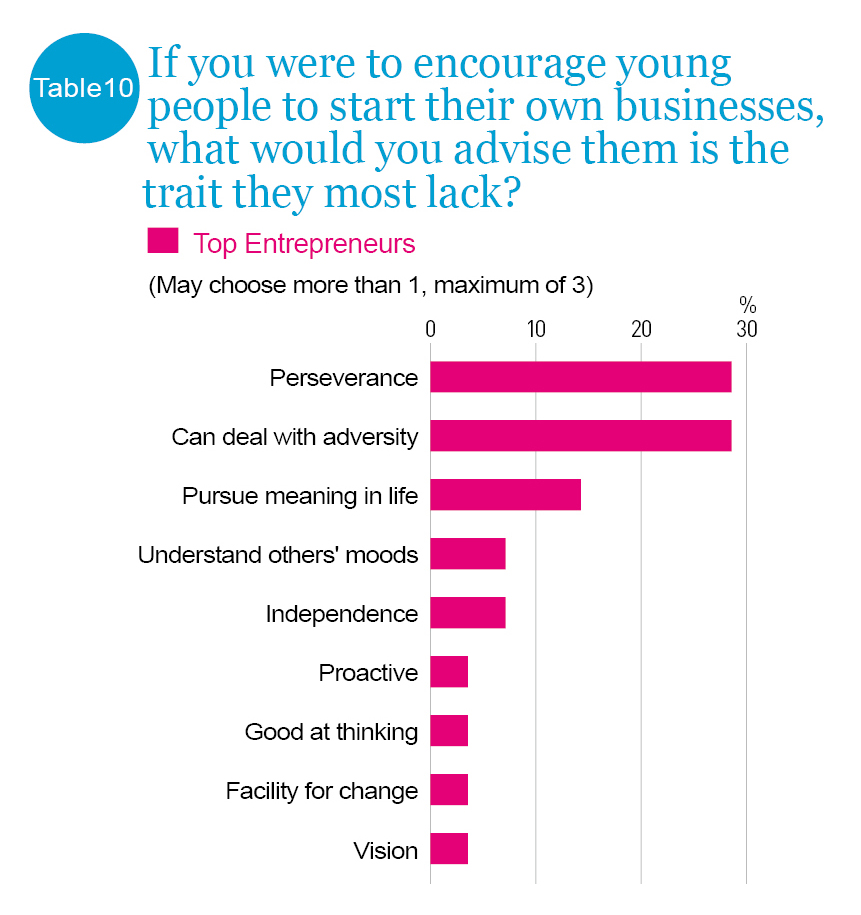 As our successful entrepreneurs see it, the younger generation does not have an "entrepreneurial ability" problem. Whether in terms of language skills, international outlook or tastes in life, the new generation has the edge on the previous one, observes Jan Hung-tze.
"Because they stand on the foundation laid by society, the new generation has a broader view," Jan says, adding that as the first "Internet generation" they are intimately familiar with use of the tools of technology and need only possess perseverance, hone their ability to deal with adversity and figure out the significance of their pursuit.
"There is actually a lot of entrepreneurial energy for the future here," Jan says, "It gives you a feeling of anticipation."
On the list of the "10 most admired entrepreneurs" compiled as part of this recent CommonWealth Internet survey, Terry Gou ranked first and Wang Yung-ching ranked second among nearly 65 percent of respondents between the ages of 25 and 44, clearly indicating that the entrepreneurial paradigm of the older generation remains in the mainstream. (Table 11)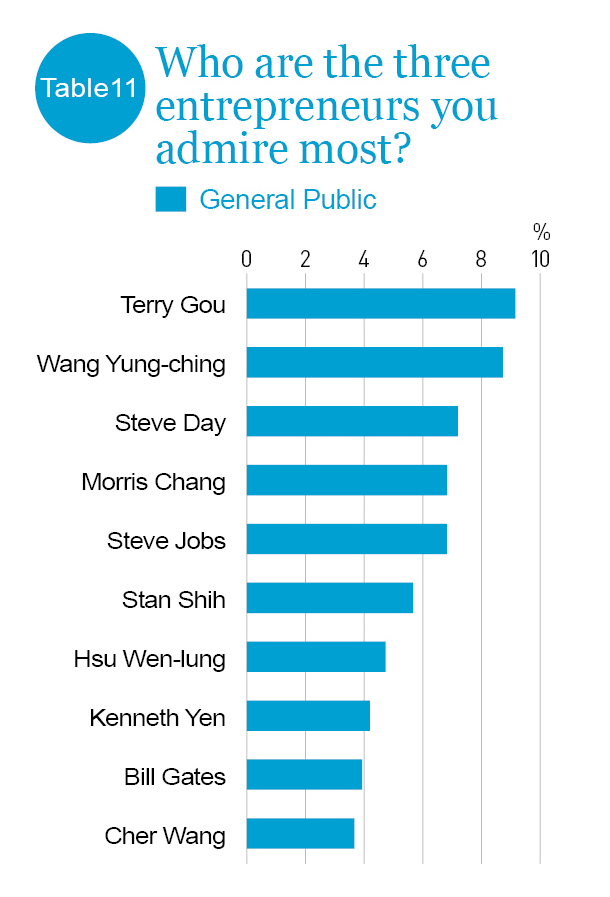 Entrepreneurs Young People Admire Most
Yet this top ten list also clearly shows the wide range of "success stories" that Taiwanese admire. For instance, restaurateur Steve Day, who clocked in at number three, defies the thinking of the past, when only the assertive alpha male businessman commanded respect, instead bringing to the art of entrepreneurship a greater helping of friendliness, sharing, and a lively imagination.
And the appearance on the list of Apple's Steve Jobs and HTC's Cher Wang not only represents a paradigm shift in industry, but also demonstrates that innovation and imagination are important factors in the entrepreneurial spirit.
Translated from the Chinese by Brian Kennedy
---
About the Survey
The Entrepreneurship Survey was carried out among two separate groups: top entrepreneurs and the general public. For the top entrepreneurs, the CommonWealth Magazine editorial staff selected 10 top entrepreneurs from different industries, generations and areas who were then presented with a questionnaire.
Among the general public, the survey was conducted online by CommonWealth Magazine Group in conjunction with yam.com. The survey was conducted between May 29 and June 12, with a 95 percent confidence factor and sampling error of less than 1.2 percent, resulting in 7,097 valid, completed responses returned.