Revitalizing Taiwan
Reignite the Entrepreneurial Fire
精華簡文
Stuck in the doldrums, its conventional strengths less valued than before, Taiwan's economy desperately needs new catalysts for growth. Unleashing a new entrepreneurial spirit should be one of them.
Reignite the Entrepreneurial Fire
By Sara Wu
From CommonWealth Magazine (vol. 525 )


Since World War II, only two countries that are not city states have successfully transitioned from low-income to middle-income to high-income economies. One is South Korea. The other is Taiwan.

That assertion, made by the World Bank's former chief economist Justin Lin based on a study of 195 countries over the 60 years following World War II, testifies to the magnitude of Taiwan's economic miracle and its renown as a classic model of development economics.

Today, however, the economic miracle is no more than a distant memory. Stuck in a rut, Taiwan's economy has muddled along at low annual growth rates for most of the past 10 years, resulting in per capita GDP stagnating at roughly US$18,000.

Five years after the global financial meltdown, two-thirds of the world's growth momentum now comes from Asia. If Taiwan wants to capitalize on Asia's rise and break out of its long slump, what are the competitive advantages it can count on, and what will be the engines driving renewed growth?
Doomed to Failure without Change
"Taiwan's achievements in the past were unprecedented. At the time, global demand was greater than supply, so as long as you could produce goods, you could sell them, because Taiwan was cheaper than other places," says Steven Yang, the director of the Taiwan Institute of Economic Research's Research Division VI, which focuses on industrial value-added and macroeconomics.
"Today, there's a surplus of global capacity, and China and Southeast Asia are both cheaper than Taiwan. If Taiwan does not focus on differentiation and rely on innovation to get an edge, it will be knocked out of the market."
Though Yang's observation is hardly new, business behavior has been slow to change in recognition of that reality. Now, however, with the future increasingly murky and Taiwanese companies feeling greater urgency, some have decided to get on the ball. A growing number of people are realizing that Taiwan's individuals, enterprises and sectors must all change.
Dajia District in Taichung. Repeated breezes flutter through a lush rice field that looks like it could be anywhere in rural Taiwan. But amid this wave of green plants stands the headquarters of Giant Manufacturing Co., the nerve center of the world's biggest bicycle vendor.
Giant's 79-year-old chairman King Liu, who reigns supreme in these parts, has seen his business rise to unprecedented heights. In 2012, Giant had sales of NT$54 billion and after-tax net income of NT$3 billion, both record highs for the company Liu founded 41 years ago.
Yet Liu is full of anxiety. "To tell you the truth, I've returned to the line of fire and taken the helm. The company's steady growth has lulled executives into being comfortable. They do not hear or see how things outside are changing, and they underestimate the competition," he tells CommonWealth Magazine with a sense of urgency. "It's really important to trumpet the spirit of entrepreneurship like you're doing."
Everyone should revive the entrepreneurial spirit of lifting yourself up by your bootstraps, Liu urges.
Revitalizing Taiwan
Liu is not the only business leader getting on the entrepreneurial bandwagon. Steve Day, chairman of Taiwan's leading restaurant conglomerate Wowprime Corp., saw his company's revenues rise nearly 60 percent last year to over NT$10 billion, but still felt compelled to say: "Taiwan needs vitality; it needs the energy of people starting businesses, a social dynamic in which everybody competes with each other in a virtuous cycle."
Even 35-year-old Arthur Huang, the co-founder of sustainable solution provider Miniwiz, said alarmingly, "If Taiwan does not get more entrepreneurial, we will disappear."
The results of this year's CommonWealth Magazine Top 2000 Enterprises survey reflected the concerns of three generations of entrepreneurs.
Past success is no guarantee of current fortune, and it may even impede future innovation.
In its evolution from a producer of umbrellas, shoes, food products, textiles and petrochemicals into a high-tech leader, Taiwan maintained the advantage of offering value for money to carve out a profitable development niche for itself in the global economy. But the tech sector, intoxicated by its world-class competitiveness over the past 30 years, now faces unprecedented challenges.
In the Top 2000 survey, the combined revenues of the computer, optoelectronic, telecommunications and IC design companies accounted for 60 percent of the sales of all enterprises on the list.
"The computer industry has such a high weighting that transforming it is like trying to turn a container ship around in a fishing port. There is little room to maneuver. But if the sector doesn't reengineer itself, it will die a slow death," says Harbinger Venture Management general partner C.K. Cheng.
With scale no longer a competitive advantage, the contracting model on the decline and cost efficiency supplanted by other values, Taiwan should shift its focus to the human capital involved in contract manufacturing and encourage innovation and entrepreneurship to galvanize a new wave of dynamism in the country.
T.H. Tung, chairman of Pegatron Corp. which finished fifth in the Top 2000 survey, also feels strongly about the issue. "An entrepreneurial spirit could spark a richer, more diverse creativity in Taiwan," he says.
Anybody Can Be an Entrepreneur
This era of doldrums may ironically offer the best opportunities for an innovation revolution. Competition in the future will be a battle of innovation rather than scale, with an emphasis on accumulated short-term advantages rather than a single long-term edge.
Among the 22 manufacturing sectors of the CommonWealth Top 2,000 survey, the five biggest sectors were computers, petrochemicals, optoelectronics, computer peripherals, and semiconductors, all capital- and technology-intensive sectors with mature ecosystems, making them unlikely entry points for young people looking for a new opportunity.
But in reality, something very different may be afoot, both at home and abroad.
In a speech marking his retirement as Alibaba CEO in May 2013, Alibaba Group executive chairman Jack Ma said: "Ten years ago, when we saw all those great companies, we felt confounded, and wondered if we still had a chance. If it had not been an era of change, the younger generation would not have gotten an opportunity. The industrial era has been based on seniority, but because we embraced the changes, we were able to see the future."
The United States is tooting the horn of innovation just as loudly. 3D printing is spawning the third industrial revolution, robots are replacing low-cost labor, and manufacturing is resurfacing in cities rather than being sent offshore to low-cost havens. These trends are smashing the conventional wisdom of the past.
A team of CommonWealth Magazine reporters traveled to the state of New York to visit venerable General Electric and asked it how it was coping in this new world. They also criss-crossed America to visit small start-ups in New York, Silicon Valley and San Francisco and learn how those companies intended to build prosperous businesses.
Getting Back in the Game
So what exactly does this new entrepreneurial spirit that can transform and upgrade Taiwan's businesses entail?
For most entrepreneurs, innovation stands out as the top priority. To survive, they must be better than their rivals at innovating new products, new technologies, new services and new business models and build the competitive advantage of being the leader in a particular field.
In theory, that should be a snap for Taiwan, which leads Asia with 9.53 people per 1,000 engaged in R&D. Taiwan was ranked No. 1 in Asia for "innovative capacity" and seventh among 60 economies in the world by the Lausanne-based International Institute for Management Development in its 2013 World Competitiveness Yearbook. (Table 1)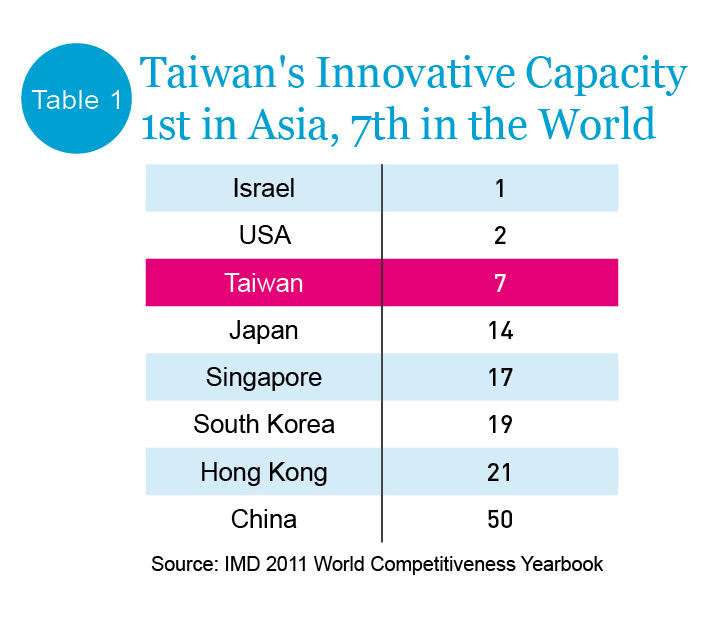 In terms of per capita spending on R&D, however, Taiwan trails Japan, South Korea and Singapore. (Table 2)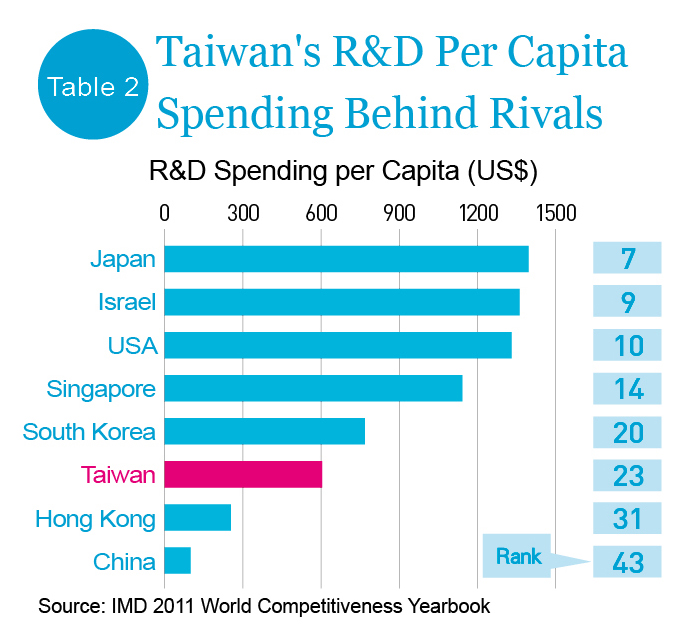 While Taiwan has the potential to innovate, that potential is being undermined by the lack of bold government measures to encourage and drive innovation and a shortfall of private sector investment in the field.
Betting One's Life, Persevering to the End
Another key to successfully starting a business is persistence – a simple concept but often an extremely difficult choice to make, as seen in the 2012 Global Report of the Global Entrepreneurship Monitor project.
The survey, which assessed the entrepreneurial activity, aspirations and attitudes of people 18-64 across 69 economies around the world, included Taiwan among 24 "innovation-driven economies" (as opposed to "factor-driven" or "efficiency-driven" economies) and found that Taiwanese ranked high in "perceived opportunities."
But it also noted that local entrepreneurs had a relatively high "fear of failure" and discontinued their businesses more often than in other parts of Asia.
Potential entrepreneurs in Taiwan averaged a 40.47 percent fear of failure in the three most recent surveys, higher than the 36.9 percent averaged by innovation-driven economies.
Also, in the year the survey was conducted, 6 percent of the Taiwanese entrepreneurs surveyed either shut down or pulled out of their new businesses, the highest ratio among the 24 innovation-driven economies. (Table 3)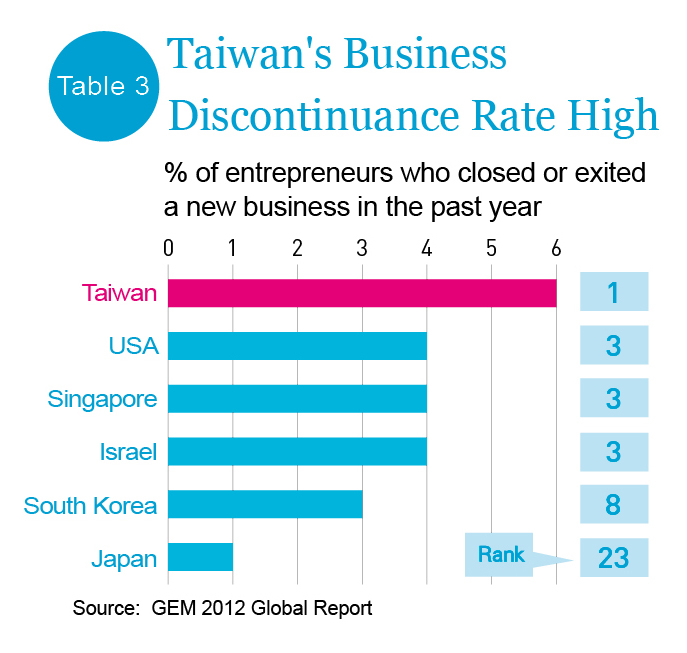 When CommonWealth Magazine surveyed 10 of Taiwan's most successful businesspeople on the question of entrepreneurship, we asked them what characteristics young people starting businesses needed most. The top three choices were perseverance, the ability to deal with adversity, and the desire to pursue meaning in life. Of the three, perseverance was viewed as the most important trait.
During the journey of building something out of nothing, entrepreneurs are often forced to make decisions facing severe resource constraints and severe time pressure, and most people give up when times truly get tough. These 10 successful entrepreneurs also experienced debts, failure and agony, but they were willing to bet their lives on their ventures and persist to the end.
The Predicament of a Generation
Today, Taiwan desperately needs entrepreneurs, not only to create a new wave of economic vitality, but also to help deal with the predicaments faced by the younger generation.
The entire first generation of Taiwanese entrepreneurs, who began building their businesses in the post-war era, now faces the problem of succession. Similarly, Taiwanese society as a whole must wrestle with the challenges of inter-generational change.
In fact, despite being frequently derided as the "strawberry generation" – because they are said to bruise easily – today's Taiwanese youth have unique qualities. Having been born when per capita income in Taiwan had already exceeded US$10,000, they are full of creativity, ability and knowledge, and they are more socially engaged, and have more diverse values and a richer culture than the previous generation.
"They will be more outstanding than us. Our life goal is to survive. Their goal is self-fulfillment," says Wowprime's Day. "All that today's youth need are hunger, a sense of urgency and a sense of mission."
Israel: An Innovation Superpower
In its bid to promote this new spirit of innovation and entrepreneurship, CommonWealth Magazine sought out a model to learn from and looked closely at Israel, a journey that included an interview with Israeli president Shimon Peres.
"Israel's success as a start-up nation is due to the spirit of the people," the 89-year-old statesman told CommonWealth Magazine.
"I have always believed that the greatest contribution of the Jewish people to humanity is dissatisfaction. The spirit of entrepreneurship, which our government encourages, stems from a long history of dissatisfaction. Our constant striving to question the situation as it is and seek to better it."
Taiwan once forged a true economic miracle. The time has now come to arouse a new entrepreneurial spirit in Taiwan that brings generations together, partners with the world and creates a future of growth.
Translated from the Chinese by Luke Sabatier