2013 Greater China Top 1000
Taiwan's High-value Stars Rise to the Top
精華簡文
Source:CW
Taiwan had fewer companies in CommonWealth Magazine's 2013 Greater China Top 1000 survey, but the strength of its IT companies remains clear.
Taiwan's High-value Stars Rise to the Top
By Ting-feng Wu
From CommonWealth Magazine (vol. 523 )


CommonWealth Magazine's latest survey of the top 1,000 companies in Greater China reflects the growing regional challenges faced by Taiwanese companies.

Instead of using a company's market value, which can be easily influenced by speculation and market liquidity, CommonWealth bases its rankings on the more objective measure of annual revenues. What we found is that a company needed to have revenues of at least NT$21.85 billion in 2012 to make the cut, up from NT$18.52 billion a year earlier.

The higher threshold reflects the growing strength of the competition Taiwan is facing. A total of 233 and 204 Taiwanese companies cracked the top 1,000 in the 2011 and 2012 surveys, respectively, but this year the number fell below 200 to 185.
Green Energy, Old Economy Companies Slide
Of the Taiwanese enterprises that dropped out of the elite 1,000, many came from the green energy sector. Solar cell and panel makers Motech Industries Inc. (736th last year) and Gintech Energy Corp. (983rd) and LED producers Epistar Corp. (889th) and Everlight Electronics Co. (995th) all fell off the list because of the weakness of their respective sectors.
"Green energy businesses still have a future. Once the economy and demand heat up again, they may have the chance to get back into the elite club," says Taiwan Institute for Economic Research vice president Kung Ming-hsin, advising against an overly pessimistic interpretation of the result.
Also taking a hit in this year's survey was the usually "stable" old-economy sector. Though companies such as Standard Foods Corp. and Shihlin Electric & Engineering Corp. held on to their places in the CommonWealth Top 2000 Survey (ranking Taiwan's top 2,000 listed companies), they both were squeezed out of the Greater China Top 1000.
"Size is king," says Jenn-Hwan Wang, a National Chengchi University professor who heads the school's Center for China Studies. Taiwanese companies may be stable and steady, he says, but they only take small steps forward, which causes them to lag behind when pitted against huge Chinese corporations that compete on size and speed.
This year's results have led some to wonder if the declining presence of Taiwanese enterprises in the Greater China Top 1000 could become a longer-term trend.
"It's quite likely," suggests Brian Shiu, a board director for Hong Kong-based GCA Professional Services Group, which offers asset valuation and IPO services. "There are quite a few Chinese companies that have listed in the United States but have not found favor there and could return to list in the Greater China market."
If so, competition for spots in the top 1,000 will only intensify. Yet in the 2013 survey, the comparative advantages of different parts of Greater China remained evident.
The Chinese companies in the top 50 were concentrated in the domestic-demand oriented energy, financial services, automotive, and steel sectors. The only tech entry among the elite was Lenovo Group.
The top Hong Kong companies in the rankings reflected the territory's key role as the region's financial center.
And while Taiwan suffered a setback, its "big five" electronics companies – Hon Hai Precision Industry Co., Quanta Computer Inc., Compal Electronics Inc., Pegatron Corp., and Wistron Corp. – still made it into the top 50. The only non-electronics entity to break into that elite club was Formosa Petrochemical Corp., which ranked 31st.
The "big five's" high revenues and continued status as the kings of electronics contracting notwithstanding, their results also exposed concerns. The most representative member of the group, Hon Hai, had revenues of nearly NT$4 trillion to rank fifth in the survey, but its profit margin was only 2.43 percent (resulting in after-tax net profit that ranked 29th). Compal and Pegatron had profit margins below 1 percent.
This low margin model indicates the difficulties these businesses are facing compared with the recent past. John Hung, managing partner of Industry Programs at consulting firm Deloitte China, said frankly that with external demand weak and wages rising in China, the "big five" are under heavy pressure from all sides.
The Star Echelon: Higher Added Value
To identify Taiwan's true stars, TIER's Kung recommended selecting those companies whose profit ranking was better than their revenue ranking, which would indicate a sector or business with relatively high added value.
There are 94 Taiwanese companies that meet this high-value standard, which account for about 51 percent of all the Taiwanese enterprises listed in the Greater China Top 1000. (Table 1)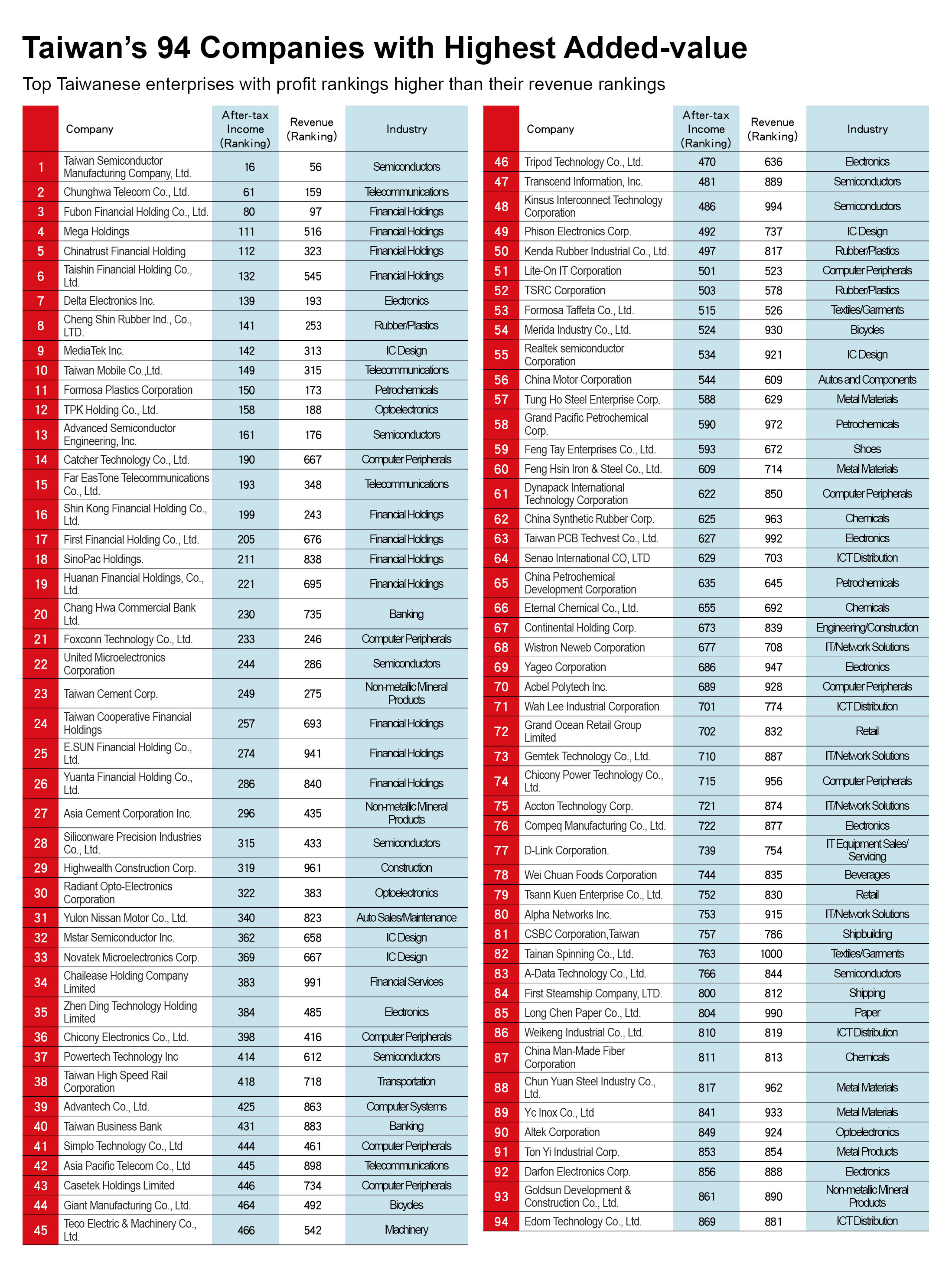 Companies from the domestic demand-oriented telecommunications and financial sectors almost invariably performed better on the profit than revenue side, while tire manufacturers Cheng Shin Rubber Ind. Co. and Kenda Rubber Industrial Co. and bicycle producers Giant Manufacturing Co. and Merida Industry Co. were some of the standout exporters.
"Taiwan's financial sector performed well, but the problem is that Taiwan's domestic market is almost saturated. The next competitive stage will depend on who is most capable of expanding into new markets," Kung says.
In the tech sector, the most notable stars were Taiwan Semiconductor Manufacturing Co. and TPK Holding Co.
TSMC's revenues rose 18.5 percent in 2012, pushing its ranking in the top 1,000 this year to 56th, five notches better than 61st last year. The company's profit margin also rose from 31.42 percent in 2011 to 32.82 percent in 2012, enabling it once again to squeeze into the ranks of the top 50 for highest margins and the top 50 for highest after-tax net income. (See Table 2, Table 3, Table 4, Table 5)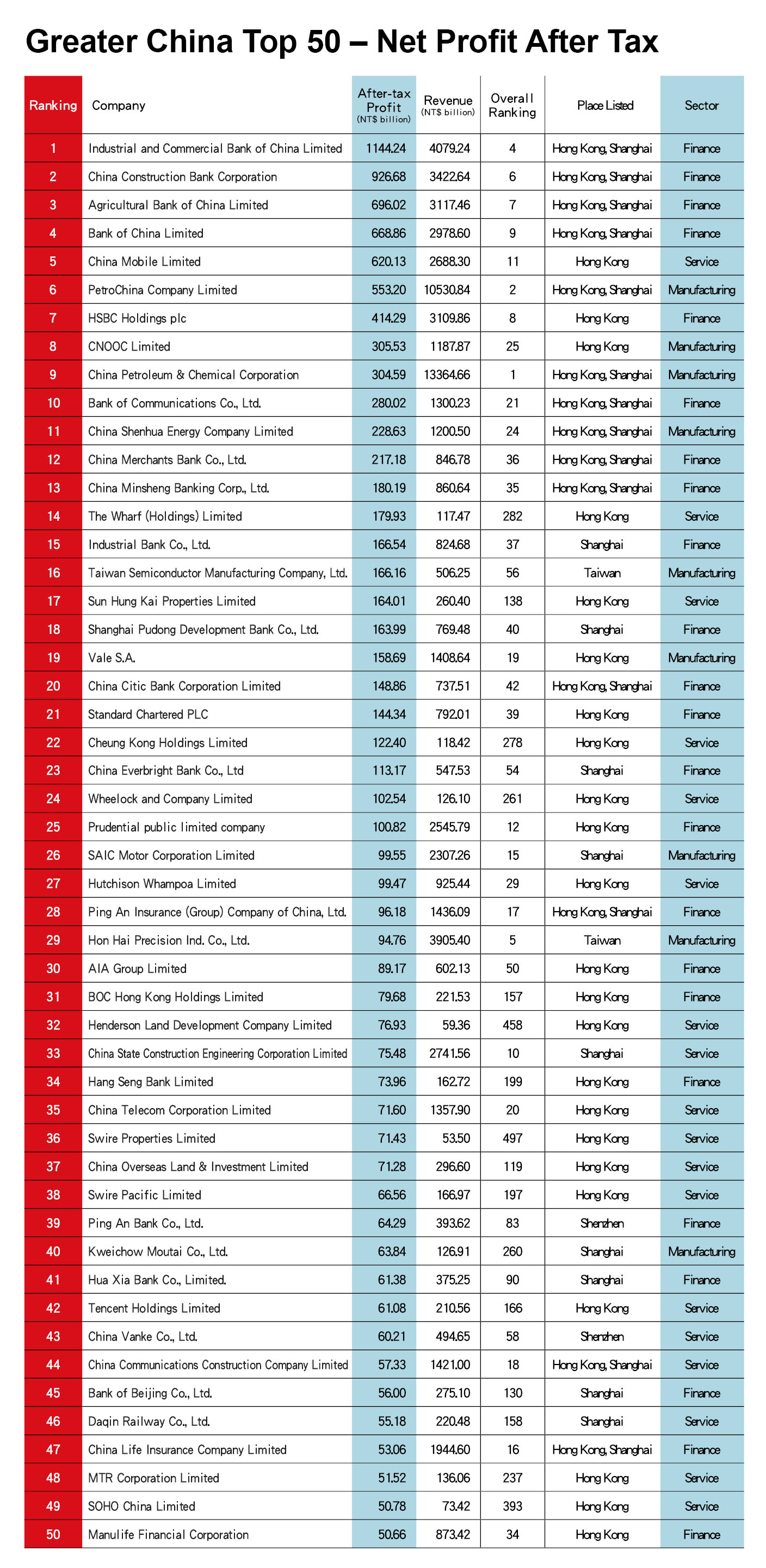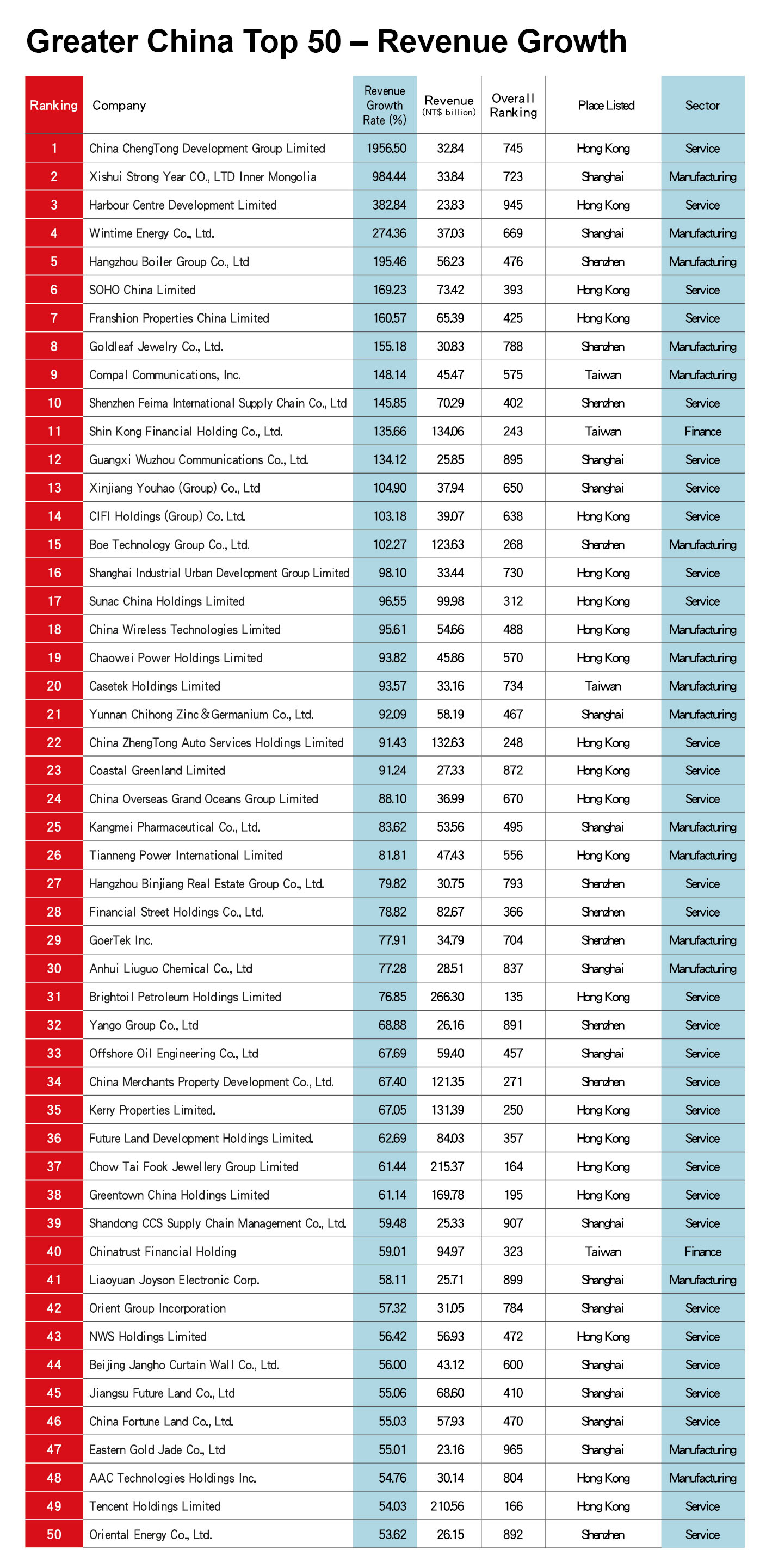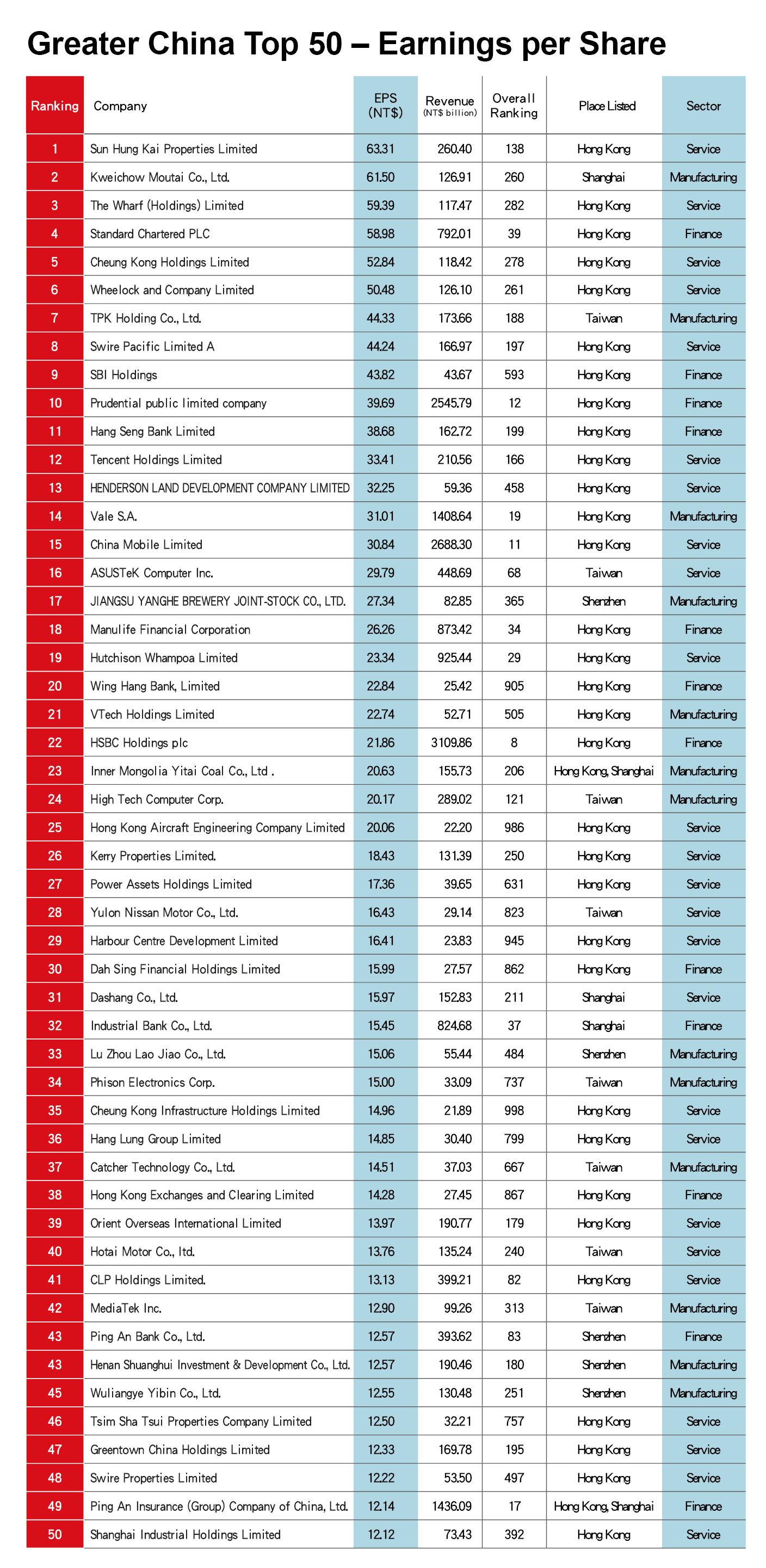 With its strong showing in revenues, profit margin and net income, TSMC was the only Taiwanese high-tech company to take three honors in this year's Greater China survey.
Compared with TSMC, TPK, which has been in business for fewer than 10 years, is a super newcomer. Capitalizing on the touch application wave, TPK posted 140 percent revenue growth in 2011, catapulting it to 200th in the top 1,000. In 2012, the company's sales growth was not as explosive, rising 21 percent, but that still lifted TPK to 188th in the overall rankings.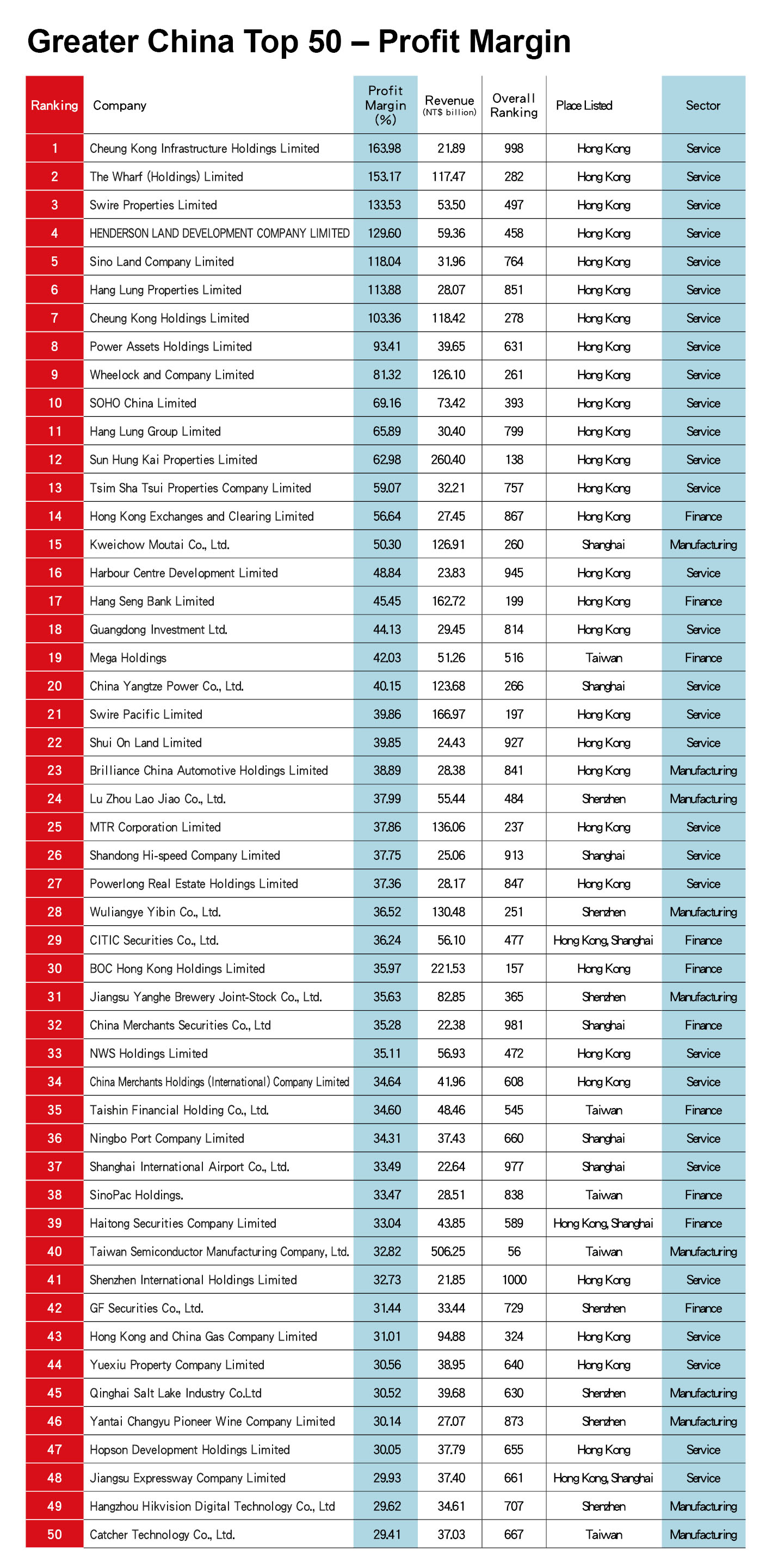 The touch revolution also enabled TPK, with its cutting-edge technology and ability to seize opportunities before others, to finish in the top 50 for earnings per share. The company's 2012 EPS of NT$44.33 made it the only Taiwanese company to crack the top 10 (at No. 7). In contrast, another big Taiwanese name that finished fourth in EPS in last year's survey – smartphone maker HTC Corp. – fell to 24th in the category after struggling to withstand the pressure from major brands Apple and Samsung.
The power of TSMC's "Grand Alliance" may still be simmering, but Chairman Morris Chang has already provided an extremely optimistic outlook for his company for the rest of the year. Similarly, at an investor conference on May 22, TPK chairman Michael Chiang was full of confidence in the company's revenue and profit prospects for 2013.
"A lot of people don't know that we have a 90 percent market share in 'all in one' desktop computers," Chiang told CommonWealth Magazine.
Asked about skepticism that the company may suffer as Apple's aura fades, Chiang only sharpened his tone, saying that TPK's customer portfolio became diversified long ago because "our R&D and technology has stayed in front of customers' needs, leading customers to come calling."
Chiang revealed that TPK now serves more than 40 companies, including most of the world's major brands.
On the Chinese side, China's leading companies in the ranking are dominated by state-controlled energy companies and financial institutions. But the two private Chinese companies that served notice of belonging in the elite – Lenovo Group and Alibaba.com – came from the high-tech sector.
China's Twin Stars
Lenovo Group has emerged as a major brand in the IT hardware industry. It nearly overtook Hewlett-Packard as the world's leading PC vendor in the first quarter, trailing HP by a mere 0.4 percentage points in market share and taking over as the top shipper of notebook computers, according to market research firm IDC.
Also worth noting is that in the stagnant European desktop computer market, shipments by the two top players – HP and Acer Inc. – fell by more than 30 percent in the first quarter, according to research firm Gartner Inc., but Lenovo's shipments rose 7 percent.
Following Acer's fall and Lenovo's rise, the two companies have relatively equal market shares in the European desktop market, indicating that if Acer hopes to recover its once pre-eminent position, it faces a difficult road ahead.
Alibaba, meanwhile, ranked 721st in last year's survey, but regrettably had to be left out of this year's survey because it delisted its shares last June to pave the way for the privatization of its parent company, Alibaba Group Holding.
In March, The Economist described Alibaba as the "world's greatest bazaar." Buoyed by the e-commerce boom in China, Alibaba's two main portals have total annual revenues of US$170 billion, more than Amazon and eBay combined.
In China's market environment, where state-owned enterprises advance while the private sector retreats, former Alibaba CEO Jack Ma and his company have always had an outstanding reputation.
"This is an innovative company that suddenly emerged from an environment that was not protected by the state," says GCA's Shiu, who is based in Hong Kong and follows international corporations. He particularly praised Alibaba's rare ability to develop a platform "that enables bigger companies to develop their brand and smaller companies to still have the chance to get orders."
There is plenty of irony that the lack of protection from the state and China's imperfect systems and environment provided Alibaba fertile soil for innovation.
"Take third-party payment services. When the business was just starting, the Chinese government had not established any regulations for it, so companies went ahead with it on their own. They succeeded, and the practice later became legal. But in Taiwan that wouldn't have been possible because of worries over financial risk. It would have had to be handled one step at a time," says Wang Yi-chih, a section chief with the Market Intelligence Center of the Institute for Information Industry.
Although Alibaba has temporarily disappeared from the top 1,000 list, China's e-commerce marketplace is highly regarded, and those seeking to make money off Chinese consumers, including Taiwanese companies, ignore these e-commerce platforms at their own peril.
Searching for New Consumer Gold Mines
In past Greater China Top 1000 surveys, Hong Kong companies were often overlooked because there weren't many of them and they were fairly predictable. But this year, a new Hong Kong dark horse – Chow Tai Fook Jewellery Group Ltd. – emerged on the scene.
What is so special about Chow Tai Fook, which was ranked 164th and had 61 percent revenue growth in 2012?
In business for more than 80 years, this jewelry chain is a household name in Hong Kong. "Its business model was to buy diamonds, gold and other precious metals, to process them, and to sell them in their own stores," GCA's Shiu says. "In fact, it's quite conventional."
So why has this venerable Hong Kong jeweler seen such huge sales growth? Credit Chinese consumers.
When China first became prosperous, consumers there bought gold and silver to satisfy their initial yearning for luxury goods, explains Deloitte's Hung. Chow Tai Fook has capitalized on this trend: 55 percent of its annual revenues come from China.
China's special commercial and political environment, where gift-giving is deeply entrenched, has also been a catalyst of Chow Tai Fook's success. "Of all the countries in the world, China is probably the only one where a crackdown on gift-giving can affect GDP," Hung observes.
But Chow Tai Fook has more going for it than simply general market trends.
In its 2012-2013 Interim Report, this Hong Kong jewelry chain projected that it would establish 2,000 retail locations, and it has already set up 105 new outlets, all in third-tier and fourth-tier Chinese cities. In other words, Chow Tai Fook has placed its bet for growth squarely on these less glamorous cities rather than on the more affluent first-tier cities. But why?
"Rent in first-tier cities is too expensive, already about the same or even more expensive than in international cities. It really cuts into profits," Shiu explains.
Roughly 200 million people live in China's third-tier cities and a combined 300 million live in its fourth- and fifth-tier metropolitan areas. As he flips through various reports, Hung stresses that the number of cars per 10,000 people in China's third- and fourth-tier cities, such as Baoji in Shaanxi province or Lianyungang in Jiangsu province, is about the same as it was in Beijing 15 years ago, and GDP in those cities is rising at a much faster rate than in first-tier cities. Those metrics point to a veritable gold mine for enterprising companies, he says.
They may also suggest a new future avenue for growth for Taiwanese businesses.
The number of Taiwanese companies in this year's Greater China survey may be down from previous years, but TIER's Kung, GCA's Shiu, and Deloitte's Hung all believe that Taiwan's edge in the electronics manufacturing sector remains evident and that China will have a hard time conquering this competitive threshold.
But also undeniable is that the "big five's" contracting model has been taken about as far as it can go. "Since there won't be any new players, Taiwan needs to ponder what Taiwanese sectors have the potential to crack the top 1,000 list in the future," Kung says.
Taiwan's Competitive Edge of Tomorrow
Services stand out as the emerging sector in Taiwan given the best chance of extending its reach outward. Although the scale of the country's service businesses make it unlikely that their revenues will earn them a spot in the top 1,000 in the short term, as long as the sector begins planting seeds now, strong trees should sprout up in the future.
John Hung, who travels frequently between Shanghai and Taiwan, offered high praise for the affordability and service quality found at hotels in Taipei. "Hotels in Shanghai are not only expensive, their service is not up to par. In (China's) strong economy, it doesn't matter if you're dissatisfied, because there are always other customers coming in. It's hard to raise service standards.
From an outsider's perspective, Taiwan's service sector has tremendous potential to thrive in the Greater China arena. If markets are accurately targeted and the right commercial model is selected, some Taiwanese service companies may one day emerge as the country's new stars in the top 1,000 list.
Translated from the Chinese by Luke Sabatier