Third-party Online Payment Services
Now Everyone Can Be a Boss
精華簡文
Source:CW
With money transfer volume expected to reach 10 trillion renminbi per year, online payment platforms are big business, and Taiwanese banks are eager to get their piece of this rapidly growing pie.
Now Everyone Can Be a Boss
By David Huang
From CommonWealth Magazine (vol. 515 )


"Minister Chang, can't you relax restrictions on third-party, cross-border payment services a bit more?" Sammy Yen, general manager of Lion Group's International Medical Tourism Services Center, pleaded with Finance Minister Chang Sheng-ford at a business luncheon on Jan. 16. "These new means of payment can boost consumer market development, enabling us to raise more tax revenue," Yen added.

In China, payments channeled through third-party payment service providers topped 1 trillion renminbi in 2010, and Chinese Internet research company Analysis International (eguan.cn) expects that figure to exceed 10 trillion renminbi as early as 2015, reflecting an enormous potential for profit growth in the money transfer business. (Table 1)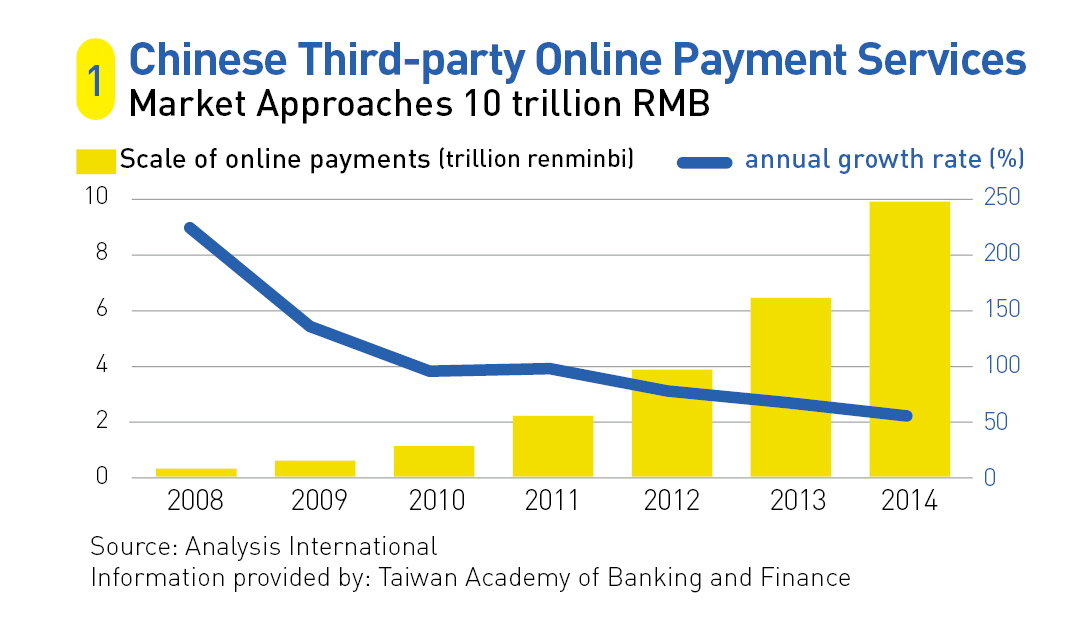 Given booming online shopping in China, Taiwan's fledgling third-party online payment platforms seem to face a promising future.
But Taiwanese players in the online payment business – be it financial institutions (First Commercial Bank, E. Sun Commercial Bank) or non-banking entities like online shopping giant PChome Online Inc. (PChome Pay) and online gaming company Macrowell OMG Digital Entertainment Co. Ltd. (Allpay) – all must look to Alipay, as either their biggest competitor or a cooperative partner.
Alipay, the online money transfer service run by Chinese Internet business empire Alibaba Group, is growing at a pace of more than 100% per year thanks to the huge spending power of Chinese online shoppers. Alipay processes a mind-boggling 6 billion renminbi in payments in China per day, and has already begun to expand its services overseas.
In February last year, Alipay became the first Chinese third-party payment service provider to launch partnerships with more than 1,000 online shopping sites, in Australia, Hong Kong, Italy, Japan, South Korea, Taiwan and the United States. Alipay users can now directly buy from shopping sites outside China and pay in the respective local currency.
At the same time, the number of Alipay's overseas users, primarily sellers and buyers living in Taiwan and Hong Kong, has tripled over the past two years.
"When Alipay started, the vast majority of money transfers came from Taobao Marketplace buyers," explains Alibaba's Sabrina Peng. An Alibaba subsidiary, Taobao is China's biggest online retail consumer platform.
"But we never defined ourselves as the exclusive payment tool of Taobao," insists Peng, who serves as vice president of Alibaba.com overseeing the company's international business operations. "Anyone who buys or sells online can be our user. Therefore, cross-industry cooperation is at the core of our development."
Today, only half of the transactions handled by Alipay are generated by Taobao. The other half stems from e-commerce on other sites.
Alipay's partners include other Chinese online shopping sites, as well as every single airline in China, plus Taiwanese carriers China Airlines, Eva Air and TransAsia Airways. It also makes good use of its huge advantages in terms of distribution channels to offer utility bill payment services in cooperation with local governments in China.
During the past year, the residents of the southern Taiwanese city of Jiayi used Alipay to conduct online purchases averaging more than 69,000 renminbi (about NT$320,000) per person, making Jiayi the clear No. 1 city for Alipay transactions per capita on either side of the Taiwan Strait. Kaohsiung, Taichung and Tainan also ranked among the top ten.
A Market with Double-Digit Growth
Ms. Chuang, who is working in the export trade, has been using Alipay for many years. "It's not that I love to use Alipay, but when you buy things on Taobao Marketplace from Taiwan, using Alipay for payments is most convenient. I even buy some things to resell them," Ms. Chuang relates. In comparison, Taiwan's online payment service providers have been developing rather slowly. The Financial Supervisory Commission (SFC) handed out the first licenses for third-party online payment services to domestic financial institutions only in November 2011.
So far the SFC has given the go-ahead to Chinatrust Commercial Bank, E.Sun Commercial Bank, First Commercial Bank and Bank SinoPac.
But more than a year later, only E.Sun Commercial Bank and First Commercial Bank have actually rolled out third-party online payment platforms.
E.Sun Commercial Bank cooperates with Alipay to help Taiwanese companies – including a popular confectionery maker and an online education service provider – sell their products via Taobao Marketplace.
First Commercial Bank, whose strength is in corporate finance, has been moving surprisingly fast in introducing these innovative financial services.
Cecilia Chang, vice president and electronic commerce division chief at First Commercial Bank, frankly describes the bank's intentions: "We hope to use these services to get into the consumer banking market. Furthermore, we hope that this innovation will shake up the domestic consumer finance landscape." As Chang explains, Taiwanese consumers automatically associate credit cards with major private banks such as Chinatrust Commercial Bank or Taipei Fubon Bank. "It doesn't make much sense for us to push credit card issuance any further, but we probably still stand a chance in these novel services," Chang muses. The Taiwanese financial industry has plenty of reason to be excited. While domestic consumer market growth has slowed down in recent years, online consumption has been growing at double-digit rates.
Statistics by the Institute for Information Industry show that the domestic retail market grew by less than 10 percent per year since 2006. But the online shopping market has been growing by more than 20 percent per year since 2008.
Taiwan has major online shopping platforms such as PChome or Yahoo Taiwan's Shopping Center, but these cannot necessarily meet the needs of many small vendors.
Easy Payment Management
Most importantly, online payment services make it easier to set up a micro business and grow it to scale. Many people with small business ideas do not want to found a company right away, which rules out using the services of a credit card company to handle customer payments. And even if a micro business is already a registered company, owners often face the problem that banks demand a certain amount to be deposited in a merchant account to cover potential credit card payment issues. For online start-ups, such requirements constitute major hurdles.
In the case of third-party payment services, customer payments are first transferred to a bank for safeguarding. The bank will release the payments to the respective vendors only after the customers have received their purchases and signaled their satisfaction. "Right now you still need to use these services as a business entity, but in the future it will be possible to use them as an ordinary person," explains Chang.
Lin Hann-chyi, executive vice president of First Commercial Bank, says that their "Firstpay" online payment system guarantees secure and safe transactions for buyers, because the participating vendors are longtime trusted bank customers. Thanks to this approach, disputes regarding online purchases can be reduced.
Jacob Mei, special manager at the e-commerce department of Bank SinoPac, has experienced the big advantage of third-party online payment services first-hand. Before taking his bank job, Mei launched an online business, selling consumer electronics products such as USB sticks via eBay, sometimes 1,000 per month.
Mei soon found out that the most cumbersome part of C2C e-commerce was payment management. A sales volume of 1,000 USB sticks means 1,000 transaction records. "At the time I couldn't pass the credit card threshold, so I was forced to ask buyers to make payments via their ATM cash cards. You can imagine how tough it is if you need to check 1,000 bank transfer records per month," Mei recalls. A number of well-known online clothing vendors, for instance, started out as small C2C ventures.
The Ministry of Economic Affairs estimates that Taiwan's C2C e-commerce market topped NT$200 billion in 2010 and continues to grow nearly 20 percent per year. (Table 2)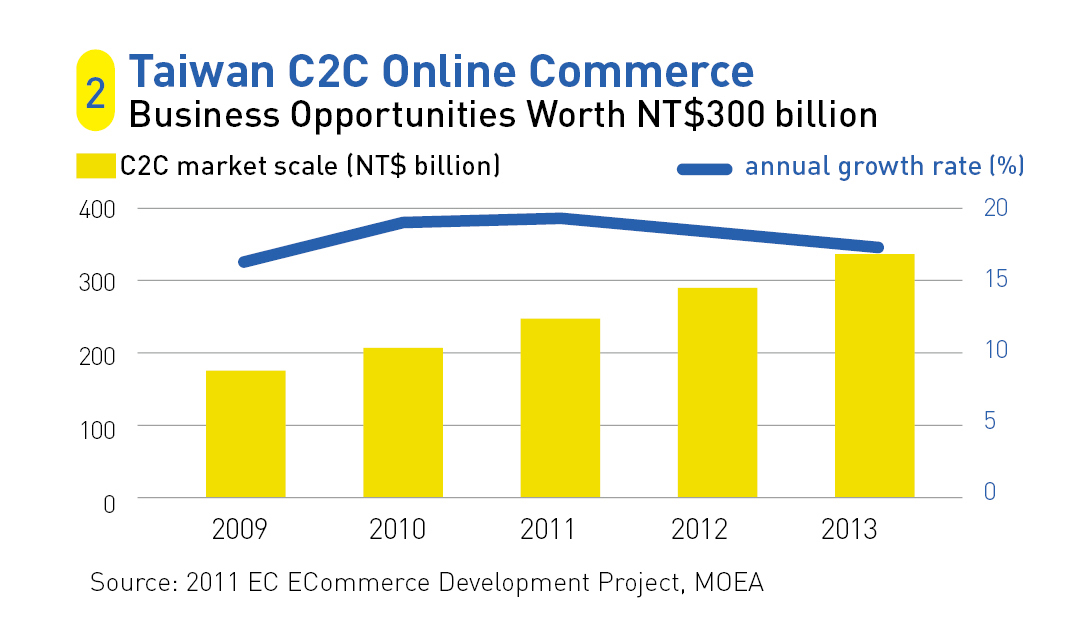 As an online vendor turned banker, Jacob Mei believes the potential of online shopping is beyond imagination. He cites as an example Taiwanese online fashion retailer Lativ, which boosted its revenue from NT$100 million to NT$4 billion in the four year period between 2008 and 2011.
Payment Services to Catch Customers
Ting Chen, head of the Electronic Banking Division at Bank SinoPac, frankly admits that it's not the handling fees that make third-party payment services attractive to banks. "We hope to observe our customer's growth potential from their cash flow pattern," Chen reveals.
"Once the cash flow system has been established, customer loyalty will increase," Chen says. "From the online payments we can identify customers with growth potential. In the future, there will also be trans-national transactions. All these are the beneficial results of developing third-party payment services."
While third-party payment service platforms not only save the day for micro businesses that cannot process credit card payments, they also protect both buyers and sellers against fraud.
"You thought only buyers get cheated?" First Bank's Lin asks incredulously. "If someone with an agenda uses several accounts to place big orders and there's no system in place that guarantees payment, then a newly launched store might go under when it doesn't get paid after shipping the goods!"
However, the SFC has not yet given the green light for third-party payment services to offer a deposit function, which would allow users to keep money in their accounts ready for purchases anytime. Currently, shoppers need to first remit the transaction amount to the bank or make a payment at the bank before they can actually proceed with their online purchase. This makes payment via an online payment processor in Taiwan much less convenient than abroad.
How the industry develops will depend on the growth of Taiwan's online shopping market and the preferences of local consumers and founders of online stores. It remains to be seen whether Taiwan will be able to incubate many more online retail miracles like Lativ.
Translated from the Chinese by Susanne Ganz