Soichiro Fukutake
Regional Entrepreneur Rejuvenating Forlorn Isles
精華簡文
Source:EPA
Japanese billionaire Soichiro Fukutake, known for the company behind the animated tiger cub Shimajiro, and for the Setouchi Triennale international art festival, which has generated tourism for several islands in the Seto Inland Sea, will share his experiences at the upcoming CommonWealth Economic Forum.
Regional Entrepreneur Rejuvenating Forlorn Isles
By Sydney Peng
From CommonWealth Magazine (vol. 614 )


The Seto Inland Sea is bordered by three of the four main islands of Japan – Honshu, Shikoku and Kyushu – and was a vibrant marine transportation and trade hub once dominated by powerful pirate clans. More than 3,000 isles are scattered across the Seto Inland Sea, which is famous for its scenic ocean views and includes one of Japan's first national parks.

Due to environmental pollution from industrial waste, an exodus of younger people and demographic aging, many isles are no longer economically viable. On some islands the only inhabitants are people beyond the retirement age.

However, more than one million tourists visited the area in 2016, injecting new life into these remote, rapidly aging island communities.

The chairman of the board of the Fukutake Foundation, Fukutake is the "hidden force" breathing new life into the desolate island economies via overseas tourism.

The eyes of Wu Jing-jyi, honorary professor at National Chengchi University, light up when he talks about the Setouchi Triennale. Wu believes that, thanks to the pairing of Fukutake as general producer with Fram Kitagawa as art director, the art festival has elevated the region's natural heritage into works of art. This unique mix of culture and nature fostered a paradigm shift that gave the forgotten isles a new purpose.

The Setouchi Triennale has been held every three years since 2010. The third art festival, held in 2016, was devoted to the theme Restoration of the Sea. Exhibits were put on display on a dozen isles and in the periphery of Takamatsu and Uno ports on Shikoku Island. The art festival usually runs for a period of 108 days, spanning spring, summer and autumn.

Just how remote are these small islands? From Tokyo, a five-hour train ride will bring you to Takamatsu. From Takamatsu Port it takes only 20 minutes by ferry to Megishima, the closest island to Takamatsu. However, a boat trip to Sakate Port on Shodoshima, the second largest island in the Seto Inland Sea, takes an hour and a half.

Yet, these outlying isles far from the hubbub of modern city life are dotted with 226 masterpieces by artists from 34 countries. Even the aroma of Taiwanese green tea, the smell of steamed spring rolls and the grassy scent of woven rush wafts through the village office in Fukuda on Shodoshima.

Only 800 people remain on Fukuda, a port town on the northeastern tip of Shodoshima.

The town's last grocery store closed because the owner had reached retirement age and local demand was too weak to support a business. For their daily necessities, local residents rely on a mobile store, which comes to town once a week, or they have to take the bus to shop in the neighboring town.

In 2013, Alice Ru-hwa Chiu, secretary general of Taiwan's Institute of Historical Resources Management, was invited by Kitagawa to participate in the curation of an "Asian Arts Platform" for the 2016 Triennale.

Within a year, the artists who skillfully planned the festival made the abolished post office in Fukuda into a "Taiwan Pavilion," gradually establishing contacts with local people.

In 2016, a group from Xinwu in Taoyuan City introduced Taiwanese cuisine to Fukuda as part of an "Asian Kitchen" project. Chiu recalls how Fukutake once participated in an event at the town office in Fukuda in July of 2016. "He didn't say much; he didn't act haughty. He stood there quietly in the back all by himself learning how to brew tea. He was quite curious about many things."
Regional Entrepreneur Seeks the Good Life
In 2016, the low-key Fukutake was ranked as Japan's 32nd richest person by Forbes magazine with a personal wealth of more than 120 billion yen (about NT$33.6 billion). Fukutake's Benesse Group is most famous for Shimajiro, the main protagonist in an animated TV series, and related educational magazines, although it is also active in elderly care, correspondence courses, language instruction, translation and interpretation services.
Thirty years ago, Fukutake's father Tetsuhiko, who had launched a publishing house for educational materials in Okayama in 1955, came to the small island of Naoshima in the Seto Inland Sea. He discovered that while the copper smelter and refinery on the island generated economic growth, it had also destroyed the environment.
The elder Fukutake loved camping. Before his death, he expressed the wish to create a natural space in the Seto Inland Sea where children could pitch tents and enjoy outdoor activities.
Honoring his father's last wishes, the younger Fukutake bought a 165-hectare plot on Naoshima to build an international campground.
From childhood on, he has been watching the paintings his father collected. While he did not necessarily understand its content, Fukutake discovered that works of art can send out "powerful messages."
He harbors the same passion for Naoshima, firmly believing that art should be created in the most suitable way specifically for the most suitable sites. Therefore, he asked renowned Japanese architect Tadao Ando to design the Benesse House for the display of contemporary art amid beautiful natural surroundings.
Benesse is derived from the Latin words "bene" and "esse", meaning "well-being" or "living well" After Fukutake inherited the publisher from his father, he renamed it the "Benesse Corporation" and gradually branched out into other fields of business.
"I am not a philanthropist and not a critic; I am a regional entrepreneur," remarked Fukutake in a speech a few years ago. However, what makes the difference is that for Fukutake, the purpose of entrepreneurship entails more than just getting rich or creating an affluent society.
Culture Drives Economy
In 2013, the international art festival generated economic benefits worth 13.2 billion yen (about NT$3.7 billion), up 18 percent from the previous festival, according to the organizers.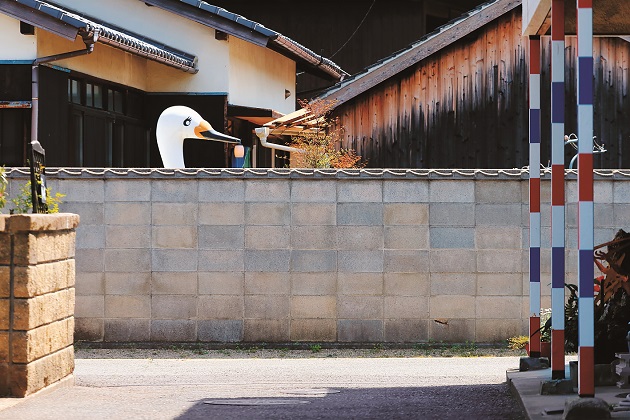 Fukutake has set out from the isle of Naoshima on a mission to let art objects be displayed in the most suitable locations, which might include the homes of ordinary people.
The art installations and the festival are not only attracting an increasing number of island-hopping tourists, but are also enticing young people to settle here. Lately, it has become fashionable to hold weddings on the isles, a novel demand that opens up new business opportunities.
Meanwhile, the success of the Setouchi Triennale has inspired many municipalities to jump on the bandwagon to attract crowds of happily spending tourists.
The Aichi Triennale in the Nagoya area, the Saitama Triennale, the Sapporo International Art Festival as well as Kenpoku Art in northern Ibaraki Prefecture are all events that have been modeled after the Setouchi Triennale.
Fukutake and Kitagawa do not deny the importance of economic considerations but feel that linkages with local life are much more crucial.
"When people from different areas, of different generations and types link up, new things will emerge. By holding an art festival once every three years, we are bringing smiles back to the faces of the local grandpas and grandmas," Kitagawa told the Japanese daily Nihon Keizai Shimbun.
Crucial to finding local acceptance for an art festival that draws large numbers of tourists from other parts of Japan and abroad is the untiring work of numerous volunteers, who are affectionately called "shrimp."
The Shrimp Troupe is made up of international volunteers who help with the festival organization in ways such as putting up exhibits and dismantling them, cleaning vacant houses, serving as local guides and promoting festival events.
Nearly 7,000 people, including 10 percent overseas volunteers from Singapore, Taiwan, the United States and other countries, were involved in arranging exhibits and preparing for the opening of the 2016 Triennale from fall 2015 to its opening in March 2016.
Meanwhile, the Setouchi Triennale has firmly established itself in the cultural scene, generating economic benefits for the area. However, believing that "the economy should be the servant of culture," Fukutake points out that wealth creation should not be the festival's only goal.
Due to their location off the beaten track, the isles of the Seto Inland Sea have so far been spared the negative impact of modernization, which has allowed them to preserve their traditional lifestyle and attitude toward life.
"I am convinced that we need to shift to sources of sustainable growth; we need to use existing things to create the future," says Fukutake.
How can we use nature and art to develop a new paradigm for regional economic restoration? More than the isles of the Seto Inland Sea, Taiwan must ask itself this question as it maps out its own future.
Translated from the Chinese by Susanne Ganz