2017 State of the Nation Survey
Only Common Wish: Fix the Economy
精華簡文
Source:CW
The CommonWealth Magazine 2017 State of the Nation Survey identified a major generational divide in Taiwan on a wide range of issues. There was agreement on only one point, the need for economic transformation.
Only Common Wish: Fix the Economy
By Rebecca Lin
From CommonWealth Magazine (vol. 614 )


The results of the 2017 State of the Nation Survey suggest that the gap between Taiwan's younger and older generations is widening, with little consensus between them on the country's outlook and the government's performance.

Some of those generational fissures have been exposed and even exacerbated by many of the reforms that President Tsai Ing-wen's administration has initiated or talked about, this year's survey found, but if there was one area of broad agreement, it was on the need to strengthen the economy.

When asked which of the government's reform campaigns should be given the highest priority, respondents across almost every age group chose "economic transformation."

Only respondents in the 50-59 age group did not put the economy at the top of the administration's to-do list, choosing "pension reform" as the most pressing issue.

The secretary-general of the Taiwan Social Welfare League, Sun I-hsin, says many people in that age bracket are still working in the private sector or worried about losing their jobs while people of the same age who were public employees (as civil servants, teachers or military personnel) have already retired with a guaranteed pension.

"This sense of relative deprivation has made them particularly sensitive to this issue," he says.

"Pension reform" emerged as the second priority for the group of respondents as a whole, followed by "judicial reform," "Labor Standards Act revisions" and "green energy development." Two issues that have stoked particularly strong partisan emotions, "Japanese food imports" and "same-sex marriage equality," were considered to be lower priorities. (Table 1)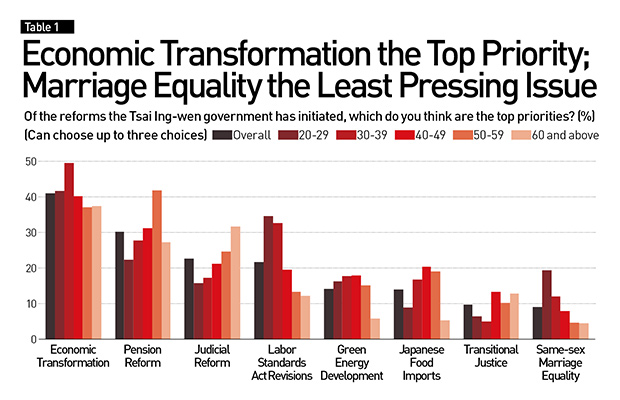 The "Japanese food imports" choice was related to whether to lift a ban on imports of food from Japanese regions potentially affected by radiation from the meltdown at the Fukushima Daiichi nuclear power plant in 2011. The Tsai government favored a partial lifting of the ban, but it faced strong opposition and eventually dropped the idea.
While "economic transformation" was cited as the biggest priority by almost all respondents, the next biggest priority cited varied widely by age group. For respondents 20-29 years old, it was "Labor Standards Act revisions," while for the 40-49 age bracket it was "pension reform" and for the 60 and above age group it was "judicial reform."
The group that felt most strongly about "same-sex marriage equality" was the 20-29 age bracket, while food safety concerns related to "Japanese food imports" was important to 40-49 year-old respondents.
"Everybody is most concerned about economic transformation. Society is heavily divided on pretty much everything else," observes National Taiwan University sociology professor Chen Dung-sheng.
He explains that the younger generation is most concerned about broad social rights that involve social fairness and justice, from labor rights to marriage equality, while middle-aged citizens are more focused on systematic reforms, such as pension and judicial reform. But members of the 40-and-over group, who have children and families, put even more emphasis on the safety of food sources.
"That could be related to their life experiences," Chen says.
Generational Divide over the Future
Respondents were almost evenly split when the survey asked, "Do you support same-sex marriage and spousal rights?" with 45.2 percent backing the idea and 45.3 percent against it. (Table 2)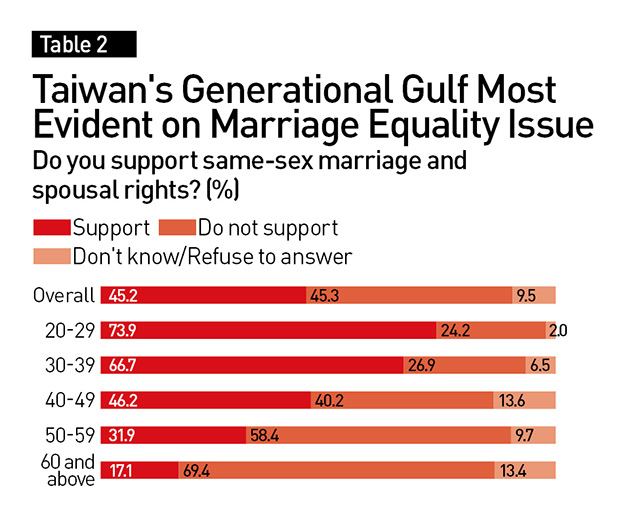 The split particularly highlighted Taiwan's generational divide – 73.9 percent of 20-29 year-old respondents and 66.7 percent of 30-39 year-old respondents supported same-sex marriage rights, but those support numbers fell to 46.2 percent in the 40-49 age bracket and 32 percent in the 50-59 age group.
Wu Chao-ju, 29, a graduate student in sociology at National Chengchi University and also a member of the Taiwan Pioneers of Labor Association's board, says the mindset of the older generation is for children to grow up, get married, and have children. Wu, who has a girlfriend but has yet to contemplate marriage, says there are many economic conditions, related to housing prices, salaries and even working hours, that have to be satisfied to support those family values. As housing prices have soared and other economic issues have cropped up, the image of the traditional family has been shattered, he argues.
"Our image of the family is completely different," he says. Wu believes that same-sex marriage does not just have implications for freedom and human rights or the idea of accepting others. Even more importantly, it represents a definition of the family that differs from that held by previous generations.
In terms of regional divisions on the issue, southern Taiwan emerged as the biggest outlier in the survey. A majority of respondents in northern and central Taiwan and the country's outlying counties supported same-sex marriage by considerable margins, but the reverse was true in southern Taiwan, where respondents who opposed same-sex marriage outnumbered those who supported it by a 53.3 to 39.8 percent margin.
That indicates that society has yet to reach a consensus on the issue. Tsai Hsiu-chuan, associate professor of political science at Soochow University, observes that the debate over same-sex marriage has revealed a fairly high degree of consensus in society on equal rights but differences in approach. The government needs to be more sensitive in handling the issue and put forth a clearer point of view, Tsai cautions, or it will only further widen the existing social rift.
Where the working class feels particularly strong anxiety is on pension reform (Table 3), which the government is pursuing aggressively.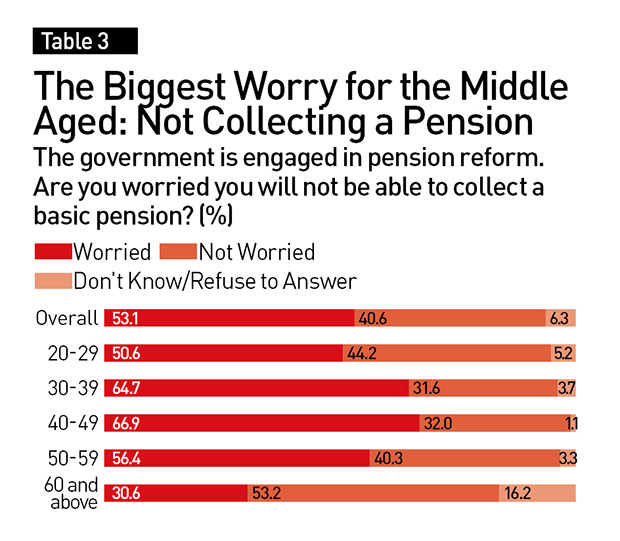 "Last year was the first time the stakeholders of the pension system held a dialogue," says Yeh Ta-hua, the secretary-general of the Taiwan Alliance for the Advancement of Youth Rights and Welfare and a member of the government's pension reform committee. The process has revealed widespread concerns across all demographics that they will not be able to collect a pension when they retire, making them more eager to see the system reformed, Yeh explains.
The anxiety over pension reform was not as high among respondents in the 20-29 age bracket (50.6 percent expressed anxiety on the issue vs. 67 percent in the 40-49 age group). Labor activist Wu says that's because a growing number of young adults work part-time and do not have labor insurance (which covers the basic pension plan for private sector workers).
"To us, what we need to deal with are the pressures we're facing right now. People over 30 have to face the future," Wu says.
Leaving behind Taiwan's Major Parties
In terms of political affiliation, identification with the major parties, or any political party for that matter, seems to be waning, as seen in the answers to the question: "Which political party do you support the most?" The ruling Democratic Progressive Party (DPP) received 17.2 percent support, the Kuomintang (KMT) 9.4 percent, and the fledgling New Power Party (NPP) 3.3 percent. The NPP, which was an outgrowth of the student Sunflower Movement of 2014 that occupied the Legislative Yuan for more than three weeks, has become Taiwan's third leading party in less than two years of existence. (Table 4)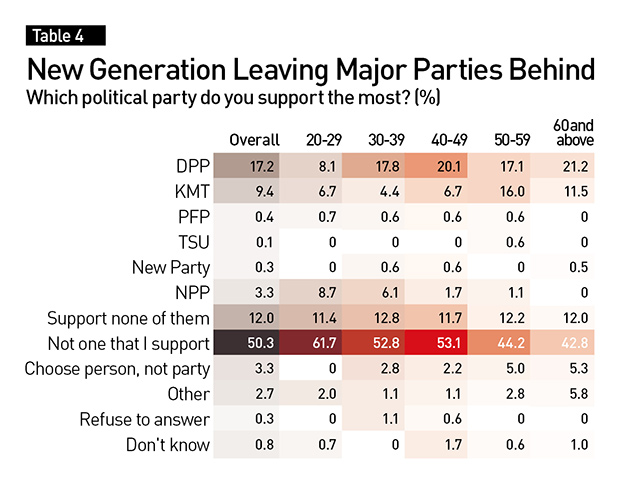 Other smaller parties – the People First Party, Taiwan Solidarity Union and New Party – all had support levels below 1 percent, but 66 percent of respondents answered "support none of them," "not one that I support," or "choose the person, not the party." That large group of people who do not identify with any political party indicates that the parties have a lot of work to do if they hope to win more people over in the future.
The DPP had more support than the KMT across all age groups, but its support among respondents in the 20-29 age bracket (8.1 percent) fell below that of the NPP (8.7 percent).
"Young people still have relatively high ideals about the values they hold dear," Soochow University's Tsai contends, while people who are a little older are more grounded in reality.
Yeh says that NPP members' backgrounds and qualities are representative of middle class elites, and because it grew out of the Sunflower Movement and it makes widespread use of the internet and internet media, it has gained more acceptance among the younger generation.
In contrast, the century-old KMT still commands some brand loyalty, but that loyalty has fallen rather quickly (down from 26.7 percent support in the 2008 survey). Its declining popularity reflects its lack of sensitivity to changes in social development and a perception of democracy among the younger generation that differs from that of older generations.
The DPP had a 9.6 percent level of support in 2008, but it then rose to 18.3 percent in 2016 before falling slightly in this year's survey.
"After the party took power, it has tended to be more conservative because it has to take into account the overall situation. Any government would be the same way," says Hawang Shiow-duan, the dean of Soochow University's School of Liberal Arts and Social Sciences.
It will be worth watching if that more conservative bent will make it harder for the DPP to be bolder, especially at a time when the country's finances are tight. As Yeh says: "With limited social resources, there will inevitably be a war between generations in the future."
Translated from the Chinese by Luke Sabatier