Taiwan's Economy in 2013
Urgently Needed: Investment Injection
精華簡文
Source:CW
Taiwan's domestic economy and exports both stalled in 2012. This year, a soft recovery is expected, but investment will ultimately decide the country's economic fate.
Urgently Needed: Investment Injection
By Kwangyin Liu
From CommonWealth Magazine (vol. 513 )


Describing Taiwan's economy in 2012 as "frozen inside and out" would not be an exaggeration. Taiwan's statistics bureau, the Directorate General of Budget Accounting and Statistics (DGBAS), lowered its forecast for the country's 2012 GDP growth nine times during the year before revising its forecast in November upwards to 1.13 percent. The Taiwan Research Institute and Chung-hua Institution for Economic Research (CIER) were even less optimistic, pegging Taiwan's growth for the year at below 1 percent. (Table 1)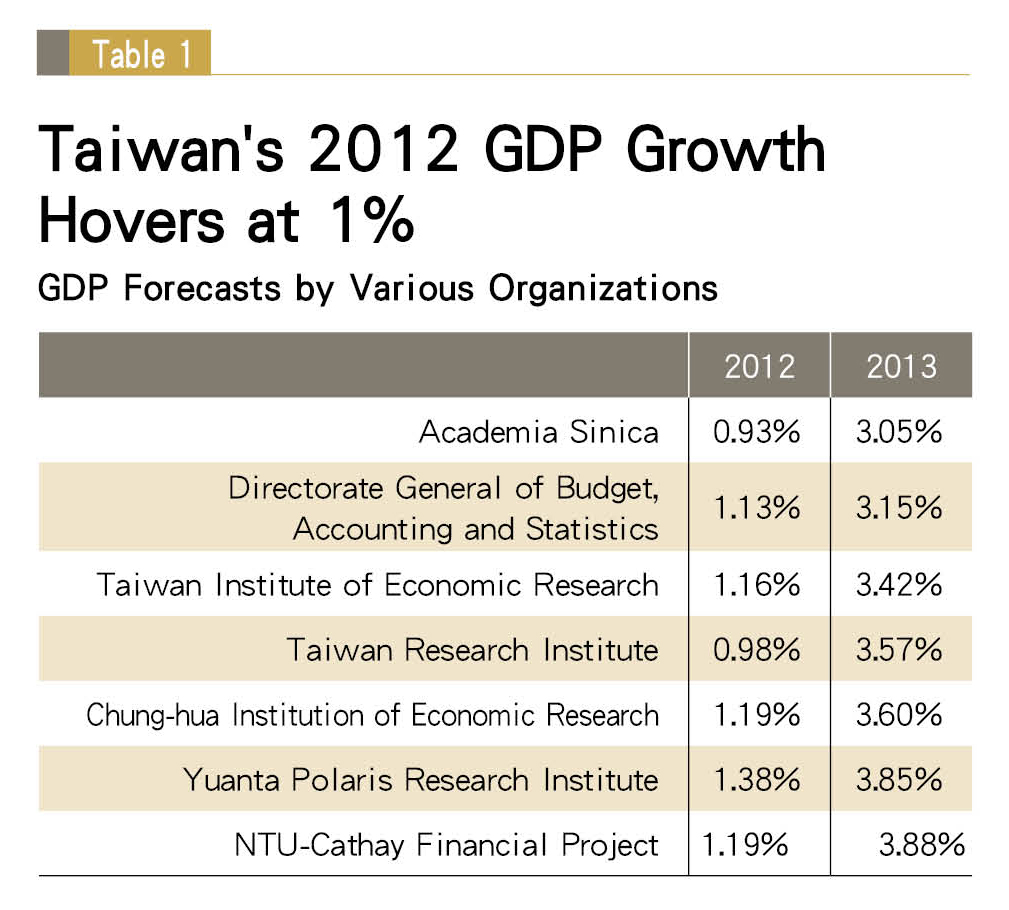 So how will Taiwan fare in 2013? Will the economy be able to break through the fog enshrouding it?
Many economic forecasters and think tanks expect 2013 to be better than last year but do not foresee anything close to a robust recovery. Their GDP growth estimates for the country range from 3.05 percent to 3.88 percent.
A joint economic research team from Cathay Financial Holding Co. and National Taiwan University predicted Taiwan will experience a "soft recovery."
"Like a person recovering from a serious illness, the economy is gradually regaining its health," says National Central University economics professor Chih-chiang Hsu, who heads the research team.
The team's 3.88 percent growth forecast, the highest among those by domestic institutions, depends largely on the strength of the global economic recovery.
If Europe's debt crisis eases, the United States avoids going over the fiscal cliff, China's economy gradually picks up steam, and demand from Southeast Asian countries continues to grow, Taiwan's exports should regain their vitality.
According to DGBAS figures, Taiwan's net export growth has been flat the past two years but is expected to rise 0.25% in 2013.
DGBAS chief Su-mei Shih asserts: "In terms of exports, the worst is over," an opinion shared by most economists.
Exports have historically been Taiwan's economic lifeline, and the recent ascendance of Southeast Asia has helped sustain the country's overseas shipments as demand in other markets has retreated. In the first 10 months of 2012, Taiwan's exports to the United States fell 10.3 percent from the same period a year earlier, while exports to Europe and China were down 10.1 percent and 6 percent, respectively. Southeast Asia was the lone bright spot, with exports to the region rising 10.7 percent.
But Taiwan's competitive advantage in Southeast Asian markets may not last for long. The country's main exports to the region are primarily integrated circuits and fuel – both regular gasoline and diesel. Rivals Japan and South Korea have invested in naphtha cracker plants in the region in recent years, and the Thailand-based PTT Group is planning a US$28.7 billion oil refinery complex in Vietnam that is scheduled to become operational in 2019.
The concerns are real, and to deal with them, the Taiwan Institute for Economic Research has recommended in a report that Taiwan needs to improve its export mix and "find a few more baskets in which to put eggs."
The Key to Growth: Investment
Now that the global economy has only recently been discharged from the intensive care ward, what can Taiwan do to build a robust constitution? The answer is almost certainly investment, which stands out as the key to driving growth momentum. (Table 2)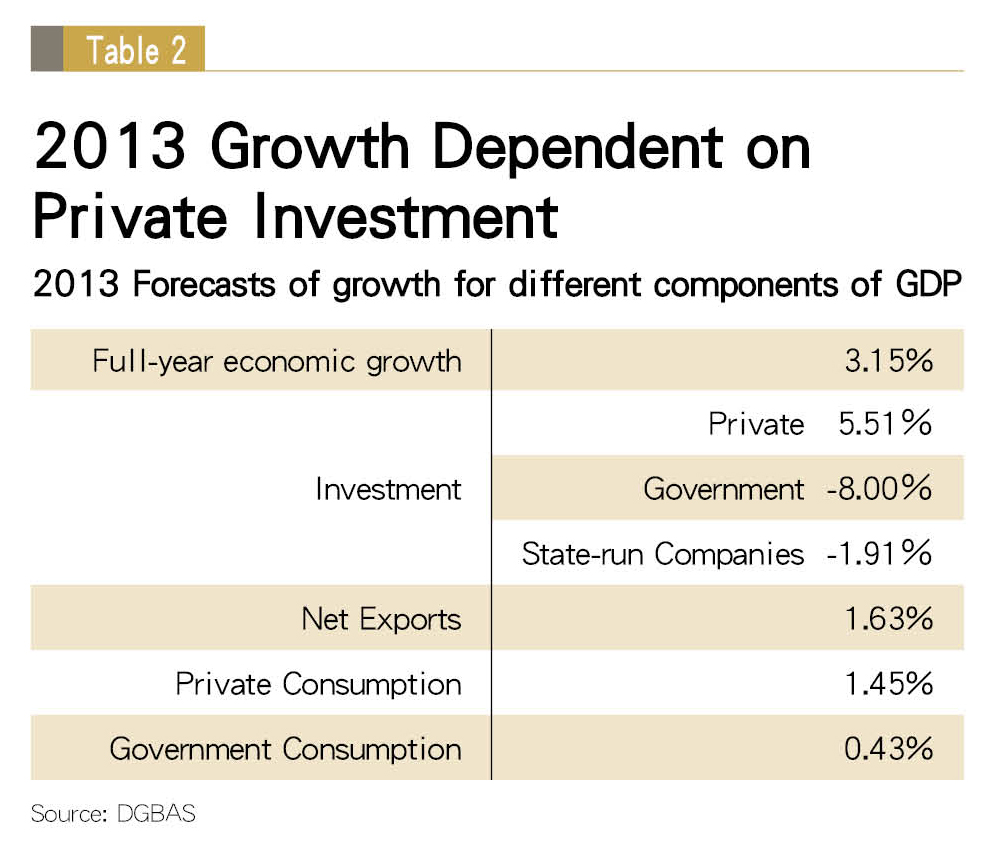 A number of indicators show that Taiwanese society is slowly regaining confidence in the country's economy.
According to the Chung-hua Institution for Economic Research, which began compiling a Purchasing Managers Index (PMI) for Taiwan in May 2012 and released it for the first time in December, the PMI for Taiwan's manufacturing sector remained below 50 in November for the fifth consecutive month. (A reading above 50 indicates expansion in the manufacturing sector, and below 50 shows contraction.) The November index, however, rose to 49.6, up three points from the previous month, signaling a possible recovery in economic activity.
Perhaps even more promising was that the sub-index for new orders spiked sharply to 52.4 in November from 42.5 in October and the sub-index for production rose to 51.1 from 45.9.
"The big turnaround in the new orders sub-index means that December's PMI is highly likely to exceed 50," CIER president Wu Chung-shu said.
The Council for Economic Planning and Development's economic monitoring indicators have also begun to rise from the depths. After having flashed a blue light, indicating a recession, for 10 consecutive months, the main monitoring indicator has flashed a yellow-blue signal, signaling mere sluggishness, for three consecutive months since September.
With confidence gradually rising, the next step for Taiwan's authorities involves generating investment momentum.
Bake a Bigger Pie
"Taiwan's economy has been skating on thin ice in recent years. The biggest problem has been inadequate investment," said National Central University economics professor Yun-peng Chu at the CIER Economic Forum in December.
Chu argued that the several policies proposed by the government in 2012 centered on "redistributing" income without realizing that "not even the most gifted housewife can cook without rice."
"It's like baking an eight-inch cake. No matter how you cut it, it won't get any bigger," he said, arguing that the government should first consider how to turn the eight-inch cake into a 12-inch cake. "First making the pie bigger will make distribution issues easier to resolve," Chu said.
His colleague Hsu agreed. "Finding investment momentum is the key to Taiwan's economic recovery in 2013. Domestic investment has contracted for two straight years. It's about time for a rebound."
The aggressive push by the CEPD and Ministry of Economic Affairs to get offshore Taiwanese businesses to return home and invest in Taiwan, and a plan to establish "free economic demonstration zones" are considered by many to be the main trial balloons of the country's investment climate.
Two companies whose investment expansion plans were recently approved by the Economics Ministry and who have big operations in China – Catcher Technology Co. and optical lens maker Largan Precision Co. – are being seen as the bellwethers of the policy.
Catcher Technology, the world's biggest metal casing maker, will create 3,000 jobs with its new investment in Taiwan, of which 20 to 30 percent will be in research and development positions. But as one industry insider says, "This isn't returning to Taiwan (to invest) but rather a plant expansion," because Catcher Technology already had a factory in Taiwan.
The company says that if demand continues to rise and adequate land and manpower exist to deal with it, then adding 10,000 jobs would not be a problem.
"The key is to give more companies the chance to grow and make the pie bigger. Only then can value be created that can be shared by everybody," says James Wu, Catcher Technology's vice president of corporate finance.
Who Should Taiwan Welcome Back?
Government agencies have shown ambition in waving the investment banner. Fewer than three months elapsed from the time the policy was formulated to the first wave of investment approvals issued by the Economics Ministry, a level of efficiency rarely seen in government annals and an indication of the urgency felt by Taiwan's authorities.
Critics contend, however, that the campaign to bring offshore Taiwanese businesses home represents nothing more than a short-term approach, especially since it involves policies that lean too heavily in favor of the investing companies, such as allowing greater use of foreign workers and relaxing labor rules.
"The policy is geared toward driving up GDP numbers rather than working toward upgrading and reinventing companies," says one observer.
A plan by the CEPD and Economics Ministry to upgrade the operations of small and medium-sized enterprises reflects more strategic thinking, the observer says, but that approach remains overshadowed by the frenzied effort to get offshore Taiwanese businesses to invest at home.
Retired professor Peng Ming-hui, formerly of National Tsing Hua University, offers a blunt assessment of the government's campaign. Taiwan has no scarcity of high-end talent, he contends, and instead of accepting any given company that shows up, the government should actively recruit companies from around the world willing to offer attractive conditions to the top talent Taiwan can provide.
"If we go back in time to the labor-intensive model, I'm afraid that will leave companies even less willing to upgrade, and Taiwan's competitiveness will sink," worries Peng. He urged the government to consider the consequences of its policies as it tries to revitalize the economy.
Among big enterprises, Taiwan Semiconductor Manufacturing Co. (TSMC) is one of those planning to expand investment despite the world's economic doldrums. The company's spending on R&D hit a record US$1.37 billion in 2012, and it plans to increase that by 15 percent to US$1.6 billion in 2013.
"Even if the general environment is not that good, TSMC will still have encouraging results," said TSMC chairman Morris Chang at the company's annual Supply Chain Management Forum.
TSMC's approach coincides with Taiwan's efforts to reinvent and upgrade its industries.
"The amount invested can directly contribute to GDP growth, but the key is figuring out where to invest," says Xin-Wu Lin, the director of the Taiwan Institute of Economic Research's Research Division III, which specializes in trend research and long-term strategic planning. He explains that companies today that are robust and enjoy sustained growth, such as Asustek Computer Inc. and TSMC, have always invested a lot of money and time in talent cultivation, innovation and R&D.
"Everybody thinks that global marketing is synonymous with building a brand, but in fact investment and R&D are the keys to enhancing added value," Lin stresses.
Investing one or two years on research and development barely scratches the surface, he says. The commitment needs to be long-term to deliver results. "Companies willing to make the commitment are in the minority, which is why reinventing and upgrading one's operations is so difficult," Lin says.
Another key element of GDP growth is private consumption, which amounts to over 60 percent of Taiwan's GDP. Having grown an average of 4 percent in both 2010 and 2011, it took a step backwards in 2012. Liang Kuo-yuan, the president of the Yuanta Polaris Research Institute, anticipates that due to relatively high unemployment and stagnant wages, consumption should see only a moderately rebound in 2013.
Pension Reform to Drive Consumption
Aside from the generally weak economic environment, the debate over pension reform has also taken its toll on consumption. "As pension issues fester, people worry about their retirement years and tend to spend more conservatively, putting off or even deciding against big-ticket purchases," says Liu Meng-Chun, the director of CIER's Center for Economic Forecasting.
Many economists believe that if exports rebound, consumption will also regain momentum this year, with some expecting private consumption to grow 3 percent in 2013. But the pension debate still looms large. "If the government can show its determination to resolve the pension issue, it will be a big help in boosting consumer confidence," Liu says.
Exports, investment and consumption are all critical elements in revitalizing the economy. Many companies, however, have also voiced concerns over the slow pace at which Taiwan is liberalizing its economy. At a recent national business conference, Rock Hsu, chairman of the Taiwan-based Chinese National Federation of Industries, urged the government to take action at this critical juncture.
"If there is a lack of ambition or execution, our rivals will take our place," he warned, clearly anxious about Taiwan's inability to participate in the mushrooming number of bilateral and regional free trade pacts.
Hsu noted that a total of 338 free trade agreements have taken effect around the world to date, but Taiwan has only been a party to four of them, all signed with Central American allies, which account for only 0.13 percent of the country's total exports. Adding the items on the early harvest list in the Economic Cooperation Framework Agreement with China brings to 5 percent the ratio of Taiwan's trade covered by free trade deals, a far cry from South Korea's 35 percent.
Taiwan may not immediately feel the pinch of being excluded from bilateral or multilateral trade deals, but if the country continues to remain at a standstill on the issue, its export-oriented economy will quickly feel the pain of being marginalized.
Translated from the Chinese by Luke Sabatier