2012 Top 1000 CEO Survey
A Glimmer amid the Gloom
精華簡文
Source:CW
CommonWealth Magazine uncovers five major trends in Taiwanese business. Which opportunities and challenges do Taiwanese companies face in 2013?
A Glimmer amid the Gloom
By Elaine Huang
From CommonWealth Magazine (vol. 513 )


Throughout this year the global economy remained sluggish. But as the economy is expected to bottom out in 2013, Taiwan's top CEOs see some rays of hope on the horizon.

While 72 percent of CEOs are still pessimistic about the global economy, the share of optimists has risen 13 percentage points from last year to almost 28 percent. (Table 1)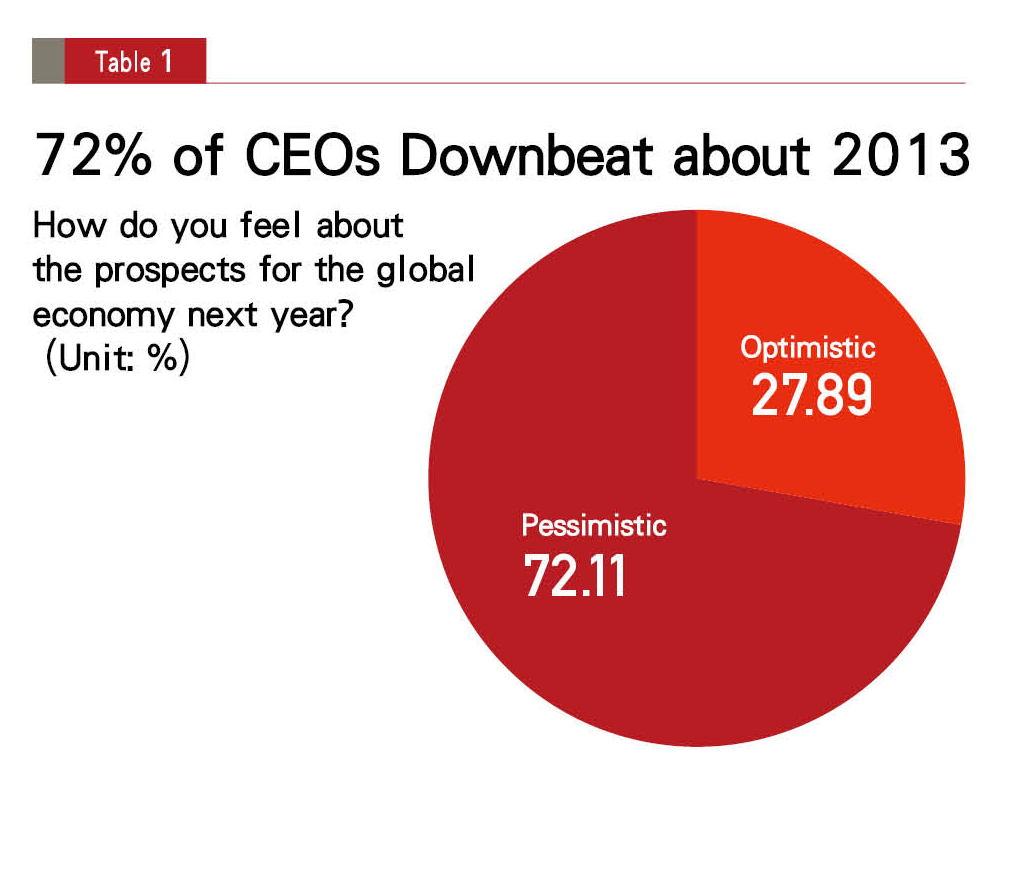 The high-tech industry, in particular, keeps a close watch on economic trends. Attending an event hosted by the Taipei Computer Association in mid-December, Acer Chairman J.T. Wang stated that the overall global economy has been marred by great uncertainty in the past two years, but the negative effect of these economic doldrums on the market will decline over time.
"The situation can't get any worse than it is now," Wang contended, expressing confidence that the economy has bottomed out. "Economic recovery can be expected in 2013."
Trend 1: Bearish about Growth
The Directorate General for Budget, Accounting and Statistics (DGBAS) has forecast 3.09 percent economic growth for 2013. But the survey found that 84 percent of CEOs predict an even lower growth rate. As many as 41 percent of respondents expect the economy to grow at a pace of less than 2 percent. (Table 2)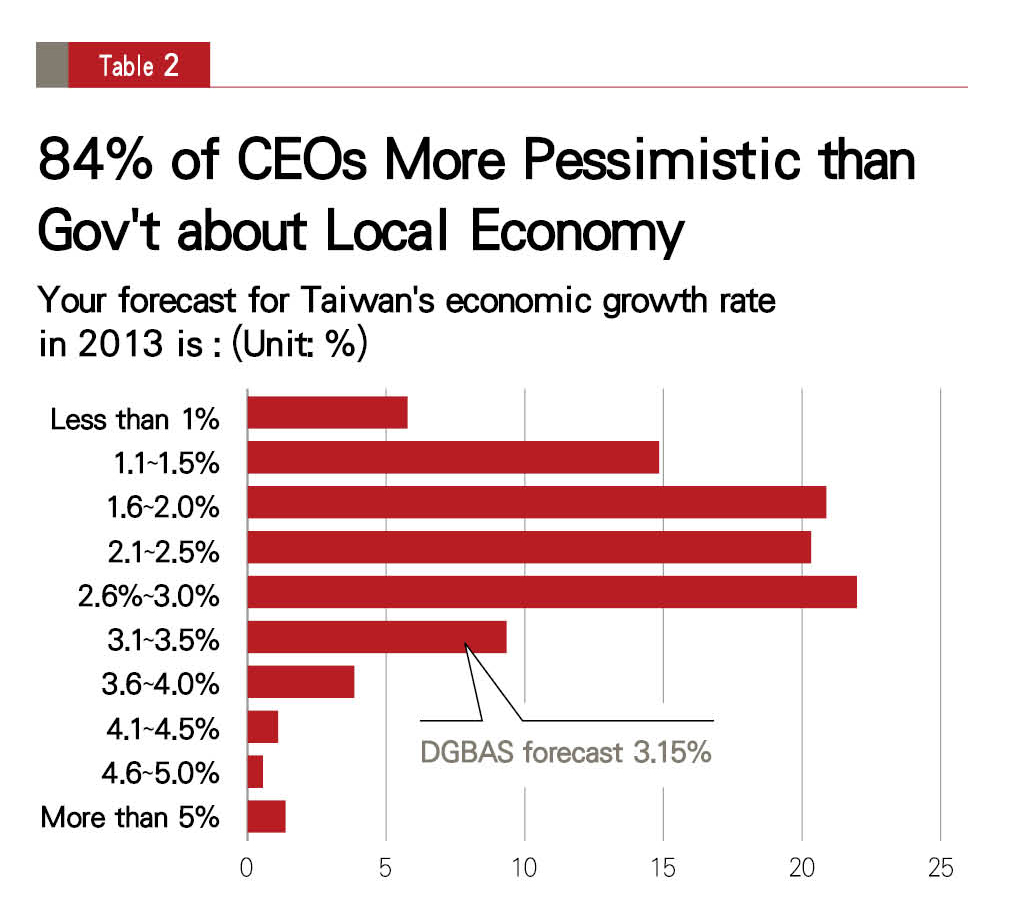 Since Taiwan is a "shallow-dish economy," exports and foreign trade are its major growth drivers. As a result, the economic situation of Taiwan's major trade partners and export markets – Europe, the United States and China – greatly impacts the domestic economy.
It should not come as a surprise that the CEOs' most feared "external challenge" is "weak demand from stagnant U.S./European economies," followed by "slowing economic growth in China." (Table 3)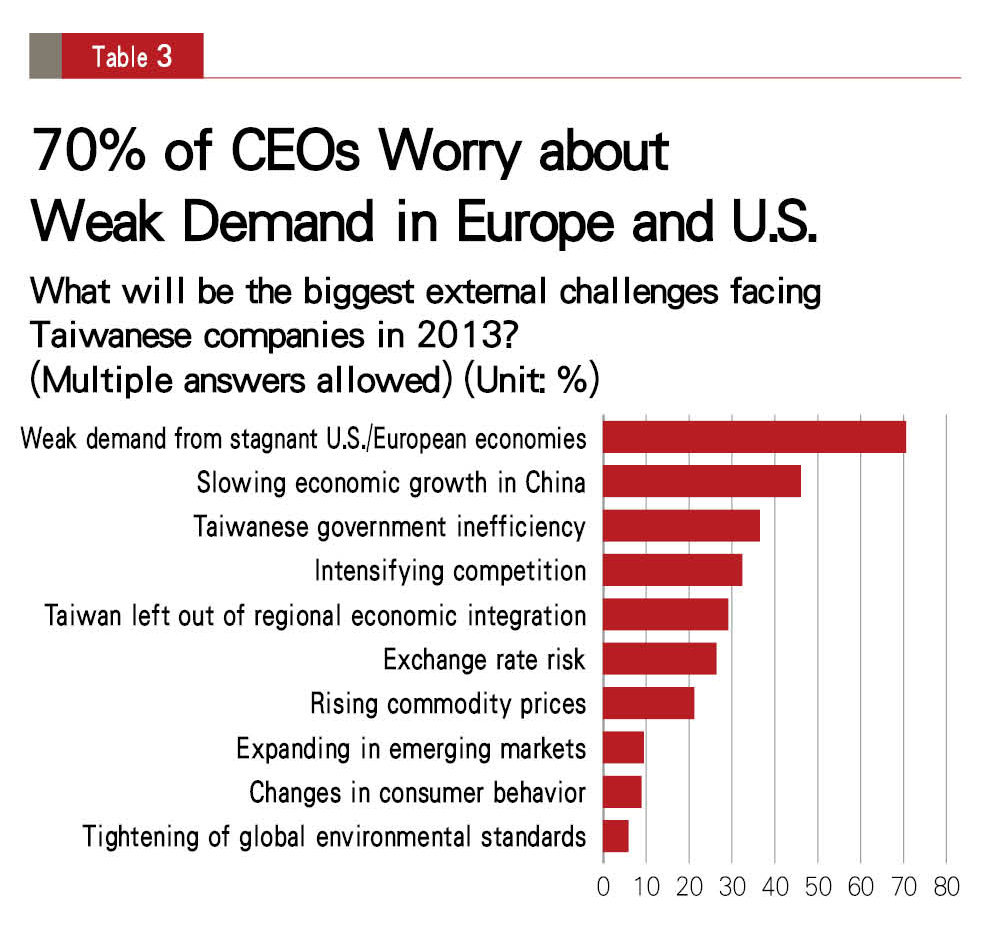 It deserves attention that the share of CEOs who regard the performance of the Taiwanese government as an external challenge has soared from 20 percent in last year's survey to 36 percent this year. Obviously, the government has failed to fill its role as helmsman or coordinator.
In last year's survey CEOs' most dreaded "internal challenge" was "intensifying competition." But for 2013 more than half of all respondents predicted their biggest internal challenge would be "no new growth drivers." (Table 4)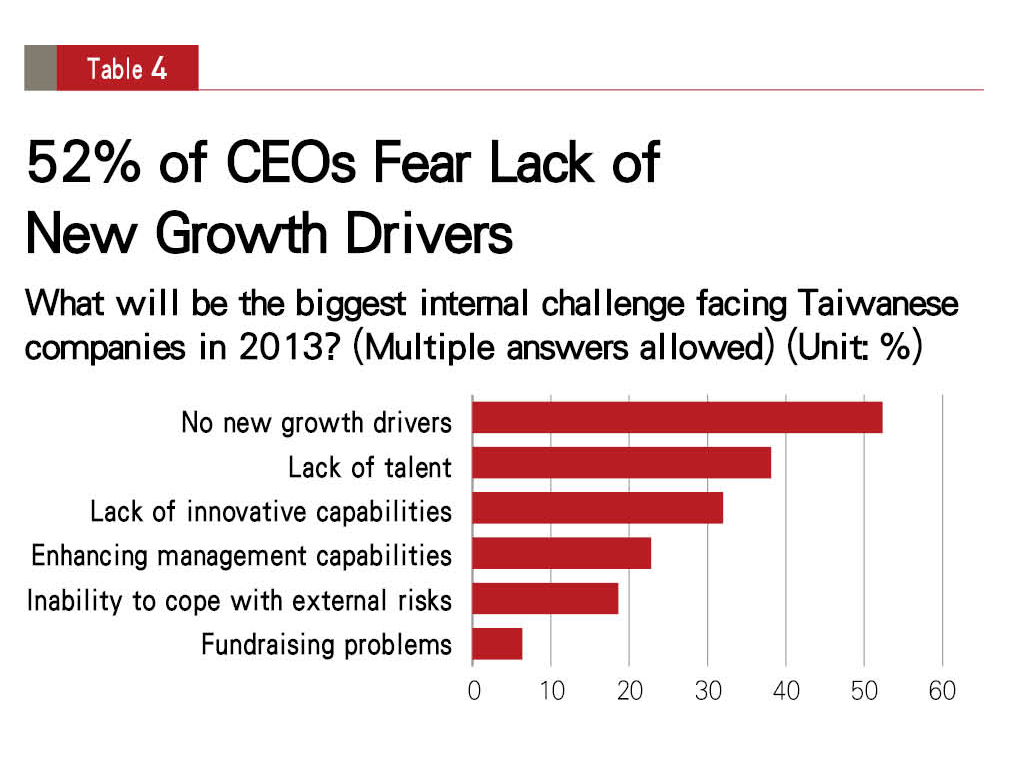 The survey results regarding internal and external challenges both reflect that in times of low growth, what corporate leaders care about most is building growth momentum.
Trend 2: 2012 Grim, 2013 Rosier
More than 35 percent of Taiwan's CEOs believe their companies will end the year 2012 with shrinking revenue and profits (Table 5). But for 2013 less than 10 percent of CEOs expect negative revenue and profit growth, while almost half of the respondents foresee revenue and profits growing at less than 5 percent. (Table 6)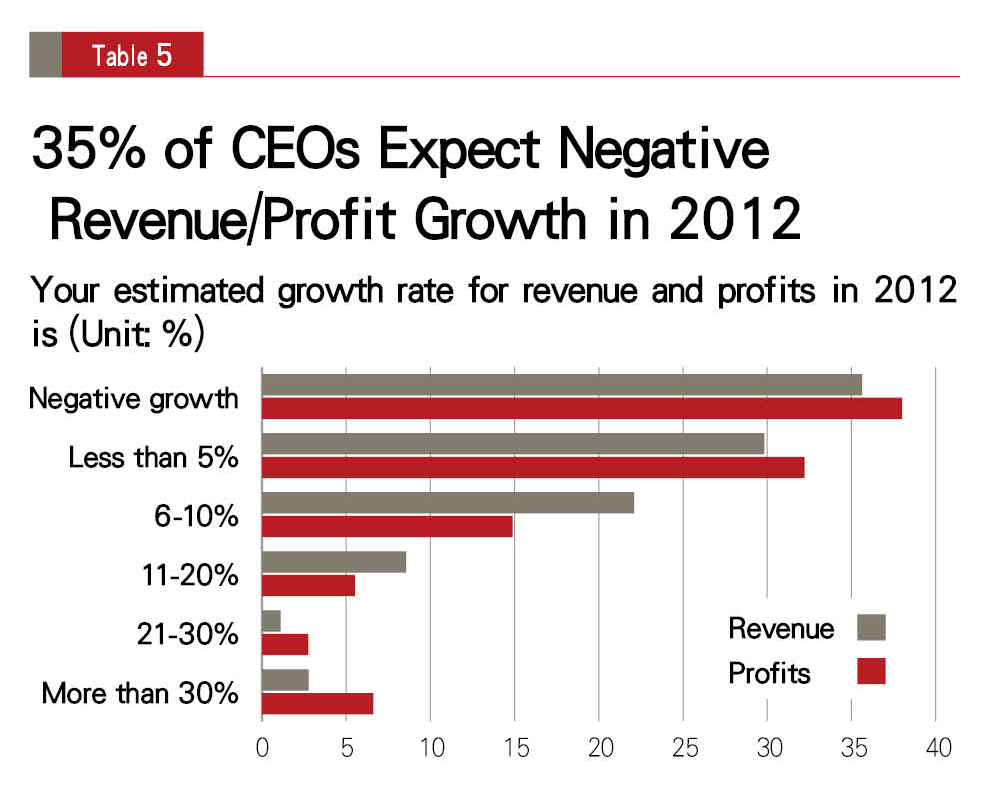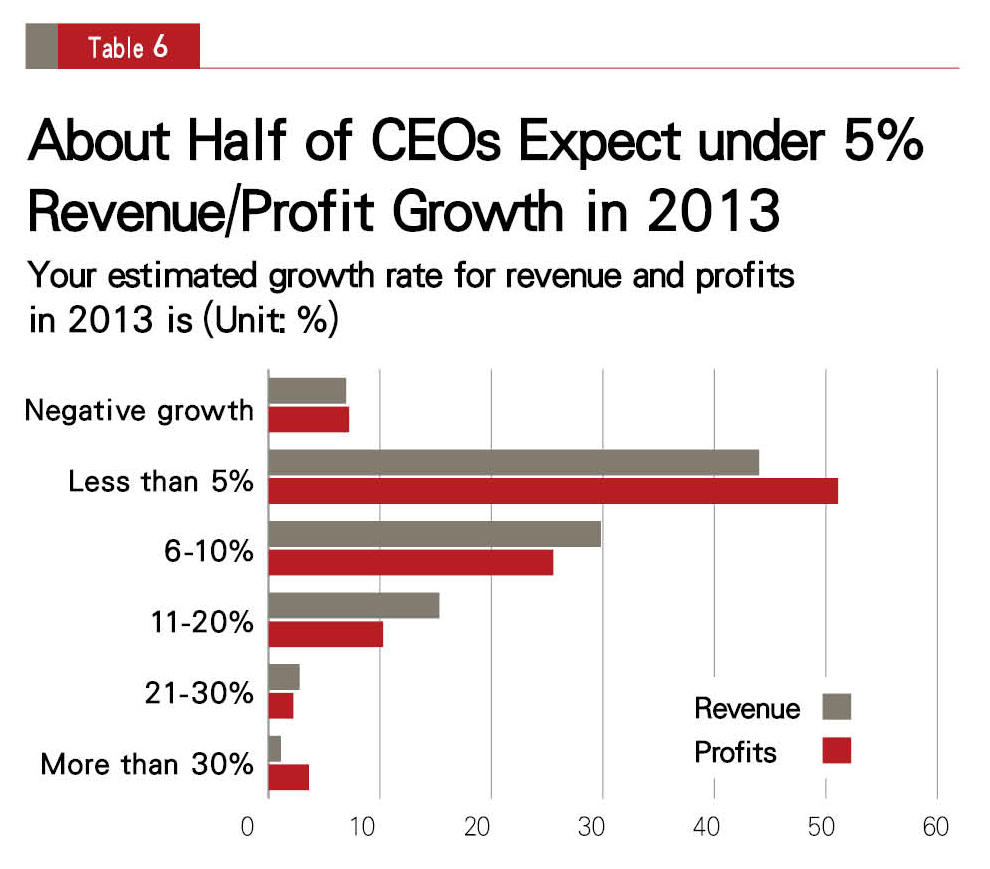 Companies Ready to Hire, Raise Wages
With prospects of economic recovery emerging, companies are becoming more inclined to hire more employees and grant pay raises. The survey found that, seeing light at the end of the tunnel, more than 50 percent of CEOs plan to increase average employee salaries (Table 7). About 44 percent will hire additional staff in Taiwan (Table 8). On top of that, some 90 percent of respondents are not contemplating furloughing workers. (Table 9)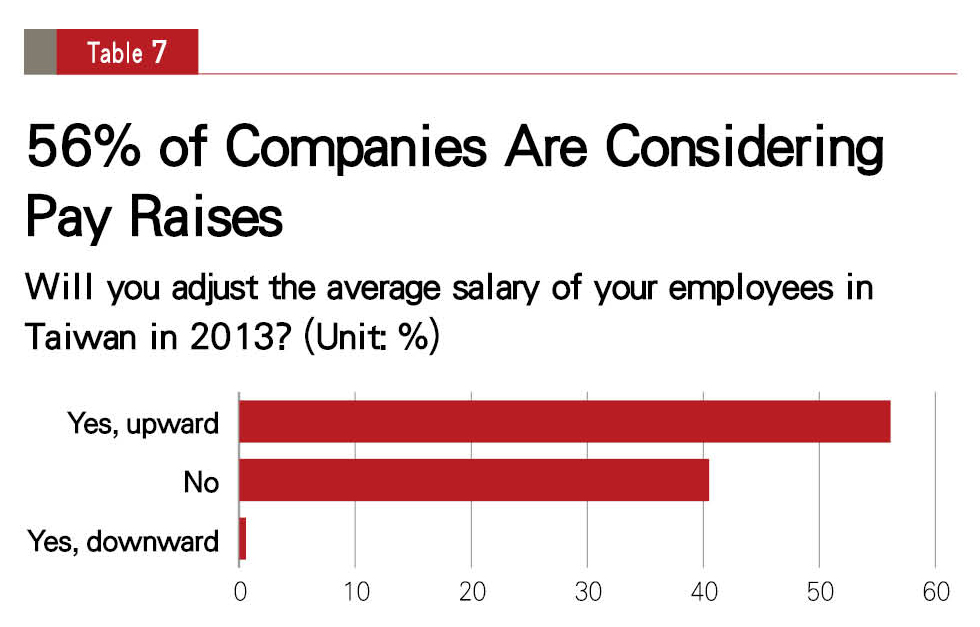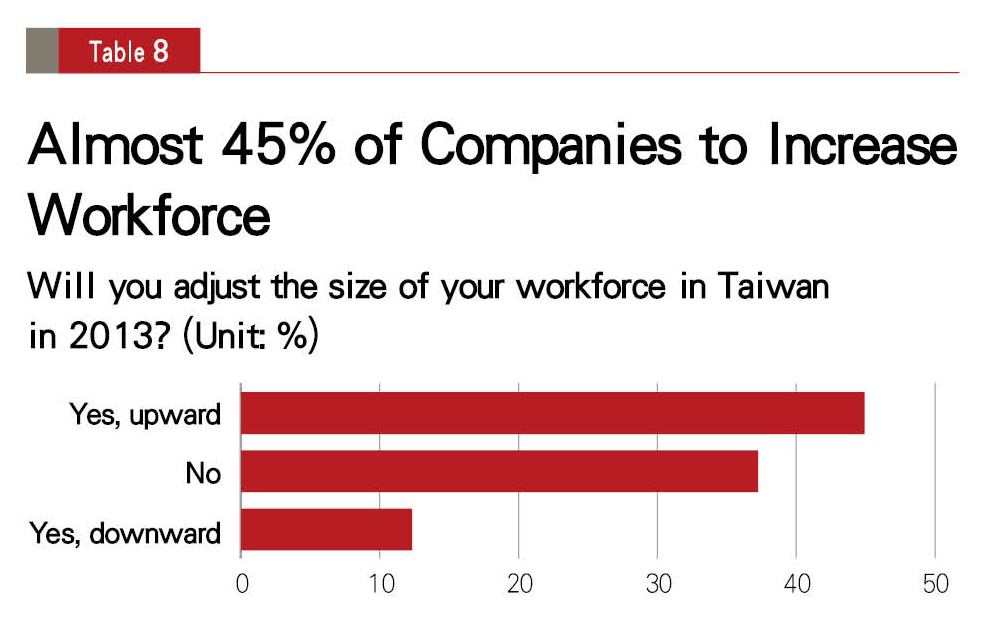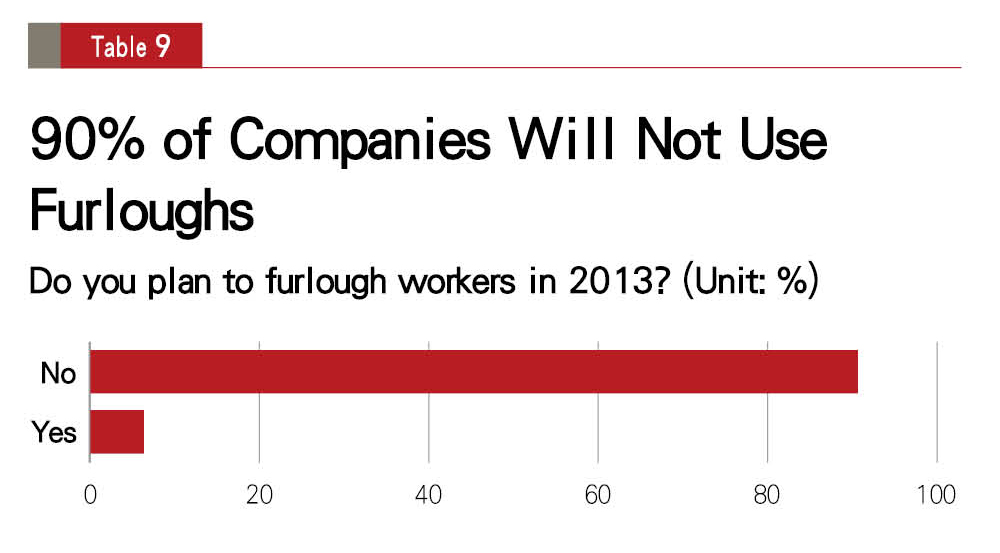 Catcher Technology Co. Ltd., a major Apple supplier, which makes metal casings for computers and mobile phones, serves as an important indicator. Catcher Technology Chairman Allen Horng recently announced that the company will hire an additional 3,000 employees for its operations in Taiwan. Taiwanese electronics company Asustek Computer Inc. (ASUS) announced in December that it will launch its largest recruitment drive in company history, hiring 700 new employees.
Trend 3: Asia Hottest Investment Region, ASEAN Closes In on China
Which markets are Taiwanese CEOs eyeing in 2013? As the economic outlook of Europe and the United States remain shrouded in fog, as many as 58 percent of CEOs expect to launch new investment projects or expand existing operations in Asia. (Table 10)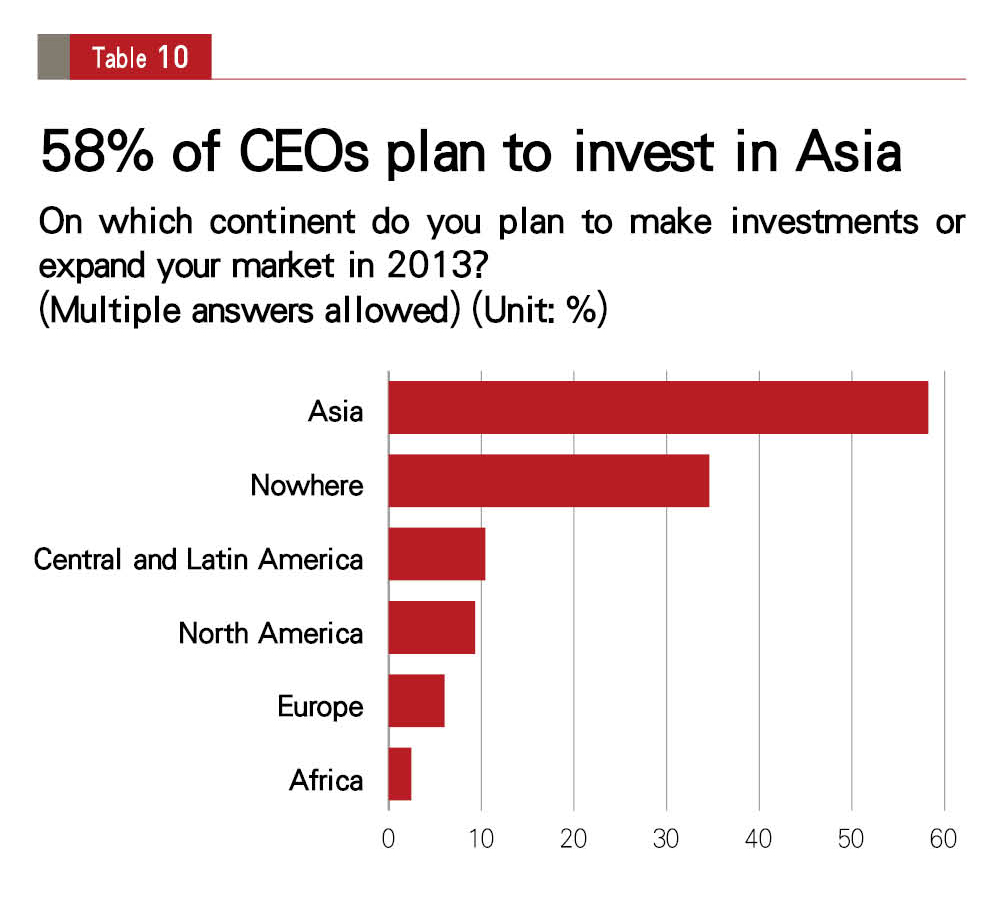 China, Indonesia and Vietnam have emerged as the three most favored investment destinations. The CEOs cited "domestic demand" and "wages" as the two top reasons that lured them to invest in the markets mentioned above. (Table 11-2)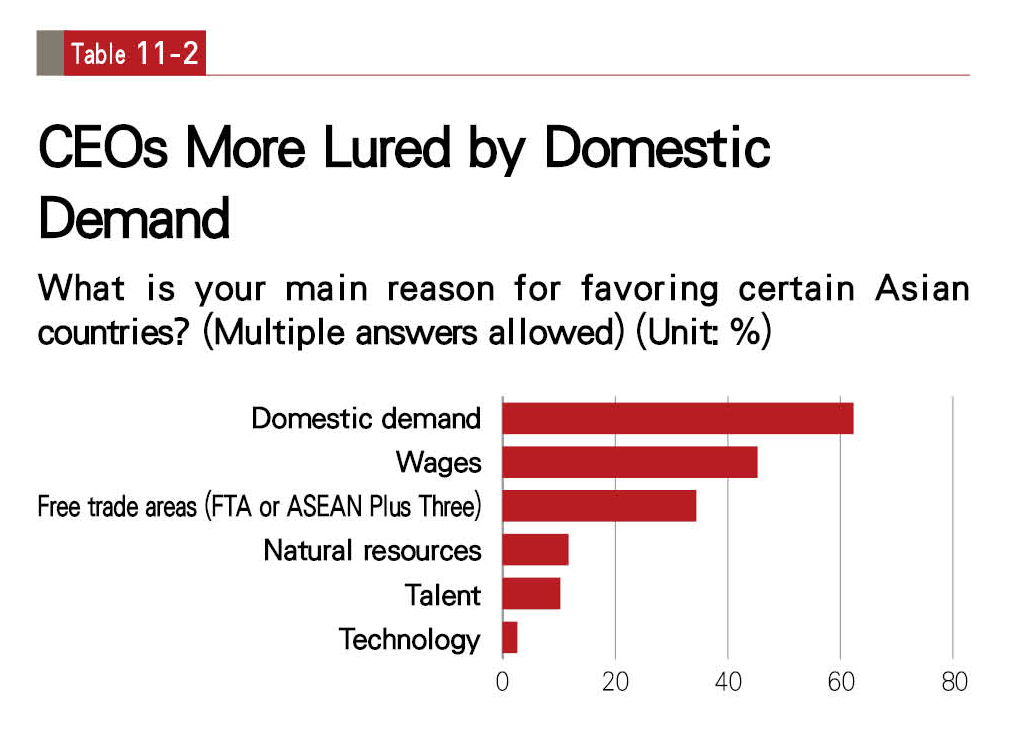 ASEAN Market New Investment Focus
ID Softcapital Group Chairman Stan Shih, a veteran promoter of Taiwanese brands, believes that the emerging markets of the Association of Southeast Asian Nations (ASEAN) are the best playing field for Taiwanese service companies looking to go global.
"How can the service industry become more international or the manufacturing industry shift to services? It's through branded services, by expanding them into the Asian emerging markets. That's an opportunity that Taiwanese businesses must take seriously," urges Shih.
For quite a number of years, China remained the unchallenged favorite investment destination of Taiwanese CEOs. But interestingly, in the latest survey China, Indonesia and Vietnam emerged as equally attractive investment locations, with each country getting the thumbs up from about one third of survey respondents.
The results indicate that China has fallen in prominence as a recipient of Taiwanese investment, while the ASEAN countries are rising correspondingly.
Among the Asian emerging markets, Thailand has long been the destination of choice for Japanese and South Korean manufacturers. But now Burma has outrivaled Thailand in terms of popularity among Taiwan's CEOs and is rapidly closing in on BRICS country India. (Table 11-1)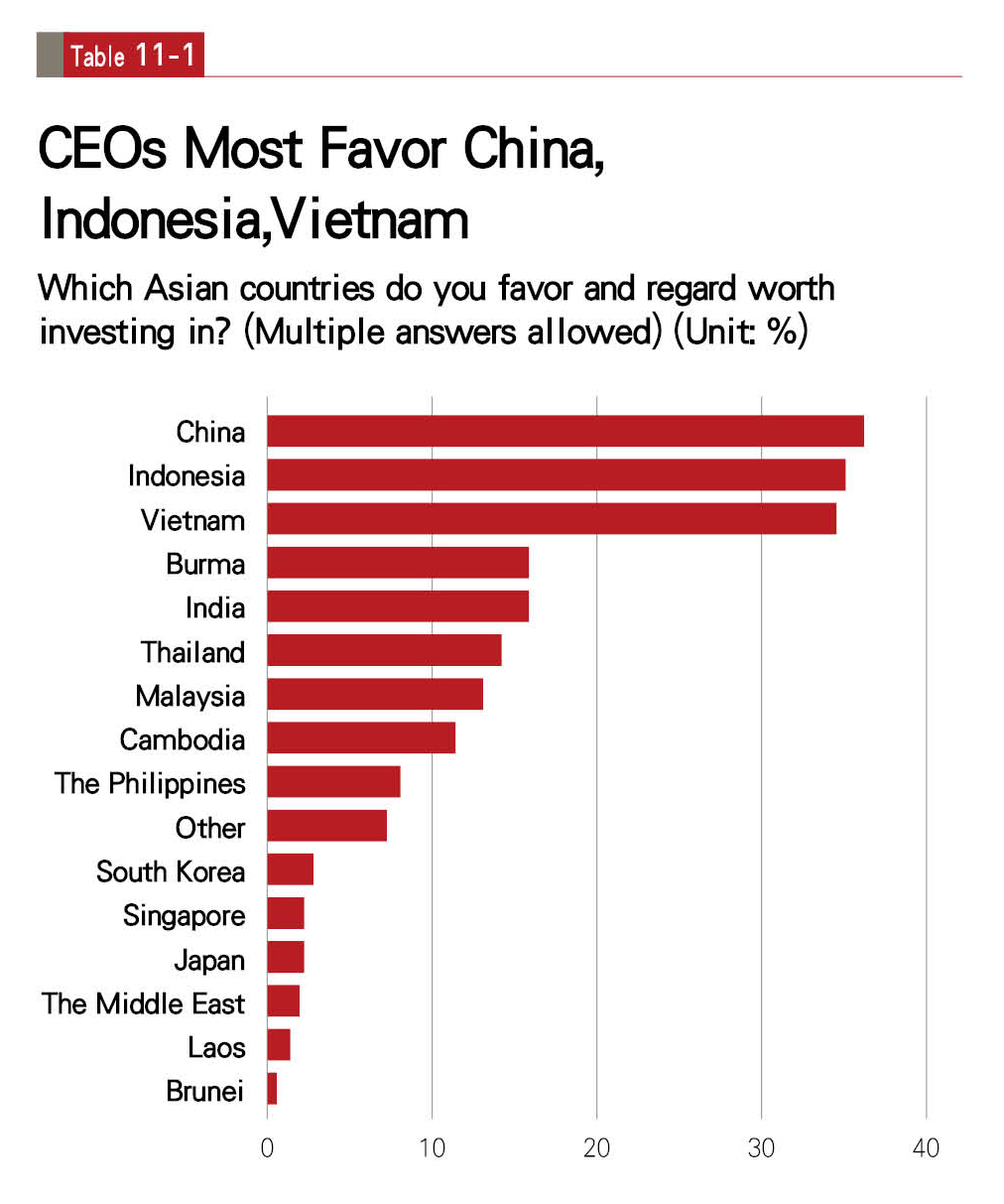 Trend 4: China Market Tougher after 18th Party Congress
It seems that ASEAN is in, while China is out on Taiwanese investors' wish list. The main reason behind this trend is that doing business in China is getting tougher. The survey found that as many as 60 percent of CEOs regard China's investment environment as unfavorable, the highest percentage in three years. (Table 12)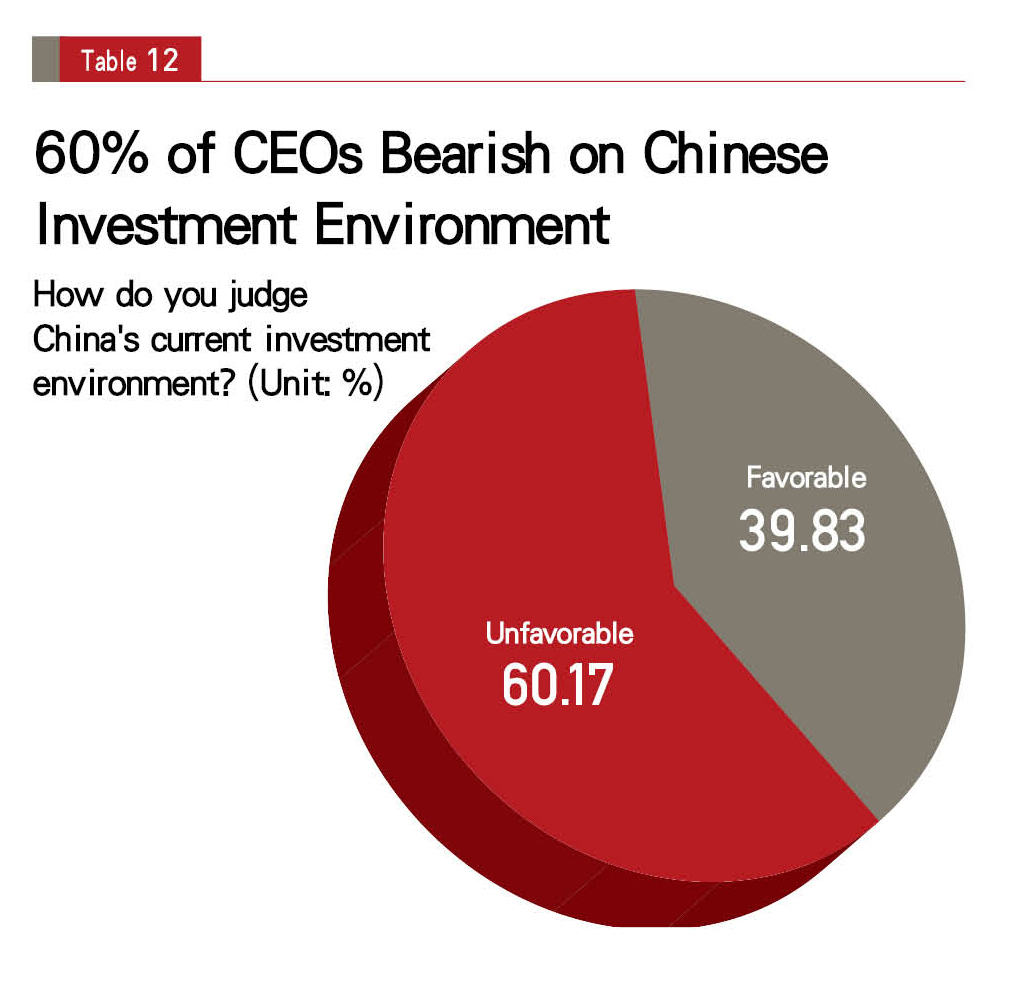 The CEOs believe that in the wake of the Chinese Communist Party's 18th party congress China's investment environment faces the most severe challenges from "rising labor costs" and "industrial restructuring and upgrading." (Table 13)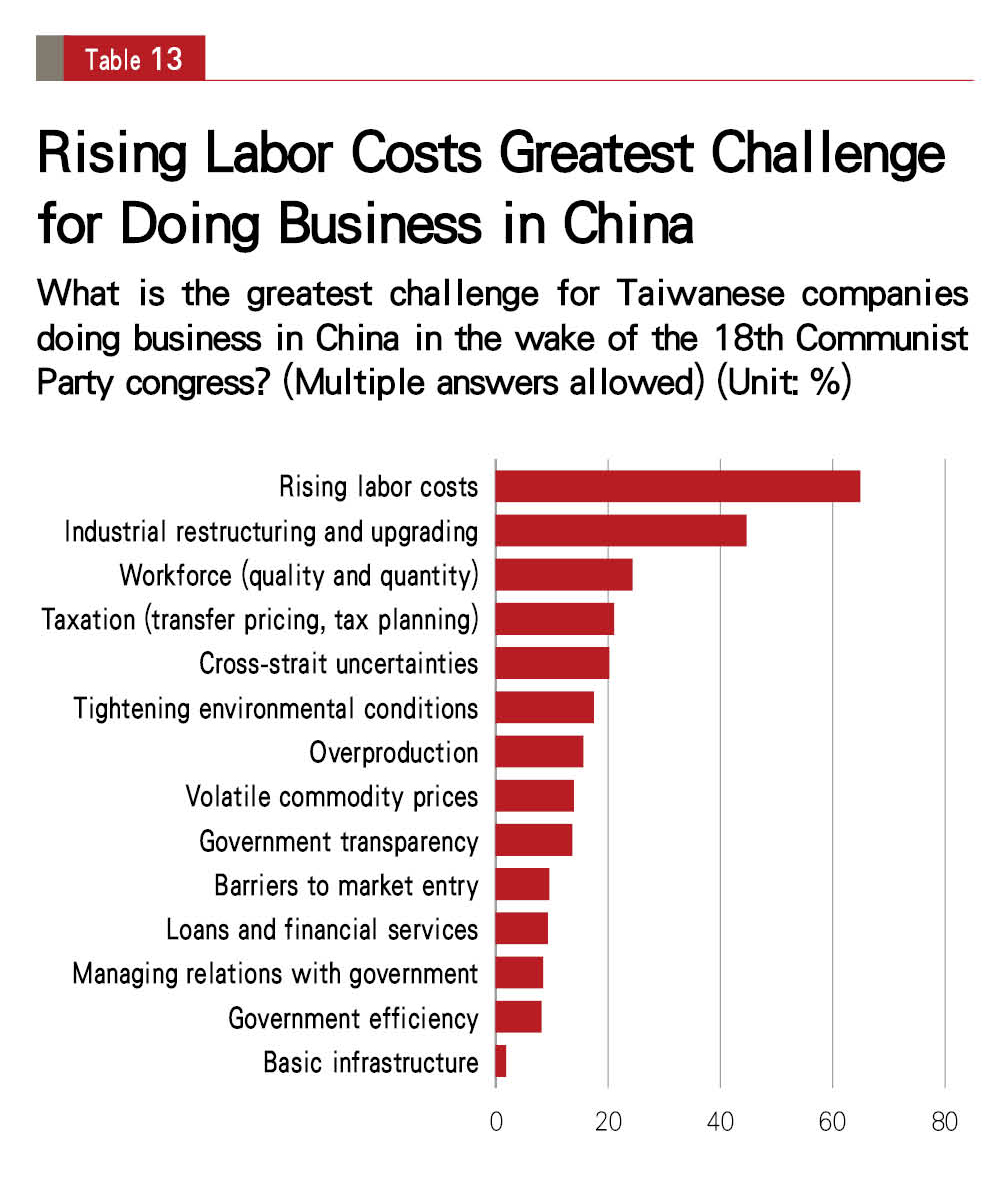 Trend 5: Taiwan's Business Environment Unfavorable
While doing business in China is no mean feat, CEOs don't consider Taiwan any easier.
While camera lens maker Largan Precision Co. Ltd., Catcher Technology and several others have announced with much fanfare that they will increase their investments in Taiwan, this cannot hide the fact that most CEOs are not happy with the domestic investment environment. Seventy percent of company leaders surveyed regard Taiwan's investment environment as unfavorable. This figure is not only higher than the corresponding percentage for China, it is also a three-year high. (Table 14)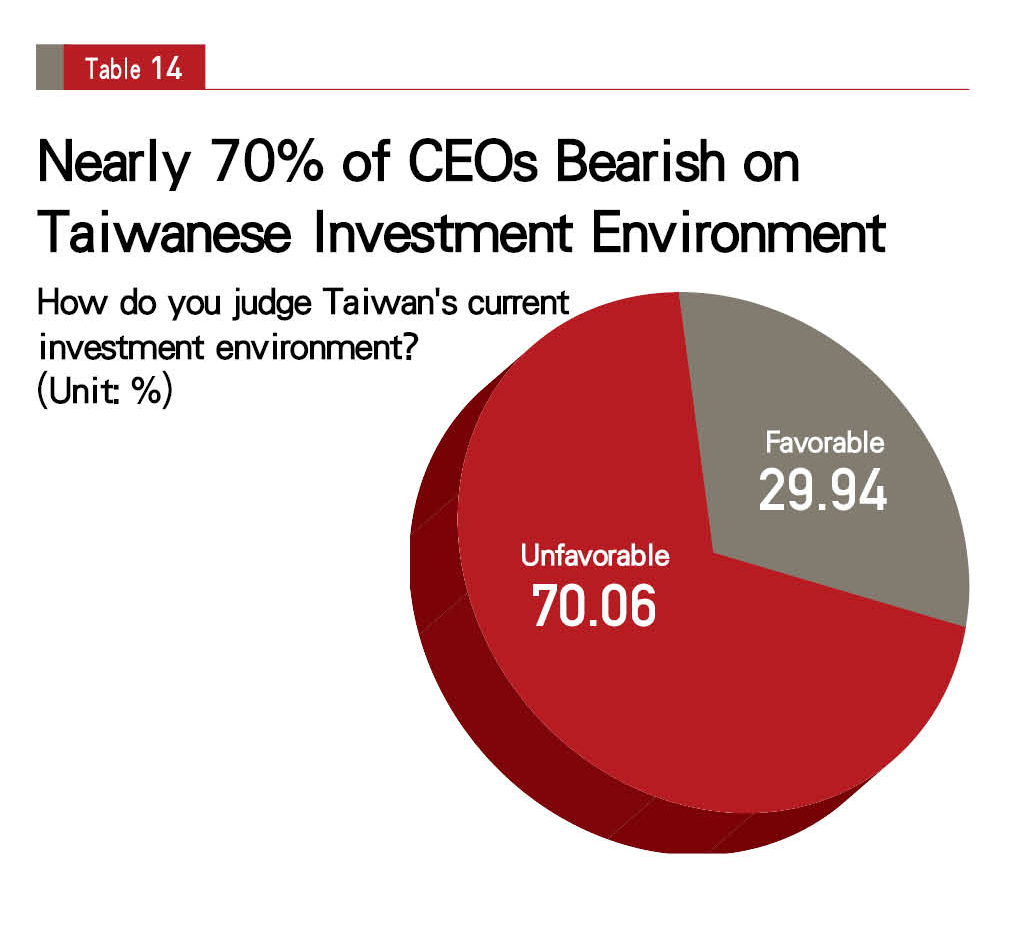 "The investment environment in Taiwan is truly tougher, particularly for the labor-intensive conventional industries," remarks Frank Chou, chief executive officer of fashion apparel contract manufacturer Makalot Industrial Co. Ltd.
Restructuring and Upgrading Most Urgent
At the government-sponsored National Conference on Industrial Development earlier this month, Stan Shih frankly told the audience that, given the island's limited resources, the return of Taiwanese investors from China could actually drag down the Taiwanese economy should the returnees fail to create sufficient value.
Shih's warning underscored the urgency of industrial transformation.
The survey found that the CEOs believe that "industrial restructuring and upgrading" is the biggest challenge facing the Taiwanese business community. It is quite discomforting that "government efficiency" comes right next on the list of challenging factors, listed by 53 percent of CEOs (Table 15). In contrast, just 8 percent consider the Chinese government's administrative inefficiency as a challenge.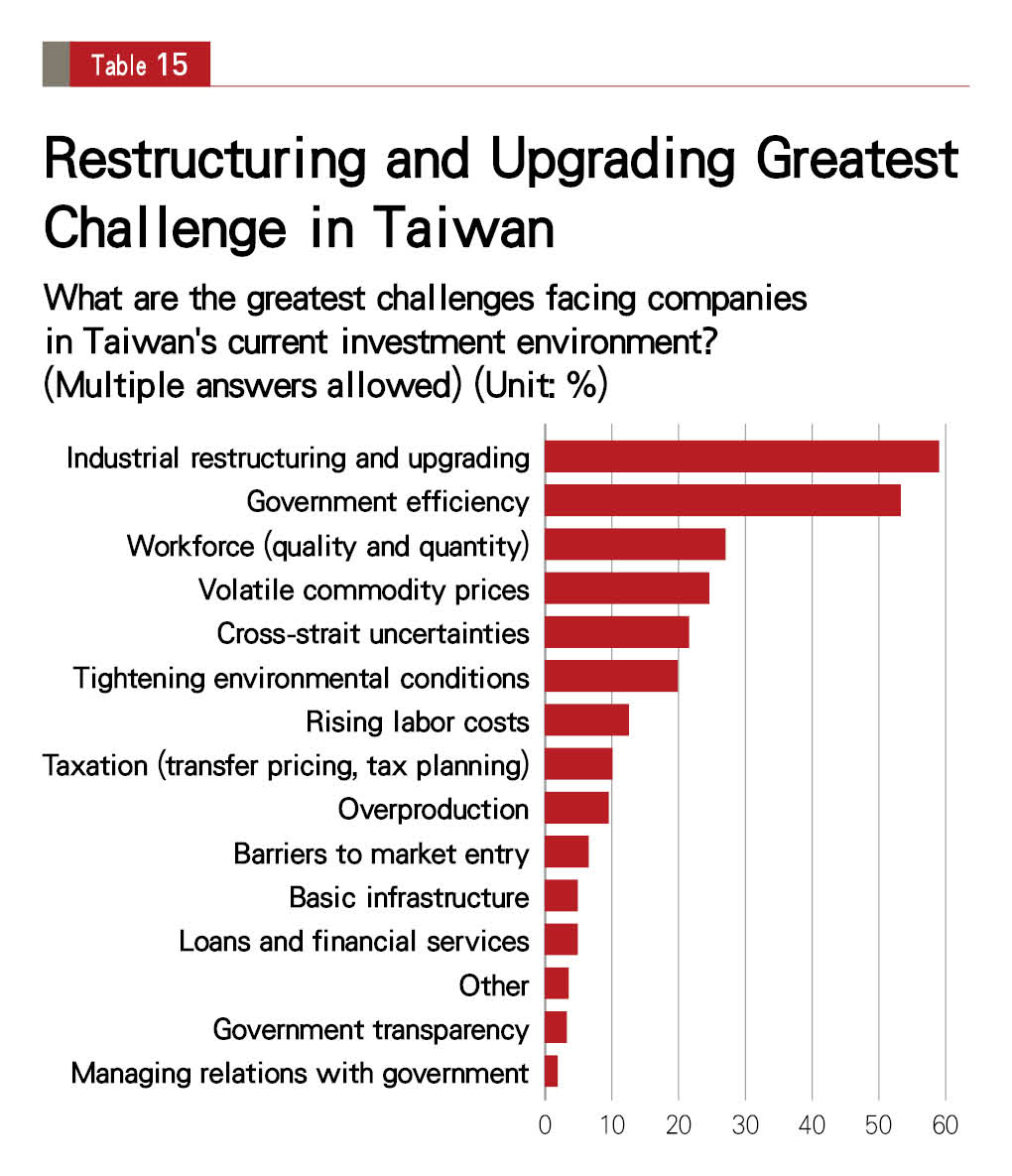 A look at the projected amounts of investments reveals that these grievances affect corporate leaders' willingness to invest in Taiwan.
The ratio of CEOs that do not plan to invest at all next year stands at a three-year high of 25 percent and is higher than for any other possible answer to this question. Moreover, the share of companies planning to invest more than NT$10 billion has dropped to a three-year low. Such large-scale investments are mainly concentrated in the life insurance, construction and telecom industries. (Table 16)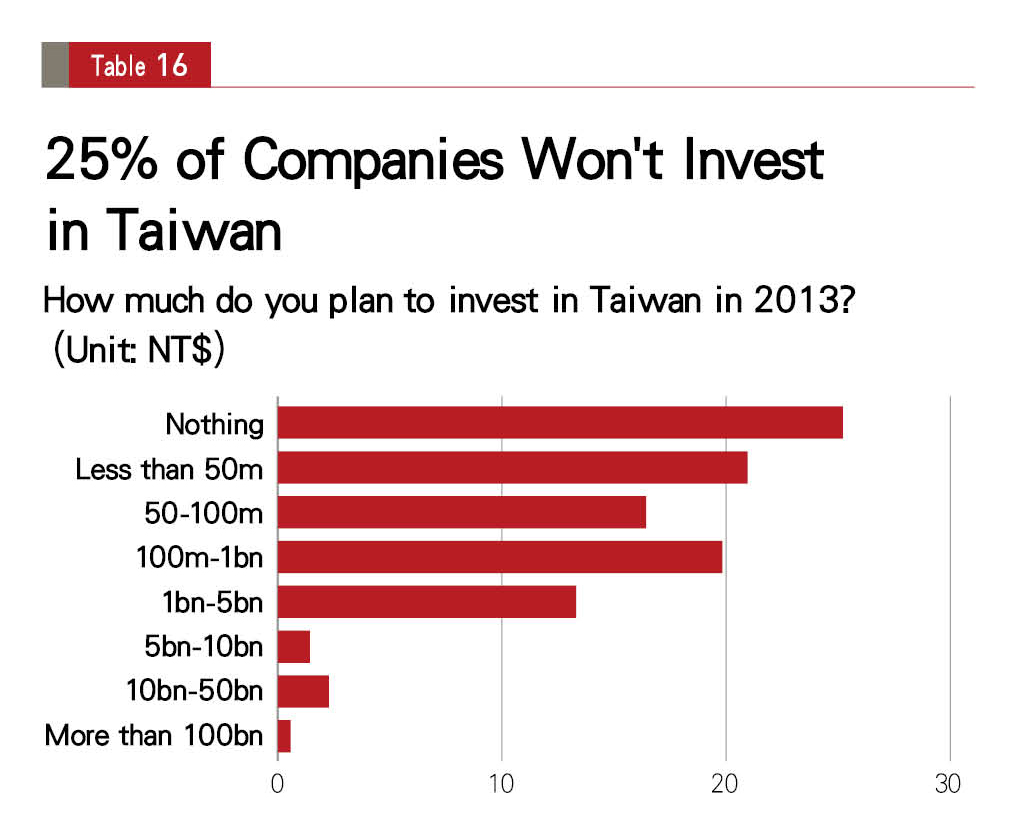 Clearly, Taiwan urgently needs to improve its investment environment and boost administrative efficiency to create investment incentives.
What Taiwan needs in the future is not labor-intensive industries, but knowledge-intensive, innovation-driven businesses.
The CEOs also cite "work force quality and quantity" as a challenge they face in Taiwan (Table 15). Presently, Taiwanese enterprises across the high-tech sector, from displays, LEDs and semiconductors to IC design houses, watch helplessly as Chinese competitors poach their employees away.
Corporate leaders are concerned they won't have enough qualified personnel to keep their companies growing. "The talent that Taiwan cultivated in the past is gradually nearing retirement age, but we are unable to replace them from the younger ranks," confesses Eric Chuo, chairman of linear guideway maker Hiwin Technologies Corp. Chuo is convinced that companies need to cooperate with academia to train the kind of talent that industry will need in the future, or else they won't be able to bolster their competitiveness and innovative capacity.
Translated from the Chinese by Susanne Ganz
---
About the Survey
The CommonWealth Magazine 2012 Top 1000 CEO Survey is based on questionnaires distributed to the CEOs of CommonWealth Magazine's top 1000 manufacturers, top 500 service companies, top 100 financial service providers and 15 financial holding companies.
A total of 1,179 questionnaires were sent out and 367 valid returns were collected, a return rate of 31.13 percent. The survey was conducted by the CommonWealth Magazine Survey Center from Nov. 16 to Dec. 17, 2012.