TPV Technology's Jason Hsuan
The Taiwanese Xi Jinping Knows Best
精華簡文
Source:CW
CEO Jason Hsuan has built TPV Technology into the world's fourth-biggest LCD TV maker, keeping profitability up in a highly competitive mature market. How has he done it?
The Taiwanese Xi Jinping Knows Best
By Elaine Huang
From CommonWealth Magazine (vol. 512 )


The name Jason Hsuan may not resonate with most people, but it certainly rings a familiar bell with China's new leader, Xi Jinping.

Hsuan, the chairman and CEO of TPV Technology Ltd., heads the world's biggest computer monitor maker. Of every three computer monitors manufactured around the globe, one comes from Hsuan's company.

In 1989 at the age of 46, Hsuan went to Fuqing in Fujian Province to build a factory. Fuqing at the time was a desolate wilderness, devoid of any industrial clusters. His counterpart in sealing the factory deal was the 36-year-old Communist Party secretary of Fuzhou, Xi Jinping.

At its Fuqing base, TPV has grown from a small OEM factory shipping 1 million monitors a year into an industry goliath delivering more than 80 million units a year, and it has emerged as one of the region's biggest sources of tax revenue. Attracting the company to Fujian remains one of Xi's major achievements during his 17 years as a key party and government figure in Fujian.

After Xi was anointed as China's supreme leader at the Communist Party's 18th National Congress in mid-November, the media immediately called Hsuan "the Taiwanese businessman Xi Jinping knows best," a description the low-key executive was not eager to embrace.

"Managing the company and my relationship with China's national leader are two different things," Hsuan says, adopting the cautious tone of a corporate executive.

Though the outside world has latched onto the executive's political connection, Hsuan in fact is fully immersed in his company, still actively leading TPV at the age of 69.

In April, Hsuan concluded a deal in which Royal Philips Electronics transferred its television business into a joint venture with TPV called TP Vision. With a 70-percent stake in the new company, TPV gained possession of the Philips TV brand, just as it acquired Philips' flat TV screen and computer monitor operations in 2006.
Outpacing Hon Hai in LCD TV Production
"I am pleased that we have now signed the television joint venture agreement with TPV. This agreement is important for both Philips and TPV and provides clarity to our customers, trade partners and employees," said Philips CEO Frans van Houten when the deal was clinched.
Philips cut the deal to focus on its health care, consumer lifestyle and lighting businesses, but van Houten also wanted to be sure that the 3,000 people employed in the TV division would be entrusted to a competitive company.
TPV already owned the television brands AOC and Envision, and after the Philips acquisition, "its product line is now complete, with products at the high, medium and low ends. Its brand strategy is more comprehensive than before," said David Hsieh, vice president of the Greater China market at market research firm DisplaySearch.
In addition to being the global monitor leader, TPV became the world's fourth-biggest flat TV producer in 2012, ranking well ahead of 10th-place Hon Hai Precision Industry Co., the world's leading contract electronics manufacturer.
This ascension into the TV elite through the partnership with Philips was anything but easy.
Haughty employees at the venerable Dutch electronics company were highly skeptical as to whether this joint venture with a company from Taiwan could turn around a television division that was bleeding 300 million euros (NT$11.5 billion) a year. They had plenty of questions for Hsuan, their new boss.
"What kind of change can you bring?" they wanted to know. "You have to tell us what you want to change."
Hsuan refused to engage in a verbal battle, instead asking them to study the results of the partnership between TPV and Philips' monitor division. Following that merger, the division increased shipments from 3 million to 10 million units a year and started turning a consistent profit.
"Let's do that again," Hsuan said in trying to encourage the LCD TV division's employees. His hope was to bring the speed, flexibility and culture of a Taiwanese enterprise to the operation and help it become profitable within one or two years.
A closer look at the shareholder structure of TPV, which is listed in Hong Kong, reveals that Hsuan only has a 2-percent stake in the company. The biggest shareholder, with holdings of over 30 percent, is state-run Chinese corporation China Electronics Corp. Other major shareholders include Japan's Mitsui & Co., Philips, Beijing-based display maker BOE Technology Group Co., and Taiwan-based Chimei Corporation.
But from TPV's early years when its major shareholders were BOE and Indonesian businessman Djuhar Sutanto (head of Lin's Group), to more recent years when China Electronics has amassed the biggest stake, Hsuan has consistently earned the confidence of these big investors and remained the company's top executive. (Table)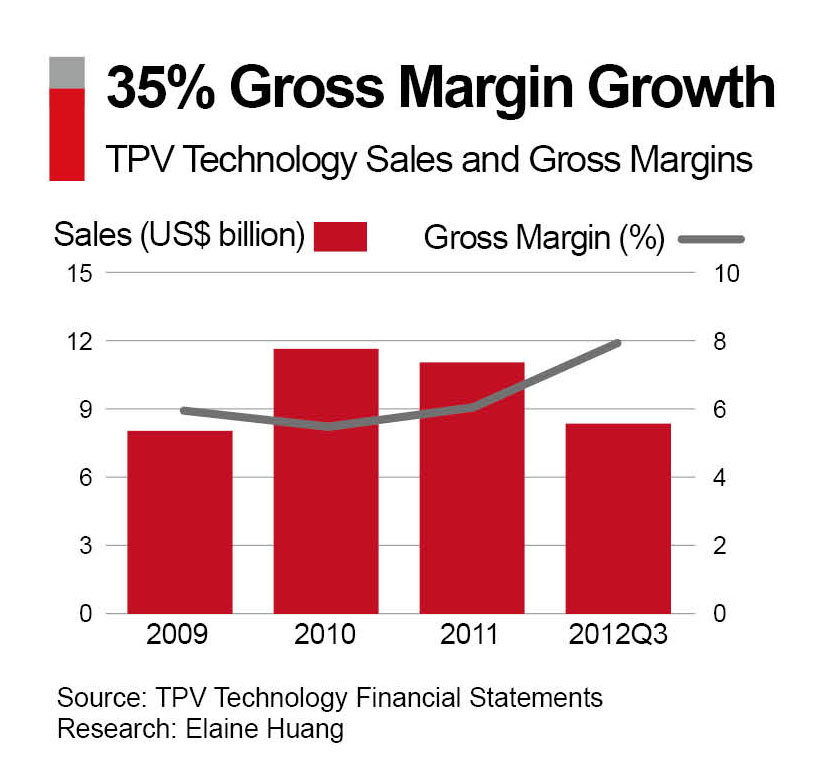 Keeping Shareholders Happy
"To be able to rely on his own strength as a professional manager, rather than the strength of a conglomerate, and to balance stakeholder interests in a fiercely competitive industry requires strong communication and coordination skills," observes C.Y. Huang, the chairman of the Taiwan M&A and Private Equity Council.
In Hsuan's office stands an orchestra conductor's rostrum, emblematic of how the TPV CEO perceives his duties. He often stands on the rostrum and reads through documents on it.
"My role is like that of an orchestra conductor, getting them to act harmoniously and ensure the company's sustainable operations," Hsuan says of his company's complicated shareholder structure, composed of Chinese, Japanese, Dutch and Taiwanese interests.
"TPV is not a family company. Management thinks 20 to 30 years into the future, and the only factor considered in choosing a shareholder is whether that party will be good for the company's development," he says.
"(His challenge is) how to use limited resources to achieve the greatest strategic leverage and build the biggest possible niche. The role he (Hsuan) plays is that of a 'resource integrator,'" Huang says.
It cannot be denied, however, that from BOE early on to China Electronics more recently, TPV's biggest shareholders have been Chinese corporations, and outside observers worry that the company might one day be "gobbled up" by Chinese investors.
"Pressure is also motivation, but you do have to think ahead a little and consider what it (China Electronics) will ask of you," says Hsuan in response to the concerns, noting that the company's commitment to Taiwan remains strong. TPV has never reduced the ratio of investment and R&D from Taiwan, Hsuan says, and its headquarters in the Taipei Far Eastern Telecom Park still employs 2,000 people.
Familiar with Communist China's Thinking
Hsuan's special life experience, growing up in China under a communist regime until he was 18 years old, has given him insight into how the other side thinks that few Taiwanese businessman possess, enabling him to assess and balance the demands of Chinese shareholders.
Hsuan's life is the stuff of legend. He was left behind with his grandmother in China when his parents, both Kuomintang cadres, fled to Taiwan at the end of China's Civil War to take refuge there. Because of his parents' background, he grew up in Red China burdened by the stigma of being labeled as a member of one of the "five black categories" (referring to landlords, rich peasants, counterrevolutionaries, criminals and rightists). He was sent to a labor camp at the age of 15 and toiled there before being released three years later because of illness and deported to Taiwan to be with his family.
After arriving in Taiwan, he attended the Affiliated Senior High School of National Taiwan Normal University and then got into the Department of Electrical Engineering at National Cheng Kung University, from which he graduated. He later went to the United States to further his studies and worked for General Electric Co. there before returning to Taiwan, where he helped manage Pepsi-Cola's Taiwanese operations. He later ended up in the television manufacturing business as AOC International Ltd.'s president.
When AOC decided to close its cathode ray tube plant in 1989, Hsuan decided to reinvent the manufacturing operation as a monitor manufacturer with the financial backing of Djuhar Sutanto. He visited Fuqing the same year to build a new factory to support his vision and formally named the company TPV Technology in 1991.
Jack J.T. Huang, a partner at the Taipei office of law firm Jones Day and a longtime friend of Hsuan, says that most Taiwanese businesses in China deal only indirectly with Chinese companies, because they tend to lease a piece of land and stick to their core business. In contrast, Hsuan engages directly with China's state-run enterprises, Huang says.
In fact, China's State-owned Assets Supervision and Administration Commission, which manages top centrally administered companies, visited Hsuan before China Electronics acquired a stake in TPV. It hoped that China Electronics could become a TPV shareholder to learn from the company's operations and management systems and help enhance the performance of the 38 subsidiaries under China Electronics' control. TPV's director of human resources had visited China Electronics' plant in Zhuhai just days before to exchange ideas on corporate evaluation and incentive systems.
Hsuan, who invariably wears a solid blue shirt and small round glasses, with nary a hair out of place, appears to many as more of an erudite scholar than an aggressive entrepreneur.
One former TPV executive believes that Hsuan not only has the business sense and strategic vision of a corporate leader, but "also is highly pragmatic, putting a priority on execution and staying close to the market."
For all of TPV's success and growth, its future is not without peril. Maintaining growth in both the company's OEM and branded businesses is sure to test this ironman, especially at a time of stagnant global growth and the rapid rise of Chinese brands. It is just the latest challenge in a career full of challenges that Hsuan is ready to embrace.
Translated from the Chinese by Luke Sabtier
---
Jason Hsuan
Born: 1943
Current position: Chairman and CEO, TPV Technology
Experience:
-- Manager of Industrial Mgt and Automation, General Electric USA
-- Vice President, Pepsi Corp, Taiwan
-- CEO, AOC International Ltd.
Education:
-- Affiliated Senior High School Affiliated with National Taiwan Normal University
-- National Cheng Kung University, Department of Electrical Engineering
-- Boston University, Master's in systems engineering
-- Polytechnic Institute of Brooklyn, Ph.D. in systems engineering