The Post-90 Generation
A New Breed of Cross-strait Consumers
精華簡文
Source:cw
Accustomed to affluence, the newest generation of youth in China and Taiwan has never known a world without the Internet. Their lifestyle and consumption patterns are rewriting the retail world.
A New Breed of Cross-strait Consumers
By Shu-ren Koo
From CommonWealth Magazine (vol. 512 )


Starting this year, Taiwan will see more than 200,000 young people enter the job market every year. In China that figure stands at a whopping 7 million.

In both countries these new income earners will represent a strong consumer force.

China's 24 million university students spend almost NT$1.1 trillion per year. And they are spending more than any student generation before them. Born in the digital information age and having grown up in a world of material affluence, these young adults are used to having the Internet at their fingertips. They manage their lives via smart phones and other Internet-enabled consumer devices.

With China's one-child policy and Taiwan's alarmingly low birthrate, the vast majority of the "Post-90 Generation" have grown up in small families or as only children, pampered by parents who can afford to spend lavishly on them.

As a result, their consumer behavior starkly differs from that of previous generations, a fact that companies have begun to reflect in their business models and marketing concepts.
Feature No. 1: Always Ready to Splurge
The Post-90 Generation on both sides of the Taiwan Strait dares to spend, but in China the inclination toward unrestrained consumption is stronger.
According to the latest CommonWealth Magazine survey, around 40 percent of the Post-90 Generation in both Taiwan and China believe, "I don't need much money as long as I can cover expenses." One third supports the credo, "Work hard, spend hard." (See Table)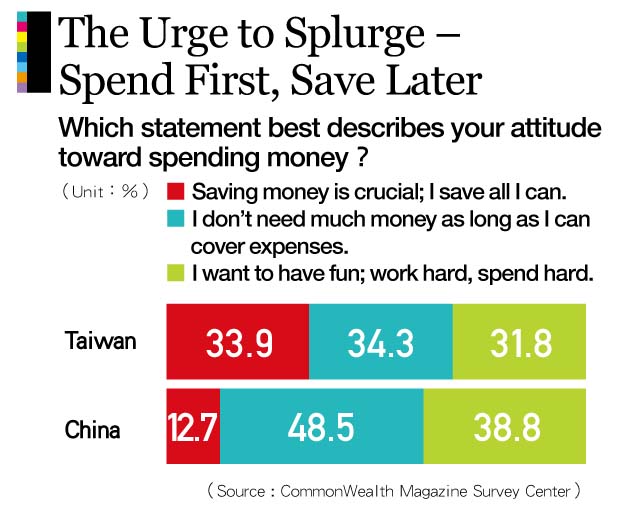 In other words, more than 70 percent of the Post-90 Generation doesn't regard saving as a necessary virtue. They don't see a point in fattening their bank accounts but instead think that money is there to be spent on fun activities and coveted products.
Interestingly, the Taiwanese Post-90 Generation is more conservative and traditional with regard to saving money than their Chinese counterparts. In China only 13 percent of respondents believe that saving money is most important, whereas in Taiwan 34 percent hold that view.
In Southeast Asia, which registered strong economic growth in the past years, a vast consumer market is emerging. This is largely due to the trend among young Southeast Asians to spend whatever they earn. A similar trend is now palpable in China.
As many as 40 percent of China's Post-90 Generation "always want to have fun," while almost one half think, "I don't need much money as long as I can cover expenses." Clearly young Chinese adults are all too ready to spend what they earn.
Feature No. 2: Buying Online
Another typical trait of the Post-90 Generation is that a very large share of their purchases is conducted online.
The report "The Post-90s and the Internet – The Web-based Lifestyles of University Students," jointly released earlier this year by the Advertising School of the Communication University of China and Fresh Media, found that Chinese university students spend an average NT$4,000 per month, half of which is spent online.
Zhang Qi, a senior at Zhejiang University, for example, bought a bag online. If size and fit are not an issue, Zhang buys online because it is convenient and cheaper, and she has more choices. If she needs shoes or other items that need to be tried on, she still goes to a brick-and-mortar store.
Statistics by the Hangzhou-based Chinese Electronic Commerce Research Center (CECRC) show that online retail shopping in China generated revenue worth more than NT$4 trillion in 2011, a 56-percent increase over the previous year.
And the Post-90 Generation, which grew up with the Internet, is more inclined than previous generations to pay online to experience products, first of all popular mobile phones and online games.
Since a growing number of young consumers shop online from the comfort of their homes, brick-and-mortar stores are struggling for survival.
Over the past few years, sales at the real-life stores of several electronics vendors including Gome and Suning, which also sell online, have taken a hit due to increasing online sales and a sluggish economy. Many small and mid-sized electronics vendors were forced to close down.
As more people shop online, traditional department store operators such as Taiwan-based Pacific Department Stores or the history-steeped Shanghai No. 1 Department Store Co. are feeling the pinch. Pacific Department Store even pulled out of Beijing last year.
Feature 3: Eager to Share
Post-90 consumers differ from previous generations in that they are fragmented into many, very diverse subgroups, and they like to share their consumer experiences with like-minded people within their own little spheres.
In the second half of 2011, Chinese social networking platform Renren launched the light blogging service Renren Xiaozhan, which allows users with common interests to get to know each other and share content such as videos, music or photos.
Within the short span of one year, 600,000 blogs have been set up dealing with a broad array of topics ranging from do-it-yourself instructions, to travel, photography, fashion, design or movies. The idea is to enable users "to find the right people and the right content."
Mogujie.com ("Mushroom Street"), an online retailer targeting female shoppers, launched in 2011 and quickly gained prominence, because it is designed around young women's interest in sharing their likes and dislikes and latest fashion fads.
Mogujie combines online shopping with web forums that offer fashion guidance by the site's users. Registered users can establish their own profile pages through which they can post fashion information such as their individual shopping catalogues and share them with their followers.
Diverse, Small Consumer Groups Go Mainstream
Mogujie helps Internet users to make better purchasing decisions and lower the risk of buying the wrong or poor-quality products. Its members also enjoy group rebates and other promotional specials. Since its launch in early 2011, the social pinboard site has won a loyal following from 20 million registered users.
Mogujie CEO Chen Qi notes that traditional online companies follow an economy-of-scale logic. They collect, analyze, and categorize a large amount of user information and design products that meet the demands of the broadest majority of consumers.
But the needs of different generations, be it the Post-90 Generation or the earlier Generation Y, are quite different, Chen points out. In the future, online retailing will develop toward providing a very subtle, intuitive customer experience, have a more distinct character, and serve very specific customer groups.
"If we are able to grasp a certain point and precisely go in from there, we will probably only cover a small group in the beginning," Chen says. "But later on it may very well become the mainstream, a very big product."
Translated from the Chinese by Susanne Ganz