Indonesia
Taiwan's New Land of Opportunity
精華簡文
Source:cw
Indonesia is one of the world's fastest growing emerging markets and the place where Taiwan's high-tech companies are looking to drive future growth. What makes them so upbeat?
Taiwan's New Land of Opportunity
By Hsiao-Wen Wang
From CommonWealth Magazine (vol. 510 )


A loud and clear chant pierces Jakarta's overcast sky at seven in the morning. Inside Istiqlal Mosque under its golden orange dome, is Indonesian president Susilo Bambang Yudhoyono, wearing a black songkok (the traditional Indonesian cap). Kneeling barefoot on the red carpet between the mosque's massive silver-colored pillars, he is bent over with his forehead on the ground in prayer.

On this day, 300,000 Indonesian Muslims have joined the president to celebrate Eid al-Adha. It is one of the largest religious gatherings in the Muslim world.

A country of 17,000 islands where more than 200 million people join in prayer every day, Indonesia has now caught the eye of prominent Taiwanese entrepreneurs.

This summer, Hon Hai Precision Industry Co. chairman Terry Gou visited this country with the world's biggest Muslim population. No sooner had Gou stepped off the plane in Jakarta than he pointed out a nearly completed skyscraper to the Indonesian developer who picked him up and said, "I want the top floor."

"I'm sorry, but the top floor is already sold out. There are still 10 floors available below. Would you be interested?" the developer answered.

"No. I only want the top," Gou said.

When Gou met with Indonesian officials, he raised three conditions necessary for Hon Hai to invest in Indonesia and three contributions the company's investment would make to the country.

The three conditions were that the project had to be within half an hour of Jakarta's airport, that 100 hectares of land be available, and that the land be free.

Hon Hai, in return, would make three contributions: (1) replacing imported mobile phones with ones that are locally made and locally branded to supply the domestic market; (2) using Indonesian aluminum to make metal casings, raising the added value of the country's aluminum ore; and (3) working with the government to produce inexpensive e-books and help Indonesia, with its huge swath of islands, quickly improve the basic education infrastructure.
Fast, Good and Free
"He wants everything to be fast and everything to be free," revealed a person who participated in the negotiations, describing Gou as an ace negotiator.
"We really hope he comes. He's Genghis Khan. He's a catalyst of change," says Setyono Djuandi Darmono, the president director of Indonesia's first listed property company PT Jababeka Tbk.
In the 1990s, Taiwan's then president Lee Teng-hui urged the island's businesses to "Go South" rather than invest in China, an appeal that had only limited success. But the new trend is different because the market is more mature and the timing better. Previously, the Taiwanese companies venturing into Southeast Asia were mostly small and medium-sized enterprises; this time, they are big high-tech players. A new "Go South" wave has begun.
Such NT$100 billion high-tech companies as Hon Hai, Quanta Computer, and the New Kinpo Group have all been to Indonesia investigating its possibilities.
"Taiwan is probably the fourth or fifth biggest source of foreign investment in Indonesia. A lot of investment enters the country indirectly through Singapore, Malaysia, and Hong Kong," says Andrew Hsia, Taiwan's de-facto ambassador to Indonesia. Considering the number of Taiwanese companies that are looking south for new production bases, Hsia jokes that there's no need for him to pitch investing in the country. The diplomat is thinking of creating a 300-hectare Taiwan industrial park that will give Taiwanese enterprises a safe place to establish factories and the confidence to invest.
Indonesia not only represents the new frontier for Taiwanese investors, it is also the best Islamic ally Western countries have.
In a small alley in Jakarta, a bronze statue of U.S. President Barack Obama as a child smiling at a butterfly in his hand stands under a pink-blossomed frangipani tree. It was at the international elementary school here, where Eastern and Western cultures collide, that Obama studied.
In writing to his grandparents in Hawaii, the young Obama talked about floods, evil spirits and cockfights, but he expected that the return letter would bring gifts from the "civilized" world: chocolate and peanut butter.
After Obama was elected as America's 45th president, he did not forget that Indonesia is the U.S.'s closest and biggest ally in the Muslim world.
A Big Country Ignored by Taiwan
Indonesia is a new bright spot on the international economic stage and the most underestimated of all big countries in the world. It has the world's fourth biggest population, with 240 million inhabitants, behind only China, India and the United States.
Fourteen years ago, the world saw an Indonesia in crisis, scarred by bloody rioting that brought the reign of long-time strongman Suharto to an end.
Today, the world is just getting to know Indonesia again. It has emerged as a model of co-existence between democracy and Islam and has been vaunted in the media as "the fifth BRIC." For Taiwanese businesses operating overseas, Indonesia is the new land of opportunity.
The country's economy is one of the most vibrant in the world, ranking second in GDP growth among G20 countries in the latest third quarter, behind only China.
At a time when Taiwan is struggling with anemic growth, Indonesia has risen quietly to become the world's 15th biggest economy. The country's GDP is projected to approach US$900 billion in 2012 – roughly 2.6 times that of Taiwan and by far the largest GDP of all the ASEAN countries. (Table 1)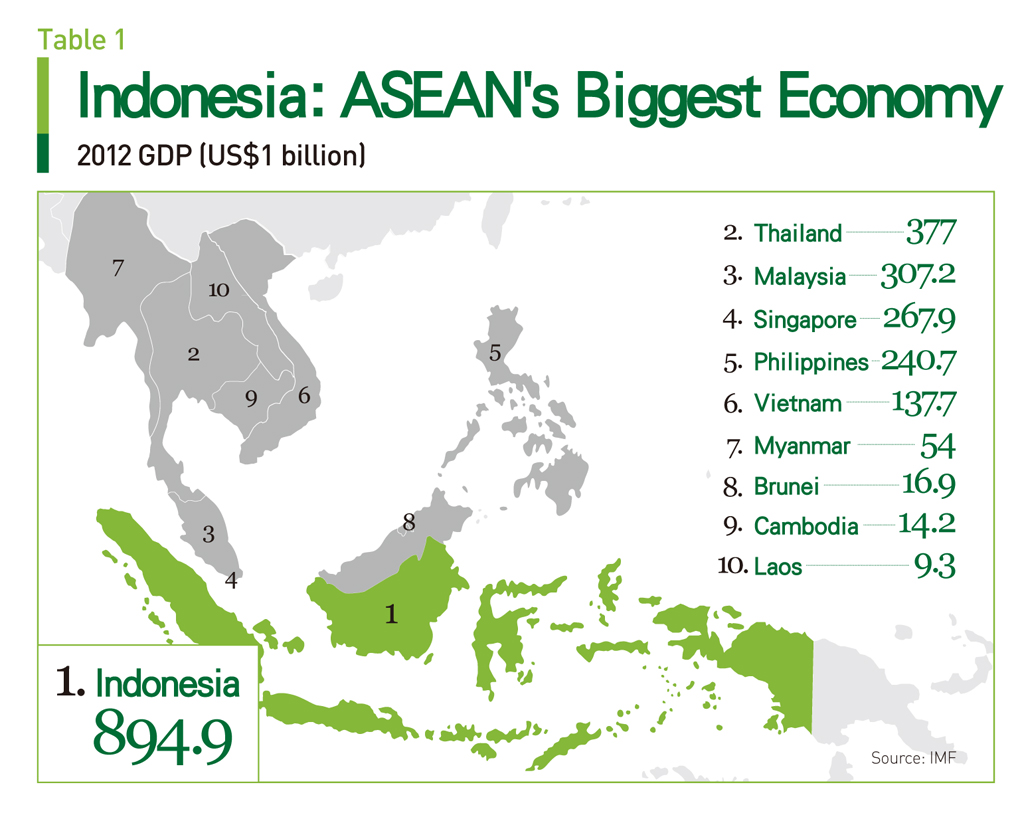 "During the global economic crisis, Singapore fell into recession while we grew at a 6 percent rate. After the crisis, Singapore had the highest growth rate in the world, while we continued to grow at 6 percent," says Meidyatama Suryodiningrat, managing editor of the Jakarta Post, in describing how Indonesia has prospered after having fallen on hard times.
The country's economy is relatively insulated by global shocks because domestic demand accounts for over 60 percent of its GDP. Thus, Indonesia derives only limited benefits when the global economy is booming, but it resists economic shocks far better than countries where exports represent the economic lifeline, such as Singapore, Taiwan, and South Korea.
In the past, Indonesia's moderate pace of growth has been no match for China and India. Over the past two years, however, as growth in the world's two most populous nations has slowed because of economic and financial turmoil in Europe and the United States, Indonesia has once again bucked the trend, suddenly booming. An endless flow of entrepreneurs, bankers, and international speculators has descended on the country, looking for a share of the action.
"Indonesia is slow but certain," says Ahmad Syafri, Indonesia's top representative in Taiwan, in describing the nature of his country's economic growth. Since the end of the Asian Financial Crisis in 1998, Indonesia has grown at a steady 5-6 percent annually. (Table 2)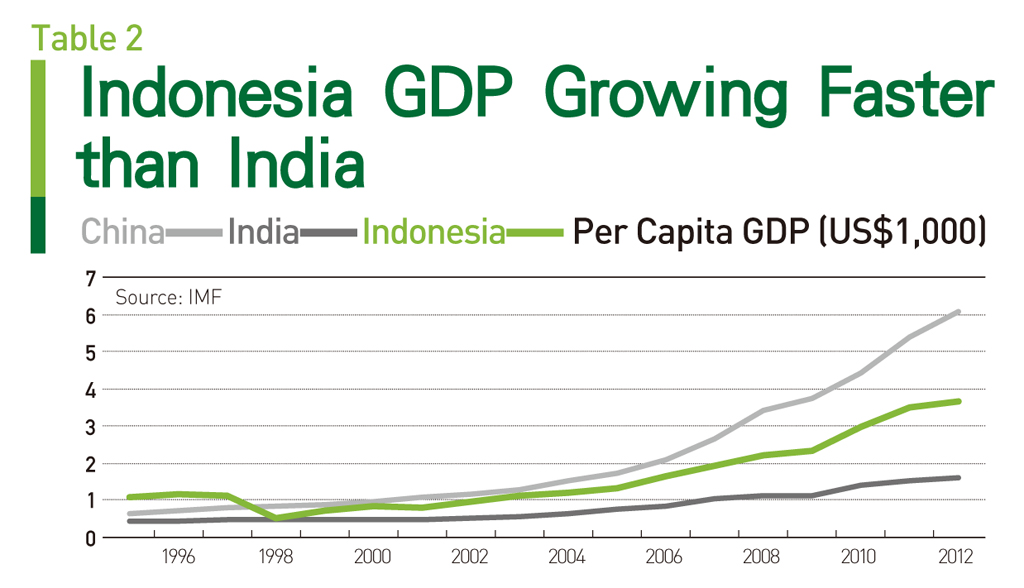 Indonesia's Demographic Dividend
The passion for Indonesia today resembles the frenzy many felt for China in the 1990s. Foreign investment is pouring in as the economy pushes forward on all cylinders.
"Right now is the best Indonesia's ever been," says a fervent Ko Chao-chih, a Taiwan native and member of the Overseas Chinese Affairs Council, standing in the textile factory he has run in Bandung for over 20 years.
The upbeat mood results in part from how the country's population, with an average age of 28, is structured.
At a time when China is bidding adieu to its "demographic dividend," (when the percent of the working-age population exceeds children and seniors, a mix that contributes to economic growth), Indonesia's dividend has only just begun to ferment, with 68 percent of its population aged in the magic 15-64 demographic. (Table 3)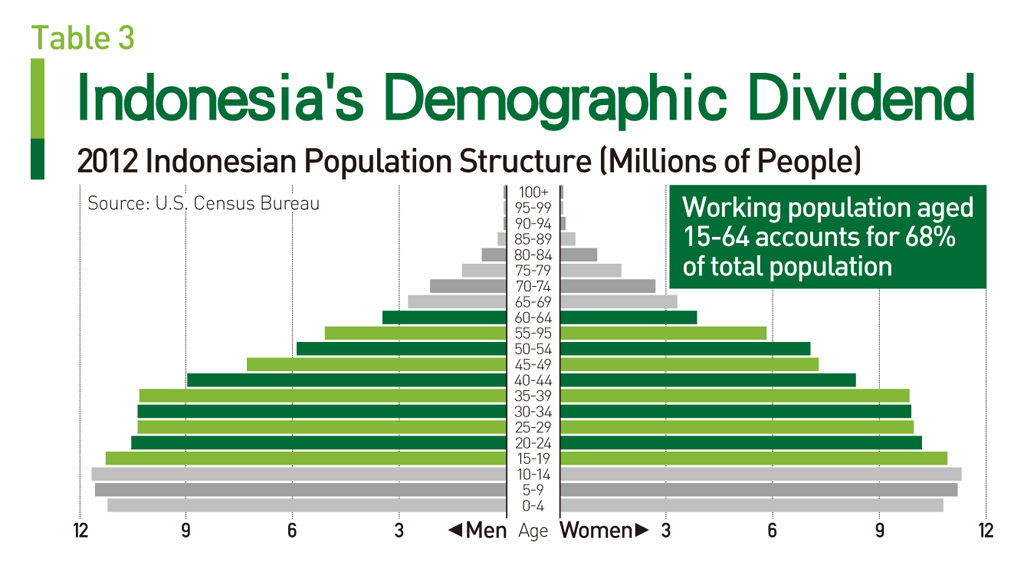 These young people will eventually grow into the middle-class consumers for whom companies hunger.
In a recent report, the global consulting firm McKinsey & Company predicted that the number of middle-class consumers in Indonesia will increase by 90 million over the next 20 years, almost four times Taiwan's population. (Table 4)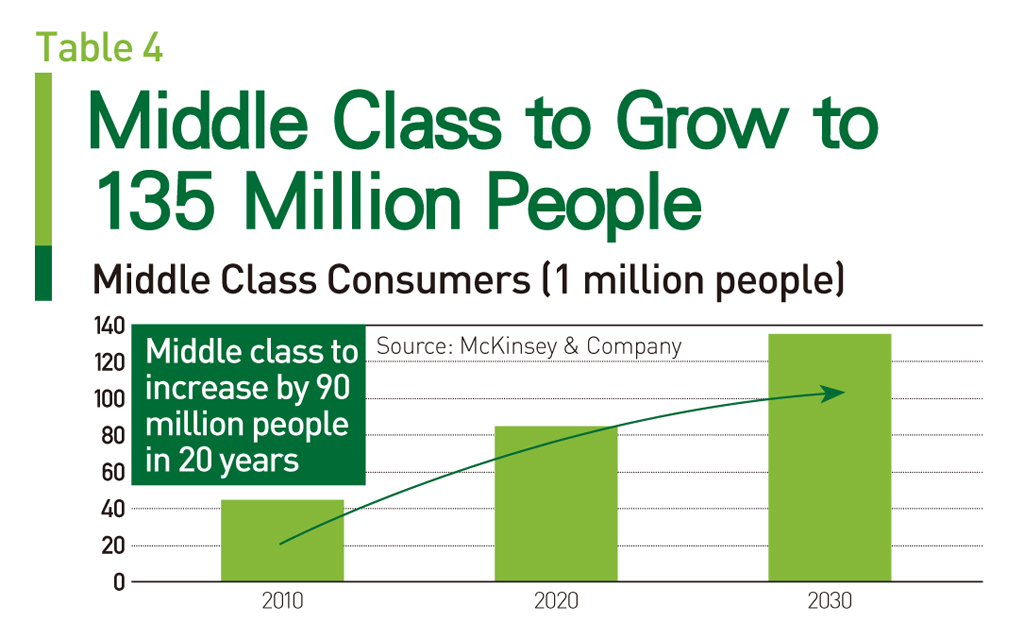 Japan's Nikkei even forecast that the spending power of Indonesia's middle class would surpass that of Japan's entire population by 2030.
Foreign investors have taken note of the positive outlook for the country's future. While foreign direct investment in the world's two major economic powers, the United States and China, is on the decline, Indonesia will set a new record for FDI this year of US$25 billion, 2.5 times the target Taiwan set for itself in 2012. (Table 5)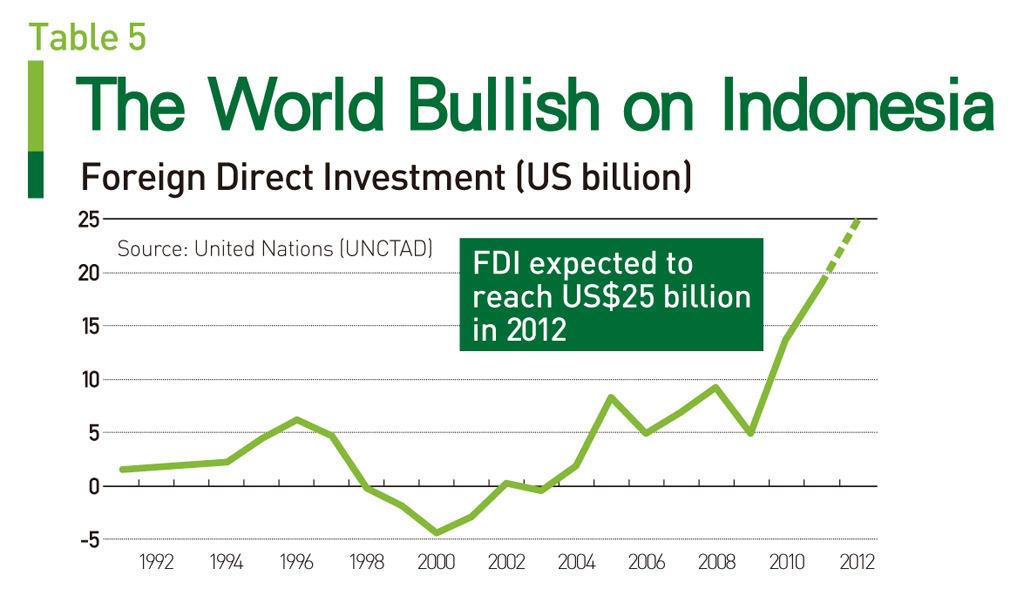 Intimate Stranger
Indonesia is Taiwan's biggest source of foreign immigrants and guest workers, with 188,000 Indonesian nationals in Taiwan playing the important roles of caregivers and domestic help, or having married into Taiwanese society. Nonetheless, the country remains something of a mystery to Taiwan's people.
Few Taiwanese know, for example, that Indonesia is already a democracy with an open economy. No Taiwanese companies have yet grasped what makes Indonesian consumers tick, or successfully gained a foothold in the domestic demand market.
Motorbike maker Kwang Yang Motor Co. gave the domestic market a try but failed. Chinatrust Commercial Bank's Indonesia subsidiary, P.T. Bank Chinatrust Indonesia, has yet to penetrate the mainstream, with its business still focused primarily on Taiwanese businesses in the country and Indonesian guest workers. Smartphone maker HTC Corp. and chip designer MediaTek Inc. only recently made moves to step up their presence there.
Taiwan's government has also rarely set its sights on its fellow APEC member. It has not patiently deepened relations or pursued a breakthrough in economic and trade ties.
Indonesia has become Taiwan's most intimate stranger, the neighbor it has most ignored.
Yet Indonesia may be ready to rekindle the growth engines of Taiwan's high-tech companies.
If Hon Hai does invest in the country and produces OEM mobile phones there, it won't be a surprise if Indonesia turns into a battleground for HTC, MediaTek and Hon Hai.
The New 'Go South' Movement
Long before the high-tech industry took notice of the world's fourth most populous county, Taiwan's nomadic textile industry set up shop there. Taiwan-based apparel manufacturer Makalot Industrial Co. has emerged as a benchmark company in the industry, with seven factories and over 10,000 employees there, and it will soon break ground on a new factory in Semarang in central Java.
"Compared with China, the Philippines, Cambodia, and Vietnam, Indonesia changes in a stable and predictable way," says Makalot chairman and CEO Frank Chou. Burma and Vietnam are unstable markets where wages can be forced higher and labor shortages can occur as easily as in China. Indonesia also faces upward pressure on wages, but increases are moderate and orderly.
"When there's a strike in Indonesia, it is organized. There are demands behind it and there is somebody you can talk with," Chou explains. Conflicts there can be resolved through discussions, unlike in Vietnam where sometimes you do not even know who to negotiate with, the Makalot boss says.
Chou is so sold on the country that Makalot's plants in Indonesia currently account for more than 30 percent of the company's worldwide production, the highest share of any of the garment manufacturer's overseas bases.
The Taiwanese businesses that went to Indonesia as part of the "Go South" movement in the 1990s have since learned to keep an eye on global economic trends but stay humble when running their businesses. While Indonesian workers appear gentle, get on their wrong side and they will unite and surround your factory in no time.
One issue that has diminished in severity is anti-Chinese sentiment. The shadow of discrimination against ethnic Chinese and anti-Chinese riots in the 1990s still hovers in many people's memories. But Indonesians have also gained respect for ethnic Chinese because of the concentration of wealth in their hands and the emphasis on hard work and diligence in Chinese culture.
Yang Chen-min, who runs an air brick factory and a manpower brokerage business in Indonesia and was once the president of the Jakarta Taiwan Entrepreneur Association, says his Indonesian driver asked him to help name the driver's newborn child. Yang decided on "Formosa."
"Anti-Chinese discrimination? It doesn't exist. Formosa is now four years old," Yang says with a laugh.
Indonesia has indeed changed.
Over half a century ago at the Bandung Conference, Indonesia launched a non-aligned movement that drew Communist China out of its cocoon onto an international stage for the first time. The red chair that Chinese premier Zhou Enlai sat on at the meeting is displayed in the empty conference hall, leaving Taiwanese visitors with mixed emotions.
Today, Indonesia still sees itself as a bridge between developing and developed countries, but what has changed is that Indonesia has risen politically, set its economy on a path of sustained growth, and become a member of the G20. Next year, the country will host the APEC Leaders Summit, ready to display its new image as a gentle but powerful country.
"It took us 14 years before we could get back on our feet," says the developer Darmono. "Today, we are ready to go."
Translated from the Chinese by Luke Sabatier