For Immediate Release
2012 Most Admired Company Survey
精華簡文
Source:cw
TSMC remains Taiwan's most respected enterprise, for 16th consecutive year. Taiwan Mobile wrests telecom sector kudos from longstanding standard-bearer Chunghwa Telecom. Fubon Financial Holding Co. enters the Top Ten for the first time.
2012 Most Admired Company Survey
By CommonWealth Magazine
From CommonWealth Magazine (vol. 508 )


Taipei, Taiwan, Oct. 16, 2012 – The 2012 CommonWealth Magazine Most Admired Company Survey is hot off the presses. Taiwan Semiconductor Manufacturing Co. (TSMC) took home the coveted title of Taiwan's Most Admired Company for the 16th year in a row. In fact, TSMC was top-ranked, not only overall, but in every single indicator in the survey. (Table 1)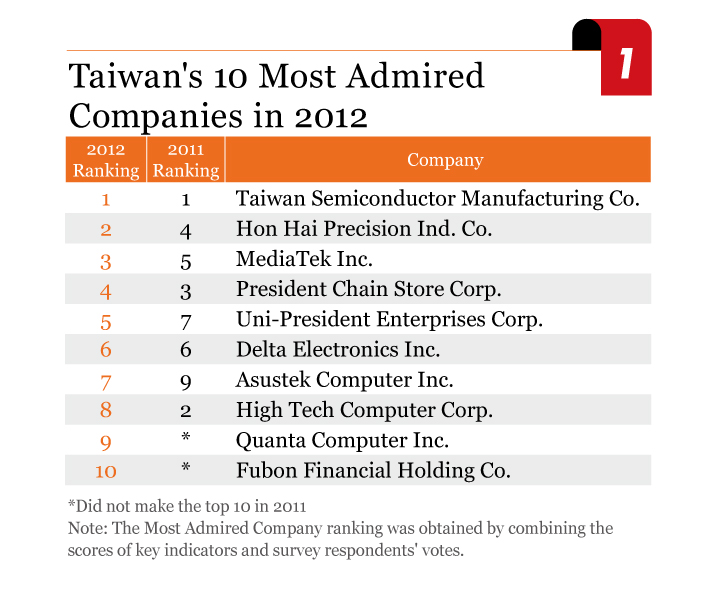 Hon Hai Precision Ind. Co. (Foxconn) garnered 2nd place, earning recognition by its industry peers for its innovative approach to customer service. Coming in at number three this year was MediaTek Inc., which is looking for a resurgence by leveraging its prowess in virtual-hardware integration services.
Of the top ranked companies across 22 different sectors, 18 were strong corporations retaining their positions from previous years. However, in four different sectors, enterprises on the ascent toppled the previous leaders to lay claim to the "Most Admired" position in their respective industries. (Table 3)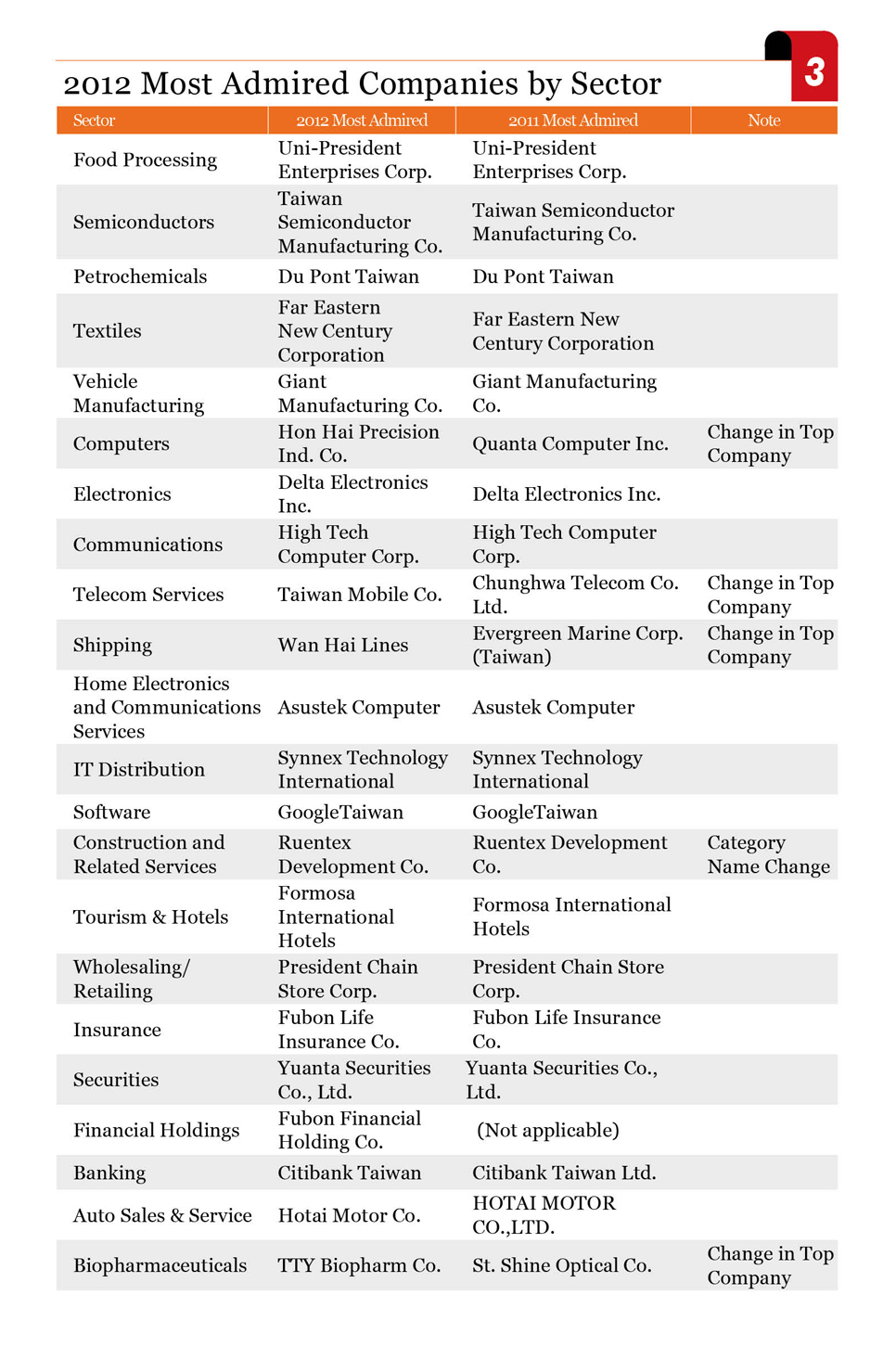 In the computer sector, Hon Hai, which last year saw its top ranking fall to Quanta Computer, reasserted itself at the top this year. And in the telecom sector, Taiwan Mobile replaced long-running top dog Chunghwa Telecom to return as the industry's leader after a seven-year hiatus.
In biopharmaceuticals, top honors went to TTY Biopharm, edging out last year's winner St. Shine Optical Co.
In maritime shipping, Wan Hai Lines bested venerable old salts Yang Ming Marine Transport Corp. and Evergreen Marine Corp. to take top honors for the first time.
In this year's Survey, the Regent Taipei retained its top spot in the hospitality sector. W Hotel Taipei, meanwhile, debuted in the survey at No. 2, elbowing aside both the Grand Hyatt Taipei and the Far Eastern Plaza Hotel, which had tied for second place in 2011.
For the first time, Fubon Financial Holding Co. entered the ranks of Taiwan's Top Ten Most Admired Companies. The Fubon Group enjoys a dominant position across the board, with subsidiaries claiming "benchmark enterprise" positions in a variety of sectors, from banking, insurance and securities to telecommunications.
That these businesses have earned the honor of "Most Admired Company" reflects both excellence in their respective fields, and the imagination and dexterity needed to provide customers with innovative value in times of economic challenge.
Notes to Editors:
For press release download, please go to: http://www.cw.com.tw/about/press.jsp
For more complete analysis of the 2012 Most Admired Company Survey, please visit CommonWealth Magazine English Online
---
About the Survey
For the 2012 Most Admired Company Survey, CommonWealth Magazine identified 22 sectors that are influential on the future direction of Taiwanese industry, based on the categories and criteria of the CommonWealth Magazine 2012 Survey of Taiwan's Top 1000 Enterprises.
The list of enterprises included in the survey was limited to companies ranked high in terms of revenue, and incorporated the recommendations of experts on each respective industry. Based on these principles, 217 enterprises were rated this year by both industry peers and experts, according to ten indicators including foresight, innovative capability and talent cultivation. Each company then received an overall ranking based on the average of its scores for each indicator.
Industry peers were selected from CommonWealth Magazine's database of Taiwan's Top 1000 Enterprises. Experts from the banking, securities, investment consulting, investment trust and accounting sectors, as well as research institutions and academia were asked to participate in the expert rating.
All the industry peers responding to the Most Admired Company Survey were also asked to cast a vote for the Most Admired Entrepreneur.
The survey was conducted between Aug. 30 and Sept. 25, 2011. With 3,072 questionnaires sent out and 1,675 valid responses, the survey had a response rate of 55 percent. Industry peers accounted for 933 valid responses, and experts for the remaining 742. For the Most Admired Entrepreneur portion, 856 valid responses were received.