Korea's Economic Model
Leaving Taiwan in the Dust, at a Price
精華簡文
Source:CW
Once a poor second cousin to Taiwan, South Korea now exports twice as much as Taiwan. Why has Taiwan fallen behind, and what have been the costs of South Korea's rise?
Leaving Taiwan in the Dust, at a Price
By Sara Wu and Elaine Huang
From CommonWealth Magazine (vol. 508 )


Korean rap singer Psy's "Gangnam Style" music video has conquered the world, catapulting to No. 1 on the British charts and No. 2 in the United States after smashing the YouTube record for views with more than 400 million.

Whether copied by some of Taiwan's top entrepreneurs, or performed by the U.S. presidential candidates in parody videos, the "Korean Horse Dance" has kindled a Korean firestorm across the globe.

The resounding success of "Gangnam Style" reflects much more than simply South Korea's growing power in the entertainment industry. In surpassing Europe and the United States as an object of the world's envy this year, South Korea has drummed up plenty of "good feeling."
The Cost of Flamboyance
Like Xinyi District in Taipei, Gangnam District is the ritziest commercial area in Seoul.
Thirty-something Lisa, a Taiwanese woman married to a Korean, is the envy of many of her friends, living in an upscale apartment with her husband, who works at the Samsung Group's global headquarters.
Lisa has lived in South Korea for five years and has worked hard to learn the language and assimilate into society, but many cracks still exist in her supposedly idyllic life.
"There are about 100 Taiwanese women who get married to a Korean every year and come to live in the country. In online chats, the conversation always comes back to three topics: the high cost of food, relationships with mothers-in-law, and the long hours the husbands work," Lisa says.
Her comments reflect the high costs South Korea has paid in achieving its widely admired success.
High commodity prices stand out as one of them. South Korea had per capita GDP of US$22,500 in 2011, about 10 percent higher than Taiwan's US$20,100. But after adjusting GDP based on purchasing power parity (PPP), Taiwan's per capita GDP was US$36,900, compared with US$29,600 for South Korea, an indication of how much higher the cost of living is in Seoul than in Taipei. And prices are also rising faster in South Korea, up 2.4 percent in the first eight months of the year, higher than Taiwan's 1.8 percent.
Another high cost is the country's long working hours. In a report by the Institute of Management and Development, Koreans ranked second in the world, with an average of 2,312 hours on the job last year, 238 more hours than the average Taiwanese.
(For a comparison of major economic and social indicators in South Korea and Taiwan, see Table 1)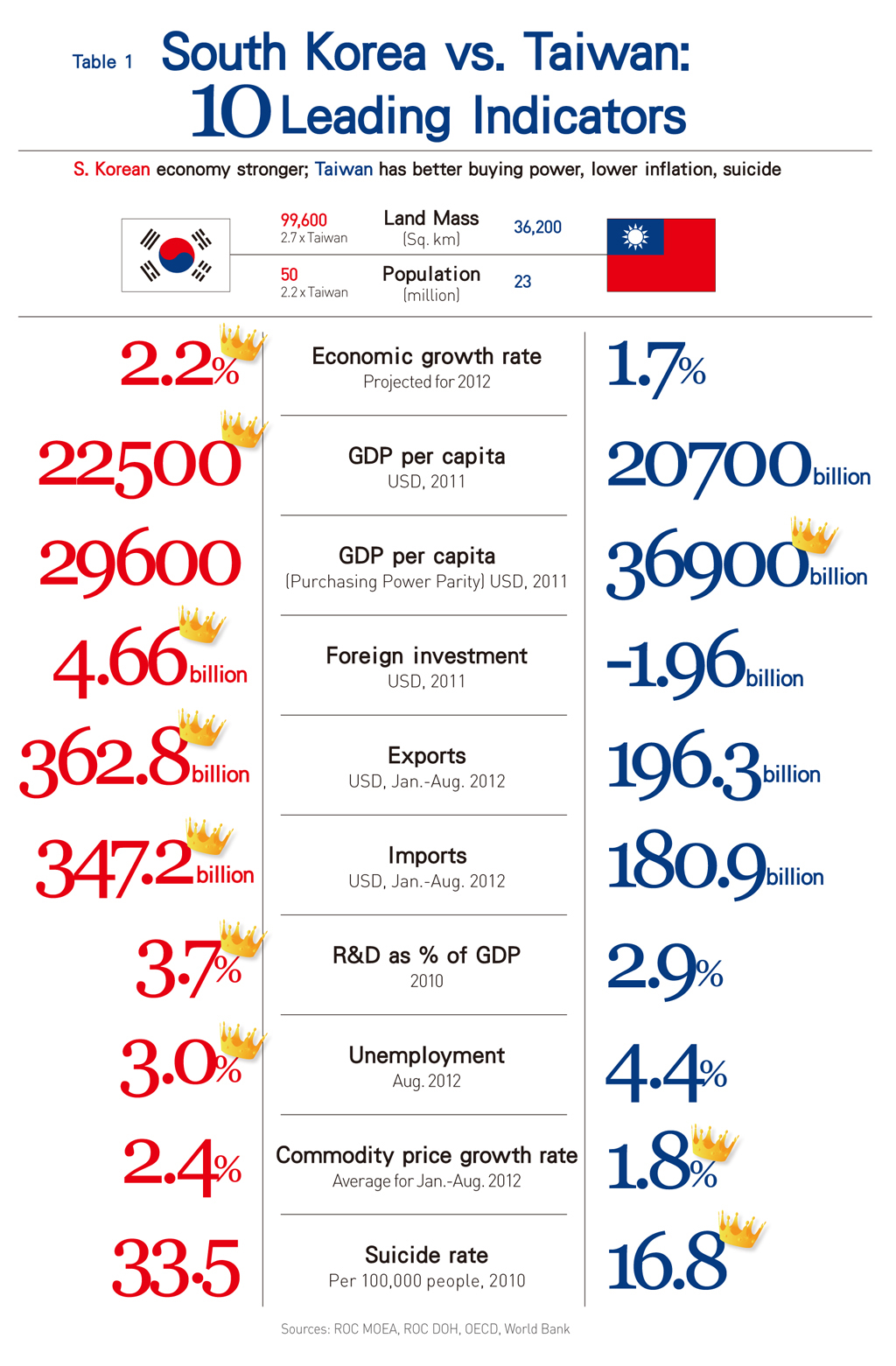 Maintaining Korean-style success has been anything but easy, so why have Koreans been willing to pay such a high price?
If Taiwan is a middle-class family with diversified values pursuing its well-being, then South Korea is a family that has struggled to find new life after nearly losing everything and believes that winning is essential to survival.
In an era that prizes individual rights and liberal ideals, South Korea's strong nationalist bent remains deeply ensconced in the psyches of Koreans of all ages.
In 1997, Lisa's husband graduated from prestigious Seoul National University and was set to head abroad to further his studies, but his savings abruptly lost half their value during the Asian Financial Crisis, forcing this son of a well-off middle-class family to work while studying in the United States.
"Now, my husband works late every night, and he complains about it sometimes, but my father-in-law pushes him to fight for the future of 'Korea,'" Lisa says.
She observes that while Korea may seem very cosmopolitan on the surface, the society's values remain steeped in tradition, with people willing to sacrifice everything, because of the conviction that only hard work can deliver a better life.
That, in part, has led to a number of stark contrasts with Taiwan in South Korea's approach to development.
Contrast No. 1: FTA Blitz vs. Relying on ECFA
To win in the global arena, the Korean government chose to open the country's doors.
After the IMF bailed out South Korea during the 1997 financial crisis, the government's national economic strategy focused primarily on free trade agreements to open foreign markets to Korean goods.
From 2002, when the country clinched its first FTA with Chile, to today, South Korea has been the only Asian country to sign free trade deals with the Association of Southeast Asian Nations, the European Union and the United States. The countries with which South Korea has signed FTAs account for about 35 percent of its total trade.
In 2011, South Korea exceeded US$1 trillion in trade for the first time in its history, vaulting to ninth among the world's trading nations. Taiwan, on the other hand, stayed relatively stagnant at 18th.
Taiwan's Economics Minister Shih Yen-shiang puts it bluntly when discussing why Taiwan is at a disadvantage.
"From the perspective of international competition, South Korea started pursuing FTAs earlier than us and they have moved more quickly than we have on a larger scale. That has put a lot of pressure on us," Shih admits.
Part of the problem has been China's ongoing suppression of Taiwan's participation in the international community, including blocking it from entering international organizations and virtually preventing it from negotiating free trade deals with other countries.

Because of its diplomatic predicament, Taiwan needed 12 years to gain admission to the World Trade Organization, Shih explains, and from 2002 to 2010, it was only able to conclude four FTAs with five Central American countries that account for a mere 0.2 percent of Taiwan's total trade.
In 2010, Taiwan concluded an Economic Cooperation Framework Agreement with China that incorporated an early harvest list giving more than 500 Taiwanese products preferential tariffs when imported into China. But even those items "add up to less than 5 percent of Taiwan's total trade," Shih says.
Comparing trade data for Taiwan and South Korea over the past 60 years, Taiwan's exports were once more than four times that of its major Asian rival, and during the 20-year period from 1975 to 1994, the two countries were relatively evenly matched.
After 1997, however, South Korea began gaining the upper hand in its tussle with Taiwan, its increasingly competitive exports opening a widening gap over those of its rival. The gap has grown even more over the past 10 years as South Korea has raced to sign FTAs with its major trading partners, to the point where today it has left Taiwan behind. The Northeast Asian powerhouse's exports and total trade are now twice as high as Taiwan's.
Even more telling, in Taiwan's five strongest export markets – China, ASEAN, the United States, Europe and Japan – its market share was lower than South Korea's. (Table 2)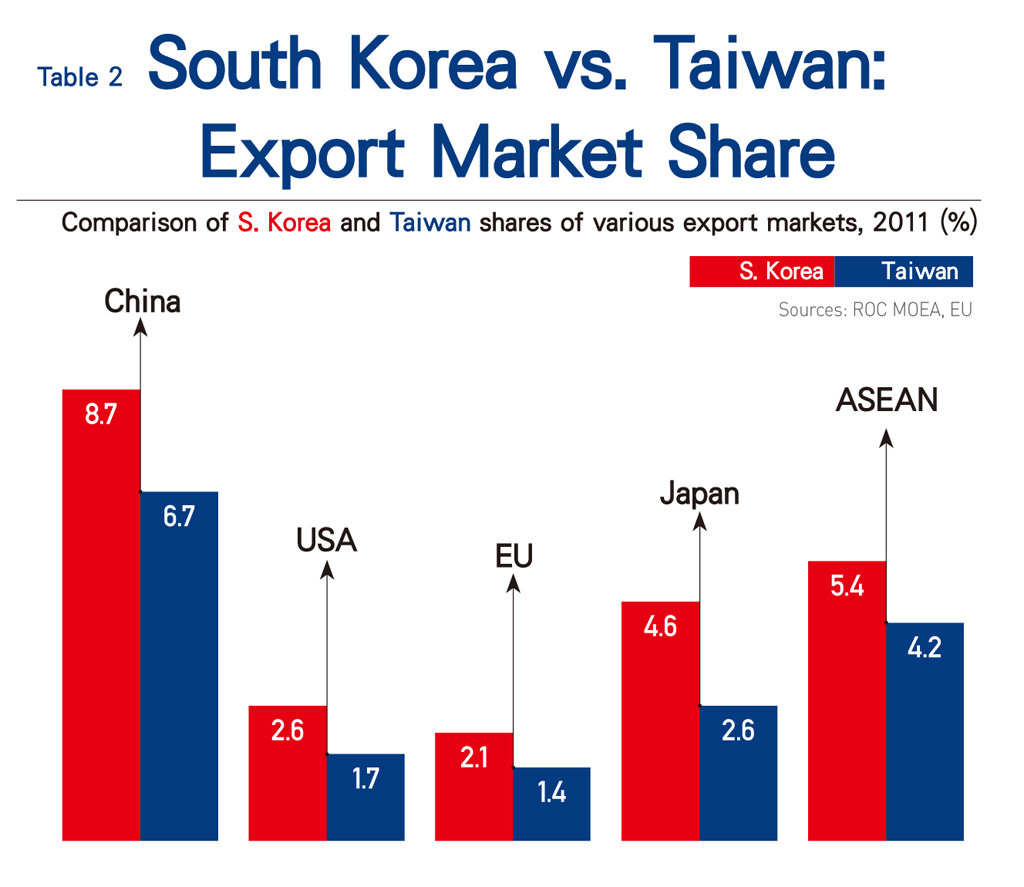 But if you think the "Korean model" equals opening the gates of the nation through free trade agreements and subjecting domestic businesses to open market competition, you are greatly mistaken.
Ha-Joon Chang, an economics professor at the University of Cambridge, wrote in his 2008 book Bad Samaritans: The Myth of Free Trade and the Secret History of Capitalism that outside observers tend to see South Korea as a representative of a new free economy, favoring liberalized markets and minimizing government intervention.
Contrast No. 2: Tangible Policies vs. Slogans
In fact, Chang says, South Korea's success was built on handpicking specific industries and offering them support and protection until they were mature enough to contend with international competition. The government's protection of the business environment was clearly a deliberate consideration.
Sang Hun Kim is the CEO of NHN Corporation, the country's leading Internet company with the biggest online game portal and highest market value (more than NT$350 billion) in the country. In an interview with CommonWealth Magazine, Kim admitted that the government contributed to his success.
At the end of the 1990s when the Internet began its rise, the South Korean government provided strong support to the development of a virtual network. It aggressively built basic infrastructure, turning South Korea into the country with the world's fastest online connections and highest Internet penetration rate.
"The Korean government always stays in front of the market's needs," Kim said. He explained that in developing the Internet sector, Korean authorities did not directly subsidize key companies to help them grow, but rather created a good environment that fostered competition among private enterprises.
Another key to South Korea's ascendance over the past 15 years has been the government's effective implementation of several policies, including the development of a "Korean cultural wave" in 2001, an FTA blueprint drafted in 2003, and support for the auto industry and the creative and cultural industries, all of which were competitive internationally. Taiwan's main economic initiatives over the same period, including the promotion of free trade ports and support for six emerging sectors, were not well executed and were not internationally competitive.
In his National Day address on Oct. 10, President Ma Ying-jeou of Taiwan focused on the creation of "free economic demonstration zones," the acceleration of negotiations on free trade agreements and the easing of restrictions on foreign investment.
"In the future, liberalized policies will become the norm and barriers the exception," he said.
But compared with the preparations made by the Korean government in taking on similar challenges, Taiwan may not be ready to execute Ma's ambitions.
Simply in terms of FTA negotiators, South Korea's Ministry of Foreign Affairs and Trade has 220 specialized negotiators, compared with only 34 core trade negotiators under Taiwan's Ministry of Economic Affairs. Taiwan needs to make up ground fast both in terms of numbers of people and experience.
Contrast No. 3: Value-oriented vs. Cost-oriented
Strategies at the corporate level also differentiate the Taiwanese and Korean models for success.
After the 1997 Asian Financial Crisis, many of Korea's small and medium-sized enterprises (SMEs) went bankrupt, and even Daewoo, one of the country's large conglomerates at the time, fell by the wayside. Facing intense global competition, Korea and Taiwan opted for different strategies.
South Korea harnessed the country's power to support big companies in creating value and developing brands. In Taiwan, on the other hand, emphasis was put on containing and lowering costs and subcontracting for international vendors.
Tsing Hua University professor Perng Ming-hwei observes that when Taiwan arrived at a crossroads, it faced the choice of either having its companies relocate overseas in pursuit of cheap labor or upgrading its industries. Most Taiwanese companies chose the former approach and headed across the strait to China in droves, taking advantage of China's cheap land, labor, utility and even environmental costs to support their continued growth.
Perng laments that these companies chose an "easy money" option that entailed buying foreign turnkey solutions and importing raw materials in the pursuit of higher production yields and lower manufacturing costs.
In contrast, South Korean companies decided to invest heavily in technology and R&D and in building global brands.
Over the past 10 years, South Korea's spending on R&D as a percentage of its GDP has consistently outpaced that of Taiwan, and it exceeded 3 percent in 2006 to overtake Japan's as the highest in Asia.
The consequences of the two countries' opposite paths have become increasingly clear.
Last year, South Korea was the world's No. 1 producer of mobile phones, LCD flat panels and DRAMs, and the world's No. 2 producer of semiconductors behind the United States.
In terms of LCD flat panels larger than 10 inches, Taiwan and South Korea both had a 40-percent share of the global market in 2007, and Taiwan-based AU Optronics Corp. was recognized as the biggest maker of LCD displays in the world at the time.
Five years later, that has changed. In the second quarter of 2012, the global market share of Korean vendors was above 50 percent, with LG and Samsung ranked one and two.
Cheap Labor vs. Top Professionals
Korean service businesses have also seen meteoric rises. Oh-Seok Hyun, the president of the Korea Development Institute, says that because his country needs to open its service sector to foreign competition, it must become more transparent, in line with international practices. Even more importantly, he contends, "In the future immigration policies will be primarily targeted at attracting white collar professionals, including legal, financial and medical talent."
Taiwan has chosen a different option in trying to encourage Taiwanese businesses based overseas to return home. The government recently approved a plan that will allow companies making new investments to use more foreign laborers as a percentage of their workforces, a strategy that perpetuates the tired path oriented toward low cost.
The Korean government also launched a plan this year to draw Korean-invested overseas businesses back home, with an emphasis on tax and land breaks, but foreign laborers can comprise no more than 10 percent of a company's workforce. The cap in Taiwan is set much higher, at 40 percent, and foreign-based Taiwanese businesses and some Taiwanese legislators are lobbying aggressively to set the cap even higher.
Prosperity's Cost: Huge Wealth Gap
Of course, South Korea's development model has also had adverse consequences, including a major rich-door divide and the suppression of SMEs by big corporations. These social chasms, on the verge of exploding into turmoil, have spawned powerful political and economic forces that are preparing to fight back.
Choe Sang-Hun, the International Herald Tribune's correspondent in Korea, criticized the ruthlessness shown by the country's big conglomerates, known as chaebols, toward smaller companies.
The drive for "economic democratization" – the idea that everybody should share the wealth – has become one of South Korea's most dominant intellectual trends, Choe observes.
Korean President Lee Myung-bak, considered to be overly friendly to big business, created a presidential commission on shared growth for large and small companies in December 2010 and invited former Prime Minister Chung Un-chan to lead it.
The commission was asked to offer ways to narrow the widening gap between the haves and the have-nots and limit the growing power of the chaebols.
Chung, who grew up in a poor family, made many concrete recommendations, the most controversial of which was instituting an "excess profit sharing" scheme under which conglomerates would have had to share profits above pre-set targets with smaller companies. The commission also proposed designating 82 industries as off-limits to chaebols and establishing a set of 56 indicators to gauge whether big companies were treating smaller enterprises fairly. The recommendations were fiercely attacked and opposed by Samsung Electronics Inc. chairman Lee Kun-hee and the Federation of Korean Industries.
At the end of last year, Chung met with President Lee at Chong Wa Dae, the presidential residence, to ask for more authority and funding for the commission. The request was met with silence, leading Chung to resign in late March.
"His (Lee's) thinking on fairness and justice was superficial. I was trying, on the other hand, to do my best to make a contribution, so I resigned," Chung told CommonWealth Magazine in an office at his new think tank.
At least Chung has the consolation of knowing he is not fighting a lonely battle. Public opinion is fighting back and could make its voice heard in the country's presidential election at the end of this year.
The political whirlwind surrounding independent presidential candidate Ahn Cheol-soo, who only announced his bid in mid-September and whose main appeal is with disaffected voters, is a case on point. An editorial in South Korea's biggest newspaper, the Chosun Ilbo (literally Korean Daily News), said, "The current popularity of Ahn Cheol-soo reflects an underlying political value – that is, 'welfare and justice.'"
Is the Korean Model Worth Emulating?
The "survival of the fittest" mentality widely embraced by South Korea's government, society and corporations has been a double-edged sword – successfully turning the country into an economic powerhouse but at the same time falling short in giving people a sense of well-being. An IMD expert has cautioned that the Korean model is quite vulnerable to major ups and downs.
The question for Taiwan is after falling behind South Korea economically, should it try to emulate the Korean model?
Keun Lee, an economics professor at Seoul National University, isn't sure. He has visited Taiwan's industrial parks and is a big admirer of Taiwan's unique industrial clusters.
"Upstream and downstream members of the supply chain are all close to each other in this highly specialized ecosystem. SMEs are really dynamic, unlike in South Korea where they are all cogs within a conglomerate," Lee says, describing the cluster system as a feature that sets Taiwan apart and gives it a competitive advantage.
In contrast to the diversified vitality of Taiwan's SMEs, small businesses in South Korea show little initiative because they are beholden to the chaebols for their survival.
According to a Taiwan Institute of Economic Research survey that compared the R&D intensity (measuring a company's R&D spending as a percentage of sales) of companies in the United States, Japan, Germany, South Korea and Taiwan with 300 to 999 employees, the 1.2 percent seen in Korea lagged behind Taiwan's 1.8 percent and was only about half of the rate seen in Japan.
"So the question isn't whether or not Taiwan is able to emulate South Korea. Instead it's a question of 'do you want to'? Taiwan has its own niche. It should concentrate on being small but strong instead of constantly thinking about being big," says Tunghai University Sociology honorary professor Cheng-shu Kao.
The Flexibility of Being Small and Strong
The good news for Taiwan is that the global economy today has entered a state of surplus capacity and stagnant growth. Kao believes that Taiwan's SMEs can more effectively and quickly react to sudden changes in market preferences because of their flexibility. "Quickly responding to the market is more important than trying to get bigger," Kao says.
Two good examples of this are the machine tool and bicycle clusters in central Taiwan. These groups of mid-sized companies are building a tradition, as in Germany and Switzerland, of constantly pursuing more sophisticated, higher value-added innovations.
"Only this kind of development model suits Taiwan's current needs. Taiwan's SMEs need to upgrade their operations rather than continuing to rely on low labor costs to produce low-priced goods. The government should not always see them as old-economy businesses," says Jenn-Hwan Wang, a professor in National Chengchi University's Graduate Institute of Development Studies.
In September 2012, Taiwan's leading export sector was the machinery industry, composed of more than 100 SMEs. "It makes a major contribution to Taiwan's GDP and wages," Wang observes.
But how should Taiwan follow its own path? At the crux of the issue is whether the country is willing to fully commit itself to reinventing itself and then continuing to move up the value chain.
President Ma, on the other hand, hopes to accelerate talks with other countries on free trade framework agreements, but the government needs to consider if it has enough skilled trade negotiators for the job and if domestic industries are really ready for the country's doors to be opened to the world.
Translated from the Chinese by Luke Sabatier