Taiwanese Industry Returns from China
Is Taiwan Ready to Embrace Its Lost Sons?
精華簡文
Source:CW
With China's deteriorating investment climate, Taiwanese companies' fever for their continental neighbor has cooled. More and more are packing up and coming home. But how can Taiwan attract the cream of the crop?
Is Taiwan Ready to Embrace Its Lost Sons?
By Jimmy Hsiung, Cindy Hsu
From CommonWealth Magazine (vol. 506 )


The China investors have returned, and they constitute a force for change that is quietly influencing Taiwan's future.

Twenty years ago Taiwanese businesses left the island in droves for the greener pastures of China. Many were so successful that they became world players in their respective industries. But their exodus also dramatically changed Taiwan's economic landscape, causing the hollowing out of industry.

Today the feasting on the lavish banquet of the Chinese economy is nearing its end as many of the mouth-watering incentives have disappeared. Each year for the past three years, more than 100 Taiwanese companies have relocated from China back to Taiwan.

Taiwan's China investors are coming home. But what kind of returnees will Taiwan have to take in? Are these companies that are simply banking on cheap labor to remain competitive? Or are they innovation-driven enterprises willing to move up the value chain and transform?

A number of thriving companies have returned to Taiwan with much fanfare to set up new factories here. On a trip to rural Yunlin County we discovered a newfound vitality that local industry has not displayed in a long time.

Over the past two years, tire maker Kenda Rubber Co. in Citong Township completely overhauled its 30-year-old factory premises, building a large new plant on an adjoining vacant 10,000 square-meter plot. In May last year the fully automated production line, which uses the latest state-of-the-art automation equipment, began to mass produce automobile tires. "It's not enough," declares Kenda chairman Ying-ming Yang. "We're still looking for another piece of land of about 10,000 square meters."

Located less than five kilometers away in Douliu City is an even bigger tire manufacturer – Cheng Shin Rubber. Cheng Shin uses four big plots of land in the Yunlin Technology-based Industrial Park, totaling more than 31,000 square meters, for its new factories. One of the plants has already begun mass production, while construction on the three others is progressing rapidly.

It's not just the conventional industries that are keen on returning to Taiwan. Diagonally across from Cheng Shin's new production base, a large construction crane and truck-mounted crane are working busily. The site belongs to precision machinery maker Hiwin Mikrosystem Corp. Hiwin's new factory on the Dabeishih campus of the Yunlin Technology-based Industrial Park has just launched production, but the company is, nonetheless, in a hurry to add yet another production line.
A Sudden Surge
While the wave of returnees seems to have risen with speed and intensity, it was foreseeable. Statistics by the Department of Investment Services under the Ministry of Economic Affairs show that since 2006 the total amount of investments in Taiwan by Taiwanese returnees from China has increased continuously. This year such investment is forecast to top NT$50 billion. (See Table)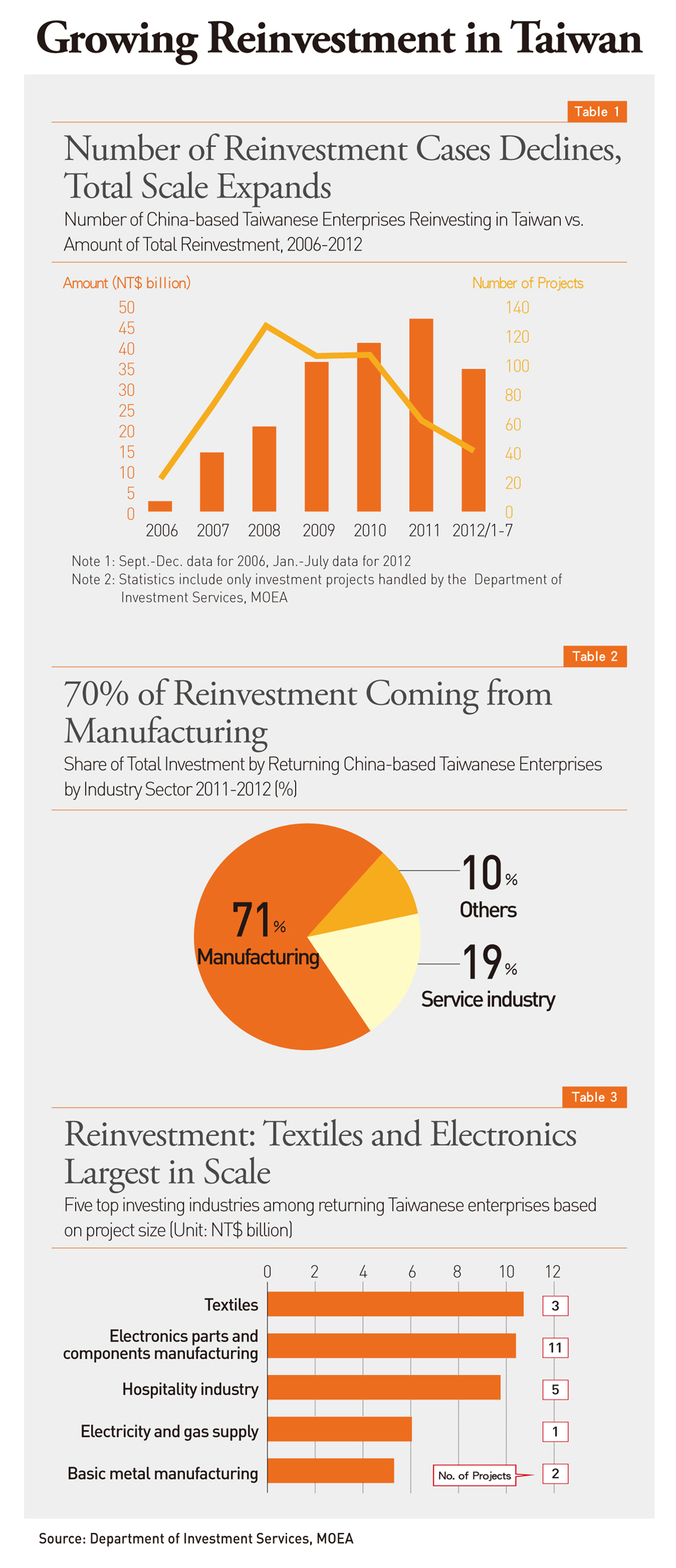 The steady influx of Taiwanese businesses also puts to test the government's ability to make them feel welcome and at home.
Labor Shortage Plagues Returning Enterprises
The biggest concern voiced by returning Taiwanese investors has always been the shortage of labor. "We have already heard too many complaints from industry that they can't find workers, and it's for sure that there are many kinds of jobs that the Taiwanese won't do," admits Vice Minister of Economic Affairs Bill Cho. He is convinced that raising the recruitment quota for foreign laborers would not take away jobs from the Taiwanese.
Council for Economic Planning and Development chairman Yiin Chii-ming has proposed that Taiwanese enterprises with an international brand, key technology or investment exceeding a certain amount should be granted a higher foreign labor quota – 40 percent instead of the current 30 percent of the workforce – for a maximum of six years, provided they return to Taiwan for investment within the coming two years.
Gee San, professor at the Graduate Institute of Industrial Economics of National Central University, believes that relaxing the quota on foreign laborers would actually help create more jobs for the locals as well. "Only 40 percent of workers at a newly built factory will be foreign laborers. The other 60 percent will still be local people. These jobs didn't exist in the first place. They are new ones, so we shouldn't look at this issue as a case of being crowded out," remarks Gee San.
Will Foreign Labor Compress Local Wages?
The Council of Labor Affairs takes a starkly different stance on the issue. Chairwoman Wang Ju-hsuan insists that depending on how many foreign laborers a company hires, "it must pay into the Employment Security Fund accordingly."
She does not support courting investors with either a higher foreign laborer quota or exemption from Employment Security Fund contributions. "When enterprises hire foreign workers, this should be because of labor shortages and not because they are after cheap labor," Wang states adamantly, her voice rising in volume. She insists that companies pay Employment Security Fund contributions to prove that they truly can't find workers in Taiwan.
"What kind of industries do we want to lure back, after all?" she asks, noting that using cheap labor as an incentive will naturally attract low-wage industries. "I don't think this bodes well for Taiwanese workers, because everyone's wages will quickly be dragged down."
A Wake-up Call for the Rice Noodle King
Automation is not just for the high-tech sector. Even labor-intensive conventional industries can benefit from automated production processes, thus creating jobs for technicians and other skilled workers.
We visit the Litse Industrial Park in Yilan County under a brightly shining September sun. This is where Tiger Brand rice noodles, which are well known across Asia, are produced.
"Making rice noodles on a scale such as ours can only be done in Taiwan," asserts Ming-tung Lin, chairman of Tiger Brand Cheng Tung Industrial Co. Ltd.
Lin, who founded the company some 40 years ago, is known as the king of rice noodles in Chinese communities around the world. Last year the famous noodles, 70 percent of which are exported worldwide, generated revenue worth NT$120 million. This was only possible because Lin developed a fully automated production process for noodle making, which traditionally is largely done by hand.
Now every single step in the noodle-making process takes place on the same conveyor belt. After the dough emerges from the mixing chamber, it is spun into threads, pressed, kneaded, steamed and finally dried. There is little human involvement as workers only need to stand on both sides of the conveyor belt to monitor the process. This is possible since the noodle-making process, which when done by hand requires years of experience and special skills, was broken down into several simple movements. The Yilan factory has a daily output of ten tons of rice noodles, the equivalent of 15,000 700-gram bags of noodles, the most widely sold package size.
In 2005 Lin went to set up shop in China, lured by low wages, cheap land and the desire to expand into the Chinese market. However, just two years after establishing a factory in Xiamen in Fujian Province, Lin became fed up with rapidly rising labor costs and sloppy workers, shuttered the plant and returned to Taiwan.
When Lin started his China venture, a worker's monthly wage stood at 400 renminbi. Two years later, wages had soared to 600 renminbi. But what angered Lin more than the 50 percent wage increase was the lax attitude of his Chinese employees.
Worker Quality: an Invisible Cost
"While running my business in Taiwan for so many years, I have seen that the vast majority of Taiwanese workers have a sense of responsibility. They place certain demands on the quality of their own work. But you don't see this kind of attitude in Chinese workers at all," laments Lin, who will turn 64 this year. "I started to reminisce about my time in Taiwan and finally understood how precious these invisible cost factors were."
Fortunately, Lin had rented and renovated an old factory in Xiamen instead of making a massive investment in the construction of a new production site. So after he had gotten his priorities clear, he did not hesitate long to sell off all the equipment and absorb the losses. In 2007 he packed his bags and happily went home.
But not every Taiwanese investor can afford to change course as quickly as Lin. Taiwan Electrical and Electronic Manufacturing Association (TEEMA) chairman Arthur Chiao confirms that a high number of Taiwanese companies in China are making plans to come home. But he believes that only a few will be able to realize their goals. "The Taiwanese businesses that are able to return to Taiwan now are those who are more or less able to continue to survive in China, companies that are strong."
Catching Up on Missed Automation
The return of these quite competitive companies from China generates increased pressure on local industry to speed up long overdue automation.
Francis Tsai, chairman of National Aerospace Fasteners Corporation, observes that the mass exodus of Taiwanese industry to low-cost countries some twenty years ago held up the pace of automation in Taiwanese industry.
"Who would be willing to spend money on automation if there is plenty of cheap labor available?" Tsai wonders. But the innovation-driven, competitive and high value-added companies returning from China are able to quickly close the 20-year automation gap.
"Recently, we have surely seen a big increase in inquiries from companies," notes Kuo Tzu Hsin, deputy head of the Industrial Technology Research Institute's Intelligent Robotics and Automation Systems lab. In the past, Taiwan's annual demand for industrial robots stood around 1,200 pieces. Kuo expects that figure to increase markedly this year.
Creating High Value-added Industries
Industrial automation requires higher investment. As a result, the returning companies must manufacture more innovative, high value-added products.
In Tainan's Yongkang District stands the headquarters of the world's top supplier of bicycle chains, KMC Chain Industrial Co. Ltd. Before 2008 the Yongkang factory had virtually stopped operation, because production had relocated to China.
But now the site teems with activity. Deborah Wu, vice president of marketing and daughter of company founder Charles Wu, remarks that KMC increased its investment in Taiwan not because it fared badly in China, but because it realized the importance of the steadily rising added value of Taiwanese production.
Wu has also injected a few new ideas into the company's production philosophy, setting herself apart from her father. This focus on added value pays off in higher sales prices. While Taiwanese finished bicycles sold abroad at around US$200 in the past, prices had steadily gone up to US$350 per piece at the time KMC increased its investment in Taiwan, and have since risen to US$450.
Making the Taiwanese Capital Market More Vibrant
And then there is footwear manufacturer Fulgent Sun International (Holding) Co., whose application for primary listing on the Taiwan Stock Exchange was approved in June. The company, based in Quanzhou in China's Fujian Province, is a classic example of a Taiwanese-invested company without roots in Taiwan, because it was established in the Cayman Islands. Last year, company headquarters were relocated from Quanzhou to Yunlin County.
"Taiwan has already built a highly skilled workforce and has reached a certain level in design. It has long left behind the times when workers were only able to mechanically follow standard operating procedures," observes Fulgent Sun chairman Mark Lin. Taiwan's talent pool was the major reason behind Lin's decision to move his headquarters to Taiwan and list on the local bourse.
Many Taiwanese companies are relocating their factories to Taiwan or increasing investment on the island. But Fulgent Sun stands for another model of upping the ante in Taiwan that should not be overlooked – listing on the Taiwan Stock Exchange (TWSE). TWSE statistics show that so far 32 companies have listed by issuing Taiwan Depositary Receipts (TDR). These include two companies that listed before restrictions on capital outflows were relaxed in 2008. Fourteen of these companies, or 43 percent, have major shareholders from Taiwan.
Activating the Upstream and Downstream Supply Chain
The return of the Taiwanese investors also directly contributes to the local economy by generating upstream and downstream industry effects. Bert Huang, president of machining center maker Victor Taichung Machinery Works Co. Ltd., has noticed that after tariffs were scrapped for certain products following the signing of the Economic Cooperation Framework Agreement (ECFA) between Taiwan and China in 2009, many Taiwanese companies in China increased their investment in Taiwan and bought machines from Victor. Huang estimates that in the past the lion's share of Victor machines was shipped to China for use in factories there. "But since last year the entire situation has turned around. Seven or eight out of ten machines are used in Taiwan, while only two or three are sent to China," he relates.
As more and more Taiwanese companies want to come back, how should Taiwan with its limited resources use the policy incentives at hand to separate the wheat from the chaff among the aspiring returnees? Will Taiwan be able to attract the winners – companies that create jobs, migrate to a higher degree of automation, commit capital and invest in R&D, and thus stimulate upstream and downstream development? Or will it be stuck with the losers that China no longer wants – dirty, low-wage and labor intensive industries?
Translated from the Chinese by Susanne Ganz