2012 Local Leader Approval Survey
The Rise of a New Generation
精華簡文
Taiwan's highest public approval ratings belong to newcomers. But will they be able to meet expectations? And what do the rankings reveal about the state of Taiwan's democracy and the island's political landscape?
The Rise of a New Generation
By Rebecca Lin
From CommonWealth Magazine (vol. 505 )


Taiwan's political scene should be rather quiet in the second half of 2012. Following the hotly fought presidential election in January, the two major political parties – the KMT and the DPP – are finished licking their wounds and have gone back to business as usual. With the next elections – those for county chiefs and city mayors in 2014 – still two years away, the political parties are not yet gearing up for another campaign.

Yet 2012 is probably the most competitive time as local government leaders try to position themselves for a second term. It might also prove to be a year that has a crucial impact on Taiwan's future.

In this year's CommonWealth Magazine Local Leader Approval Survey, Taiwanese citizens handed their chief executives mid-term report cards that starkly differed from those of the past. Apparently the political landscape has seen another shift: On top of competition between the political parties, internal struggles are surfacing within the parties between the younger and older generation of leaders.

"Overall, the newcomers from the new generation are rising quickly," observes Yu-Tzung Chang, associate professor at National Taiwan University's Department of Political Science. Should the KMT central government continue to fail to improve its dismal track record, key KMT strongholds like Taichung, New Taipei, or Jiayi City could see their mayors ousted.
Phenomenon No. 1: New Brooms Sweep Clean
In the 2012 Local Leader Approval Survey, all six local chief executives from the DPP landed a spot in the top ten, placing them among the upper half of Taiwan's local leaders. Tainan City Mmayor William Lai, for instance, won third place last year thanks to his fresh and clean image, and he took the top spot this year. (Table 1)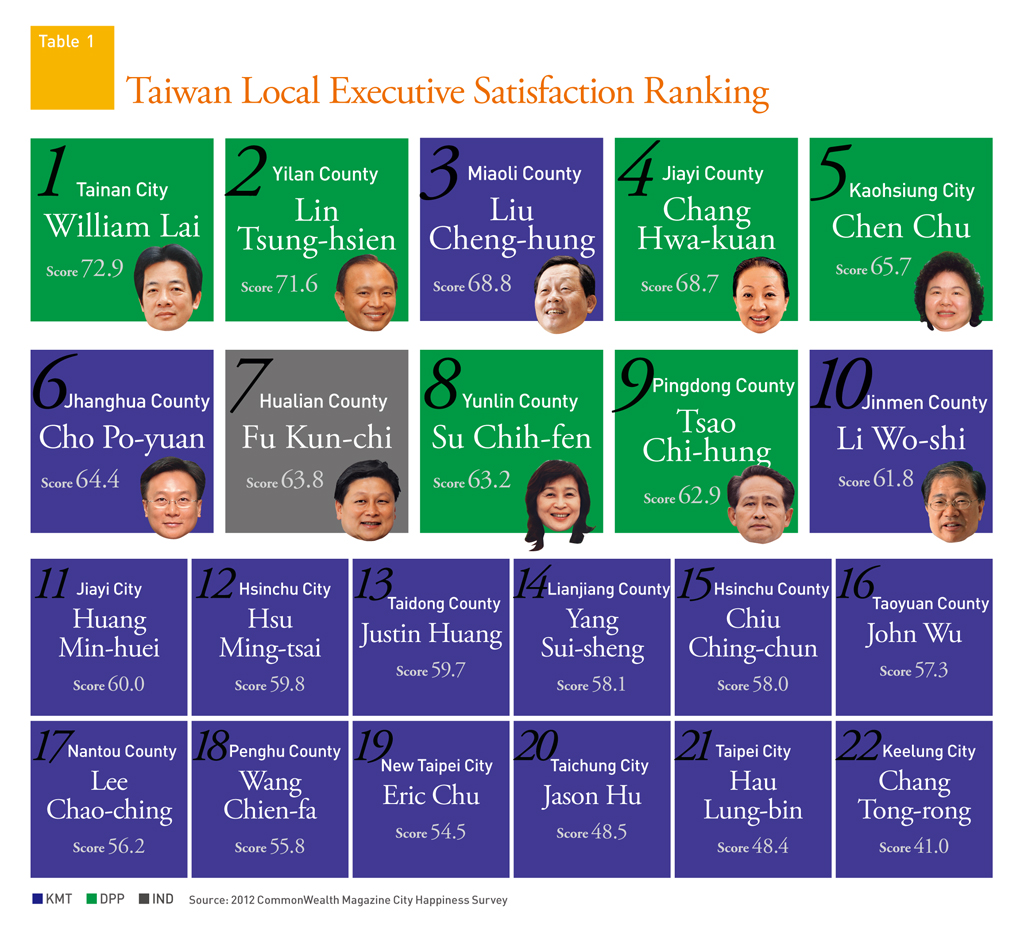 Right on Lai's heels follows Yilan County Ccommissioner Lin Tsung-hsien in second place. Jiayi County chief Chang Hwa-kuan ranked fourth despite an alleged corruption scandal and suspicions of cancer. But the rankings show clearly that it is the newcomers among the local DPP government leaders who have moved up.
Among those in the top ten, five are first-time county chiefs or mayors, including Lai, Lin and Chang, as well as Hualian County's Fu Kun-chi and Jinmen County's Li Wo-shi.
These fresh faces in local politics have begun to make themselves a name. "Competition among the new hands in the DPP is fierce, because this party does not look at seniority, but picks candidates entirely depending on actual strength," notes Tsai Hsiu-chuan, associate professor at the Soochow University Department of Political Science. This new breed of politician is more imaginative with regard to the future and naturally has a stronger will to achieve.
The rankings also indicate that competition between the different generations of DPP politicians is already red hot.
Phenomenon No. 2: High Support for New Generation
Survey respondents revealed a high degree of loyalty to the new generation of local leaders.
When asked, "If elections were held tomorrow, would you vote for the incumbent commissioner or mayor?" the constituents of the three top-ranked politicians – Lai, Chang and Lin – answered overwhelmingly in the affirmative. Moreover, 47-year-old Jhanghua County chief Cho Po-yuan soared to fifth place in the public support rankings, outdoing Miaoli County chief Liu Cheng-hung, the third-ranked in the approval survey. (Table 2)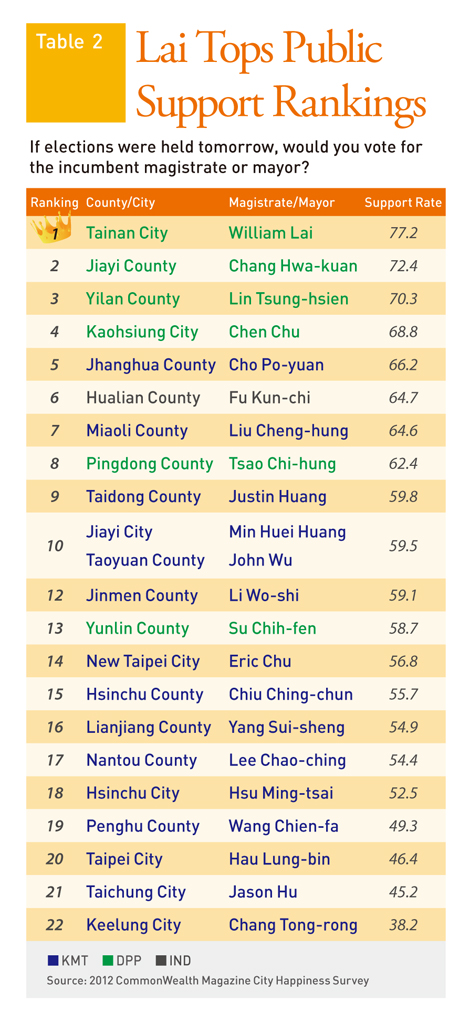 The biggest gap between the two different rankings was registered for Taoyuan County chief John Wu. Although Wu got only ranked 16th in the Approval Survey, 59.5 percent of Taoyuan residents said they would re-elect him. This translates into 10th place for Wu in the voter support rankings.
The residents of New Taipei City also appeared ready to re-elect mayor Eric Chu. While Chu trails in the approval rankings in 19th place, unchanged from last year, he enjoys a support rate of 56.8 percent, or 14th place.
In fact, Chu is four years older than Cho, and Cho four years older than Wu, but they were all exactly 40 years old when first elected as local chief executive, and each was the youngest elected local government leader during that election cycle.
Political support rates represent a politician's future prospects, and closely reflect voting behavior. Professor Chang believes that voters make their decisions based on more than a politician's individual capabilities and strengths. Supporters of the pan-green camp (the DPP and affiliated parties) are more unified and less open toward other political parties, whereas pan-blue voters (favoring the KMT) come from a diversity of backgrounds. Some vote blue because they adamantly oppose the green camp, while others are middle-of-the road voters with blue leanings. "Therefore, we have this phenomenon that the blue camp still supports its politicians, even if they are not satisfied with them," explains Chang.
Phenomenon No. 3: Big Gap in Five Big Cities
A wide gap has opened between the performances of the mayors of Taiwan's five largest cities, or "special municipalities" (three of which were formed through mergers with their surrounding counties in 2010).
Besides Tainan's Lai, DPP heavyweight and Kaohsiung Mayor Chen Chu also managed to move up in the approval survey from 10th place last year to 5th place this year. At the same time she also boasts a support rate of 69 percent, or fourth place. Apparently Chen has already been able to overcome her initial difficulties in accurately identifying the needs of residents in former Kaohsiung County, a largely rural area.
In contrast, the KMT mayors of New Taipei City, Taichung, and Taipei scored only 19th, 20th, and 21st, respectively, in terms of public satisfaction.
"The Taichung City administration basically still mainly falls back on former Taichung City. It has not yet grasped what is of public concern when it comes to former Taichung County," one scholar observes.
Kaohsiung Harbor, for instance, has already undergone a facelift. "But has Taichung port seen any changes?" the scholar muses. The city government's corridor concept, which encompasses Taichung International Airport, Taichung Port, and the high-speed railway's Taichung Station in Wurih, does not go beyond high tech and logistics, which is too far removed from the needs of ordinary citizens and also unable to spawn new industry. "The public doesn't feel there is a promising, clear vision," the scholar maintains.
Phenomenon No. 4: A Gradual Shift in Municipal Governance Patterns
The survey results also show that there is a gradual shift as to what constitutes good governance at the municipal level. The public values less whether a county chief or mayor grants generous subsidies and tours his constituency to solicit support, but attaches importance to his skills in governance.
Performance indicators for good governance are systemic improvements, cross-regional cooperation, the building of a competent team, and fiscal autonomy.
Tainan's Lai, who won the top spot in both rankings, is particularly adept at drawing on civic group resources. Tainan Community University president Lin Chao-cheng observes that Lai uses a soft approach. He frequently seeks the advice of non-governmental organizations, demonstrating a strong awareness of politically sensitive issues.
When the Chianan Irrigation Association began preparations to demolish the 80-year-old Tseng Wen River Aqueduct, which is part of the Jiayi-Tainan Canal, local historians were outraged. Hoping to solve the controversy, Lai mobilized the city government team to confirm that the site deserved to be preserved. At the same time he asked the water management agencies to solve the technical problems that caused the historic structure to be a potential safety hazard.
"When it comes to policy, his horizontal coordination is fairly flexible," notes Lin, who was deeply impressed by the mayor's cooperative attitude.
Miaoli's Liu Cheng-hung, No. 3 in the local leader approval rankings, also emphasizes leadership and has adopted a result-oriented governing style. A scholar who used to work side by side with Liu compares him with the ancient Chinese General Cao Cao, who was known to reward his soldiers according to their performance and to set clear goals. He cites as an example Miaoli County's successful bid to win a subsidy from Taiwan's Department of Health as part of its Healthy City Program. Miaoli offered two excellence merit citations to staff as an incentive should the application be successful – a considerably more generous reward than the two commendations on offer from other counties and cities. It should not come as a surprise that Liu's team was more motivated to pull out all the stops.
"If you're willing to do what it takes, and you have the ideas, then I'm willing to reward you," is how the scholar describes Liu's leadership style. As a result, Liu, whose popularity had plummeted in connection with the seizure of farmland for a science park expansion, quickly recovered to soar to third place.
Aside from these four new phenomena, the CommonWealth Magazine Local Leader Approval Survey also uncovered the following five warning signs:
Warning No. 1: Experts Give Low Grades on Policy Implementation
Soochow University's Professor Tsai, a longtime observer of local politics, believes that the electorate's judgment of politicians' performance will become increasingly sophisticated given the broad availability of a vast amount of diverse information. With regard to the performance of local government leaders, the outcome of public opinion polls already tends to match expert rankings.
But in comparison to last year, the experts' satisfaction with local government leaders has taken a serious dent.
"Experts also have policy expectations. What we all need to face now is the gap between politicians' pledges and reality," remarks Chen Wen-liang, deputy secretary general of charity organization United Way of Taiwan.
Warning No. 2: "Freshness" of New Brooms Short-lived
The survey also showed that Hualian County chief Fu Kun-chi, whose strong leadership earned him the top spot in the approval survey last year, has slipped some 10 percentage points, barely holding on to 7th place.
"He definitely does a lot to solicit investors and also strictly implements the ban on construction on mountain slopes and other parts of his Eight No's policy," notes Hsing-Sheng Tai, associate professor at the Department of Natural Resources and Environmental Studies of National Dong Hwa University.
Furthermore, Fu massively promotes tourism, in particular from China, yet without tangible benefits for ordinary citizens. "You see nothing but crowds when leaving the house, but it's only the souvenir shops, bus companies, and restaurants that make money from the tourists," complains Jenner Lin, secretary-general of the Society of Wilderness.
Obviously, having a vision is not enough to move people. Local leaders also need to sense where public sentiment is headed. Otherwise, pragmatic livelihood problems will quickly turn them into politicians past their expiration date.
Warning No. 3: Blue Camp's Predicament Worsens
Both rankings show that electoral prospects for the blue camp are darkening. "The voter base in DPP-ruled municipalities keeps broadening, whereas it is crumbling in the KMT-ruled counties and cities," concludes politics professor Chang. On the other hand, chief executives in DPP-ruled municipalities enjoy support rates of above 60 percent, with Yunlin County being the only exception. The frontrunners Lai, Chang, and Lin even command support rates of 70 percent and above.
KMT-ruled municipalities are effectively affected by the lackluster performance of the central government. "Hau Lung-bin and Eric Chu are making efforts, but moving up to the first few ranks is very difficult for them, because the central government's performance rubs off on them," posits Chang.
Chang's research also found there is an increasing correlation between central government performance and candidates' prospects in municipal elections or satisfaction with incumbent chief executives. Should the central government fail to polish up its dismal track record, the next municipal elections in 2014 might turn the tables in favor of the opposition DPP.
Chiang Ta-shu, professor at the Department of Public Policy and Administration of National Chi Nan University, believes that the KMT must take the increasing north-south gap regarding public approval in the five special municipalities as a warning sign. Taiwan's five biggest cities have an even greater need for joint planning, because they ought to serve as regional locomotives. Theoretically, the KMT-controlled central government and the KMT-ruled cities of Taipei, New Taipei, and Taichung should work closely together and develop a shared vision.
Warning No. 4: Clean and Competent Politicians Wanted
On the other hand, local leaders are finding it increasingly difficult to gain political capital from a "clean" reputation. Generally speaking, survey respondents had a confidence level of more than 50 percent when asked whether they believed that their local leader was free of corruption. Hau, Chu, and Hu, the laggards in the overall ranking, were affirmed as non-corrupt with particularly high scores. In contrast, several of the frontrunners in the approval survey won only a low ranking with regard to a clean reputation.
"The Taiwanese attach importance to integrity and competence," says professor Tsai, who also sits on the board of Transparency International Chinese Taipei. Tsai believes that having a clean reputation has already become a basic requirement for politicians and that there is broad consensus among the electorate that government should be corruption-free. "What politicians need to work hard at nowadays is competence in running a government, and their genuine abilities will be reflected in their governance approval ratings," Tsai believes.
Warning No. 5: Good Municipal Governance Means Fiscal Management
Crucial for good governance at the municipal level is the ability to manage finances and fiscal policy.
In August Yophy Huang, associate professor of public finance and taxation at National Taipei College of Business, attended a symposium on financial reform. As he leafed through data on Taiwan's local government debt, his eyebrows furrowed in concern, because the municipalities are going deeper and deeper into the red.
Kaohsiung is already buried under a mountain of debt of more than NT$200 billion, but the debt burdens of Taipei, Tainan, New Taipei City and Taichung are almost as heavy. Yilan County, Miaoli County and Hsinchu City have all exceeded the statutory ceiling of 45 percent for debt outstanding over one year.
Since the man in the street does not know enough about fiscal policy, he usually does not use the fiscal state of a municipality as yardstick for its government's performance. Huang notes that many local governments spend lavishly to gain voter support without taking into account that coming generations will have to pay the price. And it's the new generation of politicians who often ignore the alarm bells when faced with the new demands of good governance.
A new generation, new leaders, new governance – the 2012 Local Leader Approval Survey are painting a new picture of Taiwan's democracy.
Translated from the Chinese by Susanne Ganz