Taiwan's Top 50 Corporate Citizens 2012
Invest in Employees, Beat the Recession
精華簡文
Source:CW
Truly happy enterprises are able to improve employee welfare without increasing costs or undermining growth. Viewing employees as assets is a key to sustainable business.
Invest in Employees, Beat the Recession
By David Huang, Ting-feng Wu, Chou Yuan, Margaret Pai
From CommonWealth Magazine (vol. 503 )


The results of CommonWealth Magazine's 2012 Corporate Citizenship Awards are out. Taiwan's 50 top-ranked corporate citizens live up to their corporate social responsibility (CSR) by taking concrete action, shattering the widespread notion that freezing salaries and cutting employee welfare is inevitable in economically difficult times.

American high-tech company Intel, which has been named to the Dow-Jones Sustainability Index (DJSI) for many years in a row, is a case in point.

Intel, which continues to hire in Taiwan, increased its workforce last year by 25 percent. Nearly 50 more jobs have been added this year so far. Intel Taiwan keeps increasing its workforce although the island's electronic industry is feeling an economic chill.

Moreover, the high-tech company allocates an annual budget for employee activities and clubs, based on the size of its workforce. "Regardless of whether our business grows or shrinks, appropriation of these funds will not be suspended. And my approval is not required for any of these," notes Intel Taiwan country manager Jason Chen.

Chen firmly believes that when employees don't have to worry about their mental and physical health or the well-being of their families, they will identify more with their company and be more committed to work. As a result the company's operational performance will also improve.

However, such ideas have not yet firmly taken root in Taiwan's business community.
Markedly Higher Salary Raises
Last week, labor representatives, the Council of Labor Affairs, and local entrepreneurs had a major clash. The point of contention was the suggested one-time increase of the minimum hourly wage by NT$8 to NT$113.
On the eve of the meeting, six major industry and trade associations issued a statement saying that companies are already under tremendous pressure given rising oil and electricity prices on top of a lackluster economic outlook and therefore cannot bear another minimum wage increase.
Are things truly that bad?
Regular salaries, not including year-end bonuses, increased only 3.3 percent over the past two years in the manufacturing and service industries, which employ some 6.9 million people, according to the Directorate General for Accounting, Budget, and Statistics (DGBAS).
However, the Top 50 Corporate Citizens, which employ almost 280,000 people, registered average salary increases of 8.45 percent over the past two years. (See Table 1 & Table 2)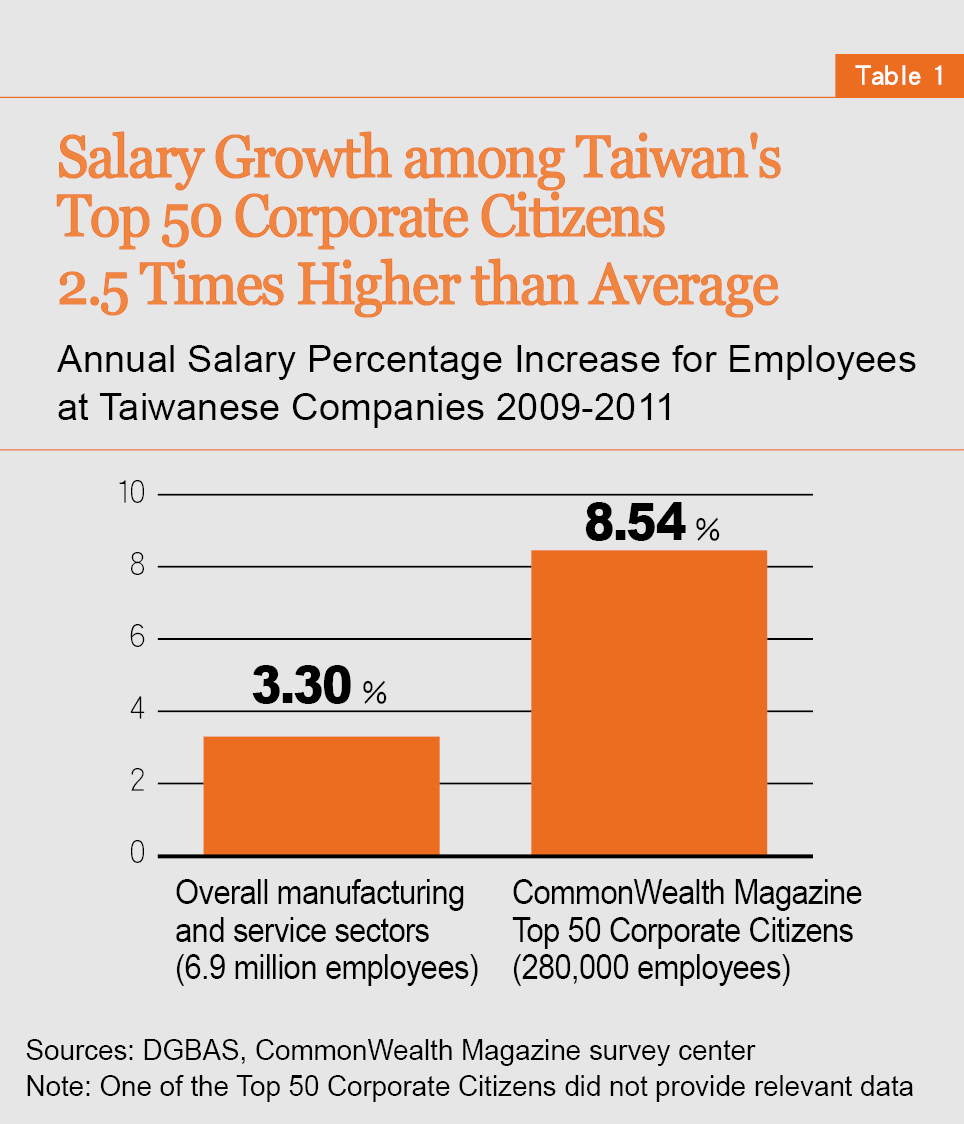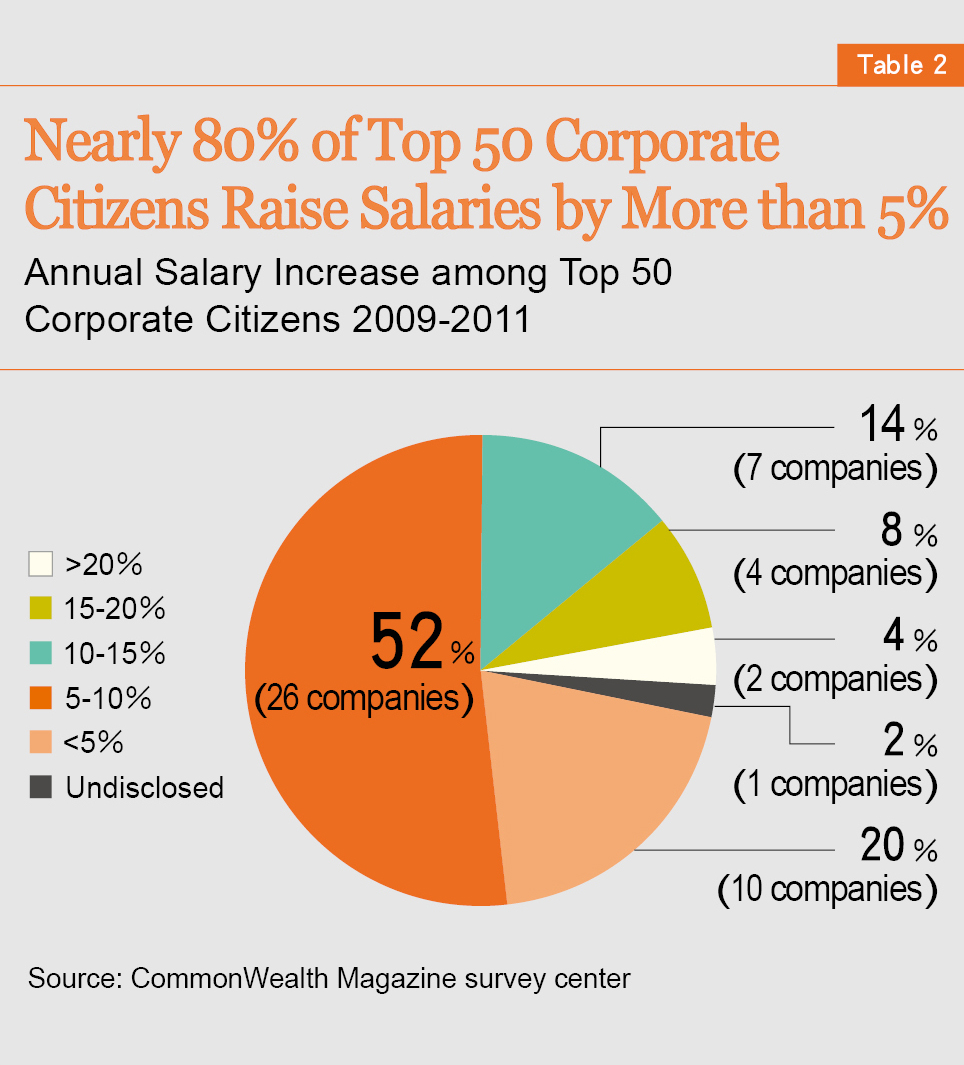 The scope and profitability of these companies suggests that the more an enterprise values its employees and the more it is willing to take their needs into account, the more likely it is to emerge as a winner amid economic ups and downs.
These companies make great efforts to create hospitable workplaces for their employees, in order to become happy enterprises.
Happy Employees Make for Satisfied Customers
American coffee shop chain Starbucks, selected as a component of the Dow-Jones Sustainability Index, has a profound understanding of how to run a happy business.
The company's recruitment plan is called "Your special blend." In a bid to attract talent that identifies with the Starbucks culture, employees not only receive salaries, insurance and stock options, but can also apply for financial assistance in the event of a personal emergency. The company also provides an employee support system such as children's day care and elderly care.
In Taiwan, restaurant chain operator Wowprime Group believes that a company can only charm its customers if it first reaches out to its employees.
"Our competitiveness lies in our ability to touch the hearts of our customers," declares Wowprime vice chairman and president Endy Wang. But the prerequisite for moving customers is "wooing" service personnel who work at the frontline.
Wowprime is clearly aware that every single frontline service employee has had his or her part in building the group's huge restaurant empire.
Compared to a staff turnover rate of 8-10 percent in Taiwan's F&B industry as a whole, Wowprime's stands at less than 3 percent. "As soon as a colleague is willing to make the company his own, even the power of ten horses cannot pull him away," remarks Wang with a confident laugh.
Wowprime introduced an employee bonus system and employee trips with the opening of its first restaurant. But Wowprime attaches even greater importance to expressing concern for its employees.
Every year before the Chinese New Year holiday season, the busy top managers of the group's various restaurant brands spend two to three weeks visiting the families of their restaurant managers and chefs. They thank them for their contributions to the company and fill in the families on the latest corporate developments.
Even in a vast market like China, Wowprime does not stray from this established practice.
Once a supervisor set out from Shanghai to visit the family of an employee, although the trip to the remote countryside involved multiple transfers from coach to minibus and ox cart and even a final stretch on foot. "This approach is very costly, but I think it's worth it," offers Wang.
Corporate Transformation Hinges on Employee Engagement
In its social indicators, the DJSI emphasizes that remuneration systems must work in tandem with the sustainable development of talent attraction, talent retention and talent cultivation.
Key for sustainable development is improving employees' skills, enabling them to grow in the same direction as the company and toward the same major goals. Telecom services provider Taiwan Mobile, which ranked fourth among Taiwan's top 30 large corporations of 2012, has set an example.
Eleven years after joining Taiwan Mobile directly upon graduation, Liang Yen-wei has already moved up the career ladder to the post of supervising engineer at the systems design department. Thanks to her company's encouragement and financial assistance, Liang has not only completed training courses by network solution provider Cisco, but also obtained two or three professional certifications every year, which makes her stand out among her female technician colleagues.
"For each certification you need to take an exam in four subjects, each of which costs at least NT$5,000 in registration fees. As long as you obtain the certification, the company will reimburse all costs in full," Liang explains.
Liang has already been awarded nine certifications, including the all-important Cisco Certified Internetwork Expert (CCIE), centered on telecom industry network planning and development. Viewed as the highest level of technical networking certification, CCIE is crucial for Taiwan Mobile for developing digital convergence.
As a top certified engineer, has Liang never thought about jumping ship during her decade-long career? "I think that among Taiwan's telecom companies Taiwan Mobile has the greatest potential," Liang replies.
In this year's Top 50 Corporate Citizen rankings, Taiwan Mobile surpassed industry leader Chunghwa Telecom for the first time. In particular, it made great progress in terms of "corporate commitments."
What do Employees Really Need?
In an employee satisfaction survey, Taiwan Mobile found that its staff cared most about career prospects, internal communication and remuneration.
So what is it that employees need after all? How can a company get feedback from its employees? What is the right approach to listening to employees' ideas and opinions?
CSR expert Jerry C.W. Hsu, an assistant professor at the department of environmental engineering at Tungnan University, observes, "Many companies care a lot about customer satisfaction but take employee satisfaction lightly. This point alone shows that companies easily overlook the employee as an internal stakeholder."
Similarly, German carmaker BMW, also selected as a component of the DJSI, made considerable efforts to discern its employees' thoughts and aspirations.
BMW not only publicizes the results of its employee satisfaction surveys in its biannual "Sustainable Value Report," detailing what makes its employees feel satisfied. But unafraid of showing its weak spots, the carmaker also reveals where employees see room for improvement: Employees suggested that decision-making and interface ownership required clearer definition and that corporate culture should encourage dissent and innovation more.
"From a CSR angle, BMW is somewhat more courageous than other companies," posits Hsu. "That they dare to put it in writing shows they aren't afraid of being monitored, that they have the intention to improve."
Without doubt BMW was badly hit in the 2008 financial crisis like many other companies.
German sustainability rating company Oekom Research points out that at the time BMW carried out 7,500 job cuts globally through early retirement schemes, labor-management negotiations, and routine dismissal of underperforming employees.
But BMW's measures, nonetheless, won public support, because it had developed a workforce evaluation method, which was used in an open and honest manner in a bid to minimize the social impact of the layoffs.
"It's not that the best companies don't fire people, but they make sure that employees who do a good job feel encouraged," notes Taiwan Mobile co-president Vivien Hsu. "Taiwan Mobile also sets a certain annual turnover rate target. This is a form of encouragement for those who retain their jobs and prove competent. This is also crucial for employees' identification with the company, for their readiness to grow with it," Hsu believes.
Invest in Your Employees during Economic Downturns
The modern enterprise must give its employees happiness, but salary raises alone no longer do the trick.
Charles Wang, president of consulting firm Towers Watson Taiwan, believes what employees really need is room for self-initiative and the possibility to strike a balance between work and life.
Wang decries that the social benefits offered by the vast majority of companies do not cover personal emergencies. He believes that flexible work hours give employees the flexibility they need in emergency situations.
Moreover, companies need to pay attention to the fact that employee needs change during different stages of life.
It's not that Taiwan's small- and medium-sized enterprises are complete strangers to such considerations. Yang Chien-chun, chairperson of Real Estate Develop Co. Ltd., has made great efforts to create a work environment that makes employees happy and encourages them to stay with the company after having children.
Any employee who has worked at the company for a full year is entitled to a NT$20,000 cash award when he or she becomes a parent. During maternity leave the company pays another NT$100,000, while a nanny is subsidized with NT$15,000 per month until the child is two years old. Subsequently, a day care allowance of NT$3,000 per month is paid until the child is five years old.
All in all, this adds up to NT$573,000 in subsidies per child over a five-year period. If the company's NT$28,800 wedding cash gift is included, the total exceeds NT$600,000.
Yet there is more to come. The company now plans to hire a nanny to help employees solve their daycare problems.
More and more companies are discovering that the best way to increase their employees' staying power is to have their families identify with the company too.
Uen Jin-fen, professor at the Institute of Human Resource Management of National Sun Yat-sen University, points out that employee cohesion and competencies translate into better services for customers and thus improve a company's competitiveness. And once a company has gained greater competitiveness, it can invest more in its employees, creating a virtuous cycle.
The recipients of the 2012 CommonWealth Magazine Corporate Citizenship Awards have already demonstrated the new key to competitiveness: Being good to your employees is as important as being good to your customers.
Translated from the Chinese by Susanne Ganz
---