Taipei National University of the Arts
Combining Art with Technology
精華簡文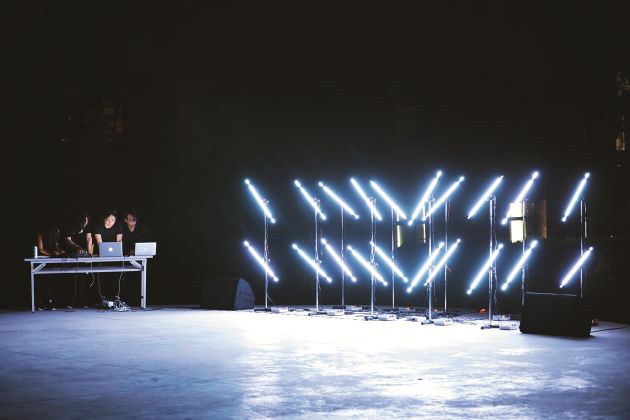 The Department of New Media Art at TNUA hopes to train creative individuals who are equally adept at using the analytical-logical and artistic-creative parts of their brains.
Combining Art with Technology
By Echo Chu
From CommonWealth Magazine (vol. 610 )


As night falls around 6 p.m., some 100 long LED tubes light up at the Administration Building. Suspended from a four-meter-high ceiling, the tubes can be lowered and raised; software controls their brightness and lighting mode, while a motor adjusts their height, creating the impression of overlapping, rolling waves.

The eye-catching installation has a special background. Three years ago, Cantopop star Andy Lau chose this work as the prototype for the special stage lighting effects on his Always Concert tour in Asia, where it wowed audiences.

The creative heads behind SkyLight: Cloud, interactive installation design company WhylxD Co. Ltd., all graduated from the university's School of Film and New Media, although they come from very different backgrounds, including information science, visual arts, mechanical engineering and mass communication. They brought their creation back to campus to help make the Kuandu Light Art Festival a resounding success.

"Our goal in running this department is to equip students with the ability to master technical tools and cultivate artistic creativity at the same time," notes Yuan Goang-ming, the chair of the new media department.

TNUA established the Graduate School of Art and Technology in 2001, and it was incorporated into the School of Film and New Media in 2009. A new media art undergraduate program was introduced in 2010 at the Department of New Media Art. The multimedia industry increasingly looks to recruit artistic individuals who can apply digital multimedia technologies in a creative manner.
Programming, Sketching and Drawing
The new media art department stands out with courses that span the liberal arts and technology.
In their previous class, the students may have been sketching freely by hand, studying basic artistic skills and design knowledge, while in the following class, they might sit in front of a computer screen working with 3D design software and writing their own programs. In order to let their works interact with the environment or an audience, the students not only need to familiarize themselves with the principles of mechanical and kinetic energy; like electric engineering students, they also need to learn how to use a soldering iron to connect electric circuits and install sensors. The department's curriculum also includes courses on red-hot high-tech topics such as "Practical Basics of the Internet of Things."
In the bachelor degree program's first two years, students learn the basics. They may choose different specializations only in year three. How can students obtain basic knowledge and practical experience on a broad basis across the two vastly different worlds of technology and arts in only four years? The answer is that, aside from widening students' horizons, they also need to gain very practical hands-on experience.
While art does not know borders, technology is subject to rapid change. In order to keep up with the latest trends and developments, it is necessary to seize opportunities for international collaboration. This year, the Department of New Media invited guest lecturers from eight major arts institutes in France to Taiwan to jointly create a "space art program." On top of that, the department invites scholars and artists from Taiwan and abroad to hold workshops every month.
Lecturer Huang Yu-hsiung points out that it is imperative in this digital era that students be given sufficient opportunities to express themselves and learn to work in a team.
At the just-concluded light art festival in October, the department's bachelor students contributed two exhibits. "In the past, you were only able to see the performance of a student with the graduation piece; it was like they had only one shot. Now we wish to give them an early opportunity to show off their talent," Yuan says. Since their assignments are quite complex, the students at the Department of New Media Art put a greater emphasis on dividing up tasks than students of "pure" arts majors do. "We encourage them to work more in teams," Yuan adds.
The team members include people who are good at writing computer programs, those who excel at installing the hardware, and others who are in charge of ensuring the smooth management of an event or performance. For the same reason, department graduates often team up to set up a studio or workshop to organize artistic performances or create public art installations.
Developing the Whole Brain
As the first arts department in Taiwan that breaks out of the liberal arts box, the TNUA new media art department also faces obstacles stemming from the traditional education system. While it generally takes time to develop artistic talent, Yuan frankly admits that students who have gone through a high school system that forced them to choose either humanities or science often find it difficult to adjust to "using both halves of their brains."
"This is our mission, designing a curriculum that develops both the left- and right-brain abilities," says Yuan. TNUA graduates' greatest competitive edge lies in their ability to create as well as to execute projects. They are not cut out for immediate entry into industry to serve as digital workers that carry out repetitive tasks.
Creativity that moves people is not possible without in-depth artistic cultivation and basic training. And technology that is not used creatively to inspire our imagination remains merely a heap of hardware and a few lines of programming code, no matter how cool, flashy and cutting-edge it may be.
Translated from the Chinese by Susanne Ganz