Fighting for Taiwan: Ming-yang Yu
Sowing the Seeds of Dreams
精華簡文
Source:Chien-Tong Wang
With a swipe and a click, mobile games developed in Taiwan achieve wild popularity worldwide. Under CEO Ming-yang Yu, Rayark's success has ushered in a new chapter for Taiwanese gaming.
Sowing the Seeds of Dreams
By Sandy Lo
From CommonWealth Magazine (vol. 600 )


"In the distant future, only robots populate the Earth. They stay in touch with their human emotions through music, which helps them believe they still have souls."

So begins the magical journey of the music game app Cytus, the first opus of Taiwanese gaming team Rayark Inc. In the game, players around the world are robots searching for their souls, tapping out futuristic dreamscapes to the rhythm. Cytus's huge appeal helped make it the first Taiwanese-developed game to become the top-ranked rhythm game in 96 countries.

Each of the three other games that followed in quick succession, Deemo, Mandora, and Implosion, was even more popular than the last. This was especially the case for Implosion, a big-production action game, which was not only invited to be featured in the Google I/O developers' conference, but also took Best Game honors for 2015 in the App Store across more than a dozen countries, including Taiwan, Japan and Hong Kong.

Do Your Job, Aim for the Top

At the center of Rayark, and a fount of creative energy, is CEO and executive producer Ming-yang Yu.

"Rayark's ideal is to become a big tree, where people can gain experience and eventually go out and found businesses, continuing the legacy and evolving," Yu says.

Taiwan boasts a strong pool of gaming talent, from programmers to illustrators and music composers, each offering excellent individual skills. Unfortunately, the local industry long failed to place importance on research and development, leading Yu to rally 16 individuals together and launch a "game dream." "Rayark will not limit itself to one gaming genre; we want to try our hand at different categories, and work out the processes for ourselves," he says.

Yu, a freshly minted thirtysomething, speaks with the sentence structure and diction of an older person. His eyes, however, give off a certain haziness, as if he is lost in his own thoughts, yet he always comes back to reality with a sheepish laugh to finish his sentence.

Whenever words like "instant popularity," "success," or "the pride of Taiwan" are tossed about, Yu cannot distance himself fast enough, invariably coming back to the same response: "Rayark seeks to create the world's top product of its kind, making the best product possible from start to finish. We're just doing what we're supposed to."

Entrepreneurship in the Internet Age makes it easy to rocket out into the world. Unburdened by the previous generation's obligation to bring honor to the country, Yu is freer to simply pursue his dreams. Yet he shares with the older generation a love and commitment to his native Taiwan.

VOEZ, a new music game released in late May, is the story of a high school student band, set in Taiwan's northeast coastal town of Ilan, complete with its characteristic blue skies, bay, and pleasant rustic village. Yu says that incorporating one's hometown is the most natural thing in the world for creatives in arts and culture, "Just as (Japanese manga) Slam Dunk is set in Kanagawa Prefecture, and Initial D takes place in Gunma Prefecture, Cytus began introducing Taiwanese elements, and now VOEZ incorporates Taiwan as a basic design component. It is our aim to create new cultural IP (intellectual property) for Taiwan," he says.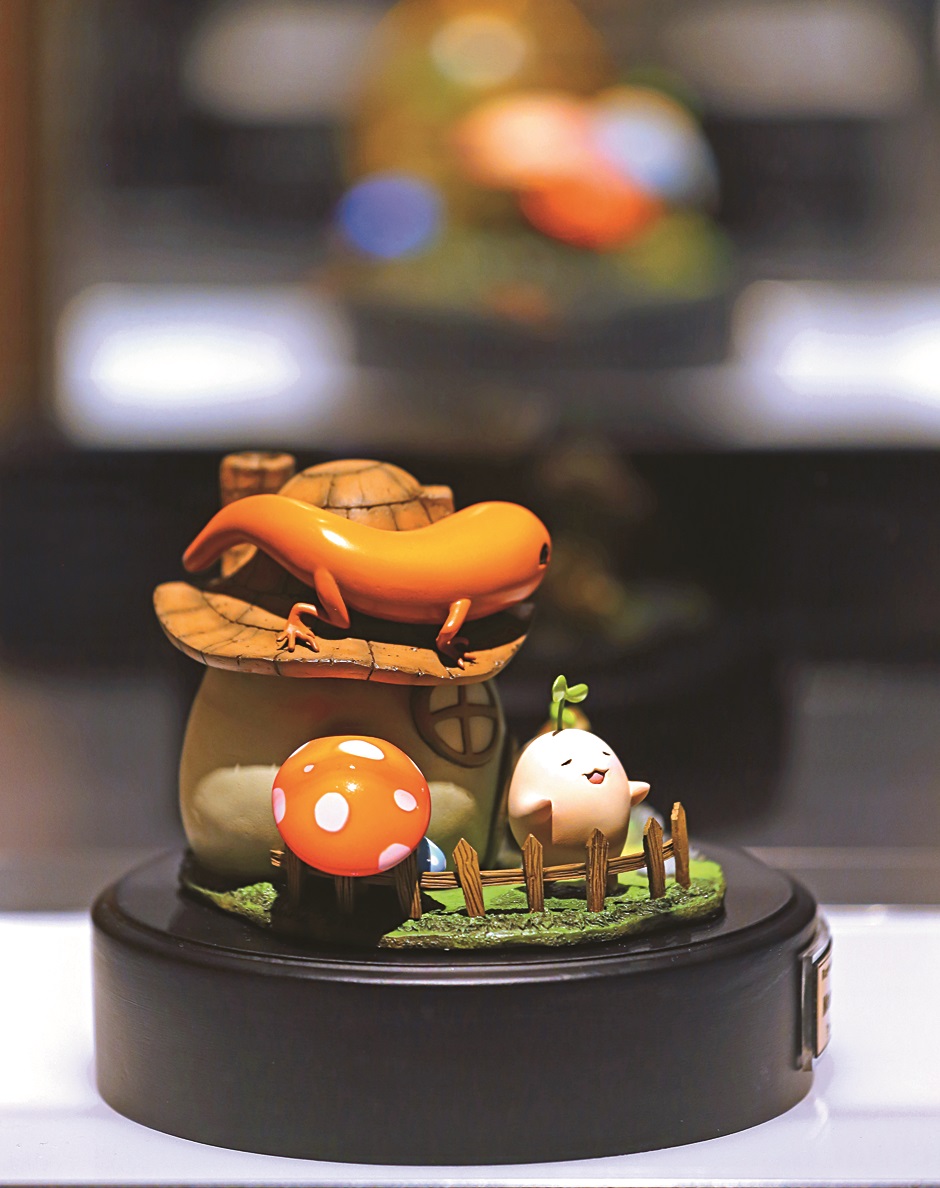 Rayark has developed games across various genres, like the feel-good farming game, Mandora.
Bigger Dreams, Forging Change
A grand vision of becoming something big binds the Rayark team together. Shan-yung Yang, Rayark's chief information officer, relates that Yu is not the strongest communicator on the team, nor does he always have the strongest grasp of the projects, which often leads to rebukes by his co-founders. "Even so, the reason we all trust and believe in him is the accuracy of his vision towards the big picture, and his outstanding understanding of what the market wants."
Rayark's first four game releases have accumulated a total of 30 million downloads, resulting in over NT$100 million in annual sales. Addressing inquiries about the difficulties when the company first started, Yu invariably dismisses mention of the company's early hardships with a brief "It was fine." Good friend Keynes Cheng, LIVEhouse.in co-founder, relates that when Yu's first project following the company's founding, a large game panel, failed to gain traction, Yu rarely complained in spite of the palpable stress and difficulties. "He is a warm person who's never lost touch with his positive, optimistic nature. And that's the personality of a successful entrepreneur," Cheng says.
A gamer since the age of five, Yu favored scary, bloodier games as a teen. Balancing gaming and his studies, he earned a degree from the Graduate Institute of Networking and Multimedia at National Taiwan University. While pursuing his studies there, he produced a number of interactive technology and gaming projects, exhibiting them at major international conferences like Siggraph and SigCHI. This international experience led him to discover that, while the world is a great big place, he is not so tiny and insignificant. As he shines brightly, the world has taken notice of Rayark, witnessed Taiwan's creative energy, and noticed the little island of Taiwan's cultural charm and beauty.
The wall outside Rayark's offices is emblazoned with the motto upon which the company was founded: People in this house can make all the difference in the world. And as for dreams? With a chuckle, Yu replies, "Let's waste some more earthlings' time first!"
Translated from the Chinese by David Toman
---