Taking the World by Storm
The 'Internet Plus' Craze
精華簡文
Source:CW
Anything, it seems, can be done or sold online, and Chinese vendors are betting big on "Internet Plus" and its scale, speed, and impact. But will it lead to a new wave of growth in China or end up as a money game that creates a major economic bubble?
The 'Internet Plus' Craze
By Kuo-chen Lu
From CommonWealth Magazine (vol. 598 )


To many Taiwanese, the speed and depth to which China's "Internet Plus" movement (see box below) has penetrated every industry is almost inconceivable.

The development of "Internet + Sports" has helped China's professional soccer league, the Chinese Super League, boost its broadcast revenues to NT$40 billion over five years. "Internet + Food Delivery" makes it more convenient to have dinner delivered to your home than getting take-out at a restaurant and has created a million new delivery jobs.

These and other phenomena illustrate that the world's most radical business models are sprouting up in China and point to the arrival of an intensely competitive era centered around an Internet Plus ecosystem.

To learn more about this concept of ecosystem competition, CommonWealth Magazine sent a team to the corporate headquarters of Le Holdings (Beijing) Co. in China's capital city. The company only recently adopted a new brand identity and logo as part of its expansion plans, which include taking on Tesla in the United States by making electric cars there.

In China, anything can be "added" to the "internet," and LeEco stands out as one of the best practitioners of the concept.

Founded in 2004 and known previously as Letv, the company is one of China's largest online video platform providers. But in April, LeEco sold 710,000 color television sets, more than any other vendor in the entire country, and its sales goal for the year is 6 million TVs.

LeEco's business fit the bill of an ecosystem model because it relies on more than just selling TV sets to make money – the TV business represents only one link in the company's "ecosystem." At the core of that ecosystem is content, the main driver of LeEco's expansion ambitions.
A Network of 680 Million Users
To build its content arsenal, LeEco acquired Hua'er Film and Television, producers of the hit series "Empresses in the Palace," in March 2014, and it has produced in house the TV historical drama series "The Legend of Mi Yue," the movie series "Tiny Times" and the web television show "Go Princess Go."
This year, LeEco sports broadcasting subsidiary Le Sports invested 2.7 billion Chinese yuan (about NT$13.64 billion) to acquire online multimedia rights to Chinese Super League (CSL) games for two years from Ti'ao Power, which won exclusive CSL production and broadcast rights between 2016 to 2020 for the equivalent of about NT$40 billion in September 2015.
In the Internet Plus era, content can be accessed well beyond the traditional television screen, in automobiles, for example, which is why LeEco has invested in the development and manufacturing of electric and driverless cars. The company envisions the cars of the future as super tablet computers on four wheels, evolving from their traditional roles as transportation tools into social networking and entertainment tools.
Yet as it brashly expands at such a rapid pace both horizontally and vertically, how can LeEco be sure that it will quickly corral users' hearts?
The company holds more than 200 press events a year, constantly introducing new products and services it hopes will lure and capture users. In one case, it promoted a yearly prepaid membership fee for online video users that came with a free TV set or mobile phone -- an unmistakable declaration that the age when hardware has no intrinsic value is fast approaching.
LeEco CEO Jia Yueting has even said the cars of tomorrow will be free.
So how will the company make money? LeEco co-founder Liu Hong says after created its own Internet Plus ecosystem, the company has seven main businesses: cloud computing, websites, TVs, smartphones, cars, sports, and financial services. If the hardware is not profitable, content can pick up the slack; if content is not making money, then revenues will come from advertising or sponsorships – the complementary model at the heart of an ecosystem economy.
"Competition in the future won't be product against product but ecosystem against ecosystem," Liu asserts.
For this ecosystem to be all-encompassing, it requires robust basic infrastructure, and the Chinese government has committed to building one. At the World Internet Conference in Zhejiang province in December 2015, Chinese President Xi Jinping said China's 13th five-year plan (covering 2016 to 2020) would turn the country into a global "Internet Power" and develop big data analytics, an "Internet Plus" mobile plan and nationwide broadband coverage by 2020.
In other words, the 11th five-year plan committed to building freeways, the 12th five-year plan committed to build high-speed rail and the 13th five-year plan will focus on comprehensive development of the internet.
"This is a chance to overtake others," says Teng Bingsheng, associate dean of Cheung Kong Graduate School of Business's European Campus.
The internet was born in the 1990s, and smartphones have only been around for about 10 years, so China's starting point will not be much behind that of the United States, and its internet technology is already more advanced than Japan's or Germany's, Teng says. With little chance for China to overtake the United States in traditional high-tech fields, such as pharmaceuticals, in the next 10 to 20 years, the internet is China's best opportunity to compete for supremacy in a high-tech field with the U.S. and come out on top, he argues.
Yu Yongding, a senior research fellow with the Institute of World Economics and Politics of the Chinese Academy of Social Sciences, says China's growth in the past stemmed from reforms to systems that unleashed long suppressed initiative and creativity. Those reforms relied on making massive investments, sacrificing the environment, and opening up to foreign investment to obtain new technologies.
Early on, Yu says, the problems triggered by the reforms were easily ignored, but as China's economy got bigger, environmental degradation and resource challenges grew increasingly serious, and the model could no longer be used to drive growth.
China's economy and society have become incredibly polarized as a result.
On the one hand, the country's real economy is facing hard times. In his "Report on the Work of the Government" this year, Chinese Premier Li Keqiang announced that China's fiscal deficit would grow 560 billion yuan in 2016 to 2.18 trillion, or about 3 percent of GDP. About 100 billion yuan was needed, he said, to deal with the 5 million to 6 million layoffs that could occur at China's state-run "zombie companies."
The Trillion-yuan Opportunity
On the other hand, Chinese continue to spend huge amounts on buying sprees of goods made overseas. Zhang Yansheng, the secretary-general of the National Development and Reform Commission's Academic Committee, says Chinese spend 1 trillion yuan (about NT$5.1 trillion) a year on goods they buy overseas, stocking up on everything from electric cookers and toilet seats to powdered milk and soy sauce. That points to increasingly strong demand among Chinese consumers for high quality, personalized products, he says.
A trip to the new headquarters of online commerce giant JD.com in the Nan Wu Huan section of Beijing, reveals concerted efforts to develop and open several online malls selling highly coveted goods from abroad. Over the past year, the huge Chinese e-commerce operator has built nine virtual national malls that give Chinese consumers the chance to directly buy foreign goods and have them delivered to their door.
In November 2015, when President Ma Ying-jeou of Taiwan and China's Xi met in Singapore, JD.com opened a Taiwan mall, enabling consumers to buy goods from Taiwan.
Zhang believes companies that ride this new economy will only see their fortunes rise.
"E-commerce accounts for 13 percent of all of China's retail sales, and the cross-border transactions of e-commerce vendors represents about one-sixth of China's total imports, or about 2 trillion yuan (NT$10.1 trillion). The spending power of Chinese consumers will continue to grow," Zhang says.
China currently has 680 million internet users, the most of any country in the world, and 620 million of them use mobile internet. With the 13th five-year plan focusing on internet infrastructure to support that huge market, Zhang believes China's economic growth curve will continue to outpace that of the United States, and augur in a new 35-year stage of economic development.
Online Squeezing Out Offline
The power of "Internet Plus" is extending as far as people's imagination is willing to take it.
When CommonWealth's team arrived in Shanghai, it witnessed a crazed world desperate to capture users, with mobile payment access everywhere and streets crowded with food couriers making runs for food delivery smartphone apps.
The three biggest food delivery apps in China are Baidu Waimai, Meituan Waimai and Alibaba-backed Ele.me, and they employ more than 1 million delivery people, according to estimates.
Taiwanese entrepreneur Hsu Cheng-chien, who makes computer casings in China, says he has now invested in "Super Chicken" franchises in Shanghai to sell chicken cutlets, and a majority of his business is done through delivery services.
"The chicken cutlets delivered to customers' homes by food delivery app vendors are actually cheaper than if bought in the store," he says in amazement.
Food delivery platforms are so desperate to snag consumers that they are collecting only 22 yuan for the set meal they buy from Super Chicken at 30 yuan, in effect selling their service at a loss. This is just the latest bloody price war in an online app battleground in China, after car-hailing service Didi Chuxing subsidized its drivers to build up business.
This cutthroat business strategy, dubbed in China as "rushing to stake a claim in new markets," has a certain logic in the online world because capturing user beachheads and amassing numbers carries great value in capital markets. Building a large customer base gets investors to put up money, helping upstart companies get through Series A, B and C funding rounds and eventually go public.
Cheung Kong Graduate School of Business's Teng said Chinese business leaders were still debating two years ago whether there was even such a thing as an "Internet Plus" concept. At the same time, mobile phone leader Huawei was putting out ads declaring that technology was at the core of its operations and that it was determined not to rely on the internet to make money.
But after new Chinese smartphone player Xiaomi shot up on the back of its fan club ecosystem, Huawei followed suit by offering a model called the "Glory" that also catered to the online fan ecosystem.
Today, nobody in China would dare say the Internet Plus concept does not exist or is not important. The fierce competition between food delivery platforms proves an even more telling truth: companies that ignore the "Internet Plus" craze do so at their own peril.
According to Teng, some restaurateurs still stubbornly resist "Internet Plus," arguing that people still need to go to an actual restaurant if they want to eat out. But since the creation of China's big three food delivery services, Teng says, many consumers are ordering home delivery or take-out online, and restaurants outside the loop are losing customers.
Other businesses requiring physical presences, such as manicure and laundry services, have similarly been overwhelmed by the Internet Plus phenomenon.
Haier: Taking Internet Plus to a New Level
Over the past two years, the world's biggest home appliance maker, Haier Group, has responded to the rise of Internet Plus by dramatically reorganizing its company and having online users direct production.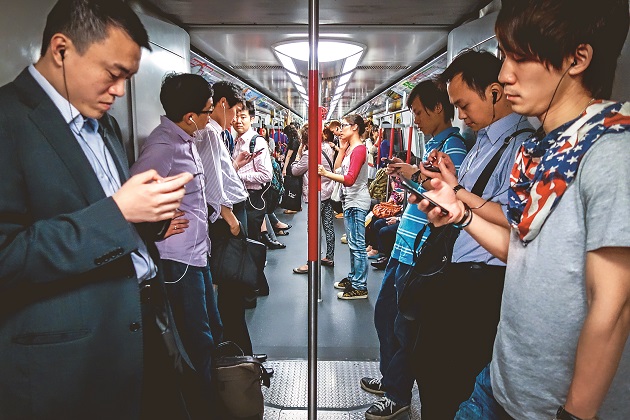 China's 11th five-year plan built freeways, the 12th five-year plan built high-speed rail, and the 13th five-year plan aims at expanding broadband coverage to most of China. (Photo: Getty Images)
Haier employees were given one of two choices in the company overhaul: either quit or run their own businesses. Job descriptions changed for 80 percent of them, generally split up into three types of duties: 1) "makers," who can create their own businesses or come up with new ideas for Haier; 2) small and micro business managers, who run the small enterprises formed by the makers; and 3) platform managers, who are like traditional business group heads and help makers and micro business managers create the best experience for the customer.
As the positions have changed, so have their functions and the way pay checks are calculated.
Haier owns a global manufacturing capability, having bought General Electric Co.'s appliance business and Sanyo's white goods (heavy consumer durables) business, and running more than 30,000 distribution outlets. To avoid being thrust aside by the Internet Plus revolution, the company reengineered itself and instituted unprecedented reforms that put online users first.
"China's business environment is like thousands of horses and soldiers crossing a single wooden bridge. It's getting harder by the day. If you don't think ahead and join in the Internet Plus wave, you'll fall," Teng says.
The C2B (consumer to business, where consumers form the core of the business model) era has arrived, and users are calling the shots on content and products.
Users Are King
This phenomenon is playing out in other industries. Two years ago, two movies were released at the same time in China. One was Zhang Yimou's "Coming Home," a historical drama set against the background of the Cultural Revolution. It was considered his best recent work, and it scored an 8 out of 10 in online reviews but only grossed 200 million yuan at the box office. The other movie, "Tiny Times," based on a best-selling novel, didn't even average a 3 out of 10 in user reviews but grossed 800 million yuan.
Why the big difference? Teng says that in one movie, the director used his talent to the fullest, while the other movie was filmed using big data analysis, adapting the script to the tastes of younger Chinese born in the 1980s and 1990s. The producers of the latter movie also studied who the fans of the novel were, what TV shows they watched and what roles they liked to identify the preferences of younger audiences.
"I walked out of 'Tiny Times' after just 15 minutes. There's no way I could enjoy a movie like that. But if people born in the '80s and '90s went to see 'Coming Home,' they wouldn't be able to watch the whole thing either. The generation gap is really obvious," Teng says.
With 75 percent of Chinese internet users below the age of 40, the need to cater to internet-savvy consumers looking for customized experiences will only grow, a trend not lost on Haier.
The appliance giant enables users, for example, to go online and decide the "looks" of their air conditioner. The factory then designs and produces the unit while the user foots the development costs and decides the air-conditioner's price. These customized products have proven popular with Chinese customers.
This C2B era, in which Internet Plus enables users to decide how their product will be built, has upended the traditional model, in which manufactures mass produce goods, and consumers passively accept what's out there.
"What do 'users' represent? In the future, everything will be defined by big data. By gaining a customer base, you gain access to data on users' consumption behavior. Then, with the help of that data, you can more precisely and economically provide users services," says LeEco co-founder Liu.
The New Economy Destined to Fail?
Despite all the enthusiasm for Internet Plus, could it be simply creating a new bubble poised to burst in the future?
A 200-meter-long street of startups in the Beijing technology hub of Zhongguancun, features everything from coffee shops, angel investors and organizers of startup events to financial services. Lili Zhou, the vice president of startup services provider 36Kr that is providing workspaces there, says that after Li Keqiang visited the area, people from around China came to take a look and then returned home to replicate the startup model.
Once Premier Li issued the clarion call for entrepreneurship, China went crazy over starting businesses. In the more than three decades since China began liberalizing its economy, it has relied on "sweat" to drive the economy, but it hopes that "smarts" will drive the economy over the next 35 years, says the National Development and Reform Commission's Zhang. China, he says, wants to slowly build its self-respect, self-confidence and self-reliance as it engages in a new economic growth model.
Encouraging startups also offers China an opportunity to divert some of the idle capital that has been parked in real estate into Internet Plus innovation. In 2008, former Chinese premier Wen Jiabao spent 4 trillion yuan to save the economy from being submerged by the global financial tsunami, but it created a problem of excess capital. In Wen's 10 years in power, China's money supply (M2) rose from 18.6 trillion yuan to 94 trillion yuan.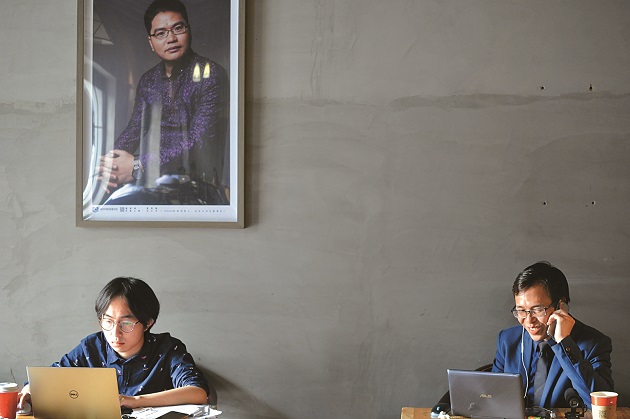 Since Chinese Premier Li Keqiang visited Zhongguancun and touted entrepreneurship, starting up new business has become a national movement. Young entrepreneurs have gotten rich simply by selling their business plan to deep-pocketed investors.
At the same time, China produces 7 million new college graduates every year, and promoting entrepreneurship can help somewhat address the problem of youth unemployment.
There's another motivation for the policy, Teng says. Because China will have trouble overtaking the West through technical innovation, getting young people to start businesses and innovate gives China a chance to claim global supremacy in new business models, especially in Internet Plus, he explains.
But with so much idle capital being poured into new, unproven businesses, a bubble may be forming. A 28 year old in Zhongguancun is pulling in the equivalent of NT$150,000 a month, relatively high for China, and Zhou says it's indicative of how capital is chasing good entrepreneurs and new business ideas.
Adds Zhang: "Today, the children of minister-level officials make more than their dads when their just out of college. That's become a pretty common phenomenon."
Still, radical or unusual business models can encounter problems, as was seen earlier this year when a major scandal involving Chinese conglomerate Shanghai Kuailu Investment Group erupted. The company used an "Internet + Movies + Finance" model to raise funds to bankroll the movie "IP Man 3." It then wildly inflated the movie's box office receipts to boost the stock price of another company run by Kuailiu boss Shi Jianxiang, according to authorities. More than 20,000 investors had nowhere to turn when they descended on Kuailu to try to get some of their money back.
That case highlighted the risk of China's "Internet + Finance" P2P (person to person) businesses, in which individuals lend to other individuals. More than 1,000 of those businesses have gone bankrupt.
Chinese economists and management experts believe that the turbulent world of "Internet Plus" innovation will eventually produce winners who will generate new momentum for China's economic growth, but admit that bubbles form during the process.
"A large amount of capital chasing a limited number of effective projects will push prices for the projects very high, forming so-called bubbles," Teng says.
So is Teng afraid that the market "froth" could trigger failure or crises?
"Beer must have the flavor of 'froth' to taste good," he says, noting that Chinese are well aware of the risks ahead but push forward nonetheless. The trend has gone beyond normal business activity, expanding into a full-blown national movement.
As for Taiwan, AppWorks founding partner Jamie Lin believes that Taiwan has too little understanding of developing an internet ecosystem. From big conglomerates and leading retailers to old economy businesses, they all need to embrace Internet Plus ecosystem concepts, he says.
Over the next five years, Internet Plus will be the most important engine of China's transformation. Cutthroat pricing wars aimed at capturing customers and bubbles formed by mounds of idle capital desperate to find the next big thing are bound to surface. But alongside this turbulence will emerge an age of national economic transformation, corporate reengineering and entrepreneurial innovation.
Regardless of whether this giant gambit succeeds or fails, it is sure to have a massive impact and will bring change to Taiwan and the world.
Translated from the Chinese by Luke Sabatier
---
Internet Plus
Premier Li Keqiang first broached the Internet Plus concept in March 2015 and the Internet Plus action was unveiled in July of that year. The goal is to create Internet Plus industrial sectors, but not every sector will be "added." Rather it will rely on information communications technology and internet platforms that deeply integrate the internet with existing industries to build new business ecosystems.