The Happy Hogs of Yunlin
Taiwan's Secret Weapon against Pork Imports
精華簡文
Source:CW
Local produce and meat featured high at the inaugural banquet of President Tsai Ing-wen in a clear signal that food safety will be at the top of her agenda. "Happy Pig" from a family farm in rural Yunlin County in central Taiwan was one of the featured homegrown ingredients.
Taiwan's Secret Weapon against Pork Imports
By Jenny Cheng
From CommonWealth Magazine (vol. 598 )


Taiwan's new administration took office on May 20. At the state banquet marking Tsai's inauguration, the main dish was " oven roasted happy pig " from Yunlin County. All of the ingredients for the banquet menu were sourced from farms in Taiwan in a bid to highlight the safety of the food served to guests and dignitaries from abroad. But on top of that, the focus on local produce and meat also symbolized Tsai's ambition to ring in a new era for Taiwan's agricultural policy.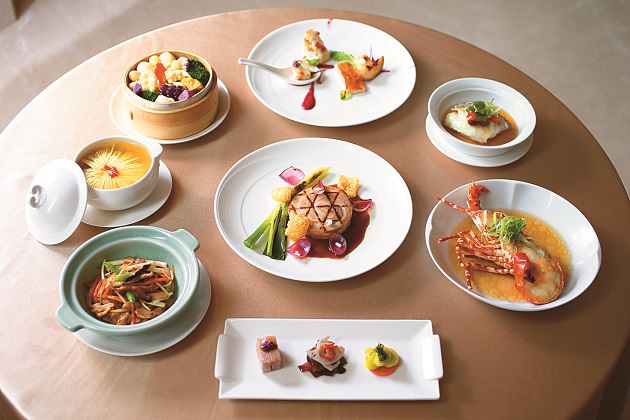 Pork from the Yunlin Happy Pig brand featured prominently in the main dish at the inaugural banquet, because it fulfills state banquet requirements for locally farmed, traceable produce and meat.
At the beginning of her presidential election campaign last April, Tsai made a highly publicized visit to a hog farm in Yunlin County, drawing nationwide attention to the " Happy Pig " brand of pork. In the media limelight, Tsai fed yogurt to little piglets in roomy, clean pens, ladling big portions of the white liquid into their feed containers. " These happy pigs grow up listening to Mozart and eating yogurt. What I have seen here is devotion to protecting the environment, commitment to the consumer and hope for a new agriculture in Taiwan, " Tsai commented on her visit.
With the Yunlin trip, Tsai kicked off her presidential campaign. " The happy pigs were her starting point, and the state banquet marked the finishing line of the election campaign. Where there is a beginning, there's an end, " remarks Lu Cheng-chang, CEO of Changhua-based Golden Field Co. Ltd. In his previous post as director-general of Yunlin County's Agriculture Department, Lu single-handedly launched the " Happy Pig " brand.
The Yunlin Happy Pig brand was able to make a name for itself and even attract Tsai's attention also because it stands for the farm-to-table concept, which emphasizes the traceability and safety of locally produced food. "Every process from farm to table can be traced along the supply chain throughout production and distribution, " notes Chang Shih-chung, the incumbent director-general of Yunlin County's Agriculture Department.
Turning Crisis into Opportunity
The Yunlin County government actually conceived of the Happy Pig brand many years ago when the county sought to overcome a scandal over the illegal sale of pork from sick or deceased pigs. A decade ago, news broke in Taiwan that pork from sick pigs had found its way into the local market. Since Yunlin registered the highest number of diseased pigs, the county became known as " dead pig county ".
" Dead pig county " has since become the place of origin of happy pigs largely thanks to Lu's resolute, unorthodox actions. Within less than three months of the unsafe pork incident, Lu called dozens of briefings, hoping to win over livestock breeders, meat auctioneers, slaughterhouse operators and meat packaging plants owners for the establishment of a livestock and meat traceability system along the entire supply chain. " They all said this young department director-general has gone crazy, " notes Lu, who can't help but grin as he recalls his audience's initial response.
It was soon proved that Lu was remarkably sane. While the county produced just 20 to 30 happy pigs per month in the beginning, output has grown gradually to some 1,000 per month. The value of annual happy pig production totals around NT$600 million.
Promotion of the traceability system had already begun under former Council of Agriculture Minister Lee Chin-lung, who headed the cabinet agency from 2002 to 2006 and also drew up Tsai's white paper on agricultural policy. However, the full implementation of meat traceability proved difficult because it involves keeping written records of daily production, accepting regular inspections and shouldering additional expenditure for the improvement of facilities. Farmers were reluctant to cooperate in all of these areas.
The absence of incentives was the main reason why the traceability system was met with a cold shoulder. Chang points out that, if traceability is only implemented at the point of origin, namely the livestock farms but not at the abattoirs and meat processing plants, high-quality meat will not be able to fetch good prices at the meat auctions because there is no origin-based grading system.
Therefore, the Yunlin County Government began to rethink its strategy. In addition to mandating the identification of pork at the point of origin, the slaughterhouses and meat processing plants must also provide a traceability system and provide an environment that meets the standards of the Food Sanitation Act. Only if the pork passes all checks and inspections will the government grant it the " Yunlin Happy Pig " brand mark.
Livestock farms that accept checks by the local and the central government are allowed to directly sign contracts with slaughterhouses and meat processing plants without having to go through meat auctions. They will thus be able to sell their pork at a premium of NT$2 to NT$3 per kilo over the traditional meat auction price.
A complete traceability system through all stages of production, processing and distribution will be gradually built up by bringing together front-end livestock farms, back-end slaughterhouses and meat processing plants as well as the government.
Even if standards are guaranteed at the point of origin, distribution and sales channels at the consumer end cannot be overlooked.
Therefore, Lu brought producers together with large retailers such as hypermarket chain RT-Mart and organic food chain Santa Cruz. Armed with their own ovens, the farmers presented different pork dishes at more than 400 food tasting events to create a buzz for their brand.
Music-loving Pigs
Thanks to the marketing campaign, the Yunlin Happy Pig brand matured in less than three months. Six hog farms are currently producing Yunlin Happy Pig pork. San Yuan Pig Farm, the farm that Tsai visited, is being credited as the best since it fulfills the following five conditions: The farm is certified for localized and traceable production, its pork is free of antibiotics and other pharmacologically active substances, and the pigs grow up listening to classical music in pigpens that are friendly to the environment and the animals. The Yunlin County Government even promotes San Yuan Pig Farm as a model farm.
We visted the owners of San Yuan Pig Farm, Chen Yung-hsiung and his wife Lin Shu-ling, at their farm in Linnei township. The farm covers an area of about four hectares and houses around 30,000 pigs. As soon as we enter the premises, the sound of spirited music accompanied by pig squeals resonates from the pig houses, bringing smiles to the faces of visitors.
As Lu explains with confidence, dairy farmers in New Zealand and Australia have found that cows produce more milk when listening to relaxing music. Therefore, he decided a few years ago to subsidize the purchase of audio equipment by hog farmers and asked the artistic director of Universal Music Taiwan to select appropriate pieces to keep the hogs happy.
The farmers soon found out that pigs who listened to music were less restless, and that pork from such pigs had a better texture and more stable proteins. Later on, exposure to music became one of the testing criteria in Yunlin County Government hog farm inspections.
Chen and his wife, however, do not rely on music alone. The couple also insists on introducing the most advanced hog farm management technologies from abroad.
" This sour aroma is very delicious," promises Chen as he draws a sample from a bucket with a white liquid. This is the yogurt that Tsai fed to the piglets during her visit. When a large ladle full of yogurt pours into the food container, the piglets climb on top of each other, scrambling head over heels into the liquid to get their fill.
They are treated to homemade yogurt from the farm. Food grade milk powder mixed with yogurt bacteria is heated with electricity from a methane gas generator and then fermented. The farm can produce up to 500 liters of yogurt per day. The yogurt is more than pig feed. Chen, who is an expert on pig disease prevention, notes that the yogurt helps keep the piglets' digestive tract healthy, reducing incidence of diarrhea. As a result, the survival rate of the farm's nursery pigs stands at over 95 percent, which is higher than the industry average.
Turning Manure into Electricity
San Yuan Pig Farm also attaches importance to pig welfare, which is reflected in an animal-friendly breeding environment. The pigs are kept in indoor concrete pens with steel flooring that is raised some 40 centimeters above ground so that urine and feces fall through. Air circulates freely through a ventilation system with wet cooling pads, ensuring the right temperature and proper ventilation inside the enclosed pig houses.
All functions are controlled by a computer. When it gets too hot, electric fans automatically kick in to increase the air flow and prevent the animals from getting sick due to overheating. In the summer, the ventilation system can bring down the temperature in each pig house by five to six degrees.
Under the elevated flooring the pig manure gradually collects. In digesters, the manure releases methane gas, which is then used to generate electricity. " Electricity generated with methane gas can be used to heat up the yogurt, dry the clothes of our employees and provide hot water, " remarks Lin in counting off the different purposes of the farm's poop-to-power efforts. Composted pig manure is also used as organic fertilizer in the fields.
Chen is not only ambitious when it comes to proper pig manure management but also with regard to waste water treatment. " We hope to achieve zero effluents, " explains Chen. He is planning to add a biological waste water treatment unit to the farm's existing effluent filtration system, which already meets waste water treatment standards. With the additional filtration, the water will be so clean that it can be completely recycled and reused to hose down and clean the pig houses.
In late May, the farm will open its first meat product shop in downtown Douliu City. Modeled after traditional European butchers stores, it will sell pork cuts and products from the farm as well as deli snacks such as sandwiches, truly realizing the farm-to-table principle.
So far, the successful examples of humane livestock breeding are few and far between. Yunlin County boasts more than 1,000 hog farms, but only six of these truly operate based on the Happy Pig model. Chang admits that presently the focus is on maintaining quality at the existing Happy Pig farms while preparing to expand the model.
Has the prominent role that dishes from Happy Pig pork played at the state banquet helped popularize the concept among conventional hog farmers? Chang observes that inquiries from hog farm operators about how to join the Happy Pig brand have increased over the past couple of weeks. " If the central government truly opens up [imports of U.S. pork], then Happy Pig will be the best weapon to fend off U.S. pork, " he predicts.
Translated from the Chinese by Susanne Ganz