2016 Golden Service Awards: Starbucks
Where Staff Are Digital Ambassadors
精華簡文
Source:CW
Starbucks, winner of the Coffeehouse Chains category for six years in a row and number one in online service satisfaction, has become more of a 'tech company that sells coffee,' with digital coffee houses that enable new Starbucks experiences.
Where Staff Are Digital Ambassadors
By Sandy Lo
From CommonWealth Magazine (vol. 596 )

"First, download the app from the mobile shop, and after completing registration use the app to pair the card. Then, to check out just shake your mobile phone to automatically generate a code for direct payment," says a friendly staff member in a green apron, carefully explaining to a customer how to use the application. This scene is not uncommon at any of the 170 Starbucks outlets operated by Uni-President Enterprises around Taiwan.
"We embrace digital technology, and we are equipped to embrace it," says John Hsu, not the head of a tech startup but president of Starbucks in Taiwan for the past 18 years. "Starbucks does boutique coffee, and we still do, but with mobile phones and apps, business gets more complicated, and with greater complexity come additional opportunities," he says.
President Starbucks Coffee Corp. has captured first place in the Coffee Chain category CommonWealth's Golden Service Awards for each of the survey's six years running. The chain not only receives high marks for service, this year it also ranked first in its category for On-line Service Satisfaction, making it one of the few multiple winners also leading its industry in digital services.
For insight into Starbucks' digital soul, one need look no further than the company's Seattle headquarters, whose operational approach prompted U.S. financial news channel CNBC to pose the question, "Could Starbucks perhaps be a technology company that happens to sell coffee?"
Starbucks made the full commitment to on-line services in the United States in 2008, establishing a Chief Digital Officer position to not only investigate but also proactively apply all of the digital tools available. It was also the first corporation to get into social media, addressing a gigantic pool of 47.84 million fans (more than twice the entire population of Taiwan) on Twitter, Facebook and Instagram with a thoughtful tone and manner and an endless supply of creative marketing ideas.
Linking Real and Virtual Platforms
Starbucks' technological ambitions go beyond social media, extending to brick-and-mortar outlets, with the company's integrated programs featuring both independent and diverse applications, such as U.S. retail outlets incorporating wireless charging facilities, free in-store sports channel viewing, or access to paid-for media content like the Wall Street Journal and the New York Times.
Starbucks has also partnered with music streaming service Spotify. Starbucks members rate music on Spotify, and in-store playlists are adjusted accordingly. And when members hear a song they like at Starbucks, they can download it immediately, taking some new music home along with their coffee.
The power of Starbucks' app is even more impressive. Not only does the U.S. version of the app allow member management and mobile payment options, but users can order coffee for pickup, or for delivery through partnerships with Uber and courier service Postmates.
The powerful flagship version of the app breaks through the physical walls of stores to extend into the "fourth dimension" beyond coffee chain outlets, homes and offices and into individuals' mobile phones.
Putting Starbucks U.S. headquarters' technological ambitious into practice, President Starbucks Coffee Corp. is following the mother ship's lead in Taiwan. So far this year it has completed a redesign of the Taiwanese version of the app, introduced an all-new members' rewards program, and initiated mobile payments.
Having to ask customers that only became recently accustomed to Starbucks' second-generation stored value card to switch over to the new system "scared the pants off of me," Hsu admits. To prepare, he carefully conducted employee training, repeatedly testing, collecting feedback and tweaking. Initially he even asked each Starbucks outlet to have the store manager and two seed staff promoters on call to ensure that members experience a "painless transition."
Hsu's fears proved unwarranted, as the new app took off with explosive growth shortly after its launch, collecting over 2.2 million downloads. In just six weeks, the new membership format yielded 800,000 members, dwarfing the 650,000 members under the previous loyalty card system promoted for four years, which had each member's name on their card. New members accounted for nearly 200,000 of the names, prompting the marketing team to marvel at the "unbelievable miracle" they had brought to bear.
"In addition to points for each purchase instead of collecting stored value, the new format app's success can be credited to the promotion of our retail partners. Starbucks has always stressed staff participation, making every member a digital ambassador, and that was the key to success in this case," declares Charles Ho, marketing director of President Starbucks. The company puts staff members through a complete curriculum of professional coffee training, and offers a similar level of exacting professional training in digital applications.
"Starbucks is a storytelling brand. Taking advantage of digital technology is all about enlivening the brand image," says Hsu.
The most basic concept behind Starbucks' development of digital tools is to serve the youth of the Internet generation. These days, brand marketing is nothing without mobile applications, as no volume of traditional ad placement can reach the younger set effectively. In this game, extended absence quickly makes people lose interest in the brand.
One-on-One Marketing
As with previous efforts, Starbucks' digital communications take an inside-out approach. First, colleagues try an application, and if they like it, they introduce it to customers via their retail partners, just as they have always promoted coffee – serving one customer, one cup of coffee at a time. Except this time they are discussing mobile applications.
Does this take too much of the staff's time? "We're making something simple difficult. The more our partners interact with customers, and the longer the relationship is extended, the greater the chance the customer becomes a regular," Hsu says with a smile. "When we started 18 years ago as a first-generation boutique coffee shop, Taiwanese people did not know much about coffee. Retail partners bridged the gap with customers by offering knowledge about coffee. Now we have something I call the second-generation coffee boutique, with a new topic (mobile app) to talk about. Still, the brand management philosophy is unchanged, remaining coffee, people, and love."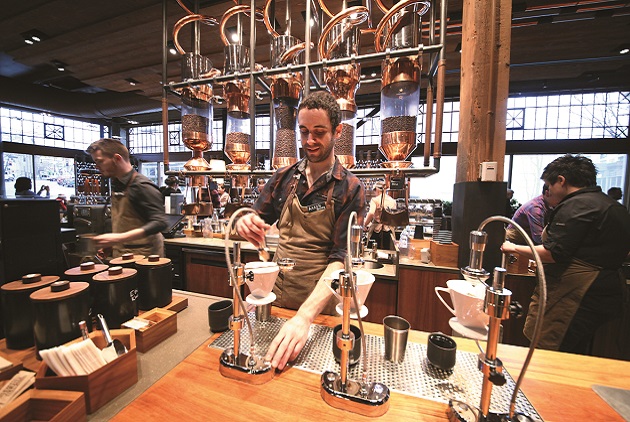 Starbucks' U.S. headquarters puts a premium on innovation. Partnerships with Spotify and Uber take the company's services to everyone's mobile phone.
Having established a technological soul, President Starbucks is now pursuing better one-on-one marketing, using behavioral data collected via digital tools to deliver individualized service more in line with customers' needs.
The surge in coffee's popularity in Taiwan has enabled a resurgence in specialty coffee shops with personality. Facing the competition, President Starbucks adheres to its unfailing mission: "To create a unique Starbucks experience for our customers every day with a cup of fine coffee." And now the Starbucks experience, with its high-tech feel, is even more special.
"Is Starbucks a tech company? Even if it is, Starbucks is a different kind of tech company, one with feeling and a human touch," Hsu says.
Translated from the Chinese by David Toman