2016 Golden Service Awards: Muji
Aiming for 'Just Right'
精華簡文
Source:CW
The best service does not mean selling customers the most expensive goods but those they need most. Japanese lifestyle brand Muji took the crown of the 2016 Golden Service Awards with its "just right" approach.
Aiming for 'Just Right'
By Yueh-lin Ma
From CommonWealth Magazine (vol. 596 )


Muji (Taiwan) Co. Ltd. is the undisputed champion of CommonWealth Magazine's 2016 Golden Service Awards, grabbing not only the top perch in the lifestyle store category but also dominating the overall ranking across all categories.

In the past, the service industry crown belonged to high-profile service industry giants such as the popular President Chain Store Corp., operator of thousands of 7-Eleven convenience stores, the top-notch and lightning fast Taiwan High Speed Rail Corporation or the must-go coffeehouse chain Starbucks. However, this year's service industry king is Muji, the Japanese lifestyle brand that has always kept a low profile true to its "no-brand" strategy.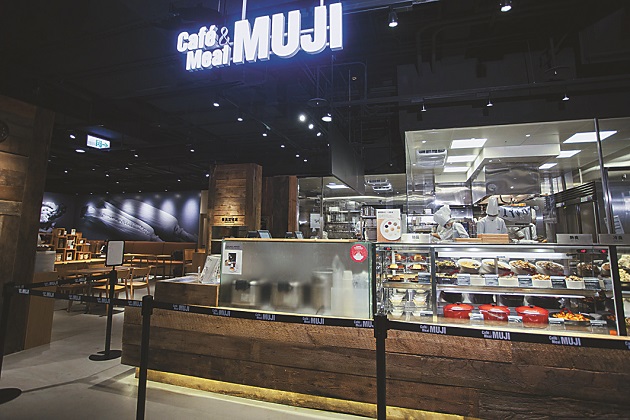 Muji Taiwan has introduced Café & Meal and Muji Books sections to offer customers an even wider spectrum of a "suitable life."
As the total score for Taiwan's top 10 Service Enterprises shows, Muji (Taiwan) won its crown with a comfortable lead of more than a whole point over the runner-up, and not just a slim decimal value margin as was the case with the champions in other categories. On top of that, Muji won first place of the Top 10 Most Unique Enterprises and third place of the Top 10 Most Innovative Enterprises.
Taiwan's homegrown service enterprises have always found it difficult to excel both in terms of uniqueness and innovation. For Japan's Muji, this was not an easy feat either. Over the past five years, Swedish furniture vendor Ikea reigned undefended over the lifestyle store category. That Muji, which has been doing business in Taiwan for twelve years, has finally dethroned Ikea is due to the fact that the company has put a great deal of thought into its response to customer needs.
In order to understand the unique character of Muji, we need to first return to Japan.
"Simplicity" Warms People's Hearts
"What is suitable for daily life? That's what we keep thinking about. And we believe that 'just right' is pleasing. That's why we pursue the 'just right' size and 'just right' materials," renowned Japanese industrial designer Naoto Fukasawa told his audience at the Tokyo Design Week in November last year.
Fukasawa has designed small kitchen appliances for Muji and serves as the company's design consultant.
Explaining the corporate ideals behind Muji, Fukusawa asked the audience a key question: "How many times, and at what times, have you felt truly happy in your life? And what ordinary little things made you happy?" Satisfaction can actually come from a compact and simple life, he argued, noting that essential needs in life can be satisfied with a minimum of material goods.
Outstanding companies have always been able to address fundamental questions, figuring out and then satisfying people's most basic needs.
With its minimalist design approach, Muji has answered people's longing for a simplified, streamlined version of their complicated and complex lives in modern society. Fukasawa enthusiastically explained the "micro considerations" that continue to inspire Muji's existence. These considerations center on people, not products, he said.
With this "micro considerations" approach, Muji has streamlined its product lineup while strengthening its strategic products in recent years, at the same time allowing it to penetrate consumers' lives in an even more comprehensive manner.
Product-Customer Dialogue
Dedicated to the promotion of a "feel-good life," last February the first Muji Books opened inside the retailer's flagship store in Fukuoka, further highlighting Muji's ability to grasp the "feel-good" factor. More than 30,000 titles are on sale under five different themes alongside the traditional product range from clothing to stationery and household items.
Last November, Muji Taiwan followed suit with the inauguration of the first overseas Muji Books inside the flagship store in Tainan. The store's interior decoration utilizes such local architectural design elements as brick walls, ancient wood, and partitions modeled after the decorative iron window grills that are a familiar sight in Tainan.
Chinese and Japanese books and magazines are displayed under the store's main product categories, such as clothes, food, home decoration and travel. Customers will find travel-related publications right next to travel necessities and can leaf through recipe books as they shop for kitchen utensils and tableware.
The entire retail space creates an experience that speaks to the customer. "In the past, retail stores were an 'a la carte' experience. The customer decided by themselves what they wanted to buy and left after buying it. But now shopping is 'sharing-style'; the customer wants to learn, hear a story, and understand the user experience," notes Wu Chien-kuo, team manager with Muji Taiwan's Operation Department.
Wu, who has 25 years of frontline retail experience, observes that Taiwanese consumer behavior has changed; the modern consumer is very finicky with regard to which raw materials were used, where a product was manufactured and what it costs. "Service personnel must know how to create opportunities and casually chat with customers, communicating with them," Wu points out.
The products themselves cannot talk, but put on display within the right context, they can create opportunities. Price tags and labels on Muji clothing are always tucked inside the garments or between buttons so that the consumer has to touch and feel the fabric when looking for the price.
Training Styling Advisors
In order to improve the sales personnel's ability to communicate with customers, Muji Taiwan began to introduce "Interior Advisors" (IAs) in 2013. Last year, "Styling Advisors" (SAs) were added to the line-up. The IAs' job is to help customers organize their homes in an efficient way, providing circulation path planning and storage suggestions. The suggested solutions can be visualized with 3D software, while real-life interior design examples provide further inspiration. The SAs are trained to provide every customer with personalized outfit suggestions by taking into account body shape and individual preferences from color to cutting, pattern and fashion trend.
In Japan, Muji has trained such advisors for years. Why did Muji Taiwan decide to provide its customers with advisors for home decoration and apparel? Wu puts it very bluntly: "In recent years, Taiwanese consumers have developed confidence in Muji products, but they still keep asking the same question: Your things are so plain, how should I mix and match them?" For Muji, it is not important whether customers buy after they have sought expert advice, because the brand will easily spring to mind when they need to make a purchase next time.
The Muji retail spaces are not as expansive as the warehouse-sized stores of Swedish furniture giant Ikea and Taiwanese home decoration brand Hola. Since customers are more likely to buy if they can see what they get, the interior advisors use iPads with 3D software to visualize their suggestions.
"Over the past three years, furnishing revenue has grown at double-digit rates. Revenue at outlets with interior advisors was more than 20 percent higher than at stores without interior advisors," Wu points out.
All advisors are trained at Muji headquarters in Japan. If they pass a final evaluation, they are issued a certificate. Presently, 14 certified interior advisors and six styling advisors are working in the 40 Muji stores across Taiwan.
Muji organizes special events every two or four weeks to boost customer loyalty and broaden each outlet's customer base. The stores are also encouraged to propose their own campaigns. All these events - be they parent-child activities, gourmet food, travel or small theatrical performances – emphasize product-use situations rather than the product's specific functions or price.
Finding Core Needs
In late 2014, Muji Taiwan introduced the first Café & Meal Muji diners, which endeavor to offer healthy, simple dishes from fresh ingredients. The expansion into the restaurant business came as Taiwanese consumers became increasingly concerned about food safety in the wake of numerous food scandals.
"When it comes to food and beverage, Muji emphasizes seasonality; what we highlight is a certain attitude toward life. Even in Japan, only very few [Café &] Meal outlets have been opened. There is no plan to scale this business; we only want to help customers better understand what kind of life they would like to lead," remarks Liang Yi-chia, managing director at Muji Taiwan. Muji has always tried to suggest suitable ways of life to its customers through various approaches, Liang says.
In Japan, Muji is propagating a new lifestyle against the backdrop of Japan's social problems, such as excessive urbanization, industrialization and an aging society. It hopes to encourage people to return to a rural lifestyle, bridging the urban-rural gap and repopulating deserted rural villages.
While realizing this vision may seem like a gigantic undertaking, Muji has already taken its first concrete steps in addressing the problem of housing. Last November, the Muji Hut project presented three space-saving, prefab country homes, which were put on display in central Tokyo.
The three mobile vacation homes feature a minimalist design and construction. British designer Jasper Morrison designed the Hut of Cork, German designer Konstantin Grcic the Hut of Aluminum, and Fukusawa the Hut of Wood. The micro homes can be easily assembled and disassembled without further need for site development, enabling urbanites to flee the city and relax in their tiny country getaways.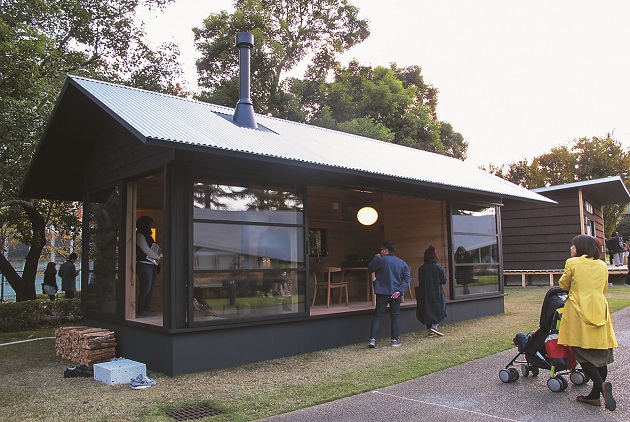 Last year, the micro home lineup of the Muji Hut project was exhibited in Tokyo. The prefabricated, mobile cabins aim to encourage urbanites to vacation in the countryside.
From cups to micro homes, Muji demonstrates ambition and an inquisitive mindset across a broad spectrum of products. Surely, other service enterprises could learn from its example.
Translated from the Chinese by Susanne Ganz