Cloud Gate Dance Theatre Founder
Lin Hwai-min: Taiwan, See Thy Own Beauty
精華簡文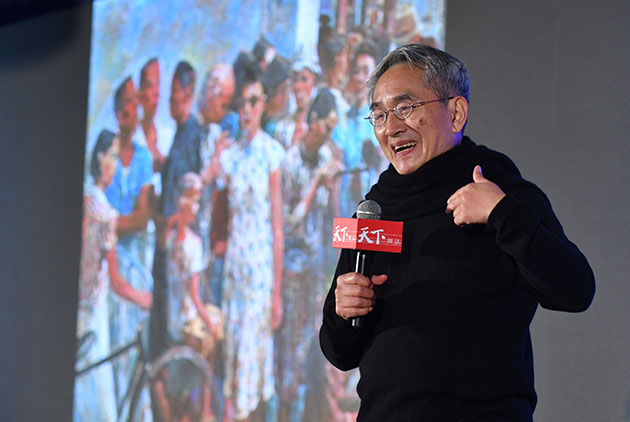 Source:Kuo-Tai Liu
Art is a medium, and when the muse of inspiration alights on a town or village, young minds may be stimulated. Lin Hwai-min, founder of Taiwan's famous Cloud Gate Dance Theatre, is retiring this year. Speaking at the 2019 CommonWealth Economic Forum (CWEF), Lin expressed his hope that art will become an integral part of our lives, and of society as a whole.
Lin Hwai-min: Taiwan, See Thy Own Beauty
By CommonWealth Magazine
web only

Art is a medium, and when the muse of inspiration alights on a town or village, young minds may be stimulated. Lin Hwai-min, founder of Taiwan's famous Cloud Gate Dance Theatre, is retiring this year. Throughout his distinguished career, he imbued the Cloud Gate with rich art and beauty. He brought his theatre onto the world stage as well as into the remote corners of Taiwan. (Read: A Strong Foundation Trumps All)
"Art can change a nation. If art penetrates every stratum of our society, aren't our ways of thinking affected? Perhaps human interaction takes a turn for the better due to art?" Speaking at the 2019 CommonWealth Economic Forum (CWEF), Lin expressed his hope that art will become an integral part of our lives, and of society as a whole.
Why do we need art? First of all, art is a great investment.
I want to share a little story. Leonardo da Vinci's famous painting, Salvator Mundi, sold at a New York auction for 450 million dollars in 2017—that's roughly 13.5 billion Taiwanese dollars. Our government's entire annual budget is only enough to purchase the Salvator Mundi 147.5 times.
Let's look at living artists. British painter David Hockney's Portrait of an Artist (Pool with Two Figures), which may be no more than the portrayal of routine life in California, sold for more than 90 million dollars. His works often fetch exorbitant prices and are among the most expensive pieces of art by a living artist.
The Free Market Often Determines the Value of Art
Famed street artist Banksy's creation, Girl with Balloon, was rigged to self-destruct the moment it was sold at a Sotheby's auction in London. The work was shredded on the spot, but the buyer had no regrets. They were determined to claim ownership of this masterpiece, which in turn drove its value even higher.
No one knew Banksy schemed to destroy his own work. At times, art is nothing more than a concept. So long as you buy into the concept, there is value in art.
Fundamentally, I don't like seeing art being bought and sold. Private collectors hide masterpieces in secret vaults where they never see the light of day. I think art belongs in a gallery for all to see.
Writer Adam Chang (張繼高) is well-respected in both art and media circles. He once said that in his effort to promote classical music, he found that: "appreciation of classical music is not intuitive; it must be learned. Much of art is felt by the gut instead of the brain."
Personally, I am not opposed to hanging a painting in my living room, even if it is a replica. You look at it every day and the details seep into your consciousness. When you are in a rut in your personal or professional life, a piece of art may provide some much-needed inspiration.
For instance, I find joy and inspiration in viewing Pure and Remote View of Streams and Mountains (溪山清遠圖), a painting by Southern Song artist Xia Gui (夏珪) that's almost a thousand years old. If you asked me to shred this painting just to fetch a higher price, I'd tell you to save your money.
In Paintings, I see Taiwan's Sunshine, Mists, and History
Artist Shiy De-jinn (席德進), who was born in Sichuan Province in China but grew up in Taiwan, captured the beauty of one of our most scenic national parks in his watercolor painting, Sun Moon Lake Scenery (日月潭風光). No one else has been able to portray Taiwanese scenery so well. He drew more than what the eye saw; he drew what the heart felt. Taiwan is humid and misty, and you see this in his work.
The former gold mining town of Jiufen, where director Hou Hsiao-hsien shot the Golden Lion award-winning movie "A City of Sadness", is also where Shiy De-jinn painted the watercolor Ruei Bin Seashore (瑞濱海岸). Director Hou caught the wet feeling of our northern coast on film. Scenery in that area is unique, unlike anything I've ever seen. I like being reminded of it through the medium of art; the memory of that place brings many things to mind.
I once showed my young dancers a photo of Yushan, Taiwan's famous Jade Mountain, and asked them where they thought it was. They said Switzerland…until one of the brainier ones said it also resembled the logo of E.Sun Bank, which takes its name from the Jade Mountain. Alas. We Taiwanese don't even know what Yushan looks like; it only began to gain domestic recognition these last few years.
Let's turn our eyes to the south. For example, our national treasure Liao Chi-chun (廖繼春), and his famous Courtyard with Banana Trees (有香蕉樹的院子). We are not so privileged as those Californians to have a swimming pool in our backyard, but our most cherished memories are buried here.
The clean and tidy courtyard, framed by banana trees, is awash in yellow sunlight. A profound sense of homesickness engulfs me whenever I see the picture. The lighting is just right—it is a Taiwanese sun.
Other wonderful artists of the period take an impressionist approach to representing Taiwan, and their work hits me just as hard.
Kuo Hsueh-Hu's (郭雪湖) Festival on South Street (南街殷賑) shows the old Taipei town of Dadaocheng, another place of nostalgic memories. I was never at such a festival, but I recognize Dihua Street from a bygone age. It is a boulevard that exists now only in our shared remembrance.
Lee Shih-Chiaou (李石樵) and his Market (市場口) is also fascinating. He drew not only the market but also the laborers and middle-class society. At the far left of the painting is a Taiwanese woman wearing a western dress in the Japanese style. A comely girl in the back wears a traditional blue qípáo; she probably came to Taiwan before the Restoration.
This tells us so much about the people of that period. And the people disappeared; only the stray dog lingering about the market is eternal.
Lee had another little-known masterpiece: The Generalissimo (大將軍). He finished it in 1964, at the height of the White Terror in Taiwan. It's obviously based on a famous person. But the portrait was never shown in a gallery, nor would it have been possible at that time. Exhibiting this in a gallery would have been a good way to get yourself exhibited in a political prison.
Taiwanese Aesthetic and Graceful Colors, Unrecognized by the Taiwanese
I very much enjoy Girl in the White Dress (白衣少女) by Li Mei-Shu (李梅樹). This painted woman has a certain grace; indeed, she is the personification of the Taiwanese idiom, "a girl with a large head and face makes a splendid daughter-in-law." Another painting called Terrace (露台) shows a lady from the upper-middle class. These are women we've known all our lives, ladies whom we might've called auntie or big sister.
If we looked at such paintings more often, and identified ourselves with such portrayals, maybe our girls would not feel the need to go to Korea and undergo plastic surgeries so their faces became narrow and their waists became pinched. If we lack our native aesthetic, we lose the dignity that comes with knowing our own beauty.
Our minds become putty in the rampant tide of commercialism, and we change our wardrobe according to what the television tells us.
The female artist Chen Chin (陳進) drew The Fragrance of Orchids (芝蘭之香) in her youth. Look at how red and black mix and match on the woman's costume in the painting. There is an abundance of detail on her clothing. These are Taiwanese colors. And in another painting, Ensemble (合奏).
Look how boldly she matches green shoes with red! This is our artistic heritage. Art distills the beauty from our daily lives. Our lives are torn asunder when such beauty ceases to exist.
The graceful Taiwanese colors from Chen Chin's works are vanishing from our collective consciousness. We are inundated by popular foreign brands and have forgotten how to love ourselves. We have our own culture, but it is broken, and we need to acknowledge the injury to our heritage.

Why We Need National Galleries
Around ten or twenty years ago, I was performing in Europe. After an old German lady watched our performance of "Moon Water" (水月), she came and told me her story. Toward the end of World War Two, Berlin was carpet bombed by the Allies, rendering it without electricity, food, or water.
But once in a while, they'd get word that a concert was being held somewhere in the city. And despite the danger, they'd trudge through the debris just to hear some music.
More often than not, the venue would be curtained in dark cloth. They might be treated to a trio or a piano solo. The secretive setting made it feel like a friendly gathering; their friends were Bach and Beethoven. There was no food to go with the music, but some art is appreciated by the brain instead of the gut.
The sundering of Taiwanese culture robbed us of our identity, so we recognize neither the Jade Mountain nor ourselves. We don't recognize the colors, sceneries, and emotions elicited by our own artists.
There should be something more to a society besides politics and ideology. Something living, breathing, beautiful. Otherwise, we rewrite our history and identity every time there's an election.
I've always wanted Taiwan to have a national gallery, some hallowed ground to house the treasured history of our nation. The National Palace Museum doesn't keep many artifacts from after the Qing Dynasty.
My wish may still come true, but it's harder now. It's not just the economy. After the 1980s, many great works of Taiwanese art entered the free market and ended up in private collections. This may be the last chance to erect such a gallery, because the children of some of our best artists have kindly agreed to cooperate. I want this with every fiber of my being, but I don't know how to realize my dream.
Like Lee Shih-Chiaou's painting, Market, a national gallery will not only be a place of beauty. It will be a repository of memories that tells us about ourselves.
Let Art Flourish in Our Society and Our Lives
Compared to paintings, performance art takes a more direct approach to connect with the audience. Whether it's the Paper Windmill Theatre's performances in Taiwan's 319 townships, or Cloud Gate's large-scale outdoor performances, we always ran the show as long as we could cover the cost. Cloud Gate has been performing for 24 years now, and for every performance we get an audience of 30,000 people. There is never any trouble, because everyone in the audience knows how they're expected to behave. This is how art transforms our society.
We've also performed in remote areas. Cloud Gate has put on three shows in the Namaxia District. I was touched to see children returning to Namaxia just to hug and speak to our dancers.
Much can be accomplished in the name of art. We see masquerades in the rural township of Xingang. Old ladies and retirees come together to paint, this is also a fad from the last ten or twenty years. In Chishang, painting and calligraphy have become a popular pastime for the villagers, you can see their work being displayed in the local train station.
Mr. Liang Cheng-Hsien (梁正賢) of Chishang donated 10 million dollars and his family's grain silo of 60 years to be converted into an art gallery. This addition to Chishang revitalized the community. The townspeople show off their calligraphy by writing all the street signs by hand. Every street sign looks different, because they came from the hearts and hands of so many unique individuals.
Art is not made to be bartered at auctions. It is a part of life.
Ko Wen-chang (柯文昌), chairman of the Lovely Taiwan Foundation, started a campaign to promote art in rural areas. In Chishang, they asked the farmers for permission to install loudspeakers in the paddy fields. The Foundation played Tchaikovsky for the growing rice. I asked those farmers, does the music help? Does the rice taste better? They said yes, because the ruckus scared all the bugs away.
If your town doesn't have a gallery, display your art in the train station, and put your calligraphy on street signs. Art should be a part of your life.

Volunteers at the Autumn Harvest
The first time the Lovely Taiwan Foundation hosted a concert, they invited pianist Eric Chen (陳冠宇) to tickle the ivories in a paddy field. His picture made it into an issue of TIME magazine. Many other Taiwanese artists followed suit: A-Mei, Wu Bai, and of course, Cloud Gate Dance Theatre. Together, we planted the seeds of beauty. (Read: The Chishang Autumn Harvest Festival)
You must understand that the population of Chishang is just 4,000. Every time there is a concert, the entire village mobilizes. Students from Chishang Junior High School arranged 2,500 chairs under the blazing sun. Then they mopped all the floors. They didn't even get to see the performance, since they were assigned to monitor the portable toilets and keep everything clean.
I liked what I saw. People came from near and far to be part of this event. In Chishang, we found the energy to bring everyone together.
The first time we performed during harvest season in Chishang, local residents were invited to attend free of charge. We checked their ID at the entrance. Do you know how proud they were to show off their ID? A photo of our show made it into the New York Times. Those hardworking folks looked at their own hometown with fresh eyes, and they were spellbound by the beauty.
The autumn harvest became something of a red letter day. Family and friends came together for the celebration. Even children studying far from home came back, as if it were the Chinese New Year. Before all this, Chishang was a place of exceedingly beautiful—and extremely boring—natural scenery.
Even within Taitung County, it was at the bottom of the list of places to visit. In the past two years, it soared through the ranks to land at number two. Needlessly to say, the locals were mightily encouraged.
Art is a medium, and when the muse of inspiration alights on a town like this, young minds are stimulated into creativity. Imagine if we could repeat this success across the country, in every town and city. Wouldn't our way of thinking change for the better? Perhaps even how we interact with each other will improve because of the art in our lives?
We Need Living, Breathing Art
In Hsinchu, we initiated a program to teach dancing in a juvenile correctional school (逆風計劃). Their teachers said we made a difference. Students no longer lazed about in a funk when they returned to their rooms. They practiced dance moves, trained their bodies, and discussed the lessons with their friends.
On the day of the performance, all their parents turned out to see their children dance. You could see the pride on their faces. Some of the juvies had already served their time and were free to leave, but they stayed an extra two months just to be part of the show. Here in the correctional facility, they had found their purpose. There was something they could work together on and excel at. It gave them confidence in themselves.
What kind of art does Taiwan need right now? We need good art, art that mends the fracture. Our society is tearing itself asunder along party lines and income gaps. We have no history except what the ruling party tells us; no identity besides cold, sterile ideological labels. Art is the only living, breathing thing left to us.
What kind of art do we need today? We need art with warmth; art that makes us alive again.
Additional Reading: Lin Hwai-min on 2012 CWEF: Empowering Local Communities and Culture
Translated by Jack C.
Edited by Tomas Lin