World Economic Forum
Movies in 2018 Featured More Diverse Leads than Ever
精華簡文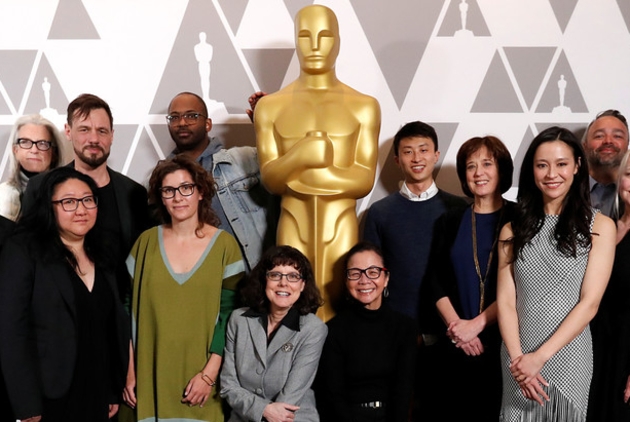 Source:REUTERS/Mario Anzuoni
2018 was a blockbuster year for movies starring women. But equality, both on screen and behind the camera, remains a long way off.
Movies in 2018 Featured More Diverse Leads than Ever
By Alex Thornton
web only

According to analysis by the Annenberg Inclusion Initiative, of the 100 highest grossing Hollywood movies of 2018, 40 had female leads or co-leads who drove the storyline – by far the highest number since they began monitoring diversity in 2007.
Source: USC Annenberg
Older women were also better represented than in previous years – 11 of the female leads were aged over 45. And there were more leads from traditionally under-represented ethnic minorities (both male and female) than in previous years.
A quick look at the nominees for Best Actress gives some idea of the diversity of roles. Three of the actresses are aged 45 or over: Glenn Close (The Wife) is 71; Melissa McCarthy (Can You Ever Forgive Me?) is 48; and the UK's Olivia Colman (The Favourite) has just turned 45. Also nominated are Yalitza Aparicio, a Mexican actress of indigenous heritage, for her debut role in Roma and singer Lady Gaga, well known for her advocacy for LGBT rights, for her performance in A Star is Born.
The big budget blockbusters also showed greater diversity than before. Black Panther, with a predominantly African-American cast, and strong roles for women including Lupita Nyong'o and Danai Gurira, was the highest grossing movie of the year. Mamma Mia! Here We Go Again, starring Amanda Seyfried, Lily James and Meryl Streep had audiences worldwide singing along. And romantic comedy Crazy Rich Asians with Michelle Yeoh and Constance Wu was a rare opportunity for Asian actors to play leading roles in Hollywood.
Better on-screen representation for women masks a broader problem for the industry, however. Prior to 2019 there had been no significant improvement in diversity and inclusion for a decade. Women still tend to be paid significantly less than men: Scarlett Johansson, the world's best paid actress, earned $40.5 million, just a fraction of Dwayne "The Rock" Johnson's $124 million earnings as the best paid male star.
And behind the camera, women still struggle to find good jobs. Kathryn Bigelow is still the only woman ever to win a Best Director Academy Award, for The Hurt Locker. Only male directors have been nominated this year.
Films made by women also get less funding than those made by men. But the evidence shows that female filmmakers actually offer a better return on investment. And this is true of leading ladies too: movies with female leads or co-leads outperform those without at the box office.
In fact none of the movies that have made more than $1 billion since 2012 have failed what is known as the Bechdel test, with at least one scene where two named female characters have a conversation about something other than a man. And if the Bechdel test seems like an easy one to pass, it's worth noting 40% of movies don't, including blockbusters like the Lord of the Rings trilogy, the first Star Wars, and most Pixar movies.

Hollywood is reflecting the situation women face in many industries. The World Economic Forum's Global Gender Gap Report shows that women tend to be paid less than men for similar work, and are dramatically under-represented in senior roles. But how women are portrayed on screen doesn't just mirror society. It can influence, challenge or reinforce cultural stereotypes too.
But there are promising signs of progress. The most lucrative genre – superhero movies – are starting to explore an untapped demand, with blockbusters such as 2017's Wonder Woman and the upcoming Captain Marvel. The Jedi at the centre of the latest Star Wars trilogy is a woman. And the trailer for Disney's upcoming Frozen 2, featuring sisters Anna and Elsa, was viewed a record-breaking 116 million times in just 24 hours.
Edited by Sharon Tseng
---
Original content can be found at the website of World Economic Forum: Movies in 2018 featured more diverse leads than ever
This article is reproduced under the permission of World Economic Forum (WEF) and terms of Creative Commons Attribution-NonCommercial-NoDerivs 4.0 Unported License ("CCPL"). It presents the opinion or perspective of the original author / organization, which does not represent the standpoint of CommonWealth magazine.