Which Taiwanese Suppliers Stand to Gain?
Trump's Anti-Huawei Campaign Creates Opportunities for Homegrown Brands
精華簡文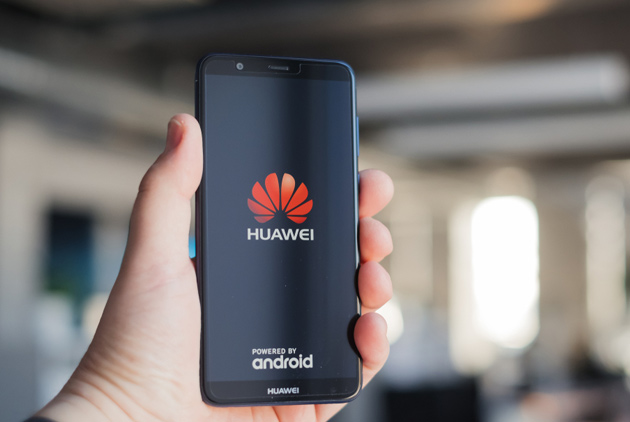 Source:Shutterstock
U.S. President Donald Trump's moves against Chinese tech titan Huawei Technologies Co. Ltd. might create business opportunities for home-grown Chinese brands, which may result in Huawei outshining Apple. Which Taiwanese suppliers stand to benefit if Huawei's supply chain becomes larger than Apple's? What are the possible drawbacks of manufacturing for Huawei?
Trump's Anti-Huawei Campaign Creates Opportunities for Homegrown Brands
By Hannah Chang
From CommonWealth Magazine (vol. 667 )

A while ago, Huawei declared with great fanfare that it aims to ship more smartphones than rival Apple this year and that it will outstrip South Korean competitor Samsung in 2020.
At the just concluded Mobile World Congress in Barcelona, the Chinese telecom giant also presented its latest flagship handset.
Huawei has become a prime target in the U.S.-China trade war and is currently being restricted by many other countries. But although the telecom giant, its subsidiaries in the U.S. and Iran, as well as Huawei CFO Meng Wanzhou, also known as Cathy Meng or Sabrina Meng, have been indicted in the United States on financial fraud and other charges, the company's grand ambition remains unfettered.
Huawei's sales revenue from smartphones increased 44 percent in the fourth quarter of 2018, according to market research firm Informational Data Corporation (IDC). Meanwhile, Huawei has grabbed a 16 percent share of the global smartphone market, ranking only slightly behind the global No. 2 Apple.
A Huawei middle-level manager who did not want to be identified told CommonWealth Magazine that Huawei founder and President Ren Zhengfei sent an email to his employees on February 16, titled "We are running against time." In the message, Ren encouraged employees to intensify development of internet-connecting devices, particularly in the fields of 5G, artificial intelligence, data communication, cloud computing and edge computing. He also urged them to carry out necessary organizational restructuring to scrap unproductive departments and "reduce the number of noncombatant staff."
While pointing to the "extremely difficult external conditions that Huawei faces as individual countries want to obstruct Huawei investments," Ren tried to boost the morale of Huawei employees in his emailed letter, stating: "We must bravely face challenges and difficulties. As big things are bound to happen, we must keep calm and continue our relentless efforts steadily and in a composed manner. No difficulty whatsoever can prevent us from marching forward."
Huawei Does not Fear US Blockade as Prospects in the East are Bright
In its boycott of Huawei, the U.S. has already exhausted all possible means.
Recently, U.S. Vice President Mike Pence and U.S. Secretary of State Mike Pompeo separately urged European countries to reject Huawei, warning that using Huawei could harm their relationship with the United States.
These warnings prompted the media-shy Ren to agree to an exclusive interview with Britain's BBC, in which he stated casually: "There is no way they [the United States] can crush us."
He went on to say: "If the lights go out in the west, the east will still shine. If the North goes dark, there is still the South. America doesn't represent the world; America only represents a portion of the world."
According to Huawei's 2017 annual report, the company generated the lion's share of its annual revenue in China. The Chinese market account for a 50.5 percent revenue share and the Asia-Pacific region for around 12 percent. Europe, the Middle East and Africa account for 27 percent of annual revenue and North America only for 6.5 percent.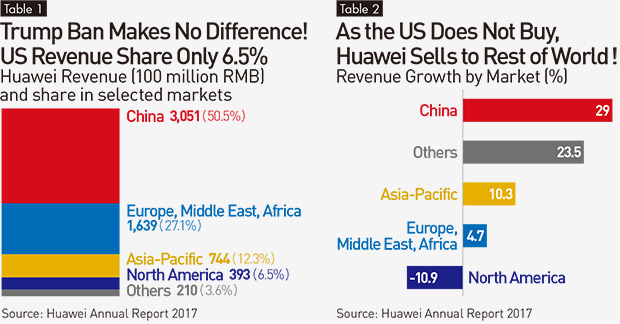 Should Europe decide against prohibiting Huawei products, the impact from the American and Canadian boycotts on the company's business will be minor.
Moreover, Washington's hardline approach has also triggered a counter effect in China, the world's largest handset market.
In January, the Financial Times reported that as many as 40 percent of Chinese consumers who responded to a survey said they were planning to buy a Huawei smartphone as their next phone, which represents a 30 percent increase over November of 2018 and the same pre-year period.
Many Chinese restaurants and retail shops also push Huawei by offering discounts and other promotional incentives to customers who present their Huawei phones or Huawei employee ID cards.
In its latest quarterly report on smartphone sales in China released in mid-February, IDC said that smartphone shipments have been on a decline since the US-China trade friction erupted. Apple continued to decline in the Chinese market with shipment volumes shrinking 19.9 percent year-on-year in Q4 2018. With a market share of 11.5 percent Apple now ranks fourth in the Chinese market behind local brands Huawei, Oppo and Vivo.
Among the top five smartphone vendors, Huawei emerged as the "biggest winner in Q4 on the back of blockbuster flagship models and a steadily rising brand reputation," boosting shipments 23.3 percent year-on-year and comfortably defending its market leader position with a market share of 29 percent.
As a result, Shenzhen-based IC design house HiSilicon Technologies Co. Ltd., a wholly owned subsidiary of Huawai, has reported stunning results.
Research firm Alliance Bernstein said in a recent report that HiSilicon has more than tripled revenue since 2014.
In a securities analysis distributed to customers in January, the firm estimated that HiSilicon's revenue reached US$7.6 billion in 2018 and that it was on track to become the world's fourth largest fabless chip design house, eclipsing MediaTek. Noting that already now 50 percent to 60 percent of Huawei smartphones run on HiSilicon chips, the report said that Huawei will use HiSilicon products in all future releases of 5G handsets, communications devices, AI computing equipment and servers.

Suppliers Reap Benefits as HiSilicon Becomes TSMC's Second-Largest Customer
Huawei has announced three to four 7-nanometer process chips, including the Kirin 980 mobile AI chipset, the Ascent 910 AI chip, and the Kunpeng 920 ARM-based server CPU, thus covering a broad range of applications from the Internet of Things to cloud computing, smartphones and server management.
The Alliance Bernstein report points out that the Kirin 980 inside the Huawei Mate 20 smartphone series performs better than the A12 Bionic chip at the core of the latest Apple iPhones and the Qualcomm Snapdragon 855 processor in Samsung's Galaxy S10.
Alliance Bernstein estimates that Taiwanese foundry Taiwan Semiconductor Manufacturing Company (TSMC) derives 8 percent of its total revenue from HiSilicon orders and that the Chinese IC design house has most likely become TSMC's second-largest client behind Apple.
CY Yao, associate analyst with Topology Research Institute (TRI), a division of global market intelligence provider TrendForce Corp., explains that even if European telecom operators reject Huawei 5G base stations, the impact on Huawei's other business fields such as smartphones, Internet of Things and servers will be minor.
Since Chinese cloud computing service providers such as Baidu, Tencent and Alibaba, and online video platforms such as iQiyi and TikTok continue to grow, demand for servers will rise. Huawei, which ranks first and second in the Chinese market in the storage and server sectors, respectively, is bound to reap the benefits from this trend, says Yang. "The Taiwanese supply chain such as TSMC and Advanced Semiconductor Engineering (ASE) will also have an opportunity to reap the benefits."
A Taiwanese manufacturer in the semiconductor supply chain reveals that HiSilicon asked Taiwanese suppliers already before the Lunar New Year to allocate more production capacity to HiSilicon. Huawei has been lobbying Taiwanese suppliers to relocate to China, but since moving entire factories is not easy both sides have presently reached consensus to "cooperate more closely and to expand services."
Securing Orders vs Protecting Technology – Taiwanese Manufacturers Might Face Dilemma
Huawei lists among its core suppliers the Taiwanese manufacturers Hon Hai/Foxconn Technology Group, TSMC, ASE, Largan Precision Co. Ltd., MediaTek, Nanya Technology Corporation, Unimicron Technology Corporation, TCX Corp., Compeq Manufacturing Co. Ltd. and Macronix International Co. Ltd.
Huawei has set its sights high and seems on track to reach its target of becoming the world's largest smartphone vendor in terms of shipment volumes. Its HiSilicon chips are used in a broad array of products and will also influence the development of AI computing and the Internet of Vehicles.
TRI analyst Cici Chang, who covers China's IC design industry, points out that this year's tech trends still revolve around new forms of industry such as AI, 5G and edge computing. China already holds a competitive edge regarding key indicators in these technological developments which will translate into continued growth momentum for Chinese IC design firms.
Yao, for his part, believes that judging from the ups and downs in smartphone shipments by various vendors, Huawei stands a good chance of gaining greater influence on the supply chain than Apple.
A bandwagon effect is already in the making.
Chinese media recently reported that Hon Hai has launched a massive recruitment drive, looking to hire more than 50,000 workers for its factory in Zhengzhou. Reportedly the factory, which exclusively produced iPhones in the past, is ramping up production because it has received orders for the assembly of Huawei smartphones. In the future, more mid-range and high-end handsets will be built there.
This will not only lead to a paradigm shift for Taiwanese tech companies but also complicate things on the political plane. For instance, if Huawei demands that its Taiwanese suppliers move production to China, how will these companies protect their technology while also securing Chinese orders? Finding an answer to this question is a pressing issue.
If, for example, one day Huawei demands that TSMC moves its most advanced 5-nm process technology to its plant in Nanjing (Taiwanese government regulations only allow process technology that is two generations behind the most advanced one to be used in China) or else HiSilicon will place its orders with Samsung, what will TSMC do? And would the government lift the ban on the export of the latest technology to China?
Translated by Susanne Ganz
Edited by Sharon Tseng