'MIT' the New Weapon of World No. 1s
Boutique Manufacturing Taking Hold
精華簡文
Source:CW
Taiwan's manufacturing sector has long focused on low-cost contract manufacturing for major brands. But that's changing as Taiwan now stands as a driver of innovation for well-known global companies such as Burberry, Victoria's Secret, and Ferrari.
Boutique Manufacturing Taking Hold
By Elaine Huang
From CommonWealth Magazine (vol. 592 )


You may not believe it, but international fashion brands Burberry and Coach use fabric made in Tainan; renowned sports car makers Ferrari and Lamborghini buy shock absorbers made in Changhua; and parts used in the American president's helicopter have been designed and manufactured in central Taiwan. These are all genuine examples of "Made in Taiwan" (MIT).

Conventional wisdom in Taiwan suggests that companies are better off concentrating on branding than manufacturing, and that the rise of the red supply chain will result in China's manufacturing sector crushing producers at home.

But a group of companies intent on keeping their technology in Taiwan is bucking that conventional wisdom, embracing a new artisanal spirit in their pursuit of Japan and Germany – countries recognized for their manufacturing prowess. They are changing the face of manufacturing in Taiwan and emerging as key driving forces behind some of the world's top brands.

From aircraft flying in the sky to vehicles rolling on the ground, from personal underwear to retail service systems, all involve forms of this niche "boutique manufacturing." These home-grown companies are even busy searching for land in Taiwan to expand their factories and create new jobs, their rising sales and profits defying the sluggish global economic environment.

How have these upstarts developed unique niches that have world No. 1s demanding MIT?
MIT Trend No.1
Move to Boutique Manufacturing, Boutique Pricing
As the winds of the aerospace manufacturing sector shift in Asia's direction, Taiwanese aviation part makers are major beneficiaries. The country's aerospace industry will soon exceed NT$100 billion in annual output, and President-elect Tsai Ing-wen, who takes office on May 20, has vowed to support the development of the high-precision sector.
You wouldn't know it from its underwhelming appearance, but one factory in Pingzhen District in Taoyuan houses several robotic arms made by famed industrial robot maker FANUC of Japan that are meticulously grinding nuts the size of a copper coin. These are not the mass market NT$1 nuts churned out by small factories in Gangshan in southern Taiwan; they are MIT aviation-grade nuts being supplied to GE Aviation, the world's biggest aircraft engine maker, at US$1 apiece.
The company operating the plant – NAFCO, or National Aerospace Fasteners Corporation – is the only aerospace fastener supplier not only in Taiwan but in all of Asia. Each screw and nut it produces requires more than 20 production processes and must ultimately resist temperatures of 1,000 degrees Celsius, and workers on the production line are tested and certified by GE on a regular basis. Because people's lives depend on these fasteners, nothing is left to chance.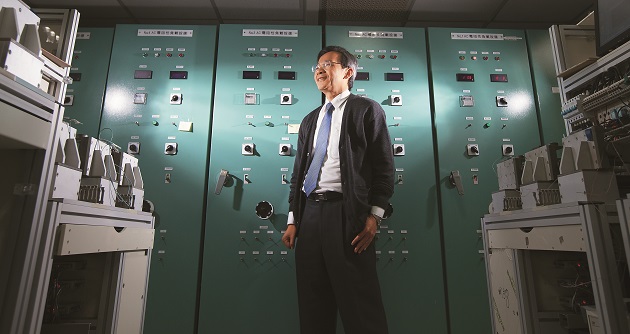 Solteam Eletronics Chairman Chang Chun-yun strongly believes manufacturing is Taiwan's foundation. His products have earned the trust of European power tool brand Bosch.
Highly complex and customized manufactured goods like these fasteners have traditionally been the province of Germany and Japan, but Taiwan is proving it can compete with the big boys.
"Taiwan has strong processing capabilities and its people are willing to carefully complete tasks. Of course, Japan and Germany are strong, too, but Taiwan has trained many engineers and mechanics in the past, and these people do a great job in this industry," says NAFCO Chairman Francis Tsai.
From a simple airplane screw to aircraft fuselage components, they all carry the footprints of Taiwanese boutique manufacturers. Aerospace Industrial Development Corporation (AIDC), which got its start by making IDFs (indigenous defense fighters) and training aircraft for Taiwan's military in the 1980s and 1990s, has more recently shifted its focus to manufacturing components for private aviation companies.
At their peak, IDF orders generated more than NT$20 billion in annual revenues, but after the IDF program was phased out, AIDC's revenues fell to a low of NT$9.1 billion at one point. But the technology and manpower trained and honed when it was producing military aircraft have been successfully leveraged in the private sector, restoring the company's profitability. AIDC now has 800 special process certifications from American and European aerospace companies.
AIDC is a Tier 1 supplier to Airbus that can sell its products directly to the European aircraft maker and the only Asian supplier selected by Mitsubishi Heavy Industries to jointly develop and manufacture components for the first passenger jet manufactured in Japan, the MRJ (Mitsubishi regional jet).
MIT Trend No.2
Brand and Manufacturing Synergies
Taiwan's manufacturing sector is gradually moving away from traditional contract manufacturing, cutthroat pricing and mass production, investing instead in more sophisticated operations to provide exclusive services to clients. The "general stores" that manufacturers have run in the past are giving way to "MIT boutiques."
In his book "The Next Factory," professor Liu Ren-jye of Tunghai University explored the rise of China's manufacturing sector and the return of advanced manufacturing to Japan and the United States. He observed that in a world in which industrial development has become increasingly mature, the key to the success of value-added manufacturing bases is "the ability to integrate and innovate during the product development process rather than the traditional emphasis on lowering labor costs or pursuing the advantages of scale."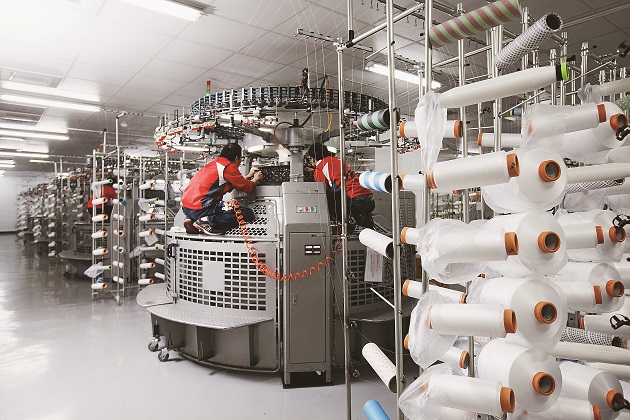 Fabric manufacturer Mackent processes fabric from start to finish at its plant in Taoyuan and sells it to top lingerie companies such as Victoria's Secret.
The alliance model promoting integration and innovation was embodied by the cooperation between Japanese fast fashion brand Uniqlo and Japanese textile vendor Toray Industries, Inc.
"Can you put together a dedicated operations team for us?" was the question Uniqlo founder Tadashi Yanai asked the first time he visited Toray in 2000. In the years since, the two companies have jointly introduced heat retaining fabric – called Heattech – ultra-light down and other popular innovations, and Uniqlo has sold more than 300 million pieces of apparel using the Heattech fabric.
"Without the backing of Toray, there would be no Uniqlo," Japan's Nikkei once wrote in describing the relationship between the two companies.
As China's rise became apparent around 2000, countless Japanese vendors decided to roll back their textile businesses or even retire from the market all together. U.S.-based Dupont and Germany-based BASF also began dumping their textile businesses at the same time, but the Chinese threat was actually a boon for Toray.
As other big brands pulled out of the textile game, Toray assumed the mantle of "the last integrated textile vendor" standing. It was the only manufacturer capable of doing everything in house, from selecting raw materials and producing fabric to dyeing and sewing.
Even without a brand name, Toray was able to rise above the highly competitive textile pricing environment through sophisticated technology that helps clients develop competitive, high value-added products.
"It is not your typical supplier-customer relationship. It's a close-knit inter-organizational relationship," asserts Liu, who teaches in Tunghai University's Department of Industrial Engineering and Enterprise Information.
Toray has developed into a standard-bearer of boutique manufacturing, which is inherently different from the contract manufacturing.
The Taiwanese version of boutique manufacturing relies on three major competitive advantages to transcend contracting and its low-margin image:
1.Unique Technology and Services
At first glance, the factory of Mackent Fabrics Co. in Dayuan Industrial Park in Taoyuan is unremarkable, but this under-the-radar supplier is the "secret" behind the success of America's hottest underwear brand Victoria's Secret.
A secret weapon of the lingerie brand is its exclusive 3D printed lingerie, made possible by a "sandwich fabric" developed by Mackent that allows pieces of different colored fabric to be bonded together yet remain thin and lightweight.
Just as Toray represents the most important technological pillar of Uniqlo's innovative products, Mackent's technology is critical to the unique nature of Victoria's Secret hottest products.
Mackent is the world's biggest supplier of this printed, breathable, lightweight fabric that so shocked major lingerie suppliers in the West, producing 8 million yards of it a year on 81 machines.
"If we say we're No. 2, nobody will dare say they're No. 1," says Mackent founder and managing director Terry Hsiao with a laugh.
Five years ago, she completely transformed her trading company, turning it into a factory in Taiwan capable of everything from dyeing to testing. It focused on lingerie fabric, which had a higher degree of complexity and difficulty than fabric for regular clothing.
When Hsiao decided to open a dyeing and finishing plant in Taiwan, her peers thought she was crazy, but it was Hsiao who has had the last laugh. Having the entire process under her control has streamlined the process of developing new technologies and made it more efficient, benefiting her clients.
Mackent had a hand in the revolutionary technology German lingerie brand Triumph plans to introduce next month as the backbone of its next-generation underwear. It was also the innovator of the technology being used in century-old French lingerie brand Chantelle's new line of bras that start at NT$4,000 apiece.
"We use a boutique mentality in developing new fabrics," says Newbery Su, Mackent vice president for business & marketing.
Mackent never attends the Salon International de la Lingerie in Paris – the world's biggest lingerie show in the world. Instead, it saves its newest fabrics and technologies to present directly to its VIP clients, helping them stay at the forefront of innovation in the industry and lead trends.
2. Tailored 'Manufacturing Services'
Neihu Technology Park is home to the headquarters of major point-of-service (POS) systems provider Flytech Technology Co. This low-profile company has caught fire recently, building the POS systems used in two very popular outlet malls – the newly opened Gloria Outlets complex in Taoyuan and Mitsui Outlet Park in Linkou.
In fact, Flytech is one of the world's three biggest manufacturers of point-of-service systems. From a 40 percent share of all of Taiwan's restaurants to the biggest gas station chain in the United States and major outlet malls and department stores in Europe, their POS systems were likely manufactured by Flytech regardless of the brand name on the system. All of Flytech's production is "MIT."
Flytech Chairman Thomas Lam, who founded the company 32 years ago, was eager to make clear his company's position in the market: "We are not contractors. We do everything for the customer from product planning and design to manufacturing and quality control. The only thing we don't do is marketing," he says.
"We have long-term partnerships with our customers, not just a buying and selling relationship. We have all grown bigger together," says Lam, who could easily be mistaken for a pilot at first glance because of the eye-catching golden "Flytech" insignia attached to his dark suit.
Flytech no longer provides standard contracting services, where it manufactures an item according to a customer's specifications and drawings. Instead, it tailors its manufacturing services to the special needs of each client, to the point where clients put all of their eggs in the Flytech basket.
3. Maintaining Core Technologies, Trying for the Tough Sell
The "boutique" mentality means technologies and services move in step. Taiwan's manufacturing sector has long relied on price to compete, but it will need to embrace a "craftsman's spirit" in the pursuit of excellence to remain competitive in the future.
"Manufacturing is at Taiwan's roots. There's no reason not to develop it to the fullest," says Chang Chun-yun, chairman of switch and digital encoder manufacturer Solteam Electronics Co.
Early on, Chang worked for a company making electronic switches for 3C products, such as the Apple II computer in the early 1990s. He later set up his own business, and Solteam has since emerged as the world's biggest vendor of voltage changeover switches, supplying such major brands as Bosch and Liechtenstein-based Hilti Corporation, known as the "Rolls-Royce" of the power drill field.
The company's switch may measure less than 10 centimeters in length, but it has to withstand temperatures ranging from minus 30 degrees Celsius to 60 degrees. If the part fails, the power drill is finished.
"Every product we ship is tested according to specific specifications. Switches used in home appliances and electronic products are generally tested 20,000 times, while ours are tested 300,000 times," says the 60-year-old Chang, who has been designing switches since he was young.
"We are not affected by the red supply chain," he says with pride.
Hidden in the company's Taoyuan plant is a 264 square-meter testing lab, described as the ultimate gatekeeper of Solteam's reputation. The company's main asset is the know-how it has amassed over many years that its rivals have no way of copying. It is now planning to expand its facility because it no longer has the space to handle its surging orders.
"If Taiwan abandons its manufacturing roots, it would be really unfortunate," says Ente Hsu, the director of Tunghai University's Accounting and Industry Center. He argues that Taiwan's manufacturing sector now transcends simple manufacturing, embracing a culture that also includes design capabilities and tailored services that meet customers' needs.
It is that experience acquired over many years by the country's precision manufacturing devotees that has the sector newly dedicating itself to the craftsman's spirit so revered in Germany and Japan.
Emboldened by that spirit, Taiwan's manufacturing sector is shrugging off the sluggish global economy by repositioning and re-engineering itself, hoping to take off once again.
Translated from the Chinese by Luke Sabatier
---
Chinese Version : 不能沒有你 台灣精品級製造出列!